Universal Robots Academy offers free online training in robot programming
Become a robot programmer in only 87 minutes!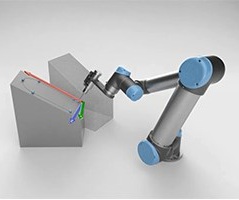 Users can learn how to create user-defined coordinate systems and use them to create flexible and redeployable programs.
Learning how to set up and program a collaborative robot -- or cobot -- no longer depends on real-life access to a robot or a training class. Now everybody with a desire to learn the concepts of cobots can log in to the Universal Robots Academy and get the introduction necessary to master basic programming skills.
It is unusual in the industry to make a robot training curriculum of this kind available for free, but the program is a long-term investment for Universal Robots, especially since manufacturers are facing a looming skills gap in the industry.
The online training modules are available in English, Spanish, German, French, and Chinese. They consist of six e-learning modules that make up the basic programming training for UR robots. This includes configuring end effectors, connecting I/Os, creating basic programs, and applying safety features to an application.
Since its founding in 2017, more than 14,000 users from 132 countries have joined the Universal Robots Academy to become cobot programmers.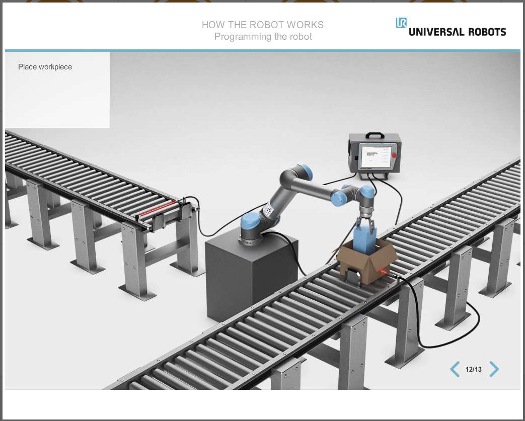 Safety zones and conveying.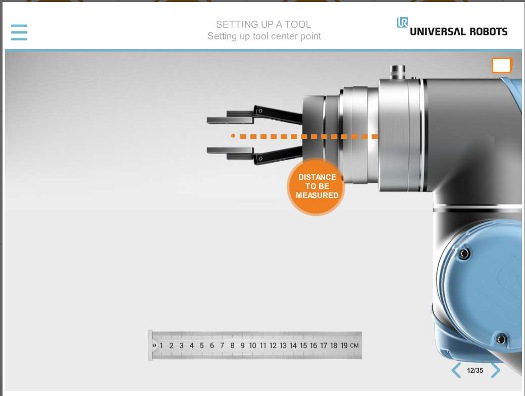 Tool flange measurement.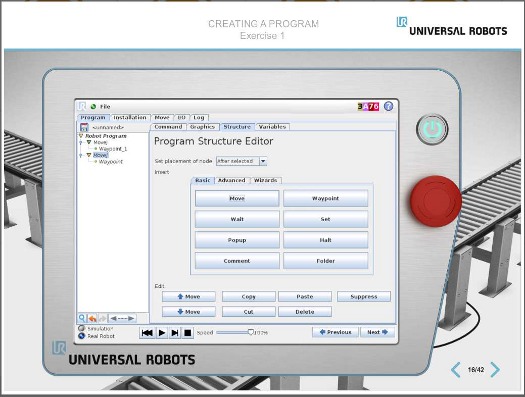 Teaching pendant.
One of the early adopters of the UR Academy was Whirlpool Corp., where the online training modules now provide the basic foundation for all UR robot training at the company's plant in Ohio. Tim Hossler, controls engineer at Whirlpool, says it's a great convenience to be able to offer this resource to employees in-house.
"Now we don't have to wait and send them out for basic training elsewhere. The modules can be completed at our own pace, and we can even pick and choose which modules we offer different personnel depending on skill sets and their level of interaction with the robots," says Hossler.
"I really like the interactive approach," he says. "It makes learning very hands-on and transferable to what we would actually be doing here at our plant. I was also pleasantly surprised that the modules were free of charge for anyone to use. It definitely increases the accessibility of the UR robots."
The academy modules have received positive feedback from users around the world. By simply logging into the Academy, they experience first-hand how simple the setup can be, and they can easily envision what production tasks could be automated with the cobots.
Mathieu Spinnler, CEO of Spinnler Cartonnages in France, was looking for information about the UR cobots when he came across the UR Academy. "With more than 150 co-workers in our company, the idea of self-government and free training in apprenticeships of robots was appreciated by everyone," says Spinnler, who adds the modules also helped him realize what areas of the robot applications installed he needed to discuss with an integrator.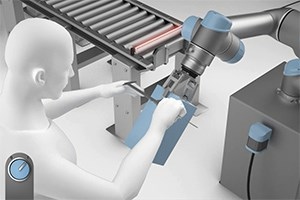 Attendees can learn how to create an advanced program flow using conditional statements and variables.
At Vira Brands, a Spanish confectionery and chocolate manufacturer, the robotics modules gave the company's area manager, Joan Teixido, the insight to implement a UR cobot in the production line. "We decided to opt for this technology, and doing the free online Universal Robots Academy course helped us take the step," says Teixido. "The ease with which we could interact with the platform and the clarity of the information offered in the e-learning modules gave us the confidence to go ahead and install a UR cobot."
Since first being introduced about three years ago, the UR Academy has added on-demand webinars and video tutorials to the program.
The company has also added three new modules that step up complexity by teaching users how to create and work with coordinate systems, variables and conditional statements, and how to use the cobot's wizard to easily create a program for packaging.
Interested parties also have the option of attending in-class training at several sites around the world, including Universal Robots' main U.S. location in Irving, TX, and sites in Michigan, Pennsylvania, and California. See the in-class training link for details and the location closest to you. Class options include: Core, Advanced, Script Training, Safety Training, and Service and Troubleshooting Training.
World's largest virtual conference and exhibition for collaborative robots
Universal Robots launched the world's largest virtual conference and exhibition for collaborative robots -- "We Are Cobots" -- June 16-18, 2020. With over 30 virtual booths and 50 live keynotes by a wide range of robotics experts, participants gained valuable insight into the future of automation. The expo also had tracks with live demonstrations of innovative automation applications such as packaging and palletizing, sanding and polishing, machine tending, and screwdriving.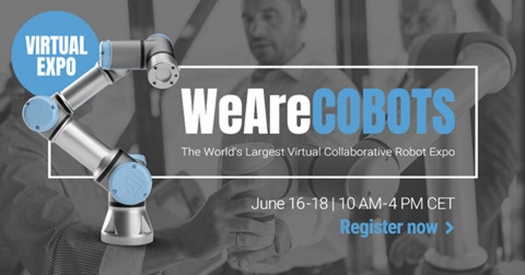 Visitors from all industries were invited to join, browse the virtual booths, and learn more about the numerous benefits of collaborative automation while participating in inspiring in-depth talks by leading cobot experts. The event was free.
Although this event is over, you can learn about upcoming online UR events here.
Source: Universal Robots
Published June 2020
Rate this article