Engineer's Toolbox:
Change drive nut linear pitch without replacing shafts or adjusting controls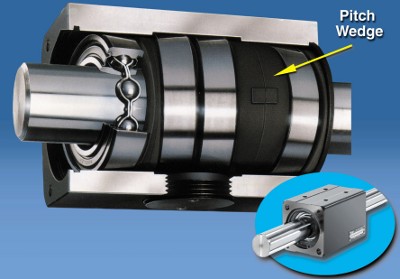 Five pitch settings vastly improve the versatility of the Amacoil-Uhing Model RS4 linear drive.
As a design alternative to screw-based linear drive systems, the Amacoil-Uhing Model RS4 drive nut provides backlash-free linear motion and simplifies changes to linear pitch. The linear pitch of an RS4 nut is factory-set at one of five different linear pitch settings, determined by application requirements. Pitch wedges between the drive bearings hold them at a specific angle relative to the shaft. This angle determines the linear pitch. Changing pitch is simply a matter of replacing the pitch wedges with a different set of wedges. It is recommended that the procedure be done at Amacoil, but customers can also purchase the wedges separately for on-site pitch change. Changing the pitch of an RS4 nut does not require any other components, machinery, or controls, and no changes to system design are needed.
The smooth, backlash-free linear motion provided by RS4 nuts is achieved by specially machined rolling-ring bearings that are in constant single-point contact with the drive shaft, even during reversal. This assures that any rotational movement of the shaft is transferred smoothly and without play from shaft to bearings. The bearings convert the rotary motion of the shaft into linear output, and anti-backlash solutions such as shims or double-enveloping gears are unnecessary.
The RS4 nut runs on a smooth shaft. Because there are no threads to clog or jam, the nut will not churn in the event of an overload. Instead, the nut simply slips until the overload can be corrected. This protects system components and helps prevent costly downtime for system repairs.
Available in eight sizes, Amacoil-Uhing RS4 rolling ring linear drive nuts meet machine design needs in a wide range of industries including textile, automotive, converting/packaging, metrology, and CNC machining. Applications include indexing/positioning, winding machines, test and measurement devices, parts transfer systems, and other production equipment. Depending on size and payload, RS4 drives can achieve linear speeds up to 5 ft/sec over distances to 13 ft. Axial thrust is up to 500 lb, and repeatable accuracy is to within +/- 0.0004 in. depending on the type of controls used. The only maintenance required is periodic, light lubrication of the shaft.
Want more information? Click below.
Source: Amacoil
Published February 2011
Rate this article