Engineer's Toolbox:
Try NovaTorque brushless PM motors for 60 days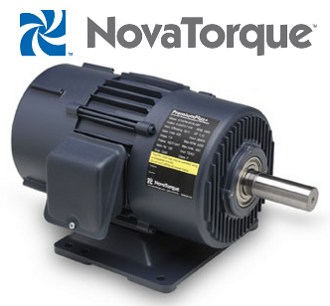 Who doesn't like "try before you buy"?
NovaTorque (Sunnyvale, CA) is offering a cost-free opportunity for OEMs to evaluate and test its new Gen 2.0 PremiumPlus+ motors.
What's the catch? Well, there isn't much of one, really, if you are a serious customer on the hunt for super-efficient motors to run things like fans (supply, return, exhaust), pumps (centrifugal pumps, compressors for HVAC systems, fluid flow, secondary cooling loops), or general-purpose industrial applications.
Qualifying OEMs are required to complete an Evaluation System Request form, provide a purchase order for tracking purposes, take part in a pre-shipment meeting with NovaTorque to review the application and test plans, and provide information estimating annual motor usage. OEMs who take part in the program must also complete testing within 60 days of shipment, take part in a post-test meeting to discuss results, and return or purchase the system at the end of the 60-day period. So basically, they have to go through pre- and post-test evals, which isn't that much to ask.
About the motors
Driven by variable frequency drives, NovaTorque's Gen 2.0 PremiumPlus+ brushless permanent magnet motors boast motor-only rated point efficiencies of 93% (3-hp) and 92% (5-hp) versions, far exceeding the levels achieved with induction motors. By comparison, 3-hp and 5-hp NEMA premium induction motors, when driven by variable frequency drives, achieve a motor-only efficiency in the range of 88.5% and 89.0%, according to NovaTorque. And permanent magnet motors operate with zero slip.
"In addition to having higher efficiency at the rated point, NovaTorque's PremiumPlus+ motors maintain their high efficiency over a much wider speed and load range," says Scott Johnson, NovaTorque's vice president of sales. "For example, in a variable speed, variable torque application such as a fan or pump, a 50% reduction in speed results in a 75% percent reduction in load. At that reduced load, NovaTorque motors will maintain efficiency of approximately 91%, whereas a NEMA premium efficiency induction motor will have declined to 80%. The advantage is even more dramatic when compared to the current installed base of induction motors, where improvements ranging from 20% or more are achievable."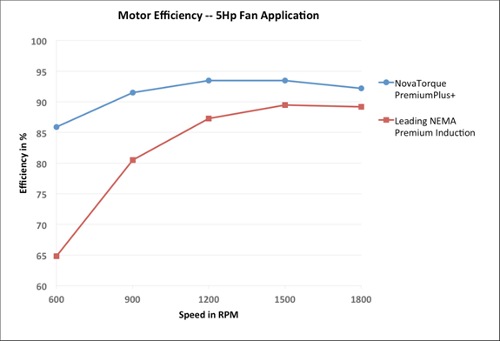 Importantly, due to its unique patented flux-focusing stator and rotor hub geometry, the NovaTorque motor produces this performance with an all-ferrite (versus rare earth) magnet design.
"The cost of rare earth (neodymium) magnet material, the basis of most conventional permanent magnet motors, has risen dramatically and is now more than 25 times the cost of ferrite. Further, supply of rare earth magnets, nearly sole-sourced out of China, is increasingly uncertain," says Johnson. "The ability to use ferrite magnets allows NovaTorque to price its motors comparable to induction motors. This means OEMs and HVAC systems builders can now economically deliver permanent magnet motor efficiency with their systems."
NovaTorque PremiumPlus+ motors are packaged in standard NEMA frame sizes and mounting dimensions for easy substitution. Due to their high power density, NovaTorque motors are available both in the mounting frame size typical for induction motors, as well as one frame size smaller. NovaTorque PremiumPlus+ motors are compatible with readily available variable frequency drives (VFDs) from most leading manufacturers, including ABB, Yaskawa, Mitsubishi, Fuji, Hitachi, Toshiba, and others.
Click here to learn more about the NovaTorque 60-day trial offer.
Email NovaTorque's Kim Baker, kbaker@novatorque.com, if you have any technical questions.
Published February 2012
Rate this article