Cobot is 'golden arm' for new pipe welding system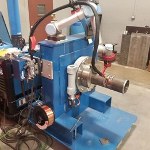 ARC Specialties has solved the challenge of creating repeatable, full-penetration pipe welds by combining artificial intelligence (AI), advanced sensors, and the UR5 collaborative robot from Universal Robots. The unique Artificial Intelligence Pipe Welding System debuted at the Offshore Technology Conference in Houston at the beginning of May.
Read the full article.
---
Piezo motor technology: Questions answered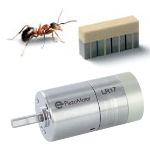 There's a new kind of piezo motor in town, and it's got legs. The Piezo LEGS rotational motor is a direct-friction drive that provides precise motion without any mechanical play or backlash. There are no gears or transmission, so changing the direction of the motion will introduce no error. The simple Piezo LEGS motor is also extremely stiff. Find out the answers to frequently asked questions about this exciting motor technology available from the FAULHABER Group.
Read the full article.
---
Get a linear shafting sample on the house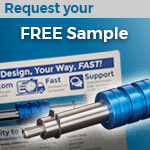 Lee Linear has produced world-class, linear motion components and linear shafting for over 40 years. With the ability to manufacture custom shafting -- threading, diameter reduction, keyways, flats, plating, and more -- to required standards in a short amount of time, Lee Linear is able to fulfill orders on time, eliminating downtime and increasing profits for its customers.
Request your sample.
---
Real-World Application: Actuator linkage for diverter valve in hybrid vehicles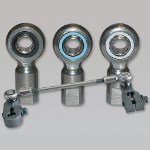 Cablecraft Motion Controls was contacted by a large exhaust gas management system supplier to develop a special actuator linkage to control a diverter valve in the exhaust gas stream of hybrid passenger vehicles. The application presented quite a number of challenges, including meeting cost, temperature, and PPAP timing requirements.
Read the full article.
---
Next-gen permanent magnet AC motor with integrated encoder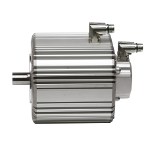 Designed for today's demanding machine drive applications, the new VFsync synchronous AC motors from Bison Gear and Engineering run at high efficiency with advanced variable frequency drives. These IP66/IP54 platform motors were optimized with FEA software and then tooled with highly efficient internal permanent magnet-style rotors. VFsync provides a compact footprint that is 56 percent smaller and 63 percent lighter than common 3-phase induction motors. Power range is .25 to 1.5 hp. They are supplied with swivel connectors and shielded cables to make installation trouble-free. Popular frame sizes available. The product line includes the new motors, quick-connect cables, and a programmable and networked VFD.
Learn more.
---
Largest autonomous mobile robot can lift 1 metric ton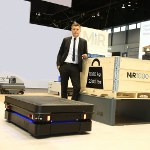 At the Automate 2019 Show and Conference, Mobile Industrial Robots launched the MiR1000, the company's largest autonomous mobile robot (AMR). This mobile platform can automatically pick up, transport, and deliver pallets and other heavy loads up to 1,000 kg (2,200 lb) through dynamic environments. Like the MiR500 introduced in 2018, the MiR1000 is a collaborative, safe, and flexible alternative to potentially dangerous and expensive forklifts on the factory floor. MiR also released another industry first -- artificial intelligence (AI) capabilities across all of its AMRs for improved navigation.
Learn more.
---
Top Roller conveyor for mobile industrial robots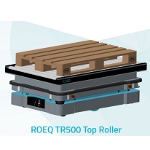 Real efficiency in logistics automation is achieved when the entire workflow is handled by robotics solutions that communicate smoothly with each other. That's the vision behind ROEQ's new TR500 Top Roller unit that automates load and unload operations of the MiR500, the largest and most powerful autonomous mobile robot from Mobile Industrial Robots (MiR). Danish company ROEQ is launching the Top Roller at the Automate 2019 show in Chicago this week, along with a host of other add-ons for MiR. The TR500 accommodates U.S. pallets and can be delivered with a fully automated lifter functionality for pick-up and delivery of goods.
Learn more.
---
Top Tech Tip: Specifying self-lubricating bearings for linear motion systems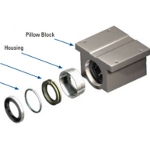 Self-lubricating ball bushing bearings have experienced an increase in use among motion system designers thanks to their ability to significantly reduce cost of ownership, improve performance, and deliver virtually maintenance-free operation. However, these bearings may not reach their full potential without being properly specified, installed, and evaluated for compatibility with their intended environment. Learn how to specify them for long-lasting use in your motion system applications.
Read this informative Thomson article.
---
New long-travel linear motor stage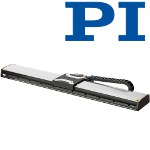 The new V-417.336025E1 linear translation stage from PI is engineered for industrial applications with high demands on dynamics, precision, smooth scan motion, short settling times, and low tracking error. It provides 32 in. of travel (813 mm). The stage achieves high velocities to 79 in./sec (2 m/sec) based on a direct-drive ironless linear servo motor. High accuracy, repeatability, and functionality are guaranteed by an integrated absolute-measuring linear position encoder featuring 1-nm sensor resolution. Applications include: pick and place, optics, semiconductor test and inspection, bio-tech, DNA sequencing, 3D printing, and laser processing and machining.
Learn more.
---
More stopping power for servo motors -- using less space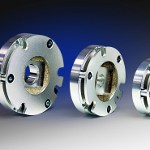 Miki Pulley's BXR-LE spring-applied Electro-Magnetic brake series safely holds a static position, without the need for external power. When the stator is energized, the brake is disengaged allowing free rotation. When no current is applied, compression springs halt the brake rotor, thereby stopping the input shaft rotation. This is an ideal feature to prevent rotation during power failure events. There are six total size configurations in the BXR-LE series to choose from. Of particular importance: These brakes have a slim design and high holding torque in a very compact package. Great for robotics.
Learn more.
---
Variable frequency drives benefit constant speed applications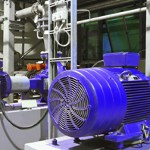 Using a variable frequency drive (VFD) can be beneficial in many constant speed applications driven by electric motors, such as those that require controlled starting and have been historically served by a reduced-voltage soft-starter (RVSS). While an RVSS and a VFD can both provide a controlled start, let's examine the benefits of each technology and when it makes sense to use one over the other.
Read this informative Parker Hannifin blog.
---
How a Seventh Axis adaptation aims to move cobot technology into more factories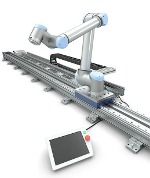 Advances in technology and software are expanding the scope of potential cobot work environments to include small and mid-size operations. That's why Rollon Corporation has created a Seventh Axis system for collaborative industrial robots from Universal Robots (UR). This shuttle system is designed to extend the operating area of UR's cobots to enhance their performance in automated processes for various industries without sacrificing their simplicity.
Read the Rollon article.
---
New 200-W high-torque brushless servo motor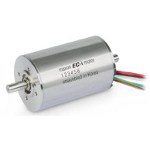 The new EC-i 52XL 200W Brushless Servo Motor from maxon is a powerhouse. When space is limited but high torque and dynamics are required, the maxon EC-i 52XL motor is the ideal motor choice. With its extended length (80 mm to 110 mm), this motor with flux collector rotor provides outstanding torque performance compared to the existing EC-i 52 180W High Torque that is often needed, especially on the industrial automation front. Its extra power can be even more significant at relatively low speed, which makes it a solid fit for a variety of industrial applications including material handling and transport systems.
Learn more.
---
ABB launches IEC food-safe motors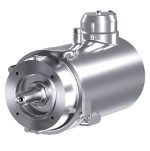 ABB has launched a full range of IEC Food Safe motors designed for applications in the food and beverage industry that need frequent sanitation. The new IEC Food Safe motors are part of ABB's Food Safe family that includes stainless steel NEMA motors, mounted ball bearings, and gearing. Motors are available in the power range 0.18 to 7.5 kW, in 2- to 6-pole versions for 230- to 690-V at 50 or 60 hertz. They feature IE3 premium efficiency to reduce energy consumption and emissions. Flexible mounting arrangements ensure they will fit almost any application. Frame sizes are 71 to 132.
Learn more.
---
New Sinamics G120X drive series specializes in infrastructure pump, fan, and compressor applications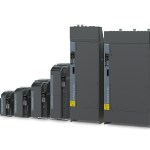 Siemens has introduced the new Sinamics G120X drive, a simple, seamless, and easy-to-use drive designed for use in pump, fan, and compressor applications in industries such as water/wastewater, HVAC/R, irrigation/agriculture, and in industrial environments. Sinamics G120X has a power range of 1 to 700 hp (0.75 to 630 kW) and can operate in temps from -4 to 140 F (-20 to 60 C) with any standard motor, including synchronous reluctance motors (SRM). It has an integral DC choke that improves harmonics and EMC performance. Sinamics G120X meets all the latest and upcoming UL, NEMA, and EN/IEC standards for 2019 and beyond and offers up to 100-kA short-circuit current rating (SCCR), ensuring enhanced product safety and energy efficiency.
Learn more.
---
Naval Research Laboratory designs robot for shipboard firefighting
In both war and peacetime scenarios, fire in the shipboard environment is serious and frequently results in excessive damage and high repair costs because the fire is not detected or controlled adequately. To help further improve future shipboard firefighting capability, scientists at the Naval Research Laboratory (NRL) have formed an interdisciplinary team to develop a humanoid robot that can fight fires on the next generation of combatants.
A humanoid-type robot was chosen because it was deemed best suited to operate within the confines of an environment designed for human mobility and offered opportunity for other potential warfighting applications within the Navy and Marine Corps.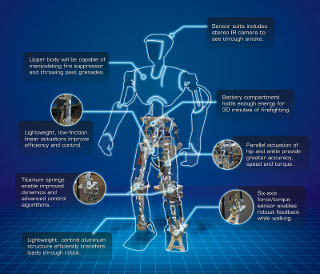 The Naval Research Laboratory's Shipboard Autonomous Firefighting Robot (SAFFiR) is a humanoid-type robot being designed for shipboard firefighting. Click here to view enlarged image.[Photo: U.S. Naval Research Laboratory]
The firefighting robot, called the Shipboard Autonomous Firefighting Robot (SAFFiR), is being designed to move autonomously throughout the ship, interact with people, and fight fires, handling many of the dangerous firefighting tasks that are normally performed by humans. The humanoid robot should be able to maneuver well in the narrow passages and ladderways that are unique to a ship and challenging for most older, simpler robots to navigate.
The robot is designed with enhanced multi-modal sensor technology for advanced navigation and a sensor suite that includes a camera, gas sensor, and stereo IR camera to enable it to see through smoke. Its upper body will be capable of manipulating fire suppressors and throwing propelled extinguishing agent technology (PEAT) grenades. It is battery powered and holds enough energy for 30 minutes of firefighting. Like a sure-footed sailor, the robot will also be capable of walking in all directions, balancing in sea conditions, and traversing obstacles.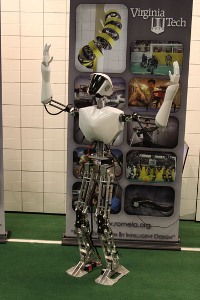 Virginia Tech and the University of Pennsylvania are working with NRL on the firefighting robot project, which will be a follow-on version to the existing Virginia Tech CHARLI-L1 robot, pictured here. [Photo: Virginia Tech]
Another key element of the SAFFiR development is to allow damage-control personnel and the robot to work cohesively as a team. Algorithms are being developed to allow autonomous mobility and decision making by the robot as a team member. To enable natural interaction with a human team leader, the robot will have multimodal interfaces that will enable the unit to track the focus of attention of the human team leader, as well as to allow the robot to understand and respond to gestures, such as pointing and hand signals. Where appropriate, natural language may also be incorporated, as well as other modes of communication and supervision.
Researchers from Virginia Tech and University of Pennsylvania are also working with NRL on the project. They plan to test the firefighting robot in a realistic firefighting environment onboard the ex-USS Shadwell in late September 2013.
Source: NRL
Published March 2011
Rate this article