Get your 3D-printing Mojo on for $185 a month:
Stratasys unveils lowest-priced professional-grade 3D-print system
3D printing innovator Statasys has been itching to let the world in on its latest creation, and now the time has come. The company unveiled its Mojo system on May 8.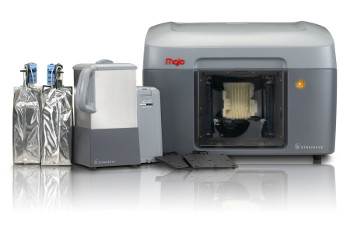 What's a Mojo? It's a compact 3D printer, a little bigger than a desktop 2D printer at 25 in. wide and 21 in. deep and 18 in. high (64 x 53 x 46 cm), that comes in a complete system called a 3D Print Pack.
Priced at $9,900, the Mojo 3D Print Pack is more than just the printer. The package contains everything needed to produce models (including material and a support-removal system) so you can test for overall design, form, fit, and function right at your desk. Like all 3D printers from Stratasys, Mojo is a genuine, patented Fused Deposition Modeling (FDM) system. Here in the U.S., the company is offering a leasing option with payments as low as $185 per month.
How big can you go? Build size is 5 x 5 x 5 in. (12.7 x 12.7 x 12.7 cm). To produce a model, Mojo employs an innovative variation on traditional FDM material extrusion. The ABS material spool and the print head are integrated to a single package, called the QuickPack print engine. To ensure optimal reliability, a fresh print head is part of each material change. Material loading is similar to snapping in an inkjet cartridge on a paper printer. Build times depend on the size of the product being made and whether it is solid, sparse-fill, or hollow inside. It all comes down to the volume of material it will take to build the part. A Stratasys rep says that a small part the size of a plastic spoon might take 20 minutes to build.
Mojo produces models in ABSplus (P430) production-grade thermoplastic in ivory, the most-requested color by engineers. The system employs auto-calibration and has a 0.007-in. layer resolution previously available only in the higher-end Dimension Elite and the Fortus Production 3D Printer line.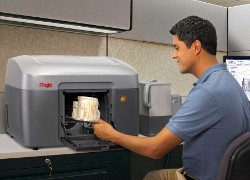 No training is needed to get the system set up and running, and settings are selected at the host computer, not the printer itself. Modeling operations are easy with Mojo's preprocessing software, Print Wizard, which helps users efficiently manage workflow. Support material removal is also a simple process with the included WaveWash55. It is a self-contained, hands-free cleaning system, and it requires no plumbing.
There are three steps to producing your part on the Mojo system.
1. Create your idea. Design your idea in 3D CAD software and then just click "print." Print Wizard software processes your CAD program's STL output and orients your 3D model with real-time auto-packing, auto-scaling, and 3D thumbnail views.
2. Print your 3D model. The Mojo print head glides quickly and quietly above the build chamber, using FDM Technology to build your 3D model and its support material, layer by layer. The Mojo Control Panel provides print job status, including estimated printing time.
3. Remove support material. Once you've placed your printed model and Ecoworks Tablet into the compact WaveWash 55 Support Cleaning System, internal agitation within the covered carafe dissolves the soluble support material away quickly and quietly.

Video note: This video does not show the process for support-material removal. The part does not come out of the machine 100% finished.
Want more information? Click below.
Stratays Mojo 3D printing system
Source: Stratasys
Published May 2012
Rate this article