Wheels:
Engine control integrates energy-flow management, predicts route demands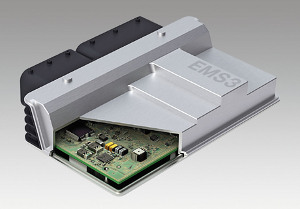 Continental's Engine Management System 3 (EMS3) platform.
International automotive supplier Continental has just released its Engine Management System 3 (EMS3) platform, a new generation of engine and drive controls.
This unit not only governs fuel injection and ignition with even more precision than ever before, but also coordinates electric automobile motors and monitors their battery charge status, maximizing the interplay between a hybrid's internal combustion engine and its electric motor.
The EMS3 incorporates still another completely new feature: predictive-based energy management (pEM). This software module is based on information obtained from Continental's eHorizon software system to processes information on the driving style of whoever is behind the wheel. eHorizon is a virtual vision system that uses topographical data and the GPS signal to furnish a three-dimensional profile of the route to the EMS3. However, it doesn't just use that information to calculate energy requirements. Instead, it identifies the segments along the route where recuperation is possible. It determines with what load and where the combustion engine would work more efficiently alone, or where the electric motor would perform better.
"With our new engine management platform, we coordinate power, but we also direct the flow of energy along the drive train," says Jörg Grotendorst, head of strategy and technology of the Continental Powertrain Division.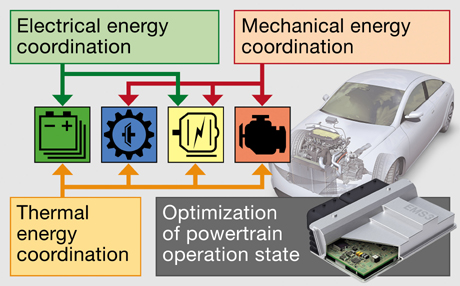 Energy-management forecast lowers systems costs and consumption.
The system's open architecture, patterned after AUTOSAR standards, also helps diminish the variety of applications along the engine's periphery. Existing subsystems will be able to continue serving in many cases.
Predictive-based energy management lowers both system costs and fuel consumption
Many of the cars of the future will have electric motors, but the classic internal combustion engine will continue to do road duty throughout the foreseeable future. Therefore, the challenge to both automotive suppliers and manufacturers will be to come to terms with the great variety of propulsion concepts and to refine them.
The initial exuberant expectations of electronic vehicles have given way to a more realistic assessment. Whereas electric vehicles are gaining acceptance very slowly, hybrids are garnering more attention. Continental's strategy is to keep refining the power train by the addition of electric elements.
The new EMS3 is a major player in this strategy. The engine management system integrates the fully variable valve control, cylinder shutoff, all the sensors, and the actuators needed to satisfy forthcoming European (Euro 6) and U.S. emission standards. It also governs the components in the electrical path of a hybrid vehicle, coordinates electrical devices along the drive train, and handles heat management for the battery.
Since storage devices cause the highest costs in a hybrid drive system, the goal is to employ batteries with as little capacity as possible. So Continental engineers came up with a completely new approach: predictive-based energy management (pEM). The idea behind it is that a small battery that permanently performs at full capacity is just as effective in reducing fuel consumption as a larger one that only recharges during the usual window of opportunity.
Two problems needed solving first. A situation could arise in which the electric motor might be the more efficient alternative but the battery is dead precisely at that moment. Or good opportunities for recharging the battery might go by unused because the combustion engine has already charged it.
Continental has circumvented theses problems by forecasting how much energy the vehicle will need to make a trip. It doesn't just calculate the total amount of energy needed but also the amount needed for each segment. To do this, Continental's eHorizon draws upon data from the navigation system such as distance, geography, number and spacing of curves, intersections, and speed limits. It also draws upon information on the driving style of whoever is sitting behind the wheel. The EMS3 then uses this information to determine where and to what extent it can recuperate braking energy, during which segment the combustion engine can recharge the battery with the least possible load, where it is possible to drive solely with an electric motor, plus numerous other functions.
This new function of the engine control unit should deliver whatever power a driver might need, but it also manages the entire flow of energy along the drive train, be it from fossil fuel or from electricity. Although the abbreviation EMS could stand for Engine Management System, Continental points out that it could also mean Energy Management System. The idea is to push the window of opportunity for recharging the battery to its electrochemical limit, thus maximizing utilization. The company's test drives indicate that comprehensive management of this kind can reduce the total amount of energy needed by up to 10%.
More benefits
This sophisticated energy management system results in a smaller battery, which in turn results in manageable system costs. Since the new engine control platform is based on Power SAR, the Powertrain implementation of AUTOSAR standards, existing subsystems can frequently continue in use or customers can replace them with AUTOSAR-based object code. Many applications are already scalable, which makes them usable for varying numbers of cylinders, different fuels, or different classes of vehicles. To name some examples, the energy and torque management functions or the air-path function can find application in either diesel or gasoline engines, while the SCR (selective catalytic reduction) function can find application in anything from a passenger car to a heavy truck.
The EMS 3 platform's system architecture, moreover, reflects the ongoing merger of gasoline and diesel technology. Many functions have been developed for both gasoline and diesel engines. Continental's Powertrain Division will eventually package the functions and solutions in the EMS3 platform. This approach will help to diminish the complexity of the entire system.
Reduction of CO2 emissions is also a benefit of this technology, which, when added to other engine controls and components, can make quite a difference in total output.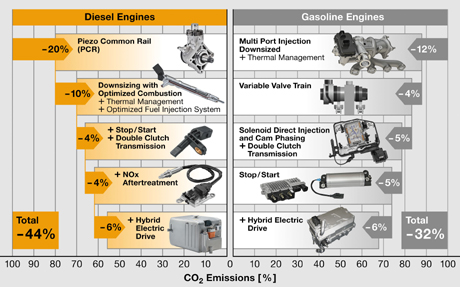 Potential for CO2 reduction in future combustion engines.
Source: Continental
Published May 2012
Rate this article