Wheels:
Start/stop technologies require good vibrations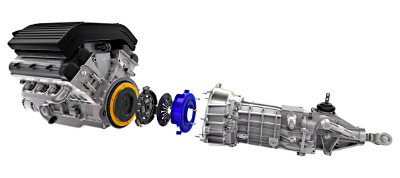 Flywheel complete with a Trelleborg damper, clutch disc, clutch spring, and pressure plate.
New start/stop technologies in cars are a hit with frugal and eco- conscious drivers. Thanks to Trelleborg's experience with antivibration technology in dual-clutch transmissions, the company is helping to keep low-energy motoring smooth.
Large engines such as V12s and V8s run pretty smoothly in terms of vibration. But with today's rising fuel prices and growing environmental concerns, consumers are turning to smaller, lighter, and more fuel-efficient engines. To achieve similar or superior levels of comfort for drivers and passengers, these new engines require improved vibration-damping technology.
"The introduction of dual-clutch assemblies has been an important development in automatic drivetrains for passenger cars," says Arvid Norberg, product manager with Trelleborg. "They provide smoother automatic gear changes and, more importantly, improved fuel consumption."
In a dual-clutch assembly, the flywheel maintains the crankshaft's rotational speeds during gear ratio changes, thereby minimizing wear and energy loss. However, Norberg points out, a circular disc of machined cast steel is a very good sound emitter.
"Vibration transmitted from the crankshaft can be broadcast as if from a loudspeaker," he says. Vibration frequencies, which are transmitted structurally through the vehicle frame, can range from 200 Hz to several kilohertz. One to 2 kHz is of particular concern, as those frequencies are very audible. Of course, the vibration can also wear down associated components such as bearings and mountings.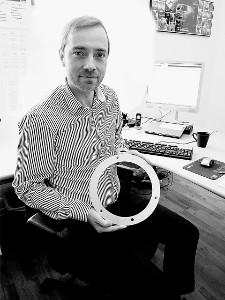 Vibration transmitted from the crankshaft can be broadcast as if from a loudspeaker, says Arvid Norberg, product manager with Trelleborg.
Trelleborg's solution takes the form of a damper applied directly to the flywheel to absorb vibration energy transmitted from the crankshaft and pistons. The damper consists of sandwiched layers of rubber and steel that are vulcanized together under pressure to prevent delamination. Its flat ring shape, occupying about a fifth of the flywheel's surface area, varies in thickness between 1 mm and 2 mm (0.04 in. and 0.08 in.). The material is either riveted to the face of the flywheel or bonded with adhesive and riveted.
"Careful tuning of the positioning, materials, and thickness has provided us with extensive data, giving us excellent insight into the performance of vibration-suppression systems," says Norberg.
Clutch-controlled start/stop technology is a further technological advance in this field, minimizing fuel use when an engine idles. When the starter motor is operated by depressing the clutch, a toothed wheel engages with teeth on the perimeter of the flywheel and rotates it. Vibration and noise arise both from the action of the restart and during normal running of the engine, so suppression technology is critical for a smooth driving experience.
"With our insights into vibration damping in drivetrains, we have been able to offer rapid and evolved solutions," says Norberg. "This has enabled us and our development partners to lead the way in this aspect of start/stop technology."
Brakes need sound solutions, too
Low-frequency brake noise, a long-standing problem in cars, has become a bigger issue as driver expectations and environmental demands increase.
As automotive designs become more lightweight, greater structural vibrations make low-frequency brake noise more pronounced. The industry standard for solving squeal noise has been the use of shims or insulators. However, low-frequency squeals and moans require a different solution, and until recently there have been very few well-developed options.
Trelleborg's Reqill Tuned Absorbers deal with moans that occur at low speeds and low brake pressure, characterized by a resonant frequency component typically between 100 Hz and 500 Hz. They also counteract low-frequency brake squeal in an approximate range of 800 Hz to 3,000 Hz. The tuned absorbers have multiple tuning directions, excellent heat resistance, and superior durability.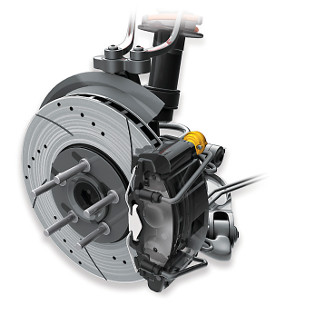 Trelleborg's Reqill Tuned Absorbers deal with moans that occur at low speeds and low brake pressure.
"A unique aspect of our product is that it is able to function from the moment the ignition is switched on, when the vehicle is cold, until the end of the journey," says Erik Gustavsson, sales and marketing manager at the automotive manufacturing facility in Forsheda, Sweden. "The extremely broad temperature range of this product is possible thanks to Trelleborg's unique design and material selection."
The problem of low-frequency brake noise varies across different makes and models, so Trelleborg has worked with a number of vehicle manufacturers and brake systems suppliers to develop unique solutions for individual applications.
Source: Trelleborg
Published June 2012
Rate this article