New hybrid nylon TPEs are tough, flexible, and more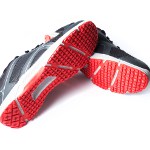 Nylon Corporation of America has launched an extended product family of nylon (polyamide) -based thermoplastic elastomers (TPEs), also known as polyether-block-amides (PEBA), for a range of applications in the automotive, sporting goods, personal electronics, composite, and specialty films markets. These materials are block copolymers of nylon segments and polyether segments. The nylon block is the hard segment and the polyether block is the soft, flexible segment. NY-FLEX grades are thus hybrid materials, offering a unique combination of rubber-like elastomeric properties and thermoplastic-like processing capabilities. By varying the type and the ratio of these two blocks, a wide range of NY-FLEX grades can be offered.
Learn more.
---
High-hardness 3D-printing materials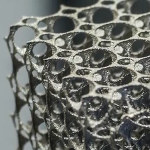 If your vision of the future is 3D printing your own high-hardness steel bearings right at your location on demand, your wish has been granted. A new development from the NanoSteel Company supports the market need for on-demand, on-site wear parts while addressing the current challenges in 3D printing of high-hardness parts. NanoSteel's powder alloy overcomes one of the major hurdles to achieving a high-hardness metallic part through additive manufacturing: the tendency to develop cracks during part builds. The company worked with a global process development partner to optimize processing of a proprietary NanoSteel alloy with a high-volume fraction of borocarbide phases. This successfully produced a fully dense (99.9 percent) crack-free part with hardness values over 1000 HV, wear resistance comparable to conventionally manufactured M2 tool steels, and a uniform microstructure.
Click here to learn more.
---
New advanced titanium alloy for high-temperature aerospace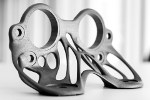 Arconic has announced the commercial availability of an advanced titanium alloy called ARCONIC-THOR that is designed for higher temperature applications in next-gen aero engines and adjacent structures. This patented material is nearly 50 percent lighter than incumbent nickel-based superalloys. The proprietary formulation also demonstrates three times improved oxidation resistance compared to existing high-temp titanium alloys. Arconic has completed successful development projects of ARCONIC-THOR with the U.S. Air Force Research Laboratory, Boeing, and Honeywell. A new project is in the works with Lockheed Martin.
Learn more about the ARCONIC-THOR alloy.
Read about Arconic's agreement with Lockheed Martin.
---
Odorless thermal insulation material for automotive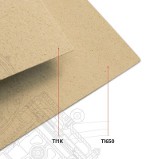 Interface Performance Materials introduces TI650 and TI1K innovative thermal insulation materials for automotive and heavy-duty vehicle heat shield applications. TI650 and TI1K are the first odorless and smokeless materials specifically formulated for three-layer heat shields in the automotive, medium-, and heavy-duty vehicle applications. These non-toxic materials withstand temps up to 1,000 C (1,832 F), are malleable, and are resistant to cracking when molded into a layered heat shield. Their low-density makeup makes them the ideal substrates for lightweight initiatives by OEMs and fabricators. A highly inorganic material, TI1K is also unique in its ability to meet the ASTM E136 flammability test standard with no detectable smoke.
Learn more.
---
Get 'Digital Manufacturing for Dummies' book gratis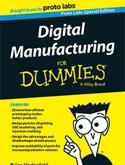 Proto Labs has put together a comprehensive guide to the major 3D-printing, CNC machining, and injection-molding technologies that are frequently used in digital manufacturing. The book helps readers to compare processes, explore material options, and see how digital manufacturing can fit into every stage of the product life cycle.
Get your copy on the house.
---
Precision ceramic and glass microcomponents
Goodfellow, a favorite materials provider for Designfax readers, also supplies a wide variety of ceramic and glass microcomponents, both standard items and items precision-machined to customer specifications. Examples include: ultra-thin glass microsheet for use as transparent substrates and electrical insulators; precision spheres for use as precision spacers and optical components; micro optics such as prisms, lenses, and windows; injection-molded ceramic microcomponents for surgical equipment and fiber-optic applications; polished sapphire bearings and sub-mm bore nozzles; and single- and multi-bore capillary tubing. Other items are available upon request.
Learn more.
---
Smith Metal Products adds Titanium Metal Injection Molding capabilities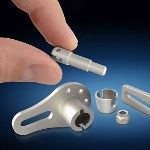 Smith Metal Products has added Titanium Metal Injection Molding (TiMIM) capabilities to its MIM portfolio of materials that include stainless steels, alloys, and ceramics. TiMIM involves mixing powdered Titanium metal with a binder material to compose a feedstock capable of being handled by injection molding equipment. Metal injection molding allows complex Titanium parts to be shaped with precision in a single operation and in high volume as compared to traditional Titanium machined metal components.
Learn more.
---
Entry-level industrial-grade 3D printer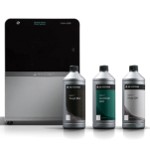 The FabPro 1000 from 3D Systems is a new entry-level system that packs 30 years of industrial 3D-printing know-how into its design to deliver superior quality at up to 3X faster high-throughput print speeds than competing printers. Digital Light Printing (DLP) Stereolithography uses a projector to image each layer within a UV-curable, liquid plastic material. This easy-to-use system, with a build size of 125 x 70 x 120 mm (4.92 x 2.76 x 4.72 in.), has 3D Sprint file preparation and print software included -- all at a price of $4,995.
Learn more about it.
---
Polyplastics develops metal-resin bonding tech for automotive and electrical/electronics
Polyplastics (Tokyo), a global supplier of engineering thermoplastics, has developed an innovative technology for direct metal-resin bonding, a process that uses metal insert molding. Metal parts and resins are firmly bonded by introducing molten resin through injection molding to metal parts that have already undergone sufficient surface treatment. Metal-resin composites deliver the properties of metals (high rigidity, electrical conductivity) and engineering plastics (low density, electrical insulation). This technology has overcome the many factors that traditionally have had an adverse effect and prevented stable bonding. Polyplastics has a U.S. presence in Farmington Hills, MI.
Click here to learn more.
---
Surface treatment available for strongest cast aluminum alloy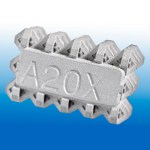 General Magnaplate Corp. has made an exclusive license agreement with the U.K.'s Poeton Industries for the Apticote A20X surface enhancement process, used for treating the innovative A20X aluminum alloy. A20X is MMPDS certified (as AA205) and is the strongest cast aluminum alloy available today, with strength properties comparable to 7000 series wrought material. A20X cast and additively manufactured parts are in production today for major aerospace customers. The AptiMag-X treatment enhances the surface of A20X parts, improving wear resistance, hardening, and finish. The agreement means that General Magnaplate will become the exclusive supplier of Apticote A20X, which they will brand AptiMag-X in North America. Licensed A20X foundries, additive manufacturing companies, and aerospace customers will be able to have parts treated with AptiMag-X at the company's facilities in Linden, NJ, and Arlington, TX.
Click here to learn more.
---
New light and tough structural compounds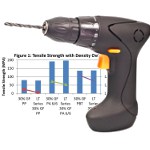 RTP Company has developed new light and tough (LT) Compounds, a series of thermoplastic compounds that weigh 5 to 10 percent less than typical filled compounds, but with equivalent mechanical properties and similar shrinkage values. LT Compounds are a fast and easy way to accomplish weight reductions in parts molded with glass fiber reinforcement without compromising performance or requiring modifications to existing tools. They are best used as lightweight alternatives when the goal is to minimize energy consumption or the amount of human effort required to use the part.
Click here to learn more.
---
How colorants affect plastic characteristics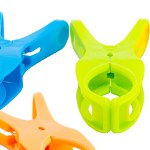 If you're starting a custom plastic injection molding project, you'll want to select a material with the properties most suitable for the function of your parts. One aspect of polymer characteristics that doesn't always get the consideration it deserves is the addition of colorant. Believe it or not, there is a whole scientific body of knowledge about the ways in which adding color to plastic can affect the behavioral properties of the plastic. This short article by Denny Scher of ICO Mold takes a high-level look at some of the different, and surprising, ways colorants can have an effect on plastics.
Read the full article.
---
SABIC adds unique PP Ultra Melt Strength resin to its global foam portfolio for lightweighting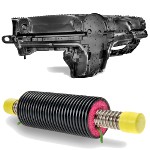 SABIC PP-UMS (Ultra Melt Strength) resin is a completely new generation of melt strength polypropylene. This new resin is unique in the market, with a melt strength of more than 65 cN and outstanding foam-ability. It can be used by all industry segments as a building block to develop new foaming solutions that enable an unprecedented level of lightweighting, from automotive to packaging to the building and construction markets.
Click here to learn more.
---
Understanding how metal 3D parts are made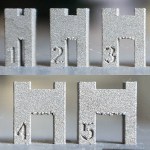 Greg Paulsen, Xometry's director of applications engineering, explores key design considerations for Metal 3D Printing. Learn how support structures and build orientations impact the finished part's features and surface finish, so you can know what to expect from your next Direct Metal Laser Sintering (DMLS) project.
Read this insightful blog full of useful examples.
---
Dow structural adhesive joining solutions enhance lightweight module construction in automotive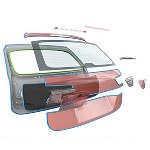 Dow Automotive Systems is leveraging its existing structural adhesives portfolio as well as its development expertise to offer BETAFORCE, BETAMATE, and BETASEAL solutions that enhance lightweight module construction. Liftgate/hatchback, decklids, and front-end carrier modules are increasingly designed using a multi-material mix to decrease weight while maintaining design flexibility, styling, and safety performance.
Read the full article.
---
New blue compound could become significant factor in cooling buildings and even cars
A new type of durable, environmentally benign blue pigment discovered at Oregon State University has also been found to have unusual characteristics in reflecting heat - it's a "cool blue" compound that could become important in new approaches to saving energy in buildings.
The compound, which has now received patent approval, was discovered about three years ago almost by chance, as OSU scientists were studying some materials for their electrical properties.
Its potential use to help reduce heat absorption on the roofs and walls of buildings - which is an evolving field of considerable interest in warm regions where cooling is a major expense - adds another role for the material, which is now being considered for various commercial applications.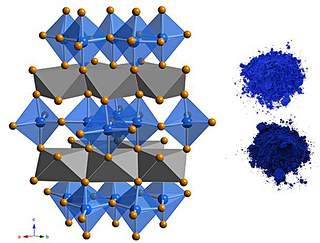 The unusual "trigonal bipyramidal" crystalline structure seen here is being used by researchers at Oregon State University to create a range of new pigments with properties of safety and stability that should have important applications in the paint and pigment industries. [Graphic courtesy of Oregon State University]
"This pigment has infrared heat reflectivity of about 40 percent, which is significantly higher than most blue pigments now being used," said Mas Subramanian, an OSU professor of chemistry who discovered the compound.
"The more we discover about the pigment, the more interesting it gets," Subramanian said. "We already knew it had advantages of being more durable, safe and fairly easy to produce. Now it also appears to be a new candidate for energy efficiency."
"Cool roofing," in which paints are used to reflect significant portions of the sun's heat and thereby reduce cooling costs, is an important new trend in "green" construction and energy efficiency, experts say. Such reflective coatings also are more aesthetically pleasing, have less thermal degradation, reduce the "heat island" effect in cities, lower peak energy demand, and reduce air pollution due to lower energy use and power plant emissions.
"We're seeking licensing partners for this invention right now," said Mary Phillips, associate director of the Office for Commercialization and Corporate Development at OSU. "We believe it can contribute to new energy efficiency solutions around the world."
In general, any darker color of the type often used for roofs, houses, automobiles or other applications will tend to absorb more heat. But some compounds, like the one discovered at OSU, have dark tones but also the ability to reflect heat in the infrared spectrum, which is responsible for most of the heat energy absorbed from sunlight.
The material created at OSU, researchers say, is probably the best blue pigment humans have produced since ancient times - going back to efforts by the Egyptians, the Han dynasty in China and Mayan cultures. Blue pigments have been sought through history but often had serious drawbacks, such as decaying quickly, being toxic, costly or carcinogenic.
In research funded by the National Science Foundation, OSU scientists discovered this material by coincidence while they were looking for something else.
Some manganese compounds came out of a 2,000 degree Fahrenheit oven transformed into a beautiful blue, which researchers later determined was due to an unusual "trigonal bipyramidal coordination" of their molecules that changed when exposed to extreme heat.
Research will continue at OSU on the heat reflectance capabilities of the new compound and the underlying molecular structure responsible for it, scientists said.
Source: OSU College of Science
Published July 2012
Rate this article