Cool Tools: Unit Conversion Tool

Convert popular spring units such as force or retaining ring thrust capacities into metric units with Smalley's engineering tools. Convert units such as mass and weight, angular measurements, velocities, temperatures, pressures and densities, and more.
Click here to learn more. You should bookmark this one.
---
Smith Metal Products adds Titanium Metal Injection Molding capabilities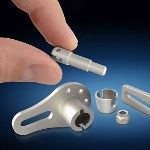 Smith Metal Products has added Titanium Metal Injection Molding (TiMIM) capabilities to its MIM portfolio of materials that include stainless steels, alloys, and ceramics. TiMIM involves mixing powdered Titanium metal with a binder material to compose a feedstock capable of being handled by injection molding equipment. Metal injection molding allows complex Titanium parts to be shaped with precision in a single operation and in high volume as compared to traditional Titanium machined metal components.
Learn more.
---
Linear miniature torque splines and nuts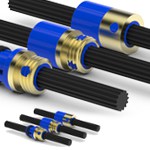 Helix Miniature Torque Splines provide a convenient and efficient device that allows low-friction linear motion while transmitting torque. In a Helix PT Spline assembly, the high-strength composite polymer bushing carries the load between the rotating member (inner race) and the rotating/translating member (bushing). Helix PT Splines are coated with Helix H10X PTFE coating for long life and anti-friction. Available in three bushing styles: Cylinder Mount, Thread Mount, and Anti-Backlash.
Click here to learn more.
---
Entry-level industrial-grade 3D printer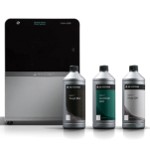 The FabPro 1000 from 3D Systems is a new entry-level system that packs 30 years of industrial 3D-printing know-how into its design to deliver superior quality at up to 3X faster high-throughput print speeds than competing printers. Digital Light Printing (DLP) Stereolithography uses a projector to image each layer within a UV-curable, liquid plastic material. This easy-to-use system, with a build size of 125 x 70 x 120 mm (4.92 x 2.76 x 4.72 in.), has 3D Sprint file preparation and print software included -- all at a price of $4,995.
Learn more about it.
---
Save time with Spirolox® retaining rings

Unlike die-stamped circlips, Spirolox retaining rings and constant section rings are coiled on edge to the exact diameter required. Spirolox rings have no protruding ears to interfere with mating components in an assembly and do not require special tools for removal or installation. Unlike traditional fasteners, retaining rings eliminate machining and threading, reducing costs and weight. Spiral retaining rings do not require special tools for removal and are supplied standard with removal notches for easy extraction from a groove. Smalley offers over 6,000 standard rings, which are readily available in both carbon and stainless steel. For more information, download the eBook. Visit Smalley.com to request a catalog and product samples, or contact one of Smalley's engineers with questions.
---
Polyplastics develops metal-resin bonding tech for automotive and electrical/electronics
Polyplastics (Tokyo), a global supplier of engineering thermoplastics, has developed an innovative technology for direct metal-resin bonding, a process that uses metal insert molding. Metal parts and resins are firmly bonded by introducing molten resin through injection molding to metal parts that have already undergone sufficient surface treatment. Metal-resin composites deliver the properties of metals (high rigidity, electrical conductivity) and engineering plastics (low density, electrical insulation). This technology has overcome the many factors that traditionally have had an adverse effect and prevented stable bonding. Polyplastics has a U.S. presence in Farmington Hills, MI.
Click here to learn more.
---
Surface treatment available for strongest cast aluminum alloy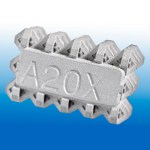 General Magnaplate Corp. has made an exclusive license agreement with the U.K.'s Poeton Industries for the Apticote A20X surface enhancement process, used for treating the innovative A20X aluminum alloy. A20X is MMPDS certified (as AA205) and is the strongest cast aluminum alloy available today, with strength properties comparable to 7000 series wrought material. A20X cast and additively manufactured parts are in production today for major aerospace customers. The AptiMag-X treatment enhances the surface of A20X parts, improving wear resistance, hardening, and finish. The agreement means that General Magnaplate will become the exclusive supplier of Apticote A20X, which they will brand AptiMag-X in North America. Licensed A20X foundries, additive manufacturing companies, and aerospace customers will be able to have parts treated with AptiMag-X at the company's facilities in Linden, NJ, and Arlington, TX.
Click here to learn more.
---
New bearings for high-speed applications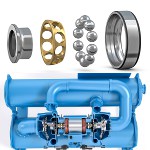 A clear trend in compressor and pump applications is to raise the power density by increasing the rotational speed. To fulfill this requirement, SKF has developed a new range of single-row angular contact ball bearings. The goals have been threefold: to increase the limiting speed by 40 percent, to reduce the noise levels, and to increase the robustness of the bearing in unfavorable operating conditions (shock loads, shaft misalignment, etc.). Apart from these, SKF is helping manufacturers to meet customer demands for even higher levels of energy efficiency and reliability.
Read the full article.
---
What are the strongest adhesives for bonding titanium?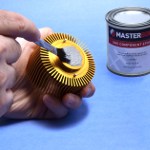 Master Bond's labs recently tested the tensile lap shear strength of a variety of adhesives when bonding titanium to titanium. The surfaces were properly roughened and cleaned with acetone in preparation for the tests. Each of the 11 one- and two-part epoxies tested features different thermal, electrical, and chemical resistance properties that can make them more appealing for specific applications. Therefore, it's important to consider the operational conditions before deciding that the system with the highest strength value is the best for the titanium bonding job.
Learn more.
---
Build a mini synchronous drive system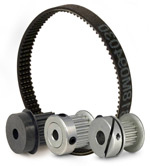 With the Miniature Synchronous Drive System from Stock Drive Products (SDP), you can put your own 1-, 2-, or 3-mm design together in a snap. The tiny timing belts and pulleys are engineered and manufactured to give high accuracy and smooth, dependable operation in 3D printers, moving security cameras, med devices, robotic surgical equipment, self-service machines, and more. Advantages include no-slip synchronization, accurate positioning, high torque transmission with low backlash, quiet operation, and long belt life.
Click here to learn more.
---
New light and tough structural compounds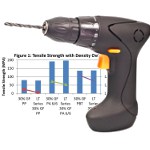 RTP Company has developed new light and tough (LT) Compounds, a series of thermoplastic compounds that weigh 5 to 10 percent less than typical filled compounds, but with equivalent mechanical properties and similar shrinkage values. LT Compounds are a fast and easy way to accomplish weight reductions in parts molded with glass fiber reinforcement without compromising performance or requiring modifications to existing tools. They are best used as lightweight alternatives when the goal is to minimize energy consumption or the amount of human effort required to use the part.
Click here to learn more.
---
Mix-and-match cup mount offers flexibility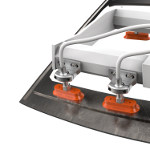 Piab has introduced a flexible mounting system for suction cups that enables users to easily install and configure vacuum technology-based tools and fixtures perfectly tailored for handling such items as automotive body parts or plastic details. The company's Flexible Suction Cup Mount comprises a broad range of interchangeable parts. Several different mounting options for industry-standard end-of-arm tooling connections are available, including Universal joint (C-C 4 4mm), Profile mount (2 x 8/10.5 mm), Lock-pin (19 mm), and Ball-joint. Rods are available in two sizes and are held in place by a clever and user-friendly ball-joint fastening mechanism.
Learn more.
---
Solvay specialty filaments up the game for 3D printing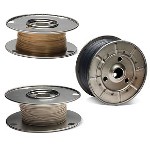 Solvay aims to take additive manufacturing (AM) to the next level with the launch of three specialty polymer filaments that promise to introduce game-changing performance for 3D-printed parts. Two of the three filaments leverage Solvay's high-performance KetaSpire® polyetheretherketone (PEEK) polymer: a neat PEEK product and a 10-percent carbon fiber-reinforced grade. Both PEEK filaments are designed to allow excellent fusion of printed layers, enable high part density, and deliver exceptional part strength -- including in the z-axis. The third new filament is based on Solvay's Radel® polyphenylsulfone (PPSU). Also formulated to allow excellent fusion of layers, this high-performance PPSU material offers high transparency, excellent elongation, and superior toughness for 3D-printed parts.
Click here to learn more.
---
Select gas springs instantly: ACE online sizing tool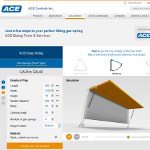 ACE Controls has launched a new, user-friendly online calculator that enables customers to size ACE gas springs for hoods, flaps, and machine enclosures. The tool also dramatically shortens the time between design and delivery. Available on the "Calculations" tab of the ACE homepage, the tool requires customers to input the details of the flap, including the length, width, and opening angle. It then generates interactive 2D and 3D simulations, which users can rotate, tilt, and zoom. It also calculates pressure and provides customers with the model number and desired mounting accessories. Users can download a mounting sketch with the specifications, or they can submit the online contact form to initiate the order process.
Learn more.
---
3M releases new composite spray adhesive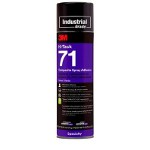 To meet the demands of the growing infusion molding industry, 3M has introduced a new spray adhesive formulated to make the dry-layup process more effective. 3M Hi Tack Composite Spray Adhesive 71 is highly compatible with resins and yields stronger composites as a result. This new adhesive will benefit manufacturers across several industries, including industrial, marine, transportation and composite. Featuring fast tack and high strength with excellent shear holding power, it will bond fiber, fabric, wood, and much more. Available in clear or in green for better visual control, this adhesive meets CARB and OTC VOC requirements.
Click here to learn more.
---
170 tons: MAG completes mammoth portal mill built to produce large diesel engines and massive industrial components
One of MAG's newest product developments, the giant 6-axis U6 bridge-type portal mill, is completing its runoff in Hebron, KY, prior to shipping later this year. The massive machine, which weighs nearly 154 MT (170 tons), is outfitted with five interchangeable cutting heads, including two custom designs to allow five-sided machining on oversized diesel engine blocks and industrial components. Equipped to deliver up to 74.5 kW (100 hp) into the cut, the machine can complete all six sides of a 5,900-kg (13,000-lb), 16- or 20-cylinder diesel engine block in just three setups at a total time of about 30 hr. The turnkey solution from MAG includes the machine, special spindle heads, cutting tools, part programs, and workholding fixture.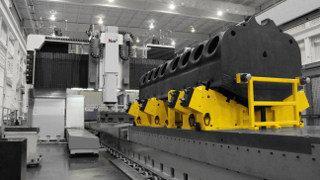 The U6 is engineered for heavy-duty machining of large precision parts, such as this 16-cylinder diesel engine block weighing 5,900 kg (13,000 lb). The machine's robust construction makes it ideal for heavy cuts in steel, titanium, Inconel, or cast iron.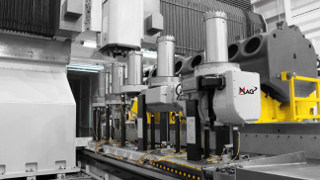 The U6's full complement of accessories includes a spindle head storage/retrieval system that allows automatic head changes to maximize the machine's productivity. The special-purpose heads enable completion of a multitude of complex features on five sides of the part in one setup.
This particular machine has a working range of 13 m x 2.6 m x 1 m x 1.25 m (X-Y-W-Z), with speeds up to 20 m/min (787 ipm) and linear-axis repeatability of 0.01 mm (0.0004 in.). The W+Z axes combined deliver a programmable vertical range of 2.25 m (7.3 ft) for deep reach into or around parts. The machine is configured with a two-table system to transfer workpieces in and out of the cutting zone, enabling it to cut one part while a second is being set up or unloaded off line. This allows parts to be machined in sets of two, using the five spindle heads and a full complement of operations including milling, facing, boring, drilling, tapping, and specialty serration milling. The five spindle heads are changed automatically for maximum efficiency and minimal cycle time.
"This machine is the newest and most advanced design in its class, utilizing linear way technology and all-electric drives for speed, accuracy, and energy efficiency," says Chip Storie, MAG executive vice president. "It is whisper quiet, and proved its dynamic stiffness during sustained-power qualification tests. It will produce the customer's parts in less time, at a lower cost, when all the high-efficiency features are applied, giving the customer a competitive advantage."
Engineered for lean machining of large parts
The U6 universal machining center is engineered for lean manufacturing of large complex-geometry parts. Its 5-axis machining and contouring capabilities minimize downtime, part reorientations, and set ups. The machine's robust construction makes it ideal for heavy cuts in large cast iron, steel, Inconel, or titanium parts encountered in aerospace, off-road, energy, marine, and mining equipment. The U6's energy-efficient all-electric design eliminates hydraulic noise and maintenance issues, particularly compared to older-style, hydrostatic guideways. Replaceable low-friction linear guideways improve axis responsiveness and help reduce energy consumption.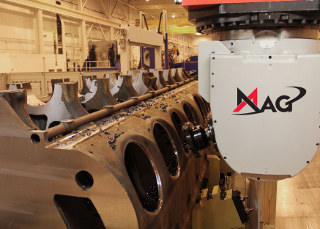 The U6 can be outfitted with a range of high-torque or high-speed spindles, up to 74.5 kW (100 hp) and 24,000 rpm, with choice of tapers, and vertical, horizontal, 5-axis, or custom head configurations to cover a wide spectrum of machining requirements. This photo shows the contouring gimbal head machining the ports on the diesel engine block.
Available in a bridge or traveling gantry design, the U6 can be configured with a crossrail (Y-axis) up to 9 m (29.5 ft), while the adjustable W-axis (vertical crossrail movement) provides up to 5 m (16.4 ft) additional travel to complement up to 2.5 m (8.2 ft) of Z-axis range. The maximum 7.5-m (24.6-ft) programmable vertical range of the machine (W+Z axes) gives it the capacity to machine, or maneuver over, tall or oddly shaped workpieces. The design allows the Y-axis rail to be positioned close to the part for machining with minimal Z-axis extension and maximum stiffness for tight accuracy. As options, the U6 is offered with a choice of 1-m, 1.5-m, 2-m, or 2.5-m Z-axis ram travel for best fit to processing needs.
The U6B bridge-type machine can be equipped with an optional X-axis pallet shuttle system for cellular processing with single or multiple machines. It is available with a broad range of table and pallet shuttle systems. The U6R rail-type traveling gantry design offers unlimited X-axis travel, and is expandable to fit the application.
The U6 can be outfitted with a range of high-torque or high-speed spindles, up to 74.5 kW (100 hp) and up to 24,000 rpm, choice of tapers, and vertical, horizontal, or 5-axis head configurations to cover the spectrum of machining requirements. Automatic head exchanges are programmable, fully automated, and accomplished in about 1 min. The C-axis option is built into the Z-axis ram and is offered 360-degree continuous rotation to keep the spindle in-cut without running out of C-axis travel or waiting for unwind. Custom head configurations are also available.
Source: MAG
Published September 2012
Rate this article