Why the Best-In-Class will thrive in the new defense-spending environment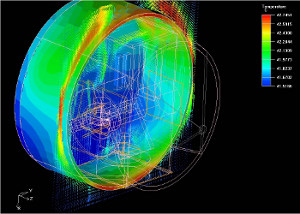 Thermal management of a radar dome using ANSYS Icepak.
By Robert Harwood, Ph.D., Aerospace and Defense Industry Director, ANSYS, Inc., and
Dian Yang, Ph.D., SVP of Product Management, Apache Design, Inc. -- a wholly-owned subsidiary of ANSYS, Inc.
In recent times, statements about the U.S. defense budget have often included the words "cuts," "fiscally constrained," and "reform" with subsequent lobbying and debate across the national media. Although this is the reality today and possibly for several years to come, focusing on the headlines often masks some of the more subtle trends.
For example, in the United States Department of Defense (DOD) Fiscal Year 2012 Budget Request, published in February 2011 by the Office of the Undersecretary of Defense (Comptroller)/CFO, one of the key themes stated is "Rebalancing and Enhancing Military Capabilities." This translates, basically, to shifting priorities to meet today's threats and those perceived for tomorrow, both of which are very different from the more traditional, cold war-based threats that initiated a number of DOD programs several years ago.
In practice, this means an actual or proposed termination of some major hardware programs such as the F-22; a variety of helicopters, and the expeditionary fighting vehicle. But it also reveals a greater emphasis on enhancing Intelligence, Surveillance, and Reconnaissance (ISR); Unmanned Aircraft Systems (UAS); and cyber capabilities. Modernization plans such as digitized cockpits for the Army's helicopter fleet, a tactical communications network down to the Soldier level, an optionally piloted new Air Force bomber, and accelerated development of the Navy's new generation of electronic jammers is driving the need for more complex systems with a range of embedded electronics.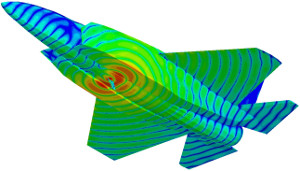 Electric field pattern of blade antenna mounted on underside of fighter aircraft.
As defense spending shifts focus from traditional hardware to smart weapons, electronics play a critical role as the "brain" of these system operations. However, an increasing footprint of electronics within a system also means a higher chance for reliability risks such as electro-migration (EM), electromagnetic interference (EMI), electro-static discharge (ESD), and thermal-induced stress failures. These reliability concerns are magnified as semiconductor process technologies driving the complexity of integrated circuit (IC) designs continue to advance, and the ICs that control electronic sub-systems are tested under stringent and extreme conditions of defense applications.
So, while there is an emphasis on rapid development of novel, complex systems that rely heavily on embedded electronics, there is also a need for tighter control on the quality, cost, and timeliness of the proposed design.
So what strategies can help the defense community be successful in this new environment?
Recent findings published by The Aberdeen Group* provide some insight. By surveying a wide range of organizations across multiple industry sectors, organizations were categorized as Best-In-Class, Average, or Laggard, based on how well their products:
Met quality targets;
Met cost targets; and
Launched on time.
Based on these metrics, there is a strong alignment between the study findings and the demands facing the defense community. The research went on to investigate what the Best-In-Class did differently from the rest, and one standout difference in their strategy was the systematic use of engineering simulation tools throughout the process from early in the design stage, as opposed to intermittent usage late in the design phase, or no usage at all.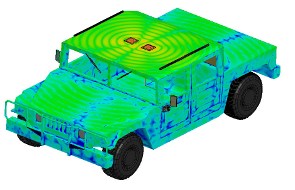 Electric field patterns of two roof-mounted antennas performed by ANSYS HFSS software.
Engineering simulation tools allow engineers and scientists to create virtual representations of the system or component to be developed, and analyze its behavior using computers based on solving the fundamental equations of physics, or equations that are close approximations to the real world.
In addition, engineering simulation solutions need to consider the interaction of all the components within a system and provide an environment that yields smooth hand-offs between the various engineering disciplines more efficiently and reliably. For example, system simulation needs to consider the impact of IC-generated EMI noise on the overall system performance in order to accurately analyze the system behavior in a realistic environment.
By deploying engineering simulation tools in such a systematic way, when compared to the industry average, Best-In-Class companies were able to achieve 12% improvements in product quality, 10% improvements in achieving cost targets, and 17% improvements in on-time product launch.
Such strong alignment between the benefits to those that use engineering simulation tools systematically and the new defense industry drivers suggests that the Best-In-Class organizations will thrive in the new defense-spending environment. The future is less bright for those that fail to adapt.
For more information, contact:
ANSYS, Inc.. Email: ansysinfo@ansys.com.
Apache Design, Inc.. Email: apache_sales@apache-da.com.
* The Impact of Strategic Simulation on Product Profitability, Research Brief, The Aberdeen Group, June 2010
Published September 2012
Rate this article