Tips for selecting linear actuators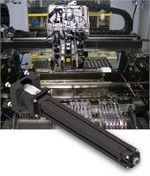 Aaron Dietrich from Tolomatic runs through the main specifying considerations for electric actuators, citing their high performance, adaptability, low total cost of ownership, and easy integration. But what about accuracy and repeatability? Should you go with a rod-style actuator or a screw type? What kind of force should you expect if you are considering converting from hydraulic to electric actuation? Tolomatic also offers an extensive ebook to help with your decision-making if you need it.
Click here to learn more.
---
Universal Robots' CTO wins 'Nobel Prize of Robotics' for pioneering cobots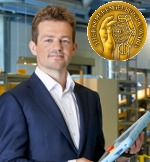 The Robotic Industries Association (RIA) recently announced Esben Østergaard as the recipient of the Engelberger Robotics Award. Østergaard spearheads the development of Universal Robots' collaborative robot arms, representing one of the most significant technology breakthroughs coming out of the robotics community in decades.
Read the full article.
---
High-performance, high-load linear stages for industrial use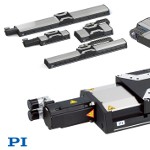 The new reference-class linear stages from precision nano-positioning global leader PI (Physik Instrumente) are available in ballscrew (L-417) and linear motor (V-417) configurations. Both cost-effective designs offer high resolution with improved tracking performance, smaller tracking error, and improved settling time. Applications include laser cutting, scanning, digital printing, electronics assembly and inspection, and more. The L-417 precision heavy-duty ball screw model easily accommodates a load capacity of 450 N on its 166-m width frame with a travel up to 813 mm. Powered by an ironless linear motor, the V-417 has a similar load capacity, width, and travel range.
Learn more about the L-417 ball screw model.
Learn more about the V-417 ironless linear motor model.
---
Motor-to-motor communication is 1-2 punch for machine builders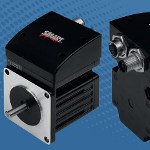 Combitronic™ is a propri-etary communica-tions protocol developed by Moog Animatics exclusively for its SmartMotor™. With Combitronic technology, any SmartMotor can read from, write to, and control any other SmartMotor, can act as the master, and can pass master control from one SmartMotor to another -- virtually eliminating the need for a PLC or other bus master. Combined with the CDS7 motor option, the technology allows a simple, single-cable, power and communications connection from motor to motor, giving the machine builder a simple, cost-effective way to build a network of Class 5 D-Style SmartMotor integrated servos.
Learn more.
---
Complete guided motion solutions from A to X-Y-Z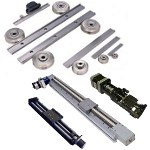 Bishop-Wisecarver invented and patented DualVee Motion Technology® more than 40 years ago to provide a solution for harsh environment applications where existing technologies were ineffective. DualVee® also proved excellent for long length, smooth motion, and low noise requirements. Today, Bishop-Wisecarver remains the recognized expert and the most trusted name in guide wheel technology, with the widest range of guide wheel-based linear motion products in the world.
Discover the benefits of Bishop-Wisecarver Guide Wheel Technology.
---
New rodless pneumatic cylinder supports compact machine design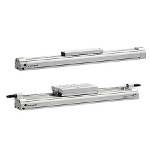 Aventics now offers a new product for applications where the basic variants just won't do the trick, but high-performance cylinders are too powerful. The new RTC-SB slide bearing version rounds off the pneumatics specialist's RTC range of rodless cylinders. At the heart of the RTC-SB (slide bearing) is its oval piston shape. In relation to its size, it offers a very high load capacity. As a result, engineers can draft even more compact machine designs. Equipped with a lubrication-free slide bearing, the cylinder is maintenance-free and resistant to water, chemicals, and dirt. The slide play is optimally adjusted at the factory. Max speed is 6.5 m/sec (21.3 ft/sec). Maximum stroke is around 6,000 mm (21.6 ft).
Learn more.
---
Revolutionary new high-pressure electric pump system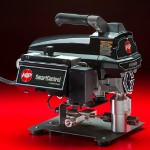 High Pressure Equipment Co. (HiP), a subsidiary of Graco, introduces the eTensifer pump, the first-of-its-kind high-pressure electric pump system. The plug-and-play pump simply plugs into a wall outlet -- no need for an air compressor like other high-pressure pumps on the market. The portable, lightweight (only 46 lb) eTensifier will deliver hydraulic/liquid pressures to 36,500 psi with a smoother flow rate from zero to full pressure and a quiet electric motor. SmartControl™ technology allows for two operational modes: a traditional pressure knob for standard jobs and an industry-first pressure test mode. Another first is the ProConnect™ quick-connect system that allows users to switch out the Sprague pump lower.
Learn more.
---
World's smallest stepper motor is a big win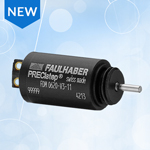 MICROMO presents the FAULHABER FDM 0620 series stepper motor. Measuring just 6 mm in diameter and 9.7 mm in length, including all components and connections, and with a 0.25-mNm holding torque rating, the FDM 0620 stepper motor series is small enough to fit in the most compact spaces for limitless applications. This micro stepper motor is also now available for purchase online with and without leadscrew options.
Click here to learn more.
---
Small brush DC motors drive handheld biopsy system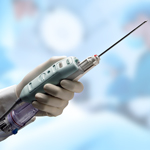 When developing an automated, handheld system capable of harvesting multiple samples with a single insertion to reduce patient tissue trauma and sampling time, this medical device manufacturer turned to MICROMO for compact and high-efficiency FAULHABER® brush DC motors.
Read the full article.
---
Compact angle sensor for robotics and other applications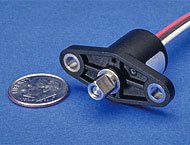 See the robotics video demonstrating ease of programming and robotics application of certain angle sensors from Novotechnik. Novotechnik's Vert-X 1600 Series of angle sensors (shown here) features easy mounting in tight spaces with a 16 mm diameter body. The sensors measure 0 to 360° with linearity ≤ ±0.3%, 14-bit resolution and repeatability to 0.1°. A variety of analog and digital output options are available.
View the video.
---
Zero-backlash servo rotary indexing table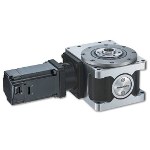 The Sankyo Automation RollerDrive Reducer is a precision gear reducer that uses a zero-backlash roller gear mechanism. The unit is constructed from an input shaft and a turret (output shaft) that is assembled with roller followers. The roller followers are preloaded against a screw-like input shaft to eliminate backlash. Sankyo servo indexing tables offer a constant lead cam with a servo motor drive for programmable motion and provide fast, highly accurate motion, with the added capability to move medium to heavy loads. The RU Series servo indexing table is available in 11 different sizes and varying ratios.
Click here to learn more.
---
Plug-in motor controller for fast integration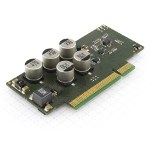 Nanotec has introduced a new controller specifically for integration into devices: the NP5 plug-in motor controller, which is suitable for both brushless DC motors and stepper motors. A PCI Express connector allows for fast and easy integration into a customer-specific board, offering a compact and affordable solution that reduces wiring effort, particularly for multi-axis applications. The NP5 controller can control motors with a rated current up to 6 A via FOC, Hall sensors, or sensorless control. In addition to position, speed, and torque control, operating modes with cyclical set value specification are also available for interpolated multi-axis operation. Nanotec offers the free Plug & Drive Studio software for parameterization and programming.
Click here to learn more.
---
Low-profile rotary air bearing stages achieve superior accuracy with virtually unlimited life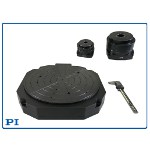 The new A-635/A-637 PIglide low-profile rotary air bearing stages from PI (Physik Instrumente) have no rolling or sliding elements and deliver frictionless, non-contact motion, resulting in negligible reversal error and better wobble eccentricity and velocity stability -- ideal prerequisites for high-end industrial applications such as inspection, metrology, calibration, and scanning, including cleanroom environments. Featuring 3-phase, low-cogging slotless torque motors with velocity to 500 rpm and optical encoders, these stages provide outstanding resolution, repeatability, and absolute accuracy.
Click here to learn more.
Watch PI's Air Bearing Design & Manufacturing Operation Video.
---
Where would I get an exoskeleton joint actuator?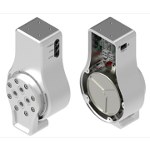 maxon motor is now offering a complete joint actuation unit consisting of a pancake brushless DC motor (EC90 flat) with inertia optimized rotor, internal high-resolution 4096 MILE Encoder, planetary gearhead with absolute encoder, and EPOS4 position controller with CAN and RS232 interface. Fitting the 17-bit SSI absolute encoder directly at the joint rotation to a degree will negate the effect of gearhead backlash, giving designers increased positioning accuracy. The unit will deliver 54 Nm of continuous torque and 120 Nm on a 20% duty cycle. The system can be operated on supplies between 10 VDC and 50 VDC, and the actuation speed is up to 22 rpm.
Learn more.
---
Programmable electric moving coil servo actuator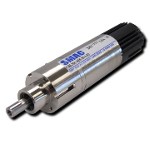 Introducing the 35-mm diameter CBL35C electric cylinder from SMAC. With its built-in controller, the CBL35C controls force, position, and velocity and features simple installation. Ideal for applications with limited space but requiring accurate control, the CBL35C provides significantly longer life, programmability, high speed, accuracy, and energy efficiency while remaining price-competitive. It also enables the direct replacement of existing pneumatic cylinders and retrofits without any machine modifications required.
Click here to learn more.
---
Affordable home refueling station for natural gas vehicles being developed by Eaton
Diversified industrial manufacturer Eaton Corporation announced late July that it will develop an affordable home refueling station for natural gas vehicles, utilizing existing natural gas sources in the home and innovative compressor technology to deliver the alternative fuel source safely and efficiently to vehicles.
The effort is funded in part by a $3.4 million grant from the Department of Energy's Advanced Research Projects Agency -- Energy (ARPA-E). The goal is to develop a production prototype for refueling stations that will retail for about one-tenth of the cost of currently available systems.
Current natural gas refueling systems cost between $5,000 and $10,000. Eaton expects that its prototype will be available before the end of 2015 with a target production price of $500.
The development project will be led by Eaton's Innovation Center teams in Southfield, MI, and Milwaukee and the Advanced Hydraulics group in Eden Prairie, MN. Teams will draw on Eaton's expertise in hydraulic component and systems design and experience gained through development and installation of thousands of electric vehicle (EV) charging stations in public and residential spaces across the country.
"Innovative projects like these have the potential to make natural gas vehicles more affordable and convenient for every American family and revolutionize the way we commute," says Dane Boysen, director of the Department of Energy's Methane Opportunities for Vehicular Energy (MOVE) program.
Eaton will collaborate with the University of Minnesota on thermodynamic analysis and modeling to enable the efficient transfer of heat in the compression process. The refueling system will use liquid, which acts as a piston, to compress natural gas. Innovative heat exchanger technology will improve efficiency and cut cost dramatically.
"With the development of this breakthrough compressor and refueling system, Eaton will remove an important barrier to increased use of natural gas-powered cars and trucks," says Chris Roche, vice president, Innovation Center, Corporate Technology.
Eaton offers a complete line of EV charging stations for residential and industrial application and has a heavy charging presence across North America, with more than 2,000 charging stations already shipped or installed.
Source: Eaton
Published September 2012
Rate this article