New lead screw configurator allows for quick design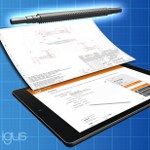 igus has developed a new lead screw configurator that allows customers to design their own lead screw and associated drawing in minutes without in-depth technical knowledge and CAD software. The new tool even directly checks the plausibility of the configuration. Trapezoidal, high helix, or metric thread lead screws in combination with nuts made of iglide high-performance polymers ensure lubrication-free adjustment for long-lasting and smooth-running applications. The company runs its North American operations out of Providence, RI.
Learn more.
---
Compact spiral elevator opens up conveying possibilities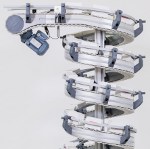 FlexLink AB has upgraded its compact spiral elevator even further with in and out feeds. With a total of six configurations, this solution increases your possibilities and fits different production line layouts even better. The spiral gives you increased access to the production floor, offering a 40 percent smaller footprint compared to the most common solutions on the market -- and the possibility to transport goods vertically, bridging the differences of height. The spiral can be installed in a few hours and ensures smooth running, low noise, and long service life.
Learn more.
---
Water park's 5D movies require special pneumatics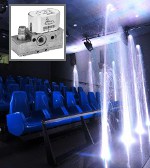 Can you imagine going to the movies in a bikini or swim trunks? You can really do it -- you don't have to dream it. A new form of movie experience at an Abu Dhabi water park involves the audience sitting in special moving seats with various integrated effects taking place around them and on them, including real floods that fill up the theater. Emerson's AVENTICS pneumatic components play a key role in making the magic happen.
Read the full article.
---
8 ways to improve your sheet metal parts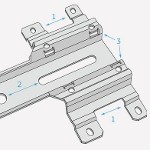 All sheet metal parts start out flat. And no matter how convoluted or complex their final shapes may be, the wall thickness of those parts must be uniform throughout. Engineers from Protolabs share their eight quick sheet metal design tips, focusing on material and finishing options along with design elements like bends, reliefs, holes, and slots when developing your metal components. Really useful info.
Read the full article.
---
Resins: Alkali stress crack resistance for automotive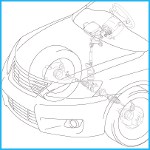 The Polyplastics Group recently introduced a new polybutylene terephthalate (PBT) resin that delivers excellent alkali stress crack resistance for a range of automotive applications. DURANEX 532AR also exhibits outstanding hydrolysis, heat shock resistance, and electrical performance for components in the chassis and engine compartment. This material has successfully reduced the risk of cracking in molded articles by preventing alkali (often formed by rust on metal parts) from penetrating the inside of the resin, thus imparting toughness that helps generate less stress. Ideal for use in parts (like electrical components and sensors) installed in the chassis section and lower areas of vehicles.
Learn more.
---
New washdown servo gearboxes from Gam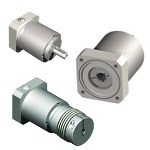 Gam Gear's new SSP Series is an innovative washdown servo gearbox solution designed for food, medical, or sanitary applications. It is a precision inline planetary gearbox outwardly constructed of 300-series stainless steel. The motor adapter plate, housing, and shaft are all stainless steel. Viton seals, stainless steel hardware, and sealed interfaces provide outstanding corrosion resistance in all types of wet and caustic washdown environments. Ideal for any light or demanding servo application where corrosion resistance is a requirement, the SSP Series offers economy, high precision, and long-lasting performance.
Learn more.
---
Get a linear shafting sample on the house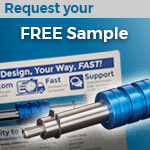 Lee Linear has produced world-class, linear motion components and linear shafting for over 40 years. With the ability to manufacture custom shafting -- threading, diameter reduction, keyways, flats, plating, and more -- to required standards in a short amount of time, Lee Linear is able to fulfill orders on time, eliminating downtime and increasing profits for its customers.
Request your sample.
---
Top Product: Cross roller ring can swing the loads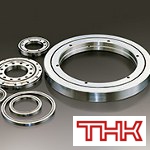 Because it has orthogonally arranged cylindrical rollers, the cross roller ring from THK is a roller bearing with high rotation accuracy capable of bearing loads in every direction. Cylindrical rollers are arranged with each roller perpendicular to the adjacent roller, in a 90-deg V groove, separated from each other by a spacer retainer. This design allows just one bearing to receive loads in all directions including radial, axial, and moment loads. This component is optimal for applications such as joints and swiveling units of industrial robots, swiveling tables of machining centers, rotary units of manipulators, precision rotary tables, medical equipment, measuring instruments, and IC manufacturing machines. Available in several rotation configurations including inner/outer ring, inner ring only, and outer ring only. And now a new micro cross roller ring is perfect to handle smaller applications.
Learn more about THK cross roller rings.
Learn about the new Micro Cross Roller Ring RAU.
---
Solvay develops sustainable Halar ECTFE anti-corrosion coating system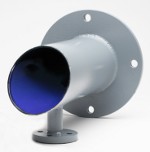 Solvay's new waterborne Halar ECTFE coating system broadens metal corrosion-prevention applications for the chemical processing industry. The coating system is comprised of a high-adhesion primer and topcoat and is easily applied using standard liquid spray equipment. Solvay's Halar ECTFE powder coatings have been used for corrosion prevention for over 40 years for equipment in a range of industries including acids, mining, pulp and paper, pharmaceutical, food and beverage, and semiconductor, among others. The new waterborne Halar ECTFE liquid coating tech expands the range of end-use applications to those that are difficult or impossible to powder coat. This includes complex shapes, uneven surfaces, oversized vessels, pipe interiors, and tanks and containers. Moreover, it provides engineers an alternative protective metal coating option to corrosion-resistant alloys (CRAs).
Learn more.
---
Powerhouse gripper for collaborative applications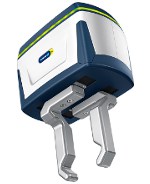 The SCHUNK Co-act EGL-C long-stroke gripper is a milestone on the way to a comprehensive human/robot collaboration (HRC): It is the world's first long-stroke gripper developed for collaborative operation. It achieves high gripping forces up to 450 N (handling weights beyond small parts assembly) and combines them with a long stroke of 42.5 mm per finger. The intelligent 24-V unit is suitable for handling workpiece weights up to 2.25 kg and can be flexibly used in a wide range of applications. The SCHUNK developers are particularly focused on the automotive-related supply industry, carmakers, and machine building, where powerful grippers may be able to achieve rapid success in HRC applications.
Learn more.
---
Xometry receives ISO 9001:2015 and AS9100D certifications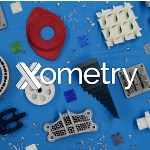 Xometry, the world's largest digital manufacturing marketplace, recently announced that it has received ISO 9001:2015 and AS9100D certifications. These certifications are among the industry's most rigorous and reflect the company's commitment to quality. ISO 9001 is the world's most widely recognized quality management standard and helps organizations to meet the expectations and needs of their customers. The AS9100 standard goes beyond the requirements of ISO 9001 to meet the rigorous demands of the aerospace and defense industries.
Learn more.
---
Lightweight, heavy-duty thermoplastic planks introduced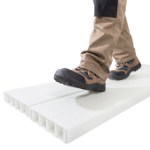 If you're told to walk the plank these days, you may find yourself walking on plastic. SABIC recently introduced its STADECK heavy-duty panels to the Americas. These high-strength but extremely lightweight panels are used for scaffolding and numerous other applications in the building and construction industries. They are made from glass fiber-reinforced thermoplastic resin and are up to 60 percent lighter than wooden planks, saving not only your back but also the gas or diesel it takes to tote heavier support materials around. They also never rot or corrode.
Learn more.
---
Completely updated new full-line catalog of fasteners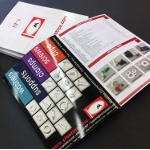 Micro Plastics introduces its new 300-page catalog #41 containing thousands of fastening solutions for engineers and product designers. Find hundreds of new problem-solving products including Spacers, Washers, Clips, Clamps, Ties, Bushings, Screws, Nuts, Rivets, and Plugs. Micro Plastics specializes in Nylon threaded fasteners, but the company also offers extensive product lines for wire management and circuit board hardware. Samples are available upon request.
Check out the new online catalog.
---
Plastic torque-limiting wing nuts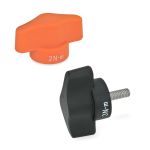 JW Winco, a leading supplier of standard industrial machine components, has now made available EN 5320 Plastic Torque Limiting Wing Nuts, which are used when manually applied torque is to be limited. Turn clockwise, and the torque of the wing nut triggers an "over-engagement" when the specified torque is reached. When tightening, this will ensure the maximum permissible torque is not exceeded. Turn counter-clockwise, and the torque needed for loosening will always be transmitted properly. The technopolymer plastic is glass fiber reinforced and temperature resistant up to 176 F (80 C). The wing nuts are available in either a black matte or orange matte finish. An aluminum version (GN 3663) is also available.
Learn more.
---
ICOMold: New CAD model design service partner

ICOMold has partnered with a professional design service with a large group of designers who specialize in designing for injection molding. If you need to get a quote but don't have a 3D CAD model (or need your file modified, repaired, or converted), ICOMold is now offering these services through its design partner ZVerse.
Learn more.
---
Far-out space struts: NASA awards orbiting 3D printer concept $100K for development
NASA's Space Technology Program is turning science fiction into science fact. The program announced August 1 that it has selected 28 proposals for study under the NASA Innovative Advanced Concepts (NIAC) Program.
Eighteen of these advanced concept proposals were categorized as Phase I, and 10 as Phase II. They were selected based on their "potential to transform future aerospace missions, enable new capabilities, or significantly alter and improve current approaches to launching, building and operating aerospace systems."
One of the more "far-out" Phase I concepts is called "SpiderFab," which basically entails 3D printing large structures in space. Developed by Tethers Unlimited, this process envisions a floating 3D-printing factory unit that creates structures on the fly (pun intended). NIAC Phase I awards approximately $100,000 for one year to enable proposers to explore basic feasibility and properties of a potential breakthrough concept.
SpiderFab's description, as presented to NASA by Tethers Unlimited CEO and Chief Scientist Robert Hoyt, is reposted in full below.
SpiderFab: Process for On-Orbit Construction of Kilometer-Scale Apertures
Robert Hoyt, Tethers Unlimited, Inc.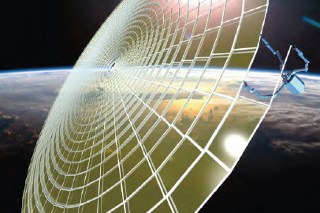 Currently, a significant fraction of the engineering cost and launch mass of space systems is required exclusively to enable the system to survive launch. This is particularly true for systems with physically large components, such as antennas, booms, and panels, which must be designed to stow for launch and then reliably deploy on orbit. Furthermore, the sizes of apertures and spacecraft structures are limited by the requirement to stow them within available launch fairings. Deployable structures and inflatable/rigidizable components have enabled construction of systems with scales of several dozen meters, but their packing efficiency is not sufficient to enable scaling to the kilometer-size baselines desired for applications such as long-baseline interferometry and sparse aperture sensing.
We propose to develop a process for automated on-orbit construction of very large structures and multifunctional components. The foundation of this process is a novel additive manufacturing technique called "SpiderFab," which combines the techniques of fused deposition modeling (FDM) with methods derived from automated composite layup to enable rapid construction of very large, very high-strength-per-mass, lattice-like structures combining both compressive and tensile elements. This technique can integrate both high-strength structural materials and conducting materials to enable construction of multifunctional space system components such as antennas. The SpiderFab technique enables the constituent materials for a space structure to be launched in an extremely compact form, approaching perfect packing efficiencies, and processed on-orbit to form structures optimized for the micro-gee space environment, rather than launch environments. The method can also create structures with 2nd and higher orders of hierarchy, such as a 'truss-of-trusses', achieving 30X mass reductions over the 1st order hierarchy structures used in most space applications. This approach can therefore enable deployment of antenna reflectors, phased array antennas, solar panels, and radiators with characteristic sizes one to two orders of magnitude larger than current state-of-the-art deployable-structure technologies can fit within available launch shrouds.
The SpiderFab process for on-orbit construction of large, lightweight structures will dramatically reduce the launch mass and stowed volume of NASA systems for astronomy, Earth-observation, and other missions requiring large apertures or large baselines, enabling them to be deployed using much smaller, less expensive launch vehicles and thereby reducing total life cycle cost for these missions. Potential applications include construction of multiple high-gain antennas in Earth and solar orbit to support a deep-space communications network, long-baseline interferometry systems for terrestrial planet finder programs, and submillimeter astronomy of cosmic structure. The proposed space system fabrication technologies will also enable these systems to be re-configurable and repairable on orbit, and can evolve to support ISRU of orbital debris in Earth orbit and asteroid materials in deep space exploration missions.
In the proposed effort, we will develop concept designs for space systems that will use the SpiderFab process to create and integrate very large apertures and other structures for NASA space science and exploration missions. We will develop an architecture concept combining the SpiderFab process with robotic assembly technologies and automated quality control/metrology techniques to enable on-orbit construction of kilometer-scale antenna apertures to enable capabilities such as high-bandwidth communications with deep-space probes and radar imaging of deep-space objects. We will then evaluate the potential performance benefits for candidate missions relative to state-of-the-art deployables technologies.
Source: NASA
Published September 2012
Rate this article