ICOMold: New CAD model design service partner

ICOMold has partnered with a professional design service with a large group of designers who specialize in designing for injection molding. If you need to get a quote but don't have a 3D CAD model (or need your file modified, repaired, or converted), ICOMold is now offering these services through its design partner ZVerse.
Learn more.
---
Software: New Maple 2019 offers greater math power to all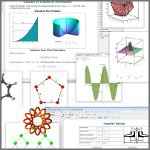 Maplesoft has just announced a major new release of its flagship product, Maple, the mathematical software that makes it extremely easy to analyze, explore, visualize, and solve math problems. Maple 2019 includes substantial improvements to its mathematical engine, for both core routines and specialized tools. The release also provides advances to the Maple programming language, more education tools, new visualizations, and other improvements for the mathematicians, educators, students, engineers, and scientists who use Maple.
Learn more.
---
SOLIDWORKS add-in for Xometry turbocharges part outsourcing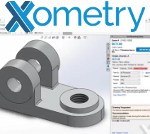 The Xometry Add-In for SOLIDWORKS v4.0 is a powerful tool that integrates directly with Xometry's Instant Quoting Engine, allowing engineers to simultaneously design parts and weigh considerations of cost and lead time in a single CAD environment. Machine learning algorithms give you an instant price by analyzing the part's geometry and factor in manufacturing requirements such as the process, material, features, finish, and inspection type. Then, the add-in provides lead time, cost, and manufacturability (DFM) feedback in seconds. Includes CNC machining, 3D printing, sheet metal, urethane castings, and other manufacturing methods.
Learn more.
---
MathWorks accelerates aerospace design with MATLAB and Simulink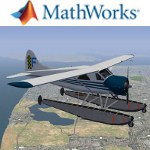 MathWorks has just introduced new flight analysis and visualization capabilities for aerospace design with MATLAB and Simulink. In Release 2018b, Aerospace Blockset adds flight control analysis tools to help analyze flying qualities of aerospace vehicles. Aerospace Toolbox adds the ability to customize user interfaces featuring cockpit flight instruments to visualize and analyze the motion and behavior of aerospace vehicles. Engineers can now develop continuous workflows from the early stages of vehicle design and development to flight prototyping, reducing time between design and testing. What's extra neat? Engineers working with in-house or third-party tools for flight visualization and analysis can now work directly within the Simulink environment for flight simulation, visualization, and analysis.
Learn about Aerospace Blockset.
Learn about Aerospace Toolbox.
---
How to download SOLIDWORKS weldment profiles -- gratis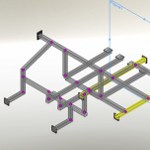 For those of you who have used Weldments for frame design and extrusions in SOLID-WORKS, you're probably aware of how easy they are to work with and create. However, you may not be aware that there are literally thousands of profiles that you can download for free directly in the software. John Hall from TriMech runs through what you need to know.
Read the TriMech blog.
---
Biggest reasons engineers hate their CAD system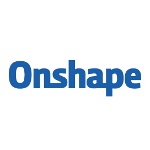 Darren Garnick of Onshape says that, in a CAD satisfaction survey of 230 design professionals last year, Engineering.com asked a very provocative question: What do you hate most about your CAD software? The research, sponsored by SOLIDWORKS, revealed these four things that engineers and designers despise the most (in order of importance).
Read this informative Onshape blog.
---
3D print then mill: Edgecam 2019 R1 includes additive machining module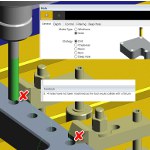 Supporting the Direct Energy Deposition method, Edgecam now offers a dedicated manufacturing cycle that accurately guides a laser as it deposits material to form a shape. After that, the shape is machined using Edgecam's milling cycles to create the final component. As Edgecam 2019 R1 now offers full ToolStore support for Additive Manufacturing, shapes can be built using almost any milling cycle, including advanced functions such as rotary and 5-axis simultaneous machining.
Learn more.
---
Belt conveyor design program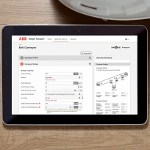 ABB's new web-based Dodge Passport design tool allows users to select, quote, and order conveyor pulley assemblies complete with shafting and mounted bearings for bulk material-handling applications. Real-time pricing and availability enable customers to make cost-effective selections of readily available components. After selections are complete, Passport's add-to-order capability lets customers seamlessly convert selections into orders via the PT Place e-commerce platform.
Learn more.
---
Modern CAD for Machine Design (new eBook)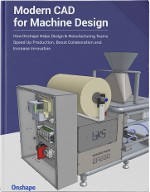 In Onshape's latest eBook, "Modern CAD For Machine Design," you'll be introduced to five machinery companies that recently modernized their entire design and manufacturing process with one key decision: switching to a modern, cloud-based CAD system, enabling their design teams to cast aside old software headaches and focus on doing their best work. You'll read insights from: GKS Packaging (Vertical Form, Fill and Seal Machines), Universal Logic (Artificial Intelligence/Robotics), Voxel Innovations (Pulsed Electrochemical Machining), Hirebotics (Robotics), and Absolute Machinery (Injection Molding).
Get your eBook today.
---
Get your CAD under control before implementing PLM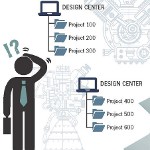 Despite the widespread adoption of PDM and PLM technology by large companies, the vast majority of companies below 20 designers have yet to implement these solutions and still just use shared drives to store their CAD files. Each year that passes without PDM/PLM is another year of CAD data becoming more disorganized, which makes it even more difficult to migrate to a new system. But some companies are turning to CAD geometry indexing and search technologies to better aggregate their existing CAD file shares. By Jon Gable, Adaptive Corporation
Read the full article.
---
How to leverage mechatronics for MCAD and ECAD synergy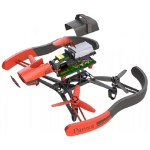 One thing at the forefront of most company thinking is how to beat the competition. One way to do this is to create smart products, but that leads to the question, "How?" One possible answer: mechatronics! The name is a combination of mechanics and electronics, however, the discipline includes much more than just the two. Keep reading to discover all about this technology and how it can help you take the lead on your competitors.
Read the TriMech Solutions blog.
---
Xometry launches Autodesk Inventor integration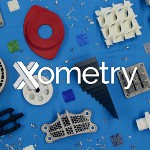 Xometry, one of the country's largest on-demand manufacturing platforms, has launched an Autodesk Inventor add-in that enables Inventor users to get a quote from Xometry without leaving the Inventor design workspace. The add-in makes it simple for Autodesk Inventor users to turn their designs into prototypes and production products. It gives users easy access to Xometry's industry-leading pricing, design feedback, and lead-time information directly in the Inventor environment. Choose from a wide range of processes, including 3D Printing, Sheet Metal, CNC Machining, and Urethane Casting with over 200 materials. An add-in for SOLIDWORKS is also available.
Learn more.
---
DriveWare 7.4.2 released with stepper motor support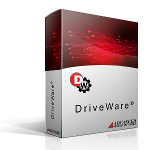 DriveWare is ADVANCED Motion Controls' no-cost software tool that allows users to set drive limits, tune the control loops, configure various types of feedback, auto-commutate, analyze signals over a built-in multi-channel oscilloscope, and more. Because of its powerful capabilities and user-friendly interface, DriveWare is the best way to commission and configure the company's DigiFlex Performance series drives. The biggest update to DriveWare 7.4.2 is the expanded support for stepper motors -- making it easy to configure closed-loop steppers while streamlined algorithms make autocommutation 75% faster. DigiFlex Performance servo drives can operate two-phase and three-phase steppers in addition to rotary and linear permanent magnet, brushed, and brushless servo motors.
Click here to learn more.
---
VISI launches Reverse Engineering suite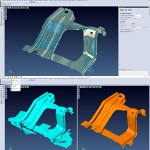 The latest release of VISI from Vero Software includes a new module for reverse engineering, along with new and enhanced functionality for both CAD and CAM processes, specifically designed for the mold and die market. It allows a point cloud to be loaded either from a Hexagon Romer Absolute Arm or an external file and generates the desired, optimized mesh with special tools. This mesh can then be used as the starting point to create the relative surfaces through the modeling function or used as it is for machining purposes.
Click here to learn more.
---
Breakthrough technology shatters speed barrier for engineering simulation software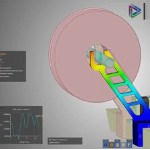 ANSYS Discovery Live will empower millions of engineers around the world to confidently simulate designs in real time quickly and more economically. "We had the opportunity to preview ANSYS Discovery Live, and it's obvious this technology is a game changer in providing instantaneous simulation to enable interactive design exploration," said Craig Skinner, chief aerodynamicist, Aston Martin Red Bull Racing.
Read the full article.
---
Autodesk introduces industry's first cloud-based, pay-as-you-go simulation solution for designers
Autodesk recently unveiled Autodesk Simulation 360, a comprehensive set of tools delivered securely in the cloud with a pay-as-you-go pricing model that enables any company to make simulation part of their everyday design and engineering processes.
Autodesk Simulation 360 is the latest offering to build upon the Autodesk 360 cloud-based platform. By performing computationally intensive simulation tasks in the cloud, designers, engineers, and analysts can test multiple "what if?" design scenarios in parallel. The computational power of the cloud also eliminates the need for specialized hardware, thereby removing previous limitations and helping to increase productivity.
"The ability to run multiple simulation studies in the cloud, in the same time as a typical singular simulation study with single variables, really opens up the game for us by helping us understand much more of the system in a shorter amount of time," says Matt Nowicki, senior product engineer at BioLite, Inc. "It's impressive how easy, valuable, and seamless simulating in the cloud can be for a company such as ours."
A cloud-based toolbox for wide-ranging simulation needs
The Autodesk Simulation 360 software portfolio includes a wide range of cloud-based mechanical, fluid flow, thermal, and plastic injection molding tools at an affordable price. Additional benefits include direct geometry exchange, robust meshing tools, extensive material libraries, and proven solver technology to improve simulation accuracy in the areas of greatest concern.
"Businesses simply can't afford not to understand how their designs will perform before anything gets built," says Robert "Buzz" Kross, senior vice president, Design, Lifecycle, and Simulation at Autodesk.
Pricing
Simulation 360 is available as a standalone offering (you do not need to be on Autodesk subscription to get access to it).
Autodesk Simulation 360: includes Mechanical and CFD capabilities, 120 jobs for $3,600/12 months.
Autodesk Simulation 360 Unlimited: includes Mechanical and CFD capabilities, for unlimited jobs for $7,200/12 months.
Autodesk Simulation 360 Ultimate: includes Mechanical, CFDD, and Moldflow capabilities, 120 jobs for $10,000/12 months.
Cloud Capacity Pack: 10 jobs (approximately 1 month of usage for $10).
Additional resources such as simulation experts, on-demand videos and tutorials are available at www.autodesk.com/simulation-360.
As an extra bonus for reading all the way to the end of this article, we can also let you know that Autodesk is holding a special "Join the Simulation Liberation Event," and you can simulate as many designs as you want for free until 10/31/12. Click here for more info.
Source: Autodesk
Published October 2012
Rate this article