Slotless BLDC motors for high-speed applications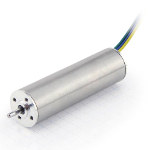 The slotless BLDC motor DS16 from Nanotec is a highly efficient solution for high-speed applications such as drills, grinders, or tattooing instruments. The stator consists of ring-shaped plates with a flat winding on the inside. Since the windings don't have an iron core, the motor's inductance is very low and the current rises rapidly. In addition, the amount of iron lost is greatly reduced, and the motor has a high efficiency rating. During slow operation, the lack of torque ripple has a positive effect. Unlike standard BLDC motors, the magnetic field isn't reinforced at the pole shoes and there is no cogging torque. DS16 is available in size S with a power output of 3.7 W at max. 27,000 rpm, in size M with a power output of 10 W at max. 30,000 rpm, and in size L with a power output of 25 W at max. 29,000 rpm.
Click here to learn more.
---
Voice coil actuator developer's kit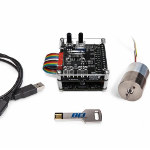 BEI Kimco has packed new functionality into its popular VCA Developer's Kit. Enhancements include an upgraded controller with I/O board and straightforward connections that eliminate soldering -- both changes make it easier and faster than ever for customers to start building voice coil actuator (VCA) prototypes. This kit is a simple "solution in a box" for people who want to use a VCA but are reluctant to tackle figuring out which controller and software to specify to put together a working system.
Click here to learn more.
---
Drives for agricultural equipment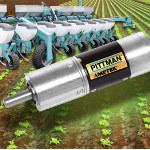 PITTMAN Motors has introduced its latest offering in a broad range of DC brush and brushless motors to the agriculture equipment industry. These DC gear motors with encoders are used in agricultural planting equipment for consistent dispensing of seed and insecticide to improve crop yield. Pittman offers a range of DC motors available with low-voltage windings suitable for battery-powered planting equipment: the DC030C series (a 30-mm diameter motor available in three motor lengths with output power ratings of 8 to 30 W) and the DC054B series (a 54-mm diameter motor available in seven motor lengths with output power ratings of 25 to 108 W).
Click here to read more.
---
ServoClass couplings for med equipment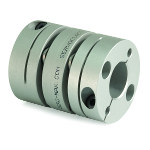 The ServoClass couplings from Zero-Max are the ideal solutions for the precise positioning requirements of today's demanding medical servo motor applications. Typical applications include scanning systems, X-ray equipment, packaging, and nuclear imaging systems. These couplings feature fail-safe clamping hubs that provide maximum torque transmission in high-speed applications and are designed to provide superior shaft engagement without the use of keyways. Available in 14 sizes with torque ratings up to 2,213 in.-lb (250 Nm).
Click here to learn more.
---
Seven key application considerations

Metal bellows play an essential role in controlling pressure, vacuum, motion and more in a broad array of machine components and assemblies across numerous industries. This Servometer whitepaper showcases seven engineering applications that can benefit from the use of bellows and demonstrates the broad functionality of bellows in different engineering scenarios. Engineers are provided with important specifications (in terms of requirements and restrictions) that must be considered for an application.
Click here to learn more.
---
Robotics: Adaptive gripper with advanced control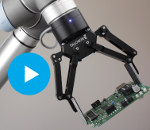 Robotiq recently released the 2-Finger 140 Adaptive Robot Gripper, a large-stroke electric gripper with advanced control features. It is able to detect that a part has been picked, as well as pick soft, fragile, or deformable parts without crushing them while maintaining a safe grip when the robot is moving. This unit is ideal for high-mix pick-and-place operations for various industries such as electronics, consumer goods, and logistics.
Click here to learn more.
---
Z-theta system capability provides linear and rotary movements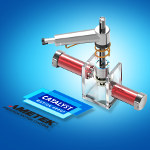 Catalyst Motion Group, a Haydon Kerk motion system integrator, has created a Z-theta system capability utilizing in-house branded products. Z-theta systems offer a compact and effective package to achieve a rotary axis and a linear axis in a single unit, that when operated in coordinated motion can effectively create a helical motion path. Z-Theta systems also can be used to move to defined linear positions and then perform independent rotary moves. The Kerk brand ScrewRail is the centerpiece of this development, with the linear and rotary power being supplied by Haydon and Pittman motor technology. These systems lend themselves well to picker-type applications in automated kiosks, data storage libraries, and other repetitive-motion tasks. Loads to 100 lb and speeds in excess of 10 in./sec are possible.
Click here to learn more.
---
New ServoBelt rotary stages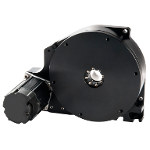 Bell-Everman has developed a new type of belt-driven rotary stage that costs up to 50% less than the company's previous rotary stage designs. Shrinking the through hole allowed engineers to simplify the design of the stage's angular contact bearings without affecting accuracies, speeds, load capacity, or lifecycle expectations. The bearing simplification resulted in the bulk of the cost reduction. The new rotary stages offer all the precision and technical performance of the company's original ServoBelt rotary stages and are available with 16-mm and 25-mm through holes.
Click here to learn more.
---
New high-precision piezo motion controller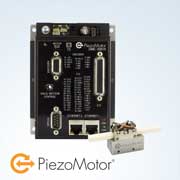 Available now from MICROMO, the DMC-30019 Single-Axis Controller is a customized controller/ driver for use with Piezo LEGS® motors from PiezoMotor Uppsala AB (Sweden). The unit is built on the DMC-30000 Pocket Motion Controller Series, the latest-generation single-axis motion controller from Galil Motion Control, Inc. With the Piezo LEGS® direct drive, motor size is significantly reduced and precision is gained by elimination of bulky and lashing mechanical parts.
Click here to learn more.
---
Low-profile XY stages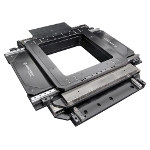 Aerotech has introduced a series of integrated open-frame stages with precise geometric performance and micrometer-level straightness. The new PlanarDLA stages include high-precision roller bearings, precision machined surfaces, and non-contact linear motors. These features result in straightness to +/-0.5 µm and flatness to +/-1.25 µm. Applications include: semiconductor and electronics manufacturing, test and inspection, laser processing, metals inspection, micro-machining, automation, and more. The proprietary direct-drive technology enables high-throughput, high-accuracy processing with 2-m/s velocities and 2-g accelerations. The stages are available with one or two motors per axis allowing optimization of each axis for the specific application and process.
Click here to learn more.
---
Rugged AC motor speed control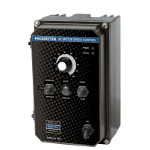 Bodine Electric Company's newest variable-speed AC motor speed control is simple to set up and operate, and it features an extremely rugged NEMA-4X/IP-65 enclosure. The model 2999 Pacesetter AC speed control is ideal for standalone AC gearmotor applications that require controlled acceleration, adjustable operating speed, or reverse operation. Typical applications include conveyor systems, packaging machines, food processing equipment, medical or lab equipment, and a wide range of other industrial automation equipment. This unit is designed to drive 230-VAC, 50-Hz or 60-Hz, inverter-duty, 3-phase gearmotors and motors that are rated up to 1 HP (746 W).
Click here to learn more.
---
Compact integrated screw/slide system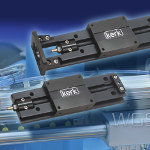 Haydon Kerk Motion Solutions has added the WGS Wide Guide Screw to its linear slide product line. Made from the same quality components used in the RGS Linear Rail Series, the WGS Linear Slide utilizes a screw-driven carriage that offers reliable, continuous linear speed while maintaining accurate positioning. Length and speed of the WGS are not limited by critical screw speed, allowing high RPM, linear speed, and long stroke lengths. This unit has a unique, compact profile that provides improved torsional stiffness and stability. An integral mounting base can provide support over the entire length, which can extend up to 8 ft (2.4 m).
Click here to learn more.
---
How to pick the right potentiometer sensor for your application
Created to help design engineers understand how membrane potentiometer sensors work and how to pick the right type of membrane potentiometer for their project, this new Hoffmann+Krippner white paper covers the various types of potentiometers, potentiometer development history, their various components and materials, and an overview looking at the technical issues of printed potentiometers and foil (membrane). The paper also covers the various tech specifications of accuracy and linearity when specifying potentiometers. No registration required.
Click here to go to the white paper page.
---
Cable Protection: The right material for your application

While cable management is often an afterthought for many design engineers, adequate cable carrier systems are many times the key to protecting important energy supply systems on automated machinery, not only guiding cables and hoses, but protecting them from external elements such as dirt and dust, hot chips, chemicals, and excessive heat. In this material guide from igus, learn the different options available to make the most of your cable management, no matter how challenging the application.
Click here to learn more.
---
Motors for demanding operating room applications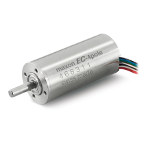 maxon's new brushless electric motor, the EC-4pole 30, delivers high torque (106 mNm) and is sterilizable -- a perfect drive for handheld surgical tools. Featuring two pole pairs, this DC motor provides a nominal torque of 106 mNm and an output of 150 W. It has a hermetically sealed rotor, meaning that it can withstand over 1,000 autoclave cycles. The EC-4pole 30 is equipped with the special ironless maxon winding, which makes it highly efficient. Another key feature is that the torque and current behave linearly, and the drive can be overloaded. It is available with an optional Hall sensor, as well as with a hollow shaft with a diameter up to 4.1 millimeters.
Click here to learn more.
---
DARPA tests UAV-to-UAV refueling at 45,000 ft
DARPA completes close-proximity flight tests of two modified RQ-4 Global Hawk unmanned aerial vehicles, demonstrates technology enabling autonomous aerial refueling.
Global military aviation currently relies on a key enabler: aerial refueling. Fighters, bombers, reconnaissance, and transport aircraft use "flying gas stations" to go the extra mile.
Increasingly, UAVs are conducting combat and ISR operations, but they aren't designed to be refueled in flight. In 2007, DARPA teamed up with NASA to show that high-performance aircraft can easily perform automated refueling from conventional tankers, yet many unmanned aircraft can't match the speed, altitude, and performance of the current tanker fleet. The 2007 demonstration also required a pilot on board to set conditions and monitor safety during autonomous refueling operations.
But DARPA has been working to close this capability gap.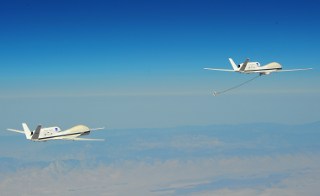 Global Hawk UAVs demonstrate close-proximity test flight.
DARPA's two-year Autonomous High-Altitude Refueling (AHR) program, which concluded Sep. 30, explored the ability to safely conduct fully autonomous refueling of UAVs in challenging high-altitude flight conditions. During its final test flight, two modified Global Hawk aircraft flew in close formation, 100 ft or less between refueling probe and receiver drogue, for the majority of a 2.5-hr engagement at 44,800 ft. This demonstrated, for the first time, that High Altitude Long Endurance (HALE) -class aircraft can safely and autonomously operate under in-flight refueling conditions.
The flight was the ninth test and the first time the aircraft flew close enough to measure the full aerodynamic and control interactions for unmanned-to-unmanned connections. Flight data was analyzed over the past few months and fed back into simulations to verify system safety and performance through contact and fuel transfer, including the effects of turns and gusts up to 20 knots.
Since HALE aircraft are designed for endurance at the expense of control authority, the program started with the expectation that only one in six attempts would achieve positive contact (17%). The final analysis, however, indicated that 60% of the attempts would achieve contact.
Multiple autonomous breakaway contingencies were successfully triggered well in advance of potentially hazardous conditions. Fuel systems were fully integrated and ground tested, demonstrating a novel "reverse-flow" approach with the tanker in trail. This approach opens valuable trade space for future developers to choose between various fixed and modular implementations of proven probe and drogue hardware.
"The goal of this demonstration was to create the expectation that future HALE aircraft will be refueled in flight," says Jim McCormick, DARPA program manager. "Such designs should be more affordable to own and operate across a range of mission profiles than systems built to satisfy the most stressing case without refueling. The lessons from AHR certainly extend beyond the HALE flight regime, and insights into non-traditional tanker concepts may offer further operational advantages."
Using this capability, U.S. military Global Hawk UAVS could fly nonstop for days or maybe even weeks.
Source: DARPA
SIDEBAR: Some basic Global Hawk stats courtesy of Northrop Grumman.
Q. How far can Global Hawk fly?
A. It has an inter-continental range (~11,500 miles). This means the aircraft can fly from New York and land anyplace in the world.
Q. How high can Global Hawk fly?
A. About 12 miles high -- an altitude almost twice that of airliners. From this height, you can see over 300 miles to the horizon.
Q. How long can Global Hawk fly?
A. More than 32 hours -- the longest of any high-altitude operational aircraft in the world.
Q. How much can Global Hawk carry?
A. It can carry equipment weighing 3,000 lb -- that's the weight of a Ford Focus.
Published November 2012
Rate this article