Complete system solutions for optimum drive and control performance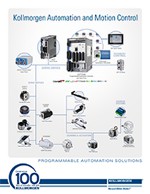 Kollmorgen's updated Automation and Motion Control catalog details the features, benefits, and specifications of the company's complete range of motion control solutions, including: Direct Drive motors, servo motors and drives, Safe Motion, distributed and central servo amplifiers, and the complete Kollmorgen Automation Suite. The catalog also includes stepper motors and drives, PMDC motors, linear actuators, and planetary gearboxes. Overall, more than 100 diverse and scalable product and solution ideas are covered in the catalog, making it much more than a simple guide for selecting individual products used in next-generation machine design.
Click here to learn more.
---
Stationary field tooth clutch delivers higher torque in a smaller package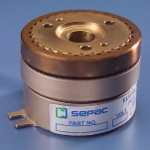 SEPAC designed the electro-magnetic Stationary Field Tooth Clutch (SFTC Series) to deliver an exceptional torque-to-size ratio with the ability to operate dry or in oil. This model offers a bearing-supported design to ease the installation process. The SFTC's positive engagement, less than 1 degree of backlash, high torque-to-size ratio, and ease of installation make it ideal for a variety of applications. Additionally, the extraordinary reliability of the SFTC Series makes it a top choice for aerospace and defense actuators, aircraft flight control, military ground systems, weapon systems, elevator/azimuth, robotics, medical equipment/imaging, and more.
Click here to learn more.
---
Economy series electric actuator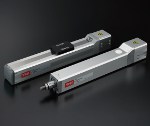 The Economy Series ES (slider type) and EC (cylinder type) electric actuators are built on THK's original Linear Motion System technology for smooth and silent movement. Designed as an alternative to pneumatic cylinders and as an option for automating manual processes, these easy-to-install, compact multifunctional devices are ideal candidates for processing, assembly, transport, testing, and other applications. The ES incorporates the model SRS LM Guide, equipped with ball retainers, as well as Lubricator QZ for optimal ball-screw lubrication. The combined effect provides for long-term maintenance-free operation. Strokes available from 50 to 600 mm (ES) and 50 to 300 mm (EC), with speeds from 300 to 600 mm/s for both. Horizontal or vertical mount determines maximum load: ES = 0.5 to 10 kg (1.1 to 22 lb), EC = 3 to 15 kg (6.6 to 33 lb).
Click here to learn more.
---
Automation: Robotic joint control how-to

Versatile and adaptive robotic armatures have the benefit of increasing manufacturing productivity by automating and performing complex, repetitive tasks 24/7. Designed to obey commands or to work in unison as cooperative robots (cobot/co-robot), these robots greatly simplify the design of automation systems. To further improve performance, reaction torque sensors are placed in-line with the drive motors inside each joint, allowing development of closed loop control laws to ensure smooth, repeatable, and efficient arm motion.
Learn about precision torque feedback for robotic arms and co-robots.
---
New high-speed motor for medical devices and equipment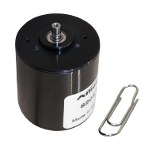 The new 28-mm, 24-V ResMax 28 brushless motor from Allied Motion is engineered to achieve very high speed (up to 90,000 rpm) with great dynamic responsiveness (0 to 50,000 rpm in only 20 ms, unloaded), exceptional operating life (30,000+ hr at 40,000 rpm average speed), maximal efficiency (up to 90%), rated power of 46 W, and the ability to operate in an oxygen-rich environment. The motor is equipped with integrated Hall-effect sensors to provide commutation information and a NTC thermal sensor to monitor motor temperature. Although designed for medical ventilator and respirator use, the ResMax 28 is also ideal for any application benefiting from its high speed and high dynamic performance. Customizable electronic drivers available.
Click here to learn more.
---
Motor Tech: Precision dispensing for micro-electronic engineering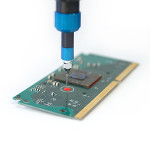 The spread of miniaturization in automation has led to an ever-increasing demand for optimum dispensing of the tiniest volumes. Whether in electronics or micro-mechanical engineering, solder pastes, adhesives, lubricants and sealing compounds must be applied precisely where needed, in exactly the right dosage, and without spillage or dripping. Compact, high-torque micro DC motors can deliver the precision and small size needed for such a challenge.
Read the full article.
---
Small assembly robots: Evaluating controllers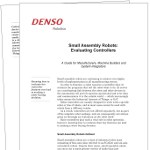 A robot controller plays a critical role in programming and operating the robot (as well as communicating back and forth with the Industrial Internet of Things), so understanding controller features is indispensable for making an intelligent buying decision. DENSO Robotics is offering a new no-cost guide called "Small Assembly Robots: Evaluating Controllers" that provides essential facts and information about controllers for small assembly robots, which are used in traditional manufacturing sectors as well as in advanced-technology applications in the medical, pharmaceutical, and life sciences industries.
Get your guide today.
---
Tiniest load cell yet!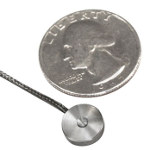 The LLB130 Miniature Load Button from FUTEK has a capacity range from 1,000 g to 50 lb and is RoHS compliant. All capacities are in stock and ready to ship. This mini load cell features low deflection and fast response time, and it is fully internally temperature compensated.
Click here to learn more.
---
Mini linear positioning stage for single- and multi-axis applications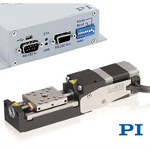 The L-402 compact linear stage from PI (Physik Instrumente) is well suited for micro-manipulation, test systems, and opto-mechanical alignment automation applications. With a travel range of 1/2 in. (13 mm) and velocity to 0.2 in./sec (5 mm/sec), the L-402 delivers high accuracy and smooth motion for loads up to 1 lb with minimum incremental motion and repeatability down to 0.5 microns. Long service life and excellent guiding accuracy with minimum backlash are guaranteed by creep-free crossed roller bearings. The stage comes with the choice of two direct-drive motors, a DC servo motor with closed-loop encoder and 2-phase stepper motor. Other encoder options for OEMs are also available.
Click here to learn more.
---
Frameless limited angle torque motor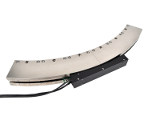 H2W has developed an unhoused arc segmented frameless brushless torque motor (TWR-070-410-1150-3PH) with low-inertia moving coil assembly for high angular acceleration applications. The rotary 3-phase brushless motor, also known as a rotary servo motor, is a direct drive motor that is ideal for limited or unlimited, closed-loop servo, rotary motion applications. It can generate a continuous/peak torque of 480 in.-lb [53 Nm]/1440 in.-lb [159 Nm].
Click here to learn more.
---
High-precision, low-cost motorized vertical lift stage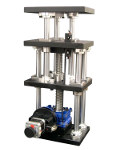 The AT20-100 Motorized Vertical Lift Stage from Optimal Engineering Systems (OES) is a very stable, high-precision, high-load stage that can be easily integrated into almost any application. The large 120-mm x 180-mm (4.72-in. x 7.08-in.) drilled and tapped platform has a vertical travel of 100 mm (3.93 in.) and features: 3.315-µ (non- Micro-Step) resolution, 5-µ repeatability, and 15-µ positional accuracy. The precision-ground lead screw, precision linear bearings, and the rigid box construction of the moving component of the elevator stage assure smooth and flat vertical motion. Load capacity to 50 kg (110 lb). Applications include: testing, inspection, assembly, sampling, laser drilling, and machining in a broad range of industrial, medical, semiconductor, and research facilities.
Click here to learn more.
---
Micro Solutions: Myoelectric robotic prosthesis puts innovation in hand

The Bebionic myoelectric hand prosthesis was recently developed to help with daily life challenges. Powerful, small FAULHABER motors ensure that the prosthesis can grip without any problems, quickly and firmly, and maintain a constant gripping force. Two electrodes integrated into the prosthesis shaft detect the myoelectric signals and forward them to the control electronics. These signals are amplified and used to activate the 5 small electric motors.
Read the full article.
---
Adapt your motor to your application: Integrated 400-W servo motor with battery supply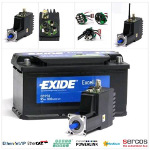 The MAC402 from JVL Industri Elektronik is a complete 400-W solution for medium power ratings with battery supply 12-48 VDC. This solution features: peak power up to 1,200 W, absolute multiturn encoder without battery, real-time industrial Ethernet (Profinet, Ethernet/IP, MODBUS TCP, EtherCAT, Powerlink, and SercosIII), two RS422 channels for encoder in/output and SSI encoder, and six I/O. Choose between models with or without brakes. IP55 standard. IP66 optional. Wireless, industrial Ethernet connectivity, or PLC built in. Distributed by Electromate.
Click here to learn more.
---
Optimize mechanical misalignments, get hidden benefits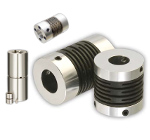 C-Flex Couplings combine the best qualities of disc, beam, and bellows couplings in a unique and economical new design. Made to couple two rotating shafts together, these couplings can accommodate large misalignments while transmitting high torque loads with zero backlash. Benefits include lower energy usage and less-frequent bearing failure, since less stress is placed upon bearings. Constructed using high-strength hardened stainless steel or glass impregnated polyamide flexures, these couplings require no maintenance and provide years of trouble-free life, even in contaminated environments. Flexible Pivot Bearings and Super Plastic Torsional Damping Couplings are also available.
Click here to learn more.
Watch C-Flex Couplings in action handling misalignments.
---
---
DARPA tests UAV-to-UAV refueling at 45,000 ft
DARPA completes close-proximity flight tests of two modified RQ-4 Global Hawk unmanned aerial vehicles, demonstrates technology enabling autonomous aerial refueling.
Global military aviation currently relies on a key enabler: aerial refueling. Fighters, bombers, reconnaissance, and transport aircraft use "flying gas stations" to go the extra mile.
Increasingly, UAVs are conducting combat and ISR operations, but they aren't designed to be refueled in flight. In 2007, DARPA teamed up with NASA to show that high-performance aircraft can easily perform automated refueling from conventional tankers, yet many unmanned aircraft can't match the speed, altitude, and performance of the current tanker fleet. The 2007 demonstration also required a pilot on board to set conditions and monitor safety during autonomous refueling operations.
But DARPA has been working to close this capability gap.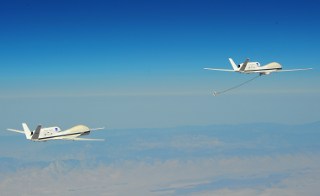 Global Hawk UAVs demonstrate close-proximity test flight.
DARPA's two-year Autonomous High-Altitude Refueling (AHR) program, which concluded Sep. 30, explored the ability to safely conduct fully autonomous refueling of UAVs in challenging high-altitude flight conditions. During its final test flight, two modified Global Hawk aircraft flew in close formation, 100 ft or less between refueling probe and receiver drogue, for the majority of a 2.5-hr engagement at 44,800 ft. This demonstrated, for the first time, that High Altitude Long Endurance (HALE) -class aircraft can safely and autonomously operate under in-flight refueling conditions.
The flight was the ninth test and the first time the aircraft flew close enough to measure the full aerodynamic and control interactions for unmanned-to-unmanned connections. Flight data was analyzed over the past few months and fed back into simulations to verify system safety and performance through contact and fuel transfer, including the effects of turns and gusts up to 20 knots.
Since HALE aircraft are designed for endurance at the expense of control authority, the program started with the expectation that only one in six attempts would achieve positive contact (17%). The final analysis, however, indicated that 60% of the attempts would achieve contact.
Multiple autonomous breakaway contingencies were successfully triggered well in advance of potentially hazardous conditions. Fuel systems were fully integrated and ground tested, demonstrating a novel "reverse-flow" approach with the tanker in trail. This approach opens valuable trade space for future developers to choose between various fixed and modular implementations of proven probe and drogue hardware.
"The goal of this demonstration was to create the expectation that future HALE aircraft will be refueled in flight," says Jim McCormick, DARPA program manager. "Such designs should be more affordable to own and operate across a range of mission profiles than systems built to satisfy the most stressing case without refueling. The lessons from AHR certainly extend beyond the HALE flight regime, and insights into non-traditional tanker concepts may offer further operational advantages."
Using this capability, U.S. military Global Hawk UAVS could fly nonstop for days or maybe even weeks.
Source: DARPA
SIDEBAR: Some basic Global Hawk stats courtesy of Northrop Grumman.
Q. How far can Global Hawk fly?
A. It has an inter-continental range (~11,500 miles). This means the aircraft can fly from New York and land anyplace in the world.
Q. How high can Global Hawk fly?
A. About 12 miles high -- an altitude almost twice that of airliners. From this height, you can see over 300 miles to the horizon.
Q. How long can Global Hawk fly?
A. More than 32 hours -- the longest of any high-altitude operational aircraft in the world.
Q. How much can Global Hawk carry?
A. It can carry equipment weighing 3,000 lb -- that's the weight of a Ford Focus.
Published November 2012
Rate this article