Customized direct-drive motors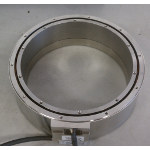 Applimotion's Frameless Direct Drive motor kits have been used in custom direct-drive motors for more than 15 years in automation systems, robotics, semiconductor equipment, medical devices, and communication systems. The ULT, UTH, and UTS motor kits can be integrated into a customized assembly with high-resolution encoders and precision bearings. Some assemblies even include harmonic-drive gearing systems. Custom assemblies can range from 8-mm to 600-mm diameters and torque from .1 to 1,000 NM with unique through-holes, mechanical features, and custom cabling.
Click here to learn more.
---
High speed without sacrificing torque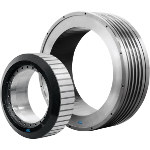 The TMK series line of torque motors from ETEL is the result of market demand for higher-speed rotary motors that maintain the amount of torque provided in other models, such as ETEL's TMB series. Due to its unique rotor design, which utilizes buried magnet technology along with field weakening, it is able to rotate with speeds of up to nine times greater than a typical torque motor's standard working speeds. And with the buried magnet technology also providing a higher flux concentration, the TMK series motors can produce up to 30 percent more continuous torque compared to traditional torque motors of the same size. Liquid cooling increases its continuous torque even further. This model is making its debut at the IMTS show and won an innovation award at the Industrie Paris 2014 tradeshow. Available in the U.S. through Heidenhain.
Click here to learn more.
---
World's first robot with advanced safety settings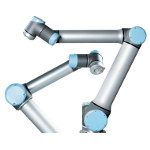 With eight new adjustable safety-rated functions, Universal Robots now provides the only robot in the world that adapts advanced safety settings to each specific application. The third generation of the company's UR5 and UR10 robot arms also comes equipped with True Absolute Encoders that eliminate the need for re-initializing the robot, enabling automatic startup and easier integration into other machinery.
Read the full article.
---
Mini rotary actuator has highest torque and power output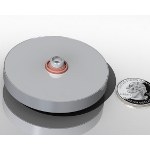 New Scale Technologies has demonstrated a miniature rotary actuator module (M3-R) with torque of 0.17 Nm and speeds of more than 400 degrees per second in a compact, 60-mm-diameter by 8-mm-thick design. Resulting from the successful completion of a Phase 1 SBIR project for the U.S. Navy, the non-inductive rotary actuator module delivers higher power output in a smaller footprint than electromagnetic pancake motors or other piezoelectric actuators. Applications include guided munitions and missile systems, MRI-compatible medical devices, unmanned aerial vehicle (UAV) controls, gimbal systems, and computer equipment.
Click here to learn more.
---
DC motors with 90%+ efficiency boost battery life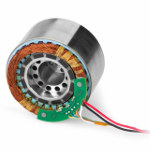 Maximizing battery life can be a decisive factor to many mission-critical systems where longevity of the equipment can affect the outcome. For example, in battery-operated medical devices or remotely piloted military vehicles the ability to last 13 minutes instead of 10 can make a significant difference. To meet this market initiative, BEI Kimco Magnetics has developed new Frameless Brushless DC Motors in multiple designs that provide extremely high operational efficiencies in excess of 90% that enable extended battery life. For battery-dependent applications, motor efficiency is paramount in getting the longest operating time before it needs to be charged. The newly designed High Torque Density Brushless DC Motors are able to achieve this superior efficiency with improved weight and envelope profiles.
Click here to learn more.
---
MapleSim Advanced hydraulics library
With the MapleSim Hydraulics Library from Modelon, engineers can seamlessly incorporate industry-tested hydraulics components while continuing to take full advantage of all the modeling, analysis, and simulation abilities of MapleSim. This add-on component library includes over 150 components for modeling pumps, motors, cylinders, restrictions, valves, hydraulic lines, lumped volumes, and sensors. It enables engineers to produce very high-fidelity models by accounting for compressible oil and cavitation effects, resulting in an extremely accurate view of system dynamics.
Click here to learn more.
---
Economical drives for simple, reliable motor control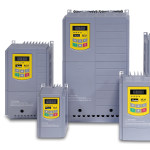 The Parker AC10 Micro Drive is a simple, reliable, and economical solution to everyday AC motor control applications requiring speed or torque control within the power range of 0.25 hp to 30 hp. With compact dimensions and features normally only associated with higher-specification drives, including sensorless vector mode, output frequency up to 650 Hz, 3-phase 460-V supplies in all five frame sizes, and a full 150 percent overload at 0.5 Hz for 1 min., AC10 provides an optimized solution for OEM machine builders looking for a compact, cost-effective, UL-listed drive without compromising on performance.
Click here to learn more.
---
Low-cost hexapod 6-axis positioner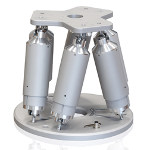 The PI H-820 hexapod from Physik Instrumente (PI) was developed for applications that require multi-axis motion and high flexibility but do not need sub-micron precision. This new model caters to these needs with linear travel to 100 mm, rotary travel to 60 deg, and a load capacity of 20 kg. High velocity and long service life are guaranteed by direct-drive brushless servo motors. Position repeatability is in the low micron range. A controller and software are included with all PI hexapods.
Click here to learn more.
---
Monitoring ring combines shaft grounding and shaft current tracking for motors in critical applications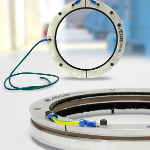 Electro Static Technology's new AEGIS iPRO-MR Ring combines shaft voltage bearing protection with continuous monitoring of shaft voltage levels from a remote location -- all in real time. The AEGIS iPRO-MR is an AEGIS Shaft Grounding Ring and a shaft monitoring ring in one, ensuring optimum uptime and reliability of large motors and generators in critical applications. The iPRO-MR is ideal for the protection of motors in remote locations that cannot be easily monitored or maintained.
Click here to learn more.
---
New ironless linear motor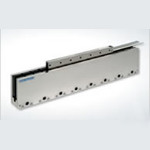 The UXX is the most powerful standard ironless motor Tecnotion offers. It is ideal for heavy-duty industrial applications that demand ultra-precision and maximum-force output. With no cogging and zero attraction force between the coil and the magnets, it is ideal in flat-panel and semiconductor applications, and many others.
Click here to learn more.
---
Great references: Basics of Hydraulic/Pneumatic Cylinders design guide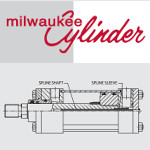 After a reader asked me last week about some hydraulic cylinder basics, I was reminded of an excellent resource from Milwaukee Cylinder that interested engineers should download for themselves. Milwaukee Cylinder's Design Engineer's Guide does a fantastic job of covering basic cylinder operating principles, standard NFPA mountings, cylinder sizing, air and hydraulic cylinder force and speed, and much, much more. This is a no-cost, no-sign-up invaluable reference. Design Engineer's Guide is the 11th item on the page. Other good materials available.
Click here to go to the Guide page.
---
Open system linear position sensors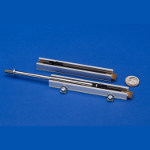 Novotechnik, U.S. introduces the PTP Series of open-housing position sensors. These cost-effective sensors are designed to be integrated into applications where they can be mounted in enclosed devices. Custom wiper interfaces are available. PTP Series sensors feature an ultra-compact profile of 13 mm (w) by 11.6 mm (h). Length is dependent on the application and typically is between 10 mm and 300 mm. Integral guides and mounting clamps make mounting quick, and other mounting options can be made. These sensors enable users to minimize costs in their applications, because the PTP Series can be ordered without a rod and side-actuated.
Click here to learn more.
---
Fast and svelte 6-axis robots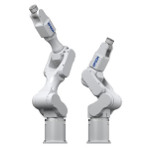 The new Epson C4 and C4L compact 6-axis robots feature faster speeds and more payload capability than the C3 models, while keeping the popular SlimLine design. These are some of the fastest compact 6-axis arms available in the industry. The slim body and compact wrist allow for the units to easily reach into confined and restricted work spaces from many angles with a smooth motion. The tight integration of powerful motors and amplifiers along with ultra-high-resolution feedback and superior controls provide unmatched motion performance, including higher acceleration and deceleration rates as well as advanced linear interpolated motion. They are ideal for small parts assembly, dispensing, lab automation, machine tending, material handling, packaging, and more.
Click here to learn more.
---
Step-by-step guide to automate welding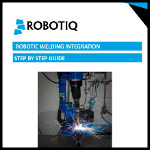 Are you considering automating of your welding process? Robotiq has designed a take-away guide and evaluation grid that will help you consider important aspects of the robotic welding process. This guide will also help you highlight the different points to evaluate at each stage and calculate your return on investment.
Click here to learn more.
---
Edge welded metal bellows:
Flexibility in more ways than one!
Edge welded metal bellows allow for flexibility in axial, angular and parallel offset motion and provide the most stroke in the smallest amount of space of any bellows technology on the market, by reaching 90% of its free length. BellowsTech can customize size, shape, material, weight, length, and mounting connections to customer specifications.
Click here to learn more.
---
DARPA tests UAV-to-UAV refueling at 45,000 ft
DARPA completes close-proximity flight tests of two modified RQ-4 Global Hawk unmanned aerial vehicles, demonstrates technology enabling autonomous aerial refueling.
Global military aviation currently relies on a key enabler: aerial refueling. Fighters, bombers, reconnaissance, and transport aircraft use "flying gas stations" to go the extra mile.
Increasingly, UAVs are conducting combat and ISR operations, but they aren't designed to be refueled in flight. In 2007, DARPA teamed up with NASA to show that high-performance aircraft can easily perform automated refueling from conventional tankers, yet many unmanned aircraft can't match the speed, altitude, and performance of the current tanker fleet. The 2007 demonstration also required a pilot on board to set conditions and monitor safety during autonomous refueling operations.
But DARPA has been working to close this capability gap.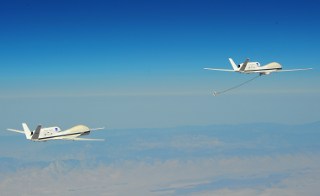 Global Hawk UAVs demonstrate close-proximity test flight.
DARPA's two-year Autonomous High-Altitude Refueling (AHR) program, which concluded Sep. 30, explored the ability to safely conduct fully autonomous refueling of UAVs in challenging high-altitude flight conditions. During its final test flight, two modified Global Hawk aircraft flew in close formation, 100 ft or less between refueling probe and receiver drogue, for the majority of a 2.5-hr engagement at 44,800 ft. This demonstrated, for the first time, that High Altitude Long Endurance (HALE) -class aircraft can safely and autonomously operate under in-flight refueling conditions.
The flight was the ninth test and the first time the aircraft flew close enough to measure the full aerodynamic and control interactions for unmanned-to-unmanned connections. Flight data was analyzed over the past few months and fed back into simulations to verify system safety and performance through contact and fuel transfer, including the effects of turns and gusts up to 20 knots.
Since HALE aircraft are designed for endurance at the expense of control authority, the program started with the expectation that only one in six attempts would achieve positive contact (17%). The final analysis, however, indicated that 60% of the attempts would achieve contact.
Multiple autonomous breakaway contingencies were successfully triggered well in advance of potentially hazardous conditions. Fuel systems were fully integrated and ground tested, demonstrating a novel "reverse-flow" approach with the tanker in trail. This approach opens valuable trade space for future developers to choose between various fixed and modular implementations of proven probe and drogue hardware.
"The goal of this demonstration was to create the expectation that future HALE aircraft will be refueled in flight," says Jim McCormick, DARPA program manager. "Such designs should be more affordable to own and operate across a range of mission profiles than systems built to satisfy the most stressing case without refueling. The lessons from AHR certainly extend beyond the HALE flight regime, and insights into non-traditional tanker concepts may offer further operational advantages."
Using this capability, U.S. military Global Hawk UAVS could fly nonstop for days or maybe even weeks.
Source: DARPA
SIDEBAR: Some basic Global Hawk stats courtesy of Northrop Grumman.
Q. How far can Global Hawk fly?
A. It has an inter-continental range (~11,500 miles). This means the aircraft can fly from New York and land anyplace in the world.
Q. How high can Global Hawk fly?
A. About 12 miles high -- an altitude almost twice that of airliners. From this height, you can see over 300 miles to the horizon.
Q. How long can Global Hawk fly?
A. More than 32 hours -- the longest of any high-altitude operational aircraft in the world.
Q. How much can Global Hawk carry?
A. It can carry equipment weighing 3,000 lb -- that's the weight of a Ford Focus.
Published November 2012
Rate this article