Machine Building: Tiny drives show their muscle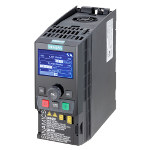 Siemens has just released its popular Sinamics G120C drive in AA size, which replaces the previous G120C frame size A in power ratings up to 2.2 kW (3 hp), including communication variants for USS, PROFIBUS, PROFINET, and Ethernet/IP. Offering high power density in a smaller footprint, the new "tiny drive" offers fully compatible replacement for the equivalent power ratings on the previous version. Typical applications include smaller test stands, mixers, conveyors, fans, pumps, compressors, and basic production machinery.
Click here to learn more
---
Robotics: Give Universal Robots a sense of touch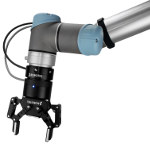 Robotiq's FT 300 force torque sensor gives a sense of touch to robots and makes automation of high-precision tasks such as product testing, assembly, and precise part insertion fast and easy to set up. This plug-and-play sensor is specially designed for Universal Robots in terms of its coupling, integration, and programming. All-in-one packages include hardware and software.
Click here to learn more.
---
Motion: New torque motor family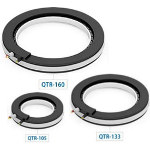 Direct drive motors, also known as torque motors, are permanent-magnet motors that rotate along an axis. They can be used wherever a rotary movement is required and offer numerous advantages over conventional servo drives. Torque motors from Tecnotion are very compact, provide an extremely stiff drive train, eliminate the need for time-consuming mounting procedures, are virtually maintenance free, and can be integrated directly into the machine structure, while the spacious open inner diameter enables wire and cable feedthrough. With three outer diameters -- 105, 133, and 160 mm -- and five build heights ranging from 17 mm to 92 mm, the QTR series suits applications in markets such as semiconductor, medical, machine tool, printing, rotary tables, factory automation, and robotics. Continuous torque ranges from 1.4 Nm to 63.5 Nm and speed ranges from 190 rpm to 6,918 rpm are available.
Click here to learn more.
---
Automation in lab sample analyses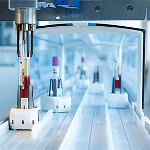 In the specimen distribution system designed by Hamburg-based specialists, the identity of a lab sample is linked to the identity of a movable sample carrier upon delivery to the allocation point. The automated system knows which trolley is transporting which sample, as well as which analyses are necessary for each sample. The trolleys then move entirely automatically over plastic rails to the respective specimen analysis stations, thanks to FAULHABER micro motors.
Read the full article.
---
Hydraulic motors 26% more compact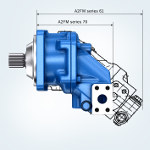 Higher power in a smaller installation space is what construction machinery manufacturers want, and Rexroth fulfills their demands with the new A2FM 70 series bent-axis hydraulic motors. The motors are up to 26% shorter and are notable for their high power density. At the same time, Rexroth has added two extra pressure levels to the series, which now covers the pressure range up to 500 bar. The much smaller dimensions in the axial piston motors with a 40-degree bent axis have been achieved by optimizing the design of the rotary unit and using an integrated flushing and boost-pressure valve.
Click here to learn more.
---
Next-gen steppers with more options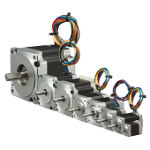 The PMX series from Kollmorgen adds smaller 08, 11, and 14 frame sizes to the company's traditional 17, 23, and 34 frame size offering. Thanks to a wider range of sizes and options, OEMs now have added flexibility to meet multiple performance and application needs from a single motion source. Each frame size is built with high-quality construction, which translates to reliability in the field and long service life. These stepper motors offer increased design flexibility, high torque/dollar, minimal drive adjustments, flexible manufacturing, and localized technical support.
Click here to learn more.
---
New precision linear stepper stage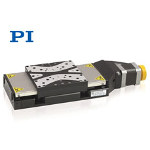 Precision positioning systems solution specialist PI (Physik Instrumente) has introduced the L-511 linear stage series featuring minimum incremental motion as small as 0.02µm. With travel ranges to 155 mm (6 in.), this two-phase micro stepper motor platform is ideal for precision positioning demanded by science and industry, especially with high-duty application cycles. Vacuum-compatible versions are available.
Click here to learn more.
---
Configurable joystick series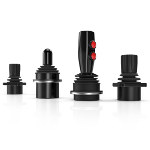 The customizable Series 09 joysticks from EAO Corp. are specifically designed for heavy-duty and special vehicles. These joysticks offer intuitive end-user operation, robust construction, and reliability. Typical applications include construction and agricultural machinery, fire engines, and municipal cleaning vehicles. Series 09 joysticks are designed to accurately control vehicle functions such as hydraulic lifting equipment, powered safety equipment, and other auxiliary functions.
Click here to learn more.
---
Mini 2-axis beam steering system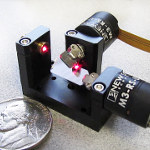 New Scale Technologies has created a new beam steering developer's kit for precise point-to-point beam positioning and dynamic scanning up to 100 Hz. The two piezoelectric rotary stages in the DK-M3-RS-U-2M-20-L developer's kit have a familiar galvo-scanner form factor but are only 12 mm in diameter. A closed-loop controller is embedded in each tiny stage, making the complete system more than 25 times smaller than traditional systems with external controllers. Each smart stage rotates a pre-mounted aluminum-coated mirror +/- 20 deg at up to 1,100 deg/sec with angular resolution of 0.05 degrees (1 mrad). Applications include medical lasers and imaging systems, industrial measurement and spectroscopy instruments, and laser printing and engraving.
Click here to learn more.
---
Slotless BLDC motors for high-speed applications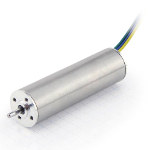 The slotless BLDC motor DS16 from Nanotec is a highly efficient solution for high-speed applications such as drills, grinders, or tattooing instruments. The stator consists of ring-shaped plates with a flat winding on the inside. Since the windings don't have an iron core, the motor's inductance is very low and the current rises rapidly. In addition, the amount of iron lost is greatly reduced, and the motor has a high efficiency rating. During slow operation, the lack of torque ripple has a positive effect. Unlike standard BLDC motors, the magnetic field isn't reinforced at the pole shoes and there is no cogging torque. DS16 is available in size S with a power output of 3.7 W at max. 27,000 rpm, in size M with a power output of 10 W at max. 30,000 rpm, and in size L with a power output of 25 W at max. 29,000 rpm.
Click here to learn more.
---
Voice coil actuator developer's kit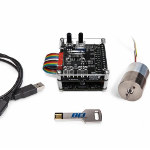 BEI Kimco has packed new functionality into its popular VCA Developer's Kit. Enhancements include an upgraded controller with I/O board and straightforward connections that eliminate soldering -- both changes make it easier and faster than ever for customers to start building voice coil actuator (VCA) prototypes. This kit is a simple "solution in a box" for people who want to use a VCA but are reluctant to tackle figuring out which controller and software to specify to put together a working system.
Click here to learn more.
---
Drives for agricultural equipment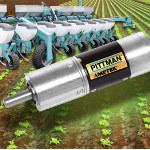 PITTMAN Motors has introduced its latest offering in a broad range of DC brush and brushless motors to the agriculture equipment industry. These DC gear motors with encoders are used in agricultural planting equipment for consistent dispensing of seed and insecticide to improve crop yield. Pittman offers a range of DC motors available with low-voltage windings suitable for battery-powered planting equipment: the DC030C series (a 30-mm diameter motor available in three motor lengths with output power ratings of 8 to 30 W) and the DC054B series (a 54-mm diameter motor available in seven motor lengths with output power ratings of 25 to 108 W).
Click here to read more.
---
ServoClass couplings for med equipment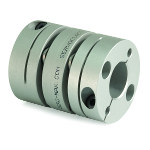 The ServoClass couplings from Zero-Max are the ideal solutions for the precise positioning requirements of today's demanding medical servo motor applications. Typical applications include scanning systems, X-ray equipment, packaging, and nuclear imaging systems. These couplings feature fail-safe clamping hubs that provide maximum torque transmission in high-speed applications and are designed to provide superior shaft engagement without the use of keyways. Available in 14 sizes with torque ratings up to 2,213 in.-lb (250 Nm).
Click here to learn more.
---
Seven key application considerations

Metal bellows play an essential role in controlling pressure, vacuum, motion and more in a broad array of machine components and assemblies across numerous industries. This Servometer whitepaper showcases seven engineering applications that can benefit from the use of bellows and demonstrates the broad functionality of bellows in different engineering scenarios. Engineers are provided with important specifications (in terms of requirements and restrictions) that must be considered for an application.
Click here to learn more.
---
Robotics: Adaptive gripper with advanced control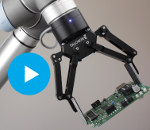 Robotiq recently released the 2-Finger 140 Adaptive Robot Gripper, a large-stroke electric gripper with advanced control features. It is able to detect that a part has been picked, as well as pick soft, fragile, or deformable parts without crushing them while maintaining a safe grip when the robot is moving. This unit is ideal for high-mix pick-and-place operations for various industries such as electronics, consumer goods, and logistics.
Click here to learn more.
---
DARPA tests UAV-to-UAV refueling at 45,000 ft
DARPA completes close-proximity flight tests of two modified RQ-4 Global Hawk unmanned aerial vehicles, demonstrates technology enabling autonomous aerial refueling.
Global military aviation currently relies on a key enabler: aerial refueling. Fighters, bombers, reconnaissance, and transport aircraft use "flying gas stations" to go the extra mile.
Increasingly, UAVs are conducting combat and ISR operations, but they aren't designed to be refueled in flight. In 2007, DARPA teamed up with NASA to show that high-performance aircraft can easily perform automated refueling from conventional tankers, yet many unmanned aircraft can't match the speed, altitude, and performance of the current tanker fleet. The 2007 demonstration also required a pilot on board to set conditions and monitor safety during autonomous refueling operations.
But DARPA has been working to close this capability gap.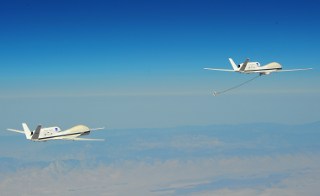 Global Hawk UAVs demonstrate close-proximity test flight.
DARPA's two-year Autonomous High-Altitude Refueling (AHR) program, which concluded Sep. 30, explored the ability to safely conduct fully autonomous refueling of UAVs in challenging high-altitude flight conditions. During its final test flight, two modified Global Hawk aircraft flew in close formation, 100 ft or less between refueling probe and receiver drogue, for the majority of a 2.5-hr engagement at 44,800 ft. This demonstrated, for the first time, that High Altitude Long Endurance (HALE) -class aircraft can safely and autonomously operate under in-flight refueling conditions.
The flight was the ninth test and the first time the aircraft flew close enough to measure the full aerodynamic and control interactions for unmanned-to-unmanned connections. Flight data was analyzed over the past few months and fed back into simulations to verify system safety and performance through contact and fuel transfer, including the effects of turns and gusts up to 20 knots.
Since HALE aircraft are designed for endurance at the expense of control authority, the program started with the expectation that only one in six attempts would achieve positive contact (17%). The final analysis, however, indicated that 60% of the attempts would achieve contact.
Multiple autonomous breakaway contingencies were successfully triggered well in advance of potentially hazardous conditions. Fuel systems were fully integrated and ground tested, demonstrating a novel "reverse-flow" approach with the tanker in trail. This approach opens valuable trade space for future developers to choose between various fixed and modular implementations of proven probe and drogue hardware.
"The goal of this demonstration was to create the expectation that future HALE aircraft will be refueled in flight," says Jim McCormick, DARPA program manager. "Such designs should be more affordable to own and operate across a range of mission profiles than systems built to satisfy the most stressing case without refueling. The lessons from AHR certainly extend beyond the HALE flight regime, and insights into non-traditional tanker concepts may offer further operational advantages."
Using this capability, U.S. military Global Hawk UAVS could fly nonstop for days or maybe even weeks.
Source: DARPA
SIDEBAR: Some basic Global Hawk stats courtesy of Northrop Grumman.
Q. How far can Global Hawk fly?
A. It has an inter-continental range (~11,500 miles). This means the aircraft can fly from New York and land anyplace in the world.
Q. How high can Global Hawk fly?
A. About 12 miles high -- an altitude almost twice that of airliners. From this height, you can see over 300 miles to the horizon.
Q. How long can Global Hawk fly?
A. More than 32 hours -- the longest of any high-altitude operational aircraft in the world.
Q. How much can Global Hawk carry?
A. It can carry equipment weighing 3,000 lb -- that's the weight of a Ford Focus.
Published November 2012
Rate this article