DC tachometer catalog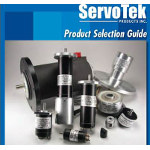 The new Servo-Tek tachometer catalog includes detailed specifications of all Servo-Tek high-performance DC tachometers for precision speed control applications. A Servo-Tek DC tachometer generator provides a convenient and economical means of converting rotational speed into an isolated analog voltage signal suitable for remote indication and control. While the catalog contains information on their most popular models, Servo-Tek also manufactures countless special tach generators. The 8-page catalog also includes technical info, outline drawings, and assembly and maintenance information.
Click here to learn more.
---
Tools: Universal Robot launches URCaps 'app store' for UR robots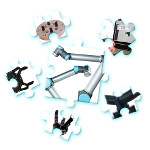 With URCaps, Universal Robots has created the equivalent of an app store for its lightweight, easily teachable, and highly competent robots. URCaps is a platform where distributors and integrators can present accessories that run successfully in UR robot applications to end users. The online platform features useful accessories, hardware, and software extending the capabilities (or "caps") of the robot arms developed by the Danish robot manufacturer. The first 43 caps, a combination of workbenches, vision solutions, cables, jaws, and grippers, are already featured on the platform and have been through thorough trials and integration testing.
Click here to learn more.
---
Mini voice coil actuator packs a punch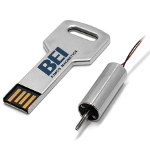 The small, yet powerful model LAH04-10-000A Linear Voice Coil Actuator (VCA) from BEI Kimco Magnetics delivers a peak force of nearly 0.5 lb and measures just 0.375 in. OD. With a total weight of 0.37 oz, the moving-magnet design produces over 20 times its own weight in terms of force with an operating stroke of 4 mm (0.157 in.). No moving wires and a high heat dissipation make this VCA particularly well-suited for high-duty cycle applications such as pick-and-place machines, remotely controlled switching, medical and laboratory equipment, military and aerospace.
Click here to learn more.
---
High speed, no backlash, and zero cogging!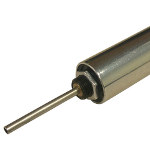 MotiCont's DDLMs (Direct Drive Linear Motors) eliminate backlash and provide an economical solution for users requiring high acceleration, high speed, and long life. They are available in three popular off-the-shelf models. The smallest is only 0.75 in. in diameter and 1.75 in long. It has a stroke of 0.46 in. and features 11 oz of continuous force and 34.8 oz peak. For higher-force applications, the largest is 1.5 in. in diameter and 2 in. long and has a stroke of 0.375 in., with a continuous force of 3.1 lb and 9.9 lb peak. Custom DDLMs are easily fabricated. Typical DDLM applications include: automated assembly, component insertion, fluid dispensing, pick and place, robotics, and more.
Click here to learn more.
---
Hear it for yourself -- super-quiet DC brush motors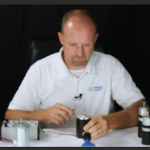 Crouzet Motors has introduced a short, informative video that dramatically demonstrates the whisper-quiet operation of its innovative new DC Brush Motor line. The video tests and measures the sound levels of the Crouzet DCmind Brush motor vs. conventional DC brush motors, and also evaluates the sound levels when used with gearheads. The results: The DCmind brush motor measured 15 decibels (dB) quieter in stand-alone operation compared to a conventional DC motor. The DCmind Brush motor series is particularly well suited to applications in medical, laboratory, commercial, and industrial equipment.
Click here to learn more.
---
Segmented encoder for big machines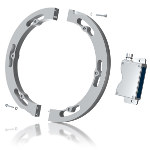 The Leine & Linde MRI 2000 rotary encoder is designed to provide feedback solutions for large rotating machinery typically found in the construction, pulp and paper, oil and gas, wind, and marine industries. This encoder has received significant performance upgrades since its introduction two years ago. The MRI ring encoder is segmented into pieces to facilitate simple commissioning and service, and it is now available with an alternative magnetic structure, enabling relaxed tolerances for the sensor pickup mounting. Radial gap tolerances have been doubled, allowing up to 6 mm between the sensing head and the ring surface. In addition, frequency response of the pickup has been doubled as well, providing the opportunity for higher shaft speeds. Exclusive North American distribution through HEIDENHAIN Corporation in Schaumburg, IL.
Click here to learn more.
---
Plastic bearings have staying power

Plastic bearings are strong enough to outperform and outlast metal in countless applications. Plastic bearings are an economical replacement for needle, ball, and plain metal bearings. However, they are often not considered a viable choice in the engineering community due to the common misconception that plastic is inferior or weaker compared to metal. Uncover common misconceptions and learn the true reliability of plastic bearings in this new igus® whitepaper.
Click here to go to the whitepaper -- no registration required.
---
New gearbox sizing tool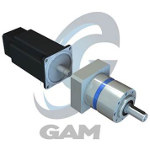 GAM's new Sizing Tool makes it easy to find the right gear reducer, coupling, or linear mount product compatible with your motor. Simply select your motor, adjust the ratings based on the application, and narrow down the products that match. Over 9,000 of the most popular servomotors on the market are available for selection. After choosing a motor, easily narrow down the list of matching products by filtering attributes.
Click here to learn more.
---
Positioning accuracy that rivals a glass scale
The newly enhanced IMS-I integrated measuring system from Rexroth achieves maximum linear motion positioning accuracy even in challenging work environments with contaminants and interference fields. This compact solution for ball and roller rail systems has an inductive design that offers repeatable accuracy rated to 0.25 µm at distances up to 4.5 m -- equivalent to more expensive glass scale systems. This solution is suitable for a wide range of industrial applications, including positioning laser cutters, synchronizing ram or plunger units in presses, extracting PET bottles at high speeds, and 3D printer processes that produce abrasive dust.
Click here to learn more.
---
Heavy-duty spring plungers optimize positioning accuracy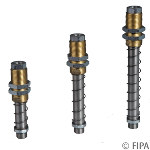 SZ-NIV-HD series heavy-duty spring plungers from FIPA are new must-haves in rough production environments. Also called spring-loaded suction fingers, the units ensure that the attached suction cups handle sensitive products gently and protect the grippers from collision damage. One of the key reasons for the long service life of FIPA's heavy-duty spring plungers is the high-quality igus plain bearing, which offers high abrasion resistance and excellent sliding properties with minimum play. The lubricant embedded in the bushing material ensures smooth running and maintenance-free operation throughout the entire service life.
Click here to learn more.
---
Electric replacement for hydraulics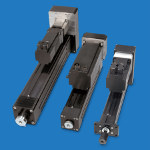 The Tolomatic RSA-HT high-force rod-style actuator is designed for high-duty-cycle performance in demanding applications, while delivering the added control and consistency of an electric drive actuator. This actuator, which can also be considered as a replacement for hydraulic applications, triples the maximum force capabilities of the standard RSA line from 4,038 lbf (17.96 kN) to 12,900 lbf (57.38 kN).
Click here to learn more.
---
High-performance 16-mm ECH brushless slotless motor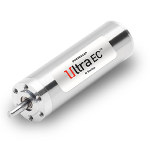 Portescap's newest addition to its Ultra EC mini motor platform is the 16 ECH brushless motor, designed to provide an economic motor solution for high-performance applications. The 16ECH has been specifically optimized for high continuous torque at low to medium speeds, maximizing power between 40 K and 55 K rpm, and rated speed at approximately 60 K rpm. The 16ECH is available in 36- and 52-mm length versions, with Hall sensors and three different coils to match your speed and voltage requirements.
Click here to learn more.
---
Motion control components: Flexible bellows couplings

Precision motion control applications require mechanically tight systems, especially between motors, driven loads, and feedback devices, to ensure accurate positioning. FC Series bellows couplings are the standard bellows coupling configuration offered by Servometer with 16 standard sizes ranging in diameter from 0.250 to 1.00 in. FC couplings employ Servometer's patented electrodeposited bellows to offer maximum flexibility, side thrust capability, and angular misalignment, and are an ideal fit for most motion control instruments including encoders, potentiometers, servomotors, and more. Samples are available.
Click here to learn more.
---
M12 CANopen integrated motors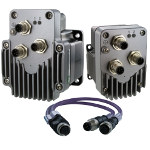 Lexium MDrive integrated motor systems expand industrial field bus communication options with the release of CANopen with M12 circular connectors on NEMA motor sizes 23 & 34. Combined with its compact size, the integrated stepper motor, controller, I/O, and drive electronics with closed-loop performance is an ideal fit for many motion applications.
Read the full article.
---
Mini linear motion components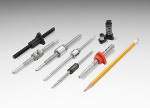 Thomson Industries has expanded its range of high-performance, miniaturized components with the launch of several new products. The new precision TSI Rolled Ball Screws offer high load capacity, smoothness, and quiet operation that can be easily customized. Thomson Miniature Metric Ball Bushing Bearings offer smooth and rapid operation in a light, compact package, lasting up to 27 times longer than conventional linear bearings. The mini Glide Screw combines the best features of linear bearings and linear guides into an easy-to-install, one-part solution that requires no external guides and delivers the ultimate in compact design.
Click here to learn more.
---
DARPA tests UAV-to-UAV refueling at 45,000 ft
DARPA completes close-proximity flight tests of two modified RQ-4 Global Hawk unmanned aerial vehicles, demonstrates technology enabling autonomous aerial refueling.
Global military aviation currently relies on a key enabler: aerial refueling. Fighters, bombers, reconnaissance, and transport aircraft use "flying gas stations" to go the extra mile.
Increasingly, UAVs are conducting combat and ISR operations, but they aren't designed to be refueled in flight. In 2007, DARPA teamed up with NASA to show that high-performance aircraft can easily perform automated refueling from conventional tankers, yet many unmanned aircraft can't match the speed, altitude, and performance of the current tanker fleet. The 2007 demonstration also required a pilot on board to set conditions and monitor safety during autonomous refueling operations.
But DARPA has been working to close this capability gap.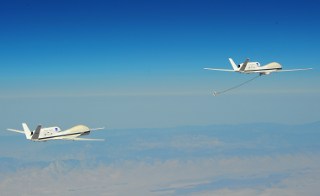 Global Hawk UAVs demonstrate close-proximity test flight.
DARPA's two-year Autonomous High-Altitude Refueling (AHR) program, which concluded Sep. 30, explored the ability to safely conduct fully autonomous refueling of UAVs in challenging high-altitude flight conditions. During its final test flight, two modified Global Hawk aircraft flew in close formation, 100 ft or less between refueling probe and receiver drogue, for the majority of a 2.5-hr engagement at 44,800 ft. This demonstrated, for the first time, that High Altitude Long Endurance (HALE) -class aircraft can safely and autonomously operate under in-flight refueling conditions.
The flight was the ninth test and the first time the aircraft flew close enough to measure the full aerodynamic and control interactions for unmanned-to-unmanned connections. Flight data was analyzed over the past few months and fed back into simulations to verify system safety and performance through contact and fuel transfer, including the effects of turns and gusts up to 20 knots.
Since HALE aircraft are designed for endurance at the expense of control authority, the program started with the expectation that only one in six attempts would achieve positive contact (17%). The final analysis, however, indicated that 60% of the attempts would achieve contact.
Multiple autonomous breakaway contingencies were successfully triggered well in advance of potentially hazardous conditions. Fuel systems were fully integrated and ground tested, demonstrating a novel "reverse-flow" approach with the tanker in trail. This approach opens valuable trade space for future developers to choose between various fixed and modular implementations of proven probe and drogue hardware.
"The goal of this demonstration was to create the expectation that future HALE aircraft will be refueled in flight," says Jim McCormick, DARPA program manager. "Such designs should be more affordable to own and operate across a range of mission profiles than systems built to satisfy the most stressing case without refueling. The lessons from AHR certainly extend beyond the HALE flight regime, and insights into non-traditional tanker concepts may offer further operational advantages."
Using this capability, U.S. military Global Hawk UAVS could fly nonstop for days or maybe even weeks.
Source: DARPA
SIDEBAR: Some basic Global Hawk stats courtesy of Northrop Grumman.
Q. How far can Global Hawk fly?
A. It has an inter-continental range (~11,500 miles). This means the aircraft can fly from New York and land anyplace in the world.
Q. How high can Global Hawk fly?
A. About 12 miles high -- an altitude almost twice that of airliners. From this height, you can see over 300 miles to the horizon.
Q. How long can Global Hawk fly?
A. More than 32 hours -- the longest of any high-altitude operational aircraft in the world.
Q. How much can Global Hawk carry?
A. It can carry equipment weighing 3,000 lb -- that's the weight of a Ford Focus.
Published November 2012
Rate this article