Custom low-profile direct drive systems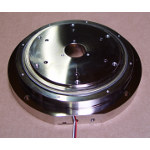 Applimotion now provides custom direct drive motor assemblies using its UTS frameless motor kits and MicroE encoders. For years, OEM customers have routinely designed Applimotion motor kits into direct drive systems unique to their process. MicroE has a long history of supplying precision encoders to the same customer set, offering both high accuracy and high resolution in one tight, low-profile package. Combining both technologies in one assembly offers the best solution for your precision low-profile application, such as high-performance imaging, metrology, and scanning.
Click here to learn more.
---
Get 'Digital Manufacturing for Dummies' book gratis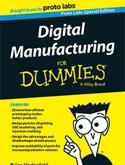 Proto Labs has put together a comprehensive guide to the major 3D-printing, CNC machining, and injection-molding technologies that are frequently used in digital manufacturing. The book helps readers to compare processes, explore material options, and see how digital manufacturing can fit into every stage of the product life cycle.
Get your copy on the house.
---
Encoders: No-strings-attached beta test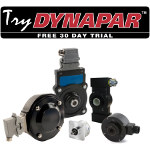 Dynapar is offering a no-cost 30-day beta test trial to all interested and qualified parties for its key product families of incremental and absolute encoders, with thousands of configurations available. Dynapar encoders provide motion feedback control for general factory automation, pulp and paper, primary metals, oil and gas, packaging, beverage, food, pharmaceutical, medical equipment, materials handling, lift and crane, construction operations, off-highway and others, as well as OEM motors.
Click here to learn more.
---
All-in-one brushless torque motor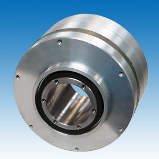 The Megaflux MFH170i from Allied Motion is designed as a rotary actuator ready for use in semiconductor equipment, automated test equipment, scanners, gimbal systems, and similar applications where a complete, precision rotary actuator with a large hollow shaft is needed. The unit is comprised of a high-performance 170 series brushless torque motor, a digital servo drive, and a programmable high-resolution optical encoder -- each integrated into a rugged machined aluminum housing with robust duplex bearings. The MFH0170i series features a 63.5-mm (2.5-in.) large-bore through shaft and is characterized by a very high torque-to-inertia ratio. There are three stack lengths in the series, with peak torque ranging from 8.5 up to 16.9 Nm (75 up to 150 lb-in.) and rated speed up to 1,000 RPM. The standard winding voltage is 48 V.
Click here to learn more.
---
Hexapods: Six-axis precision for loads to 1 ton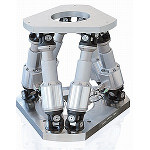 Precision motion control systems leader PI (Physik Instrumente) announces the H-845, a new series of preconfigured high-load hexapods. This newest addition extends PI's catalog to 50 standard hexapods covering a large variety of applications, from palm-size units for micro-manufacturing to high-speed motion simulators and vacuum- and UHV-compatible units. The H-845 series provides an easy solution to complex multi-axis precision motion applications with models available in various travel ranges, load capacities, and velocities.
Click here to learn more.
---
Get more powerful robot vision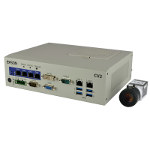 For more than 15 years, Epson Vision Guide has been used in factories throughout the world to allow Epson Robots to "see." Epson CV2 Vision Systems take performance to the next level, providing powerful vision guidance solutions at a value price. They contain powerful CPUs and vision processing that runs in parallel with the Epson RC90 or RC700 Controllers, allowing for maximum throughput. These systems are easily programmed via the industry-leading Epson RC+ Development Environment. A point-and-click interface reduces development time from weeks to hours, so no time is wasted solving your next robot guidance application. Two core models are available depending on speed requirements.
Click here to learn more.
---
Internal rotor drives with incredible power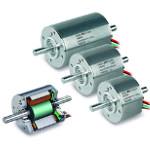 For applications demanding very high torque, drive specialist maxon motor has created its EC-i 40 DC brushless motor in three high-torque versions. The iron-core internal rotor drive is available with a diameter of 40 mm and is ideally suited for applications in robotics, prosthetics, and industrial automation. The strongest motor in this series offers a maximum nominal torque of 234 mNm and is 56 mm in length. It exceeds the performance of its precursor model by up to 70 percent.
Click here to learn more.
---
Robotics System Toolbox integrates MATLAB and Simulink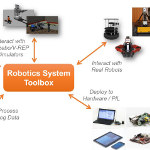 The Robotics System Toolbox, a new product from MathWorks, features ready-to-use algorithms and hardware connectivity for developing autonomous mobile robotics applications. This solution provides an interface and complete integration between MATLAB and Simulink, and the Robot Operating System (ROS). Robotics researchers and engineers can work in a single, integrated design environment to design, test, and deploy robotics algorithms on ROS-enabled robots and robot simulators such as Gazebo and V-REP. This creates more time to focus on design explorations and iterations by reducing the manual rework of conversion from MATLAB to ROS.
Click here to learn more.
---
Mini rotary actuator has highest torque and power output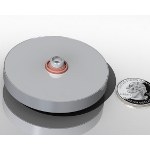 New Scale Technologies has demonstrated a miniature rotary actuator module (M3-R) with torque of 0.17 Nm and speeds of more than 400 degrees per second in a compact, 60-mm-diameter by 8-mm-thick design. Resulting from the successful completion of a Phase 1 SBIR project for the U.S. Navy, the non-inductive rotary actuator module delivers higher power output in a smaller footprint than electromagnetic pancake motors or other piezoelectric actuators. Applications include guided munitions and missile systems, MRI-compatible medical devices, unmanned aerial vehicle (UAV) controls, gimbal systems, and computer equipment.
Click here to learn more.
---
Multi-technology automation concepts for equipment builders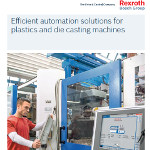 Bosch Rexroth has published a new full-color, 35-page brochure detailing system considera-tions for injection molding, blow molding, and die casting machines. The brochure contains information on drive, control, and automation technology; simulation and system configuration; innovative Rexroth products; service and training options; and more.
Click here to learn more.
---
High-performance 16-mm ECH brushless slotless motor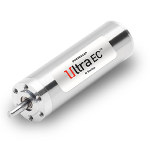 Portescap's newest addition to its Ultra EC mini motor platform is the 16 ECH brushless motor, designed to provide an economic motor solution for high-performance applications. The 16ECH has been specifically optimized for high continuous torque at low to medium speeds, maximizing power between 40 K and 55 K rpm, and rated speed at approximately 60 K rpm. The 16ECH is available in 36- and 52-mm length versions, with Hall sensors and three different coils to match your speed and voltage requirements.
Click here to learn more.
---
Low-cost hexapod 6-axis positioner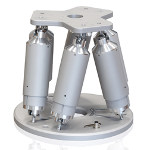 The PI H-820 hexapod from Physik Instrumente (PI) was developed for applications that require multi-axis motion and high flexibility but do not need sub-micron precision. This new model caters to these needs with linear travel to 100 mm, rotary travel to 60 deg, and a load capacity of 20 kg. High velocity and long service life are guaranteed by direct-drive brushless servo motors. Position repeatability is in the low micron range. A controller and software are included with all PI hexapods.
Click here to learn more.
---
Expanded planetary gearbox offering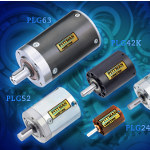 Pittman Motors has significantly expanded its gearbox offerings with the introduction of PLG24, PLG42K, PLG42S, PLG52, and PLG63 planetary gearboxes. These gearboxes are now available with Pittman brush and brushless DC motors and complement Pittman's existing spur and planetary gearbox lines. The new products add 35 standard motor-gearbox family combinations to the Pittman offerings. The PLG planetary gearboxes deliver high torque loads with excellent efficiency and are small, durable, and quiet. These features make them suitable for a variety of OEM precision motion-control applications, including pan/tilt functions, indexing, pumping, conveying, and traction applications.
Click here to learn more.
---
All-new CadMouse for CAD professionals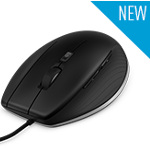 Designed using extensive CAD-user input, the 3Dconnexion CadMouse is the first mouse made specifically for CAD professionals. It combines powerful, ergonomic hardware and smart, easy-to-use software. It features a dedicated, full-size middle mouse button; QuickZoom; a smart scroll wheel; an advanced laser sensor; a gesture/radial menu button; and optimally shaped PTFE feet. Power users will have the CadMouse in one hand and the 3Dconnexion wireless SpaceMouse Pro or SpaceNavigator in the other.
Click here to learn more.
---
Hydraulic motors generate 4X more torque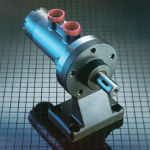 Dayton Lamina hydraulic motors feature a unique, three-moving-part design that allows four times more torque to be produced at one-quarter the speed without gear reducers. With torque ratings comparable to larger motors, they save size, weight, and cost over larger, similarly rated motors. These low-speed/high-torque, high-speed/low-torque motors feature instant forward and reverse. Six motors are available with a torque range from 0 to 656 in-lb. and speeds from 0 to 2,255 RPM, providing the selectivity required to meet exact project parameters. These proven models are ideal for a wide range of applications, including conveyor drives, hose reel extraction, fan drives, pipe valve openers, thread core removal for plastic injection molding, box sealing equipment, and more.
Click here to learn more.
---
DARPA tests UAV-to-UAV refueling at 45,000 ft
DARPA completes close-proximity flight tests of two modified RQ-4 Global Hawk unmanned aerial vehicles, demonstrates technology enabling autonomous aerial refueling.
Global military aviation currently relies on a key enabler: aerial refueling. Fighters, bombers, reconnaissance, and transport aircraft use "flying gas stations" to go the extra mile.
Increasingly, UAVs are conducting combat and ISR operations, but they aren't designed to be refueled in flight. In 2007, DARPA teamed up with NASA to show that high-performance aircraft can easily perform automated refueling from conventional tankers, yet many unmanned aircraft can't match the speed, altitude, and performance of the current tanker fleet. The 2007 demonstration also required a pilot on board to set conditions and monitor safety during autonomous refueling operations.
But DARPA has been working to close this capability gap.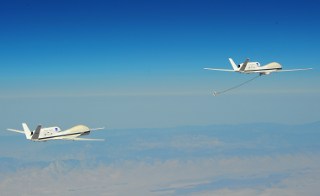 Global Hawk UAVs demonstrate close-proximity test flight.
DARPA's two-year Autonomous High-Altitude Refueling (AHR) program, which concluded Sep. 30, explored the ability to safely conduct fully autonomous refueling of UAVs in challenging high-altitude flight conditions. During its final test flight, two modified Global Hawk aircraft flew in close formation, 100 ft or less between refueling probe and receiver drogue, for the majority of a 2.5-hr engagement at 44,800 ft. This demonstrated, for the first time, that High Altitude Long Endurance (HALE) -class aircraft can safely and autonomously operate under in-flight refueling conditions.
The flight was the ninth test and the first time the aircraft flew close enough to measure the full aerodynamic and control interactions for unmanned-to-unmanned connections. Flight data was analyzed over the past few months and fed back into simulations to verify system safety and performance through contact and fuel transfer, including the effects of turns and gusts up to 20 knots.
Since HALE aircraft are designed for endurance at the expense of control authority, the program started with the expectation that only one in six attempts would achieve positive contact (17%). The final analysis, however, indicated that 60% of the attempts would achieve contact.
Multiple autonomous breakaway contingencies were successfully triggered well in advance of potentially hazardous conditions. Fuel systems were fully integrated and ground tested, demonstrating a novel "reverse-flow" approach with the tanker in trail. This approach opens valuable trade space for future developers to choose between various fixed and modular implementations of proven probe and drogue hardware.
"The goal of this demonstration was to create the expectation that future HALE aircraft will be refueled in flight," says Jim McCormick, DARPA program manager. "Such designs should be more affordable to own and operate across a range of mission profiles than systems built to satisfy the most stressing case without refueling. The lessons from AHR certainly extend beyond the HALE flight regime, and insights into non-traditional tanker concepts may offer further operational advantages."
Using this capability, U.S. military Global Hawk UAVS could fly nonstop for days or maybe even weeks.
Source: DARPA
SIDEBAR: Some basic Global Hawk stats courtesy of Northrop Grumman.
Q. How far can Global Hawk fly?
A. It has an inter-continental range (~11,500 miles). This means the aircraft can fly from New York and land anyplace in the world.
Q. How high can Global Hawk fly?
A. About 12 miles high -- an altitude almost twice that of airliners. From this height, you can see over 300 miles to the horizon.
Q. How long can Global Hawk fly?
A. More than 32 hours -- the longest of any high-altitude operational aircraft in the world.
Q. How much can Global Hawk carry?
A. It can carry equipment weighing 3,000 lb -- that's the weight of a Ford Focus.
Published November 2012
Rate this article