High-precision rotary stage
Steinmeyer has announced a new addition to its line of precision rotary stages. The standard DT130-DC stage is a worm gear-driven unit with a rotary encoder and features positional accuracy of +/- 0.07 deg, repeatability of +/- 0.007 deg, a max speed of 15 rpm, and a load capacity of 50 Newton. Drive mechanism is a DC servo-motor. This stage is ideal for applications such as laser machining, precision wafer inspection, photonics, fiber optics, and cell diagnostics. The DT130-DC can also be equipped with a direct reading encoder attached to the rotating stage for higher positioning accuracy. Stage body is manufactured from a low-distortion aluminum alloy (black anodized) and includes a high-stiffness bearing set. This rotary stage is designed to easily mate with Steinmeyer's MT130 linear stage.
Click here to learn more.
---
Customize direct-drive motors using Applimotion motor kits

Applimotion provides brushless direct-drive motor kits for complex motion assemblies in automation, semiconductor equipment, medical devices, and satellite communication systems. The ULT, UTH, and UTS motor kits can be integrated into a customized assembly with high-resolution encoders and precision bearings. This allows the customer to control the function and operation of the assembly without having to make it in-house. It is routine for Applimotion to either turn-key the design from a specification or to contract manufacture to the customer's documentation. Custom assemblies can range from 8-mm diameter to 600-mm diameter and torque from .1 to 1,000 Nm, with unique through-holes, mechanical features, and custom cabling.
Click here to learn more about Applimotion motors.
---
Magnetic drive gear pumps feature brushless DC motor with integrated driver circuit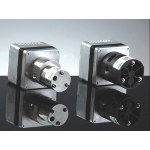 FG Series Magnetic Drive Gear Pumps from Clark Solutions incorporate a 24-V brushless DC drive motor in a rotor-less configuration and high-precision magnetic drive to provide precise transfer of aggressive fluids. FG gear pumps feature AISI 316L or PPS pump housings, PEEK/PTFE gears and bushings, and provide flow rates to 205 LPH and static pressure to 290 PSI. Output motor speed is 300-5,000 RPM. The extreme accuracy and pulsation-free flow of FG of these units make them ideally suited for medical devices, scientific and laboratory systems, as well as food processing, water purification, lubrication, cooling and other system applications. FG Series gear pumps have exceptional service lives compared to traditional pump motor assemblies.
Click here to learn more.
---
Overhung load adaptors available with corrosion-protected steel shafts for demanding outdoor hydraulic applications
Corrosive operating environments are a constant challenge for system designers of hydraulic systems, particularly in the seal area. When dealing with overhung loads, Zero-Max has an effective, field-proven solution to extend a system's operating life. Overhung Load Adaptors are often used in severe operating environments. Zero-Max is now offering as an option a highly effective corrosion-resistant finish for the shafts of its Overhung Load Adaptors. This new finish not only has greater corrosion resistance, it also has improved wear characteristics. The process is ideal for Overhung Load Adaptors used in brick and block machinery, oil-drilling equipment, mining equipment and vehicles, forestry machinery, marine equipment, and off-highway vehicles. This process is offered at a substantial savings when compared to stainless steel shafting. The corrosion protection shaft option is one of over 1,300 custom designs offered by Zero-Max to meet new and unusual overhung load system requirements.
Click here to learn more.
---
Compact vertical translation stage offers super-precise incremental motion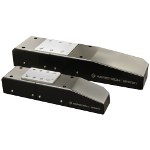 Aerotech's MPS-SV series lift stages provide high-performance elevation motion in a compact, cost-effective design. These lift stages are engineered for applications ranging from laboratory research to high-reliability production processes and are offered in two sizes: the MPS50SV and MPS75SV. The multitude of adapter brackets and mounting compatibility inherent in all MPS stages permits easy assembly of multi-axis configurations using linear, rotary, and lift MPS stages. These stages utilize a precision-ground ball screw and preloaded crossed-roller bearings (no belts!) for smooth and accurate geometric performance, exceptional accuracy and repeatability, and 0.05-μm minimum incremental motion.
Click here to learn more.
---
Mini rotary actuator has highest torque and power output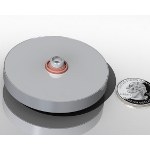 New Scale Technologies has demonstrated a miniature rotary actuator module (M3-R) with torque of 0.17 Nm and speeds of more than 400 degrees per second in a compact, 60-mm-diameter by 8-mm-thick design. Resulting from the successful completion of a Phase 1 SBIR project for the U.S. Navy, the non-inductive rotary actuator module delivers higher power output in a smaller footprint than electromagnetic pancake motors or other piezoelectric actuators. Applications include guided munitions and missile systems, MRI-compatible medical devices, unmanned aerial vehicle (UAV) controls, gimbal systems, and computer equipment.
Click here to learn more.
---
Pneumatic cylinders with self-adjusting cushioning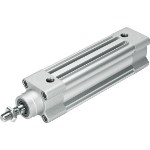 Festo's DSBC family of ISO 15552 standard pneumatic cylinders all feature the company's unique self-adjusting cushioning capability (called PPS) that works via exhaust slots in the cushioning boss. PPS eliminates the time-consuming back and forth typically required during the adjustment stage of installing pneumatic cylinders. This self-adjusting ability ensures optimum cushioning performance at all times without the need for any manual intervention -- even for changes in parameters such as friction and pressure, thus reducing wear and vibration.
Click here to learn more.
---
Servo motors with extended performance range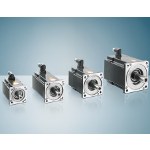 Beckoff Automation's AM8500 servo motor series is suitable for all applications with larger external mass inertias, in particular CNC applications in machine tools and woodworking machines. Typical areas of application include printing machines as well as film winders and feeding drive units. The AM8500 series covers a wide performance range with four sizes and three lengths with standstill torques from 1.38 Nm to 29 Nm. The One Cable Technology (OCT) feature combines the power and feedback systems into one standard motor cable.
Click here to learn more.
---
As versatile as the human hand -- lower-cost 6-axis hexapod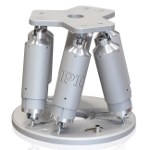 PI (Physik Instrumente) has added a lower-cost hexapod to its large family of parallel positioning devices. Hexapods produce motion in all six degrees of freedom. With a freely programmable center of rotation, these devices are virtually as versatile as the human hand. The new H-820 was developed for applications that require multi-axis motion and high flexibility but do not need precision on a nanometer or sub-micrometer level. Driven by powerful brushless motors, PI's new model caters to these needs with linear travel to 100 mm, rotary travel to 60 degrees, load capacity of 20 kg, velocity of 20 mm/sec, and resolution in the micrometer range. This hexapod is ideal for many applications, including industrial automation and manufacturing, neuroscience, and bio-technology research, or for micro-manipulation, the alignment and assembly of mechanical components, micromachining, satellite testing, sensor alignment, X-ray microscopy, and medical engineering.
Click here to learn more.
---
Brushless DC servo motors with integrated EtherCAT interface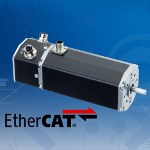 Dunker- motoren, now a unit of AMETEK Precision Motion Control, has extended its range of compact brushless DC servo motors with integrated intelligence and fieldbus connectivity with 10 new models. The extended family now offers EtherCAT interface on all of its BG45, BG65, BG65S, and BG75 base models. Available motors range from 50 W to 500 W of power in 45-mm- to 75-mm-square frame sizes and feature CANopen over EtherCAT (CoE) compatibility. This feature combines the benefits of CANopen's standardized DS402 motion profile with EtherCAT's real-time high-performance fieldbus. The all-in-one motor plus drive design eliminates the need for external drives and numerous cables, improving dependability and overall performance, while dramatically reducing commissioning time and total system cost.
Click here to learn more.
---
The most compact drive on the market

The high-performance FAULHABER Series 1218...B Brushless DC Motor available through MICROMO is designed to address applications where high power and overall motor size are key requirements. Its 18-mm length makes it the most compact drive on the market in the 12-mm-diameter size. It has a wide standard operating temperature range from ‐20 deg C to 100 deg C. Based on the revolutionary System FAULHABER ironless stator winding design, the motor provides a reliable option for challenging fields of application such as medical pumps, robotics, and laboratory automation. This motor delivers continuous torque to 1 mNm and has integrated digital Hall sensor feedback. When combined with the wide range of FAULHABER planetary or spur gearheads, the output torque can reach 300 mNm.
Click here to learn more.
---
Rugged electric linear actuator for off-highway applications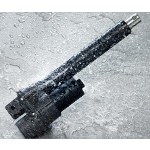 Thomson's newest heavy-duty linear actuator, the Max Jac electric linear actuator, is designed for high performance in mobile off-highway applications. It is built to work with virtually no maintenance while maintaining accuracy under the harshest conditions. The Max Jac actuator has a stainless steel adapter and extension tubes that prevent leakage and enable it to achieve IP69K protection class status. This actuator successfully completed the following rigorous tests without compromise in performance and accuracy: 500 hr of salt spray, exposure to aggressive substances, rigorous vibration testing, and extreme temperatures ranging from -40 deg C to 85 deg C.
Click here to learn more.
---
Linear actuators convert rotary motion into precise linear motion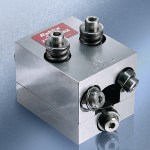 Zero-Max is now offering Roh'lix linear actuators made from stainless steel for use in operations where cleanliness is a priority. Used to convert rotary motion to linear travel, Roh'lix linear actuators carry loads at speeds up to 70 in./sec, depending on size. Ideal for positioning operations in all types of machinery, Roh'lix linear actuators turn rotational motion into linear motion much like a ball screw, except the Roh'lix has the added feature of overload protection.
Click here to learn more.
---
DC drives from Sprint Electric regenerate energy
With its recently extended PLX range, Sprint Electric offers the latest in regenerative three-phase digital DC drive technology. The DC drives are able to regenerate energy back to the mains supply under braking without the need for expensive, complex intermediate storage, resistive dumping, or additional power bridges. PLX DC drives are compact, powerful, flexible, and easy to program, and are available in current ratings between 12 A and 2,250 A at supply voltages up to 690 VAC. A four-quadrant DC drive uses two thyristor bridges to enable it to motor and brake in both directions of rotation. This allows it to reverse the torque to slow the load very gently or almost instantaneously, regenerating energy at the same time. And unlike an AC drive, it is able to generate full torque at zero speed, enabling the load to be held stationary in complete safety without the need for mechanical brakes, an especially useful feature for winders and hoists.
Click here to learn more.
---
Powerful piezo motor with magnetic absolute encoder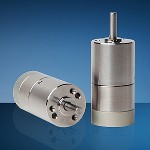 The compact LR 17 is a mere 17 mm in diameter and has stall torque of 30 mNm, which is high compared to its small size. Because of the self-locking feature of the friction drive, the motor can hold position without consuming any power. The integrated 15-bit magnetic absolute encoder gives a closed loop resolution of 0.2 milli-radians (0.01 deg).
Click here to learn more from MICROMO.
---
DARPA tests UAV-to-UAV refueling at 45,000 ft
DARPA completes close-proximity flight tests of two modified RQ-4 Global Hawk unmanned aerial vehicles, demonstrates technology enabling autonomous aerial refueling.
Global military aviation currently relies on a key enabler: aerial refueling. Fighters, bombers, reconnaissance, and transport aircraft use "flying gas stations" to go the extra mile.
Increasingly, UAVs are conducting combat and ISR operations, but they aren't designed to be refueled in flight. In 2007, DARPA teamed up with NASA to show that high-performance aircraft can easily perform automated refueling from conventional tankers, yet many unmanned aircraft can't match the speed, altitude, and performance of the current tanker fleet. The 2007 demonstration also required a pilot on board to set conditions and monitor safety during autonomous refueling operations.
But DARPA has been working to close this capability gap.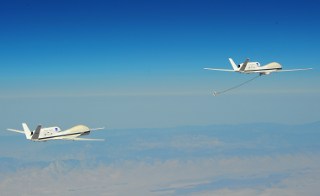 Global Hawk UAVs demonstrate close-proximity test flight.
DARPA's two-year Autonomous High-Altitude Refueling (AHR) program, which concluded Sep. 30, explored the ability to safely conduct fully autonomous refueling of UAVs in challenging high-altitude flight conditions. During its final test flight, two modified Global Hawk aircraft flew in close formation, 100 ft or less between refueling probe and receiver drogue, for the majority of a 2.5-hr engagement at 44,800 ft. This demonstrated, for the first time, that High Altitude Long Endurance (HALE) -class aircraft can safely and autonomously operate under in-flight refueling conditions.
The flight was the ninth test and the first time the aircraft flew close enough to measure the full aerodynamic and control interactions for unmanned-to-unmanned connections. Flight data was analyzed over the past few months and fed back into simulations to verify system safety and performance through contact and fuel transfer, including the effects of turns and gusts up to 20 knots.
Since HALE aircraft are designed for endurance at the expense of control authority, the program started with the expectation that only one in six attempts would achieve positive contact (17%). The final analysis, however, indicated that 60% of the attempts would achieve contact.
Multiple autonomous breakaway contingencies were successfully triggered well in advance of potentially hazardous conditions. Fuel systems were fully integrated and ground tested, demonstrating a novel "reverse-flow" approach with the tanker in trail. This approach opens valuable trade space for future developers to choose between various fixed and modular implementations of proven probe and drogue hardware.
"The goal of this demonstration was to create the expectation that future HALE aircraft will be refueled in flight," says Jim McCormick, DARPA program manager. "Such designs should be more affordable to own and operate across a range of mission profiles than systems built to satisfy the most stressing case without refueling. The lessons from AHR certainly extend beyond the HALE flight regime, and insights into non-traditional tanker concepts may offer further operational advantages."
Using this capability, U.S. military Global Hawk UAVS could fly nonstop for days or maybe even weeks.
Source: DARPA
SIDEBAR: Some basic Global Hawk stats courtesy of Northrop Grumman.
Q. How far can Global Hawk fly?
A. It has an inter-continental range (~11,500 miles). This means the aircraft can fly from New York and land anyplace in the world.
Q. How high can Global Hawk fly?
A. About 12 miles high -- an altitude almost twice that of airliners. From this height, you can see over 300 miles to the horizon.
Q. How long can Global Hawk fly?
A. More than 32 hours -- the longest of any high-altitude operational aircraft in the world.
Q. How much can Global Hawk carry?
A. It can carry equipment weighing 3,000 lb -- that's the weight of a Ford Focus.
Published November 2012
Rate this article