Motion: Drive nut runs on threadless shaft -- eliminates risk of jamming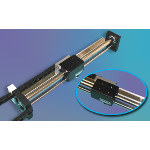 Amacoil-Uhing Model RS drive nuts provide smooth, backlash-free linear motion in machine design. Unlike a screw, the RS drive nut runs on a smooth shaft, eliminating the potential for debris to become trapped in threads that could then clog or jam. Slipping, as opposed to the churning and grinding associated with screw-based systems, prevents damage to the nut and other components in the linear motion system. This reduces downtime for repairs and enables more consistent production rates. RS linear drive nuts offer axial thrust from 22 to 449 lb and require no maintenance except periodic lubrication of the shaft with grease.
Click here to learn more.
---
High-speed motor for med devices and equipment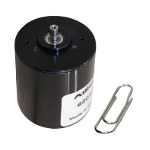 The new 28-mm, 24-V ResMax 28 brushless motor from Allied Motion is engineered to achieve very high speed (up to 90,000 rpm) with great dynamic responsiveness (0 to 50,000 rpm in only 20 ms, unloaded). It has exceptional operating life (30,000+ hours at 40,000 rpm average speed), maximal efficiency (up to 90 percent), rated power of 46 W, and the ability to operate in an oxygen-rich environment. The motor is equipped with integrated Hall-effect sensors and a NTC thermal sensor.
Click here to learn more.
---
Mini on-the-go robotic welding cell features Kuka robot

A mini robotic cell developed by German integrator Paul von der Bank is in operation at Bruninghaus & Drissner in Hilden, Germany, just east of Dusseldorf. In the confined space of this portable "Welding To Go" (WTG) 1200 cell, a KUKA KR 6 R 700 sixx robot from the AGILUS series performs welding tasks with precision three shifts a day. The whole unit works in a footprint the size of a wooden pallet -- about 40 in. x 48 in.
Watch the mini robot welder in action.
---
Mini voice coil motor features high force-to-size ratio
MotiCont's miniature linear voice coil motor, LVCM-022-013-01, features a high force-to-weight ratio of 14.5 oz continuous force and 45.7 oz peak force in a compact 0.875-in. diameter x 0.50-in.-long package. This clean, quiet, efficient, low-inertia, high-acceleration, high-speed motor has zero cogging and features high accuracy and high repeatability to less than 1 μm when operated in a closed loop as a DC servo motor.
Click here to learn more.
---
Palm-size XY/XYZ motorized stage is fast and precise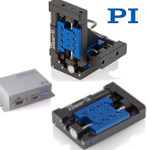 PI (Physik Instrumente), a top provider of precision motion control and positioning solutions for more than four decades, has released the low-profile M-122 motorized positioning stage. This stage has a very small footprint of 60 mm x 86 mm and a travel range of 25 mm, best suiting it for research and industrial applications, including fiber alignment, metrology, quality assurance testing, photonics packaging, test equipment, and micromachining.
Click here to learn more.
---
Toothed-belt linear axes in customizable sizes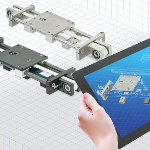 To simplify product selection of maintenance-free, self-lubricating linear guides, motion plastics specialist igus has developed a modular construction kit for belt-driven DryLin ZLW linear axes. Using the new ZLW toolkit, customers can customize their own solutions, including rail widths, system length, etc. -- even for small installation spaces. Cross beams, rails, and/or carriages are available in either aluminum or stainless steel to suit a wider range of application requirements, especially food and lab settings. These systems were developed for high-speed applications with low loads and are better for high accelerations than ball bearings. Underwater applications are possible via a special toothed belt.
Click here to learn more.
---
Encoders: Rotary motion control in extreme environs
Novotechnik U.S. introduces the Vert-X 51 Series of rotary magnetic encoders, which feature up to 16-bit resolution and repeatability to 0.1 deg, depending on model. Measurement range in this series is 0 to 360 deg, and physical measurements of the housing are 30 mm x 50 mm. These encoders are ideal for harsh environments with ingress protection to IP 67, and stainless steel housing and shaft are available. Vert-X 51 Series is designed to operate with shock up to 50 g and vibration to 20 g as well as axial and radial shaft loads to 45 N. Ideal for marine propulsion, off-highway, and other applications
Click here to learn more.
---
High-torque DC mini motors
With high-torque carrying capabilities reaching up to 6.14 mNm, the 17DCT brush dc mini motor from Portescap provides outstanding performance with efficiency reaching up to 85 percent. This 17-mm diameter motor can deliver higher torque per ampere resulting in better battery life, making it ideal for demanding applications such as medical and industrial pumps, drug delivery systems, miniature industrial power tools, tattoo machines, mesotherapy guns, dental tools, watch winders, and more.
Click here to learn more.
---
Ultra-fast compact piezo nanopositioner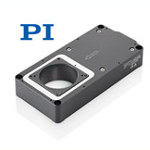 The new P-630 X-axis nano-positioning stage from PI (Physik Instrumente), with a large clear 30-mm diameter aperture, 0.1-nm resolution, and a small footprint and low profile, will ensure high accuracy and long life with travel ranges to 80 µm. Equipped with an internal capacitive sensor that allows for precise, extremely stable motion, the stiff flexure design enables exceptional responsiveness and accuracy. Vacuum version is available. PI piezo actuators are being utilized in research and industry microstructuring and scanning applications, precision positioning of optical elements, and micromachining.
Click here to learn more.
---
Custom-molded lead screws, linear motion components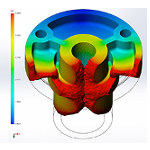 Haydon Kerk Motion Solutions recently added SolidWorks Plastic Professional mold flow analysis software to help with the design of custom-molded lead screw and linear motion components. Haydon Kerk's experience using over 60 molded materials, including the Kerkite composites, PEEK, and PPS base materials, combined with the capabilities of this new software, allows engineers to reduce the time required for the design and build process for custom molds. The combination of on-site tooling and molding machines also reduces the time to production for custom parts for existing Haydon Kerk polymers or customer-specified materials.
Click here to learn more.
---
Bosch Rexroth Resource Kits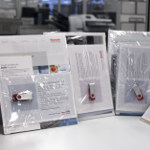 Bosch Rexroth Corporation recently achieved a major milestone distributing 5,000 Resource Kits to U.S. engineers. Launched in 2013, the Resource Kits now cover six different topics: Lean Production and Automation Insights, Linear Motion & Mechatronics @ Work, Advancing Factory Automation, Hydraulics Performance, Mobile Hydraulics Solutions and Packaging & Printing Results. Resource Kits include handbook excerpts, case studies, technical papers, videos, and online tools.
Get your resource kits today.
---
Compact linear positioning stage driven by ultrasonic piezo linear motor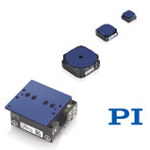 Ultrasonic piezomotors from Physik Instrumente are small and provide motion with high resolution, as well as an extremely wide dynamic range from microns/second to hundreds of millimeters/second. A significant advantage over magnetic drive technologies (such as voice coils, brushless, and 3-phase motors) is the self-locking principle: Once the motor reaches a target position, it acts like a ceramic brake and locks the platform into place, providing extreme long-term stability at zero driving current and heat generation.
Click here to learn more.
---
Mike Likes Robotics: Tiny powerhouse of a robot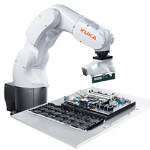 The small-but-mighty KUKA KR 3 AGILUS is aimed at production applications where very short cycle times and maximum output are required, such as assembling small components and performing handling tasks, screw fastening, brazing, adhesive bonding, packaging, testing, inspecting, and more. Payload capacity is 3 kg; reach is 540 mm. This 600 mm x 600 mm (2 ft x 2 ft) little workhorse is characterized by impressive speed and precision.
Click here to learn more.
---
Aerospace: Custom modular cooling pumps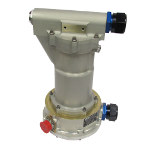 A new family of cooling pumps from Parker Aerospace shares a common core of basic motor and pump components. The pumps are compatible with a variety of dielectric fluids including PAO, fuel, Galden, and turbine engine oils and are available in fixed- or variable-speed configurations to accommodate a variety of flow rates. Both AC and DC motor configurations are available as 115 VAC at 400 Hz, 28 VDC, or 270 VDC. The wet-motor design allows the fluid to extract heat from the electronics or the sensor suite, while also removing heat from the pump motor itself.
Click here to learn more.
---
Linear Motion: Mini voice coil actuators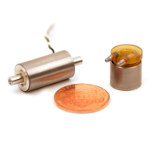 H2W has built its smallest moving magnet voice coil actuator (NCM01-04-001-2IB) to date, with an outside diameter of 0.40 in (10 mm) and a length of 0.735 in (18.8 mm). It has a stroke of 0.10 in (2.5 mm) and generates a continuous force of 0.10 lb (0.45 N) and a peak force of 0.30 lb (1.35 N). It weighs just 0.20 oz (5.7 g). This actuator uses a hardened shaft and sliding contact bushing to ensure long life and is ideal for oscillatory motion -- particularly in a number of handheld applications. Moving magnet voice coil actuators have built-in bearings, so there is no need for the customer to add mass or complexity to their motion system to integrate a bearing, and there are no moving leads to worry about cable management.
Click here to learn more.
---
DARPA tests UAV-to-UAV refueling at 45,000 ft
DARPA completes close-proximity flight tests of two modified RQ-4 Global Hawk unmanned aerial vehicles, demonstrates technology enabling autonomous aerial refueling.
Global military aviation currently relies on a key enabler: aerial refueling. Fighters, bombers, reconnaissance, and transport aircraft use "flying gas stations" to go the extra mile.
Increasingly, UAVs are conducting combat and ISR operations, but they aren't designed to be refueled in flight. In 2007, DARPA teamed up with NASA to show that high-performance aircraft can easily perform automated refueling from conventional tankers, yet many unmanned aircraft can't match the speed, altitude, and performance of the current tanker fleet. The 2007 demonstration also required a pilot on board to set conditions and monitor safety during autonomous refueling operations.
But DARPA has been working to close this capability gap.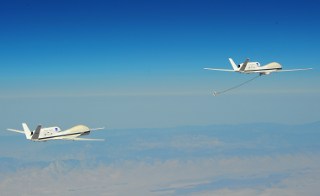 Global Hawk UAVs demonstrate close-proximity test flight.
DARPA's two-year Autonomous High-Altitude Refueling (AHR) program, which concluded Sep. 30, explored the ability to safely conduct fully autonomous refueling of UAVs in challenging high-altitude flight conditions. During its final test flight, two modified Global Hawk aircraft flew in close formation, 100 ft or less between refueling probe and receiver drogue, for the majority of a 2.5-hr engagement at 44,800 ft. This demonstrated, for the first time, that High Altitude Long Endurance (HALE) -class aircraft can safely and autonomously operate under in-flight refueling conditions.
The flight was the ninth test and the first time the aircraft flew close enough to measure the full aerodynamic and control interactions for unmanned-to-unmanned connections. Flight data was analyzed over the past few months and fed back into simulations to verify system safety and performance through contact and fuel transfer, including the effects of turns and gusts up to 20 knots.
Since HALE aircraft are designed for endurance at the expense of control authority, the program started with the expectation that only one in six attempts would achieve positive contact (17%). The final analysis, however, indicated that 60% of the attempts would achieve contact.
Multiple autonomous breakaway contingencies were successfully triggered well in advance of potentially hazardous conditions. Fuel systems were fully integrated and ground tested, demonstrating a novel "reverse-flow" approach with the tanker in trail. This approach opens valuable trade space for future developers to choose between various fixed and modular implementations of proven probe and drogue hardware.
"The goal of this demonstration was to create the expectation that future HALE aircraft will be refueled in flight," says Jim McCormick, DARPA program manager. "Such designs should be more affordable to own and operate across a range of mission profiles than systems built to satisfy the most stressing case without refueling. The lessons from AHR certainly extend beyond the HALE flight regime, and insights into non-traditional tanker concepts may offer further operational advantages."
Using this capability, U.S. military Global Hawk UAVS could fly nonstop for days or maybe even weeks.
Source: DARPA
SIDEBAR: Some basic Global Hawk stats courtesy of Northrop Grumman.
Q. How far can Global Hawk fly?
A. It has an inter-continental range (~11,500 miles). This means the aircraft can fly from New York and land anyplace in the world.
Q. How high can Global Hawk fly?
A. About 12 miles high -- an altitude almost twice that of airliners. From this height, you can see over 300 miles to the horizon.
Q. How long can Global Hawk fly?
A. More than 32 hours -- the longest of any high-altitude operational aircraft in the world.
Q. How much can Global Hawk carry?
A. It can carry equipment weighing 3,000 lb -- that's the weight of a Ford Focus.
Published November 2012
Rate this article