Slotless zero-cogging motor kits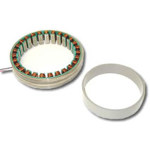 Applimotion's UTS Series Slotless Direct Drive Frameless Motors are permanent-magnet 3-phase ring-type, low-profile, direct-drive motors with a large through hole available in 29-mm to 240-mm diameters. For the ultimate in smooth operation when scanning or positioning, motors offer zero cogging and sinusoidal torque angle curves. Features include: medium motor constant and optional windings, back iron rings, and hall device feedback.
Click here to learn more.
---
Test: Minimize uncertainty in high-speed applications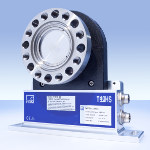 From motor sports to aerospace to making wind turbines, performance tests of high-speed motors and drives at high rotational speeds are an important factor. Now HBM has developed the T40HS as a space- and cost-saving torque flange for rotational speeds up to 45,000 rpm, for non-contacting transfer of signals while ensuring maximum precision. Thanks to the compact measurement flange design, the T40HS features high torsional stiffness, which allows for dynamic torque measurements. No additional bearings are required.
Click here to learn more.
---
Servo motor brakes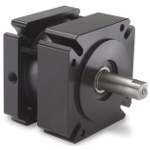 Nexen Group's Eclipse Servo Motor Brakes offer distinct advantages over spring-engaged, electrically released brakes. No energy is consumed when the brake is disengaged. It is spring-engaged/air-released (no electric coil) to keep the brake cool until it's needed. Nexen's servo motor brakes are designed to mount to the shaft end of servo motors up to 20 hp, including NEMA 23, 34, and 42 frame sizes. Key features include fail-safe operation, 50 percent more torque, and zero backlash.
Click here to learn more.
---
High-load hexapod for simulation, stabilization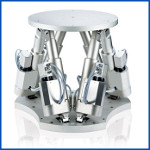 The dynamic-motion H-900KSCO hexapod from PI (Physik Instrumente) provides linear travel ranges up to 200 mm and rotation to 66 deg. This compact unit is driven by brushless servo motors and combines high load capacity (130 lb) with fast response and high linear speeds up to 80 mm/sec and angular speed of 30 deg/sec. The parallel kinematics design eliminates the need for moving cables and results in a very stiff and compact positioning solution, compared to conventional multi-axis designs. Hexapod applications include motion simulation (profiles compatible to ISO 20672, ISO 8728, and ISO 16328), industrial production, precision machining, automotive industry, and stabilization of motion on moving vehicles and vessels.
Click here to learn more.
Watch video on versatility of PI hexapods.
---
10-mm motor doubles output torque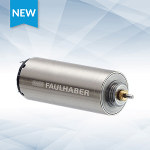 MICROMO announces the launch of a new generation of metal brush commutated FAULHABER motors, the 1024…SR series with a diameter of 10 mm. In combination with a gearhead, its output torque can achieve 300 mNm, twice that of similar products on the market. Thanks to a superior torque/speed ratio (flat slope), the motor can handle varying loads at reduced speed variations with smooth control. This performance is achieved with very low noise and vibration levels. A wide range of matching speed and motion controllers, encoders, and gearheads allow for optimal adaption in high-demand applications like portable devices or optical equipment. The significant power and torque enhancement is based on a redesign of nearly all of the motor's elements, including a new coil, a new commutation system, and a new magnet.
Click here for more information.
---
High torque for battery-driven applications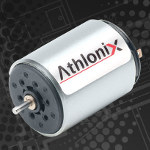 The Athlonix 24DCT miniature motor from Portescap features torque-carrying capabilities up to 14.96 mNm and provides high performance with efficiency reaching up to 90 percent while maintaining a long lifetime. This motor is ideal for battery-driven applications such as medical and industrial pumps, drug delivery systems, robotic systems (bionic fingers), miniature industrial power tools, tattoo machines, mesotherapy guns, dental tools, watch winders, and more. Two variations available: precious metal commutation and graphite commutation with a Neo magnet inside.
Click here to learn more.
---
Robotics: Get a collaborative robot on the house

Everybody needs a helping hand, and sharing your story just may get you one. Maybe you have difficulties staffing the night shift, you want better quality control and consistency, or you simply need to optimize your production to get ahead. Tell Universal Robots about it, and you might score one of three collaborative robots to turn your business dreams into reality.
Click here to learn more.
---
Plug-and-play motion system in a box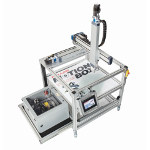 Rollon Corp. has launched Motion Box, a new pre-engineered Cartesian robot system designed to deliver users six different motion profiles that can be set up and running in a couple of hours. Motion Box covers everything from the human-machine interface (HMI) on one side to the output of reliable motion on the other end. Even the cable management is included. The initial system setup is already complete, so end users can get parts moving in a reliable and repeatable manner. Motion Box incorporates the Q-Motion Controller from Mitsubishi Electric, which features four-axis motion control, energy-efficient drivers, integrated I/O and network access, and a clean, efficient HMI setup.
Click here to learn more.
---
Compact metrology XY stage
Motion and precision positioning systems expert PI (Physik Instrumente) introduces a new compact metrology XY stage -- the L-731. The magnetic linear direct drive ensures high velocity and acceleration, ideal for inspection and microscopy. With a travel range of 205 mm2 and solid velocity to 100 mm/sec, the L-731 delivers high accuracy and smooth motion. Precision crossed roller bearings with anti-creep cage assist guarantee superior guiding accuracy (1.5 µm straightness for loads up to 20 kg). An integrated optical reference encoder and limit switch provide further positioning control and accuracy for this compact stage with 5-nm resolution. DC servo motor versions are available on request.
Click here to learn more.
---
Actuators: Convert hydraulics to electric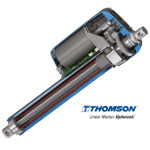 Thomson Industries has developed an entirely new platform of electric linear actuators with integrated control systems that enable design engineers to convert a wider range of hydraulic applications to electric -- and substantially improve application control. The Electrak HD electric linear actuator boosts power to 10 kN (2,250 lb) with stroke lengths up to 1,000 mm (39 in.). It has been tested successfully to meet the toughest OEM environmental and electronic component acceptance tests. Perfect for heavy-duty applications such as mobile off-highway vehicles, utility vehicles, railroad equipment, roadwork and construction-site equipment, and more.
Click here to learn more.
---
Linear Motion: 2016 catalog and design guide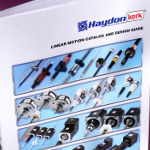 Haydon Kerk Motion Solutions, a brand of AMETEK Precision Motion Control, has just released its new Catalog and Design Guide, revised for 2016. The catalog has been updated and expanded with new product sections, including the WGS06 linear rail, the brushless IDEA servo motor controllers, Size 8 double-stack 21000 linear actuators, ZBM micro screw nuts, and 15-mm external linear Can-Stack actuators. The new 260+ page resource illustrates a wide range of products engineered for use as building blocks in sophisticated linear motion assemblies.
Click here to learn more.
---
New 10-mm motor doubles output torque
MICROMO launches a new generation of metal commutated brush DC motors, the FAULHABER 1024 SR series. With a 10-mm diameter and the ability to offer high performance with small dimensions and low weight, the 1024 SR motor is ideal for high-demand applications and portable devices.
Click here to learn more.
---
DENSO robots with PLC or PAC control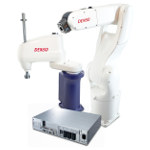 DENSO Robotics' latest RC8 robot controller features a built-in I/O command-slave function that allows DENSO robots to be controlled directly by Rockwell and Omron PLCs or PACs. Beta testing for Siemens and Mitsubishi PLCs and PACs is in progress. The I/O command-slave function makes it easy for customers to program and operate robots from within their familiar PLC or PAC environment, without having to learn a specialized programming language. These compact, high-speed robots are widely used in traditional manufacturing sectors, as well as in advanced-technology applications in the medical, pharmaceutical, and life sciences industries.
Click here to learn more.
---
Machine Building: Tiny drives show their muscle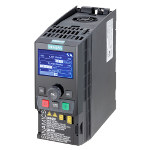 Siemens has just released its popular Sinamics G120C drive in AA size, which replaces the previous G120C frame size A in power ratings up to 2.2 kW (3 hp), including communication variants for USS, PROFIBUS, PROFINET, and Ethernet/IP. Offering high power density in a smaller footprint, the new "tiny drive" offers fully compatible replacement for the equivalent power ratings on the previous version. Typical applications include smaller test stands, mixers, conveyors, fans, pumps, compressors, and basic production machinery.
Click here to learn more
---
Robotics: Give Universal Robots a sense of touch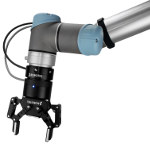 Robotiq's FT 300 force torque sensor gives a sense of touch to robots and makes automation of high-precision tasks such as product testing, assembly, and precise part insertion fast and easy to set up. This plug-and-play sensor is specially designed for Universal Robots in terms of its coupling, integration, and programming. All-in-one packages include hardware and software.
Click here to learn more.
---
DARPA tests UAV-to-UAV refueling at 45,000 ft
DARPA completes close-proximity flight tests of two modified RQ-4 Global Hawk unmanned aerial vehicles, demonstrates technology enabling autonomous aerial refueling.
Global military aviation currently relies on a key enabler: aerial refueling. Fighters, bombers, reconnaissance, and transport aircraft use "flying gas stations" to go the extra mile.
Increasingly, UAVs are conducting combat and ISR operations, but they aren't designed to be refueled in flight. In 2007, DARPA teamed up with NASA to show that high-performance aircraft can easily perform automated refueling from conventional tankers, yet many unmanned aircraft can't match the speed, altitude, and performance of the current tanker fleet. The 2007 demonstration also required a pilot on board to set conditions and monitor safety during autonomous refueling operations.
But DARPA has been working to close this capability gap.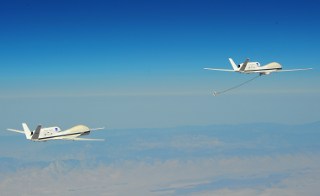 Global Hawk UAVs demonstrate close-proximity test flight.
DARPA's two-year Autonomous High-Altitude Refueling (AHR) program, which concluded Sep. 30, explored the ability to safely conduct fully autonomous refueling of UAVs in challenging high-altitude flight conditions. During its final test flight, two modified Global Hawk aircraft flew in close formation, 100 ft or less between refueling probe and receiver drogue, for the majority of a 2.5-hr engagement at 44,800 ft. This demonstrated, for the first time, that High Altitude Long Endurance (HALE) -class aircraft can safely and autonomously operate under in-flight refueling conditions.
The flight was the ninth test and the first time the aircraft flew close enough to measure the full aerodynamic and control interactions for unmanned-to-unmanned connections. Flight data was analyzed over the past few months and fed back into simulations to verify system safety and performance through contact and fuel transfer, including the effects of turns and gusts up to 20 knots.
Since HALE aircraft are designed for endurance at the expense of control authority, the program started with the expectation that only one in six attempts would achieve positive contact (17%). The final analysis, however, indicated that 60% of the attempts would achieve contact.
Multiple autonomous breakaway contingencies were successfully triggered well in advance of potentially hazardous conditions. Fuel systems were fully integrated and ground tested, demonstrating a novel "reverse-flow" approach with the tanker in trail. This approach opens valuable trade space for future developers to choose between various fixed and modular implementations of proven probe and drogue hardware.
"The goal of this demonstration was to create the expectation that future HALE aircraft will be refueled in flight," says Jim McCormick, DARPA program manager. "Such designs should be more affordable to own and operate across a range of mission profiles than systems built to satisfy the most stressing case without refueling. The lessons from AHR certainly extend beyond the HALE flight regime, and insights into non-traditional tanker concepts may offer further operational advantages."
Using this capability, U.S. military Global Hawk UAVS could fly nonstop for days or maybe even weeks.
Source: DARPA
SIDEBAR: Some basic Global Hawk stats courtesy of Northrop Grumman.
Q. How far can Global Hawk fly?
A. It has an inter-continental range (~11,500 miles). This means the aircraft can fly from New York and land anyplace in the world.
Q. How high can Global Hawk fly?
A. About 12 miles high -- an altitude almost twice that of airliners. From this height, you can see over 300 miles to the horizon.
Q. How long can Global Hawk fly?
A. More than 32 hours -- the longest of any high-altitude operational aircraft in the world.
Q. How much can Global Hawk carry?
A. It can carry equipment weighing 3,000 lb -- that's the weight of a Ford Focus.
Published November 2012
Rate this article