Cageless and high-peak torque motors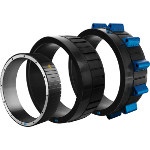 When an application does not require a motor to be in a caged structure, the TML and TMM cageless and high-peak torque motors from ETEL are lighter, lower-cost alternatives to ETEL's better known TMB model, yet still provide a direct-drive technology option. These motors can provide an ideal solution for applications that have less-demanding continuous-torque requirements. They are able to provide the same peak torque as the famous TMB range with up to 5,000 Nm and reach speeds to 2,100 rpm. The TML/TMM both come in multiple standard sizes that vary in diameter, length, and power, and each model offers different types of coil winding providing more performance variations.
Click here to learn more.
---
Cinching latch motor for power tailgates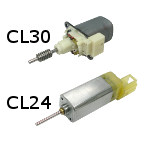 Johnson Electric has developed a new cinching latch motor platform for automotive power tailgate closure. Available in three forms (CL30L, CL30, and CL24) the platform provides the industry's highest power density in a compact package. Compared with existing motor technology, the new platform is 15 percent more compact but can deliver 20 percent higher torque for fast and reliable cinching actuation. The cinching motor platform has integrated electronics with advanced EMC suppression. The motor designs support the range of power tailgates used in full-size SUV, compact SUV, and hatchbacks.
Click here to learn more.
---
Decentralized, integrated servo drive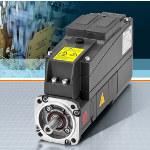 Expanding on its popular Sinamics S120 multi-axis drive system, Siemens introduces the new Sinamics S120M, a compact, ready-to-connect motor with integrated drive that offers users the option of moving the motor inverter outside the control cabinet and directly onto the motor, thereby reducing both cabinet space and required cooling. The addition of the Sinamics S120M distributed format into the S120 offering adds a high degree of flexibility for new and existing machines, as well as introducing innovative production line setups that can now be achieved. Typical applications include packaging, printing, glass, textile, and other processes where machinery and production lines require multiple servo axes in a space-restricted environment.
Click here to learn more.
---
Heavy-duty stage lifts 10 kg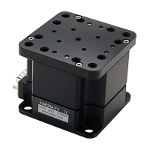 Zaber's VSR vertical lift stage is a stepper actuator-driven platform capable of moving a 10-kg (22-lb) load. It delivers exceptional travel and load capacity for its compact size, measuring only 55-mm tall when closed. Its small footprint also allows it to mount directly onto Zaber's LST and LSQ series of linear stages. The VSR stage is designed for plug-and-play use with Zaber's A-MCA and A-MCB2 controllers.
Click here to learn more.
---
Get mini motor selection on demand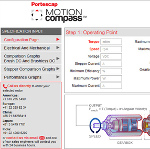 Portescap has released the Motion-Compass, a Web-based application designed to provide miniature motor solutions based on unique motion requirements for various applications. The input parameters (speed and torque) generate motor recommendations across multiple product technologies. A wealth of self-contained data is available on recommended options, including electrical and mechanical specifications, speed vs. torque curves, and performance charts. All data is dynamically generated in real time and provides the ability to select a solution based on specific application needs. Users can choose products, review performance metrics, and confirm the optimum solution for the application. A unique feature of the MotionCompass is the ability to assign weights to four key performance parameters (speed, efficiency, power, and current), which directly impact motor recommendations.
Click here to learn more.
---
Introducing the Mosolver, a new kind of servo actuator from QuickSilver Controls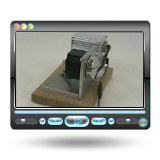 The Mosolver servo actuator from QuickSilver Controls combines motor and resolver functions by infusing position-sensing winding into the motor's structure. Learn more about this new motion control innovation and see how it works.
View the intro video.
View the in-depth 'How it works' video.
---
Sealed linear stages for harsh operating environments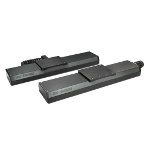 Bell-Everman, Inc. has developed a new line of ballscrew- and linear-motor-driven sealed motion stages. SLS Sealed Linear Stages feature a novel lip seal design that keeps debris, particulate, and liquid contaminants from gumming up the internal drive and bearing components. Available with both linear motor and ballscrew drives, SLS is intended for precision positioning jobs including laser machining, welding, semiconductor, machining, and many other contamination-sensitive precision motion jobs. Linear motor configurations can achieve accuracies of +/- 4 µm per meter of travel and bi-directional repeatability of +/- 2 µm. Ballscrew configurations can achieve accuracies of +/- 10 µm per meter of travel and bi-directional repeatability of +/- 5 µm.
Click here to learn more.
---
Simulate and program up to 16 robots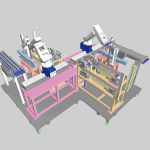 DENSO Robotics has introduced its new Enhanced Multirobot (EMU) simulation and offline programming software, which serves as a master controller for robot project files imported from the company's WINCAPS III application. With EMU, a user can simulate and program up to 16 DENSO robots in a single automation workcell. WINCAPS III allows a robot to be programmed on an offline computer, and a 3D simulation feature enables layout of an entire automation workcell in a virtual environment.
Click here to learn more.
---
High-temp extreme BLDC motor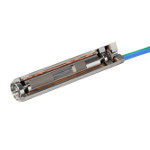 The new maxon EC-4pole 32 HD motor features detent-free running properties and excellent control characteristics designed for extremely rough operating conditions, such as deep drilling and outer space. The different versions of the EC-4pole 32 HD are designed for operation in air or in oil (flooded in hydraulic oil). The power rating depends on the surrounding medium and amounts to 220 W in air and, due to the much higher heat flow, 480 W in oil. They are designed for ambient temps of more than 200 deg C and atmospheric pressures up to 1700 bar. The motors can withstand vibrations up to 25 grms as well as impacts up to 1000 G. These motors feature high efficiency (up to 89 percent in air, more than 80 percent in oil), making them ideal for use in battery-operated applications.
Click here to learn more.
---
Dynamic HP70 pick-and-place direct-drive module
Industry-leading rotary tables and automation specialist WEISS North America has introduced a pick-and-place direct-drive component that is thinner (60-mm wide) than any linear motor or pneumatic module on the market today. Despite its uniquely compact design, the company says that its HP70 unit surpasses all previous pick-and-place units when it comes to speed, achieving over 100 cycles per minute with repeat accuracy of 0.01 mm.
Read the full article.
---
Outperforms pneumatics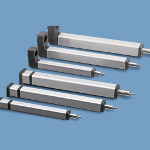 Thomson Industries' PC Series is a new generation of precision electric linear actuators for continuous-duty applications. This unit offers the highest power density of any actuator in its class. The compact, efficient design enables machine builders clear advantages over traditional pneumatic linear actuators, including simpler machine designs, lower maintenance, higher overall performance, and substantially lower energy costs.
Click here to learn more.
---
Interior permanent magnet (IPM) brushless motors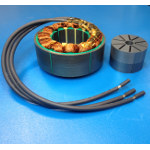 Applimotion's ULT, UTH, UTS, and UTO frameless motor kits cover a wide range of applications in direct-drive motion control with their large through-hole surface permanent magnet (SPM) rotor configurations. Applimotion is now offering interior permanent magnet (IPM) versions of these motor kits, extending capabilities to new applications. IPM motors are finding their way into many special-purpose applications in robotics, warehouse automation, remotely controlled/unmanned vehicles, and traction drives, which require high torque at low speeds plus a wide speed range. These IPM frameless motor kits cover sizes from 44-mm to 533-mm diameter and torque outputs that exceed 1,000 NM. The motors can be optimized for 12-V to 600-V applications by modifying the winding.
Click here to learn more.
---
FAULHABER 17/1 Series planetary gearhead
Thanks to the sturdy construction, the FAULHABER metal Planetary Gearheads are ideal for applications that demand the highest torque. The new 17/1 gearhead is the latest addition to the FAULHABER gearhead product line in the 16-mm to 20-mm diameter range. The 17/1 gearhead is available with up to five gear speeds, with standard reductions of 3.33:1 to 1,367:1. The 17/1 series, with a diameter of 17 mm and stainless steel housing as well as steel and hard metal Planetary Gearheads and pins, is designed for continuous torque of 550 mNm and short-term loads to 800 mNm. Sintered bearings ensure axial shaft clearances under 0.1 mm.
Click here to learn more.
---
12-48 VDC 400-W integrated servo motor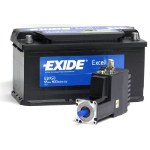 Designed for battery-powered and low-voltage applications, the MAC402 is now available from Danish company JVL, a leader in the field of integrated servo and stepper motors. The MAC402 is the VDC version of the popular MAC400 400-W integrated servo motor. The supply range for the MAC402 is from 12 VDC up to 48 VDC, and full power of 400 W (RMS) up to 1200 W (peak) can be reached with 24 VDC to 48 VDC. This powerful, compact motor measures just 191 mm (7.52 in.) x 60 mm (2.36 in) x 114 mm (4.49 in.) Applications include but are not limited to: remotely operated robots, robotic vehicles, portable equipment, tracking devices, antenna mounts, and positioning devices. A big advantage of using an integrated MAC motor is that there is no need for a separate servo driver/controller.
Click here to learn more.
---
Lightweight miniature absolute rotary encoder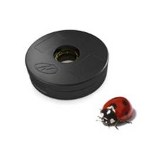 Mini Rotary Electric Encoders from Netzer provide exceptionally accurate, high-resolution, absolute position with miniature- to wide-diameter hollow shafts and are available with analog or digital outputs. The lack of bearings and components such as flexible couplers, glass disc, light sources, and detectors, along with very low power consumption, makes the DS-25 encoder virtually failure free. The internally shielded, DC-operated Electric Encoder includes an electric field generator, a field receiver, a sinusoidal-shaped dielectric rotor, and processing electronics. Available through Electromate.
Click here to learn more.
---
DARPA tests UAV-to-UAV refueling at 45,000 ft
DARPA completes close-proximity flight tests of two modified RQ-4 Global Hawk unmanned aerial vehicles, demonstrates technology enabling autonomous aerial refueling.
Global military aviation currently relies on a key enabler: aerial refueling. Fighters, bombers, reconnaissance, and transport aircraft use "flying gas stations" to go the extra mile.
Increasingly, UAVs are conducting combat and ISR operations, but they aren't designed to be refueled in flight. In 2007, DARPA teamed up with NASA to show that high-performance aircraft can easily perform automated refueling from conventional tankers, yet many unmanned aircraft can't match the speed, altitude, and performance of the current tanker fleet. The 2007 demonstration also required a pilot on board to set conditions and monitor safety during autonomous refueling operations.
But DARPA has been working to close this capability gap.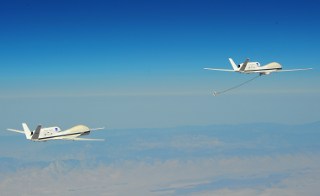 Global Hawk UAVs demonstrate close-proximity test flight.
DARPA's two-year Autonomous High-Altitude Refueling (AHR) program, which concluded Sep. 30, explored the ability to safely conduct fully autonomous refueling of UAVs in challenging high-altitude flight conditions. During its final test flight, two modified Global Hawk aircraft flew in close formation, 100 ft or less between refueling probe and receiver drogue, for the majority of a 2.5-hr engagement at 44,800 ft. This demonstrated, for the first time, that High Altitude Long Endurance (HALE) -class aircraft can safely and autonomously operate under in-flight refueling conditions.
The flight was the ninth test and the first time the aircraft flew close enough to measure the full aerodynamic and control interactions for unmanned-to-unmanned connections. Flight data was analyzed over the past few months and fed back into simulations to verify system safety and performance through contact and fuel transfer, including the effects of turns and gusts up to 20 knots.
Since HALE aircraft are designed for endurance at the expense of control authority, the program started with the expectation that only one in six attempts would achieve positive contact (17%). The final analysis, however, indicated that 60% of the attempts would achieve contact.
Multiple autonomous breakaway contingencies were successfully triggered well in advance of potentially hazardous conditions. Fuel systems were fully integrated and ground tested, demonstrating a novel "reverse-flow" approach with the tanker in trail. This approach opens valuable trade space for future developers to choose between various fixed and modular implementations of proven probe and drogue hardware.
"The goal of this demonstration was to create the expectation that future HALE aircraft will be refueled in flight," says Jim McCormick, DARPA program manager. "Such designs should be more affordable to own and operate across a range of mission profiles than systems built to satisfy the most stressing case without refueling. The lessons from AHR certainly extend beyond the HALE flight regime, and insights into non-traditional tanker concepts may offer further operational advantages."
Using this capability, U.S. military Global Hawk UAVS could fly nonstop for days or maybe even weeks.
Source: DARPA
SIDEBAR: Some basic Global Hawk stats courtesy of Northrop Grumman.
Q. How far can Global Hawk fly?
A. It has an inter-continental range (~11,500 miles). This means the aircraft can fly from New York and land anyplace in the world.
Q. How high can Global Hawk fly?
A. About 12 miles high -- an altitude almost twice that of airliners. From this height, you can see over 300 miles to the horizon.
Q. How long can Global Hawk fly?
A. More than 32 hours -- the longest of any high-altitude operational aircraft in the world.
Q. How much can Global Hawk carry?
A. It can carry equipment weighing 3,000 lb -- that's the weight of a Ford Focus.
Published November 2012
Rate this article