Wheels:
Uniform-lighting lens shines new spotlight on LED innovation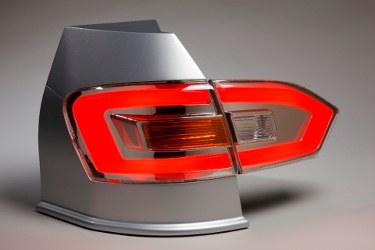 A prototype of a tail lamp using 3M Uniform Lighting Lens (ULL) demonstrates the uniform lighting possible with a small number of LEDs.
The Enclave luxury crossover SUV was a harbinger of a new era of design for Buick when it arrived in 2007. Now, owners of the new 2013 Enclave get to experience the next-generation vehicle with advanced exterior lighting, including an industry-first taillight technology.
Working with supplier 3M, Buick developed a unique LED taillight design with a soft and uniform red glow in a complex and unique shape. Like the Enclave's standard LED daytime running lamps and accent lighting, this contemporary lighting effect previews a future design element for other models in the Buick lineup.
"Our signature LED lighting serves a double purpose of providing a premium look and making sure our vehicles are unmistakable in the eyes and mirrors of other drivers on the road," says Mark Adams, executive director of Buick Design. "Some of the new Enclave's design cues will carry over to other Buick models to come, but every execution will be true to each model's character."
Enclave's taillight glow is made possible by 3M Uniform Lighting Lens technology (ULL), which uses a precision-engineered micro-patterned, thermoformable polycarbonate material that provides even illumination around complex shapes. When ULL is used in an application, the hollow, light-mixing cavity design enables the creation of lightweight, unique designs with a thin profile and uniform appearance. This improved uniformity may also enable LED reductions, reducing both complexity and energy use. As few as four LEDs are needed to achieve the even glow. ULL's thermoformable, automotive-grade polycarbonate also provides proven durability while allowing custom shapes to be created.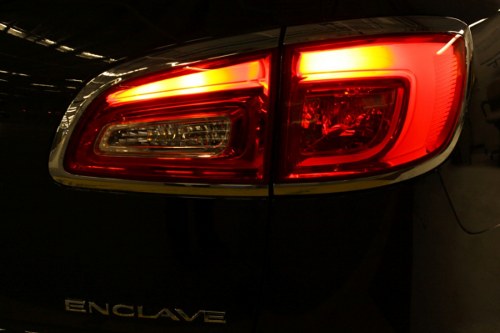 The 2013 Buick Enclave's new taillights use an industry-first Uniform Lighting Lens for a unique look and reduced energy use.
"Our Uniform Lighting Lens technology is a solution to several challenges our customers face," says Jeff Boettcher, new business development manager, 3M Automotive. "It can be used not only to create new, modern lighting designs, but also allows for manufacturers to create signature images to generate brand differentiation."
For 2013, the Enclave also comes standard with signature L-shaped LED daytime running lamps and high-intensity discharge headlamps, which provide a light clearer and brighter than halogen. Articulating headlamps, which use small motors to rotate the light up to 15 degrees with the curve of the road, are an option.
Sources: 3M, GM
Published January 2013
Rate this article