Cool Tools: Minimally invasive video borescope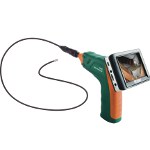 Extech Instruments has launched the BR250-4, an affordable and versatile wireless inspection borescope designed to get into openings as small as 4.5 mm while providing bright clear images on its detachable, wireless 3.5-in. color display. When you need to get into walls, ducts, furnaces, boiler tubes, air handlers, exchangers, coils, plenums, and other concealed or hard-to-access areas, this is your hero. And when there's no existing opening and drilling is required, making a much smaller hole leaves minimal damage.
Learn more.
---
Drop-in solution makes your machine ready for Industry 4.0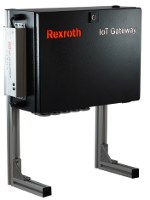 Bosch Rexroth's IoT Gateway Rack is an IP65-rated enclosure containing Rexroth's award-winning IoT Gateway. It includes all the necessary wiring and connections to connect PLCs, I/O, and other data sources for collection, processing, and forwarding of plant floor data to upper-level data systems, making it ideal for retrofitting older machines with Industry 4.0 data-transfer capabilities. The plug-and-play design allows OEMs to use the IoT Gateway Rack as an optional addition to their existing machines. Uses standard 110-V plug.
Learn more.
---
New family of EC fans for AC applications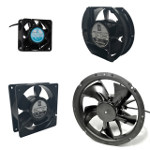 Orion Fans has launched a family of electronically commutated (EC) fans that offer low-power, energy-saving cooling solutions for AC applications. The AC-input fans -- available in a range of sizes (60 mm, 120 mm, 172 mm, and 250 mm) -- utilize a brushless DC motor and incorporate voltage transformation within the motor for significantly lower power consumption. This equates to power savings of up to 50 percent, enabling customers to meet energy-consumption requirements from agencies like ENERGY STAR. These fans are ideal for a broad range of applications including appliances, commercial and process control, refrigeration, HVAC, and electronic enclosures and cabinets.
Learn more.
---
Industry's first 100-W and 200-W USB Type-C controllers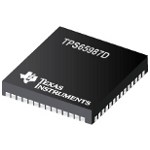 Texas Instruments has introduced two new USB Type-C and USB Power Delivery (PD) controllers, with fully integrated power paths to simplify designs, minimize solution size, and speed time to market. The TPS65987D and TPS65988 offer system designers the industry's highest level of integration to reduce design complexity and overall cost. The devices are the industry's first USB PD controllers to source 100 W and 200 W of power, respectively, to support computing applications and enable the benefits of USB Type-C in additional applications such as cordless power tools, gaming, and virtual reality headsets.
Learn more.
---
First explosion-proof stackable multi-turn encoder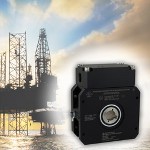 Sensata Technologies has introduced the first explosion-proof stackable multi-turn encoder, an ideal position sensing solution for oil and gas applications such as drawworks, top drives, and pipe-handling equipment where working conditions are extreme. The new encoder, BEI Sensors' model MAAX, is ATEX and IECEx certified to operate in explosive environments and features a Profibus output in a unique, stackable package. CANopen and SSI outputs are also available. The MAAX provides up to 16 bits of resolution as well as up to 16 bits of turns by mechanical counting. This workhorse product operates directly in Zone 1 environments without the need for an accompanying Intrinsic Safety barrier.
Learn more.
---
DuPont announces newest in-mold electronics inks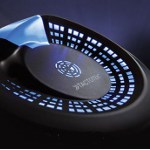 DuPont Electronics and Imaging is launching its second generation of In-Mold Electronic (IME) materials with key advancements in its electrically conductive adhesive, protection encapsulant, and crossover dielectric. IME technology enables functions such as touch controls and lighting to be directly embedded inside plastic parts by printing circuits onto plastic sheets, which are then thermoformed and injection molded. This allows product engineers to reduce weight and cost while increasing design aesthetics and functionality in everything from car dashboards to home appliances, using fewer parts and manufacturing steps.
Learn more about the latest materials.
Go to the DuPont In-Mold Electronic Technology website.
---
Through-beam object-detecting fork sensors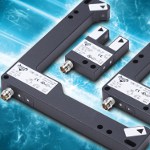 Fork sensors (slot sensors) from Automation-Direct are U- or L-shaped through-beam object-detecting sensors that have the transmitter and receiver built into the opposing "fork" arms of the sensor housing. New PS series fork sensor additions include harsh-duty U-frame sensors for food applications, L-frame or angled fork sensors for unique mounting situations, and fork sensors for liquid detection. Depending on the model, PS series fork sensors are available in visible red, infrared, and laser lighting and in sensing ranges from 5 mm to 220 mm.
Learn more.
---
Application Note: Cooling for automotive applications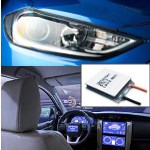 Advances in automotive technologies such as smart headlights, autonomous systems for collision avoidance, and infotainment systems require enhanced thermal protection of critical electronics to ensure optimized performance. Packing more functionality into smaller footprints has increased the heat flux density and thermal challenges in automotive electronics. Designing active cooling systems will provide a thermal management solution needed to operate each sensitive device within its temperature range and optimize its performance. Get this in-depth application note from Laird Thermal Systems.
Read the app note (no registration required).
---
Collect and understand vibration condition data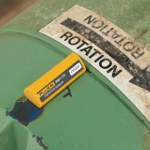 Vibration monitoring is one of the most effective ways to detect potential equipment failures before they cause downtime. However, vibration analysis is complex, and it can be cost prohibitive to place sensors on noncritical assets. The new, wireless Fluke 3561 FC Vibration Sensor allows maintenance teams to improve uptime by adding remote, continuous vibration monitoring to virtually any rotating equipment. With a frequency range of 10 to 1,000 hertz, the 3561 FC detects and notifies users of conditional changes caused by critical faults like imbalance, misalignment, looseness, and bearing wear, providing warning of impending equipment failure.
Learn more.
---
Polyimide heater kit -- tons of uses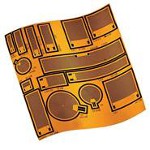 The Polyimide heater kit from Omega Engineering contains thin and flexible heaters with adhesive backing to conform to practically any flat or curved surface. With 15 different shapes, this kit can suit almost any application. Heater configurations are outlined on a 0.3-m x 0.3-m (1-ft x 1-ft) sheet, with line markings for easy selection and cutout. When used in combination, these heaters can provide a number of resistances and wattages. Leads can be soldered on or connected with alligator clips. Typical applications include: aerospace, analytical equipment, tooling, commercial equipment, agriculture, packaging, and material handling.
Learn more.
---
LED headlights installed on San Francisco's historic cable cars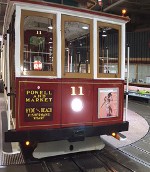 Since 1873, the best lighting the historic San Francisco Municipal Cable Cars had was dim incandescent headlights that did not do anything for illumination. They were merely bright enough to serve as an indicator that a cable car was coming. After over 140 years, that finally changed with their upgrade to LED light bulbs from LEDtronics. Along with the PAR46 LED headlights, A19-style LED light bulbs were also installed inside the passenger cabins. Savings on energy costs and maintenance are major benefits.
Learn more.
---
Verify color accuracy in real time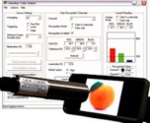 The LEX-1000 sensor from EMX Industries is used to measure the relative color characteristics for a wide variety of light sources and illuminated objects. It focuses the light onto a sensitive RGB photodiode, where it is measured for its red, green, and blue (RGB) composition. When all three colors fall within the programmed tolerance, the output indicates a match. This is a great solution for evaluation of all visible light sources, LCD and LED display quality, and automotive lighting verification.
Learn more.
---
Solenoid valves for commercial space vehicles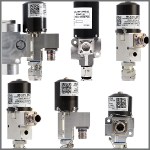 Marotta Controls has launched CoRe Flow Controls, a new series of commercially available, high-performance solenoid valves for today's NewSpace generation of reusable launch vehicles. It enables system designers to quickly move through the development phase with minimal risk, and its versatility allows for integration into a wide variety of critical applications, including pressurization systems, stage separation, and engine controls. The line consists of six flight-qualified solenoid valves designed around common components with operating pressures up to 6,000 psi (41 MPa). This standardized, high-volume production approach enables Marotta to offer lower cost components with shorter lead times.
Click here to learn more.
---
Waterproof 6-axis acceleration and angular rate sensor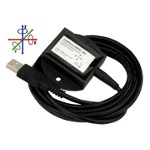 Code Mercenaries has released the JoyWarrior 56FR1-WP, a cost-efficient, waterproof, six-axis MEMS motion sensor that provides 3-axis measurements of both acceleration and angular rate with 16-bit resolution for motion, vibration, or orientation sensing applications. Readings are taken at 833 measurements per sec in standard mode, while a high-speed mode generates 6,664 data points per sec. The different range settings at which acceleration and angular rate can be measured can be stored permanently in the sensor. Comes with a 6-ft cable and USB interface. Available from U.S. distributor Saelig.
Click here to learn more.
---
Advancements in reed switch-based technology for liquid-level sensing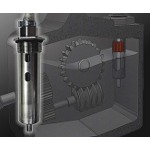 Madison Company has developed an advancement in proven reed switch-based technology that provides ultra-high resolution, very tight tolerances, and consistent repeatable measurements in liquid level sensor designs. Sensors can be also designed to withstand extreme shock or vibration as well as corrosive conditions and temperature variations. Applications include: power generators, commercial compressors, power transmission equipment, chemical processing, and hydraulic systems.
Learn more.
---
TRW outlines trends for automotive electronics growth in 2013
With continued pressure from legislators and consumer bodies to increase the fitment of active safety systems, leading auto manufacturer TRW Automotive Holdings Corp. expects several notable trends to develop in the electronics field including: crash avoidance technologies to become mainstream; focus on affordable radar and camera systems; and increased demand for open architecture systems.
Peter Lake, executive vice president, sales and business development for TRW, says: "Electronics is the fastest growing automotive commodity: industry estimators now place the percentage of a vehicle's cost attributed to this area to be as high as 40 to 50 percent, up from 20 percent a decade ago.
"Today, the industry is stepping up to the mark as organizations such as the World Health Organization and the European Commission have set ambitious targets to drastically reduce the number of road fatalities globally by 2020. To support this, New Car Assessment Programs (NCAPs), including Euro NCAP, are revising their rating programs to reward and promote safety improvements in new vehicles over the coming years. One of the most important goals of the new scheme will be to include emergency crash avoidance technologies, which will significantly boost the fitment of electronics content on new vehicles."
With Driver Assist Systems (DAS) set to become mainstream technology, TRW expects that optimizing costs will become an important topic for the vehicle manufacturer and supplier industry. In order to support the growing demand for video and radar, TRW is working with its customers to bring new, advanced safety technologies to market at an affordable price from the outset.
Dr. Hans-Gerd Krekels, engineering director, global integrated electronics added: "With a number of its safety systems including airbags and slip control systems -- TRW has a track record of designing and engineering affordable technologies. To achieve this, we need to think about the technological evolution of a product right from the start -- considering how technical advances and manufacturing process improvements can allow us to bring a product more affordably to market, but with the same performance.
TRW is seeing a clearer trend toward domain architectures and a greater demand for open system architectures in order to address the growing complexity of vehicle electronics. TRW is a leader in this area and will start production of its 'Safety Domain ECU' (SDE) this year with a major European vehicle manufacturer -- a technology that meets this requirement. "A significant aspect of our SDE is that is can integrate software from vehicle manufacturers or third parties. Without knowing the code, we can integrate the software in an "open architecture" system housed within the controller. These are in high demand as vehicle manufacturers are increasingly writing their own software and asking suppliers to manage the integration -- not just for active safety systems, but also for airbags, steering, and braking. This has grown enormously, and we expect to see exponential growth in this area," concluded Krekels. Source: TRW
Published January 2013
Rate this article