Reverse engineering software with never-before-seen features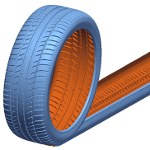 3D Systems' Geomagic Design X 2020 combines robust 3D scan processing and complete CAD design functionality to enable faster, more accurate, and reliable reverse engineering. Using the software's newest features, engineers will benefit from streamlined modeling workflows as well as expanded modeling pathways for complex, revolved parts. The newest Geomagic Design X release includes an Unroll/Reroll function that enables an engineer to unroll the mesh to automatically extract a 2D sketch, make the modifications needed, and then re-roll the sketch for additional engineering. Wait, what? Wow. The software also includes a new Selective Surfacing feature that combines very fast organic surfacing with high-precision feature modeling methods.
Learn more.
---
Mastercam 2021 is here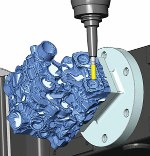 Mastercam 2021 from CNC Software increases machining productivity and reduces overall production costs. It features faster and more flexible multiaxis improvements, advances in speed and safety, improvements in turning and turning-related applications, and much more. New toolpaths include Chamfer Drill, which allows users to machine chamfer holes based on width or depth; Advanced Drill, a customizable multi-segment drill cycle that is useful for spot drilling, deep hole drilling, and back spot facing; and 3+2 Automatic Roughing, which automatically makes multiplane 3-axis toolpaths for roughing.
Learn more.
---
Multiphysics simulation cooks up smart microwave oven designs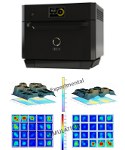 Engineers at ITW use multiphysics simulation and applications to analyze smart appliance designs, improving the tools kitchen professionals need to cook food faster and more evenly with solid-state, convection heating capabilities. COMSOL software and an add-on RF Module help study varying loads, uniformity, hot spots in food, and more.
Read the full article.
---
Top 5 reasons for solder joint failure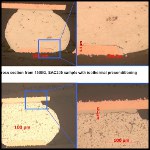 Solder joint reliability is often a pain point in the design of an electronic system. According to Tyler Ferris at ANSYS, a wide variety of factors affect solder joint reliability, and any one of them can drastically reduce joint lifetime. Properly identifying and mitigating potential causes of solder joint failure during the design and manufacturing process can prevent costly and difficult-to-solve problems later in a product lifecycle.
Read this informative ANSYS blog.
---
hyperMILL CAM software gets additive mfg capability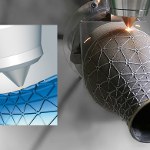 CAD/CAM software solutions developer OPEN MIND Technologies now offers an ADDITIVE Manufacturing (AM) capability option in hyperMILL CAM software to support 3D printing/additive processes. hyperMILL with AM also provides efficient hybrid processing with simultaneous additive and subtractive processing on one machine. For highly complex 5-axis simultaneous processing, hyperMILL AM enables an array of flexible options for Directed Energy Deposition processes (DED) and Wire Arc Additive Manufacturing (WAAM). Both laser-based powder nozzle machining heads and WAAM can be controlled using hyperMILL AM for selective material deposition, as well as conveniently programmed and automatically simulated for collision avoidance.
Learn more.
---
Is Excel hindering your engineering projects?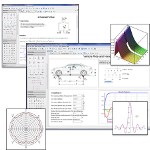 While Excel is a great tool for performing quick calculations, it cannot handle the scope of mathematical computation required for advanced engineering projects. Discover why engineers from around the world reap the benefits from the move to robust, interactive mathematical systems such as Maple. Learn how, with the right tools, you can arrive at the right solution faster, while minimizing errors, delays, and rising costs.
Learn more.
---
Speed up design of bearing arrangements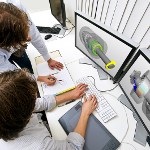 Designers can now design complex bearing arrangements more quickly and easily, thanks to simplified software called SimPro Quick. This in-house software from SKF has the same core as more advanced products such as SimPro Expert and SimPro Spindle -- and retains many of their advanced features -- but is far easier to use. SimPro Quick is a single-shaft bearing simulation tool that was developed to quickly evaluate the design of bearing arrangements and their field performance based on relevant application requirements and conditions. This software also ties in with SKF's new online Roller Bearing Catalog, which is a live database of products.
Learn more.
---
SOLIDWORKS 2020 is here! TriMech recaps launch and runs through best new features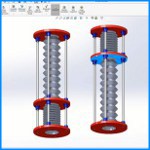 SOLIDWORKS hosted a live streaming event Sept. 18 to introduce the world to SOLIDWORKS 2020. Even if you missed it, you're in luck. The incredibly knowledgeable people over at SOLIDWORKS specialist TriMech have put together a comprehensive rundown of what the new product offers, including a video highlights reel, "Top 10 New Features" infographics, and a prep guide to learn about licensing and such. Learn about all the new "almost magic" tools and enhancements.
Read the TriMech recap blog.
---
Onshape includes PennEngineering PEM hardware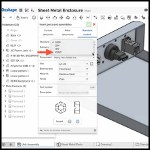 Onshape, a next-gen cloud CAD and data management platform that speeds up product development, has partnered with PennEngineering, a global leader in the fastening industry, to include PEM hardware as a built-in standard for its 3D CAD models. Onshape will initially include PEM brand self-clinching nuts and self-clinching standoffs, and plans to add additional PennEngineering products to its Standard Content library in the future. PEM fasteners are typically used when a component must be readily replaced and where loose nuts and hardware aren't accessible during the final assembly process. By embedding a threaded nut into a piece of metal mechanically, it saves time and reduces post-manufacturing assembly processes. This efficiency is especially important when producing large quantities of parts.
Learn more.
---
Get hyped about hyperMILL 2019.2 software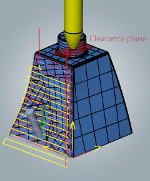 OPEN MIND Technologies AG, a leading developer of CAD/CAM software solutions worldwide, has introduced hyperMILL 2019.2, a new version of its advanced, comprehensive CAD/CAM software suite. The latest hyperMILL software has a range of new features, including high-precision 3D finishing, 5-axis tangent machining, high-performance turning, and new CAD-for-CAM technologies. The new version also enables more secure and simpler programming.
Learn all about the new features.
---
Toss those spreadsheets: Mining company uses Maple for calculations

In the diamond mining and production industry, plant processes require reliable, validated techniques that predict outcomes and allow continuous improvements. Diavik Diamond Mine, a joint venture between Rio Tinto and the Dominion Diamond Corp., uses Maple to improve their calculation management processes -- saving time and money and reducing risk.
Read the full article.
---
MapleSim 2019: More tools for creating digital twins and other system-level modeling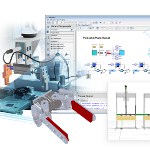 From digital twins for virtual commissioning to system-level models for complex engineering design projects, MapleSim helps organizations reduce development risk, lower costs, and enable innovation. The latest release provides improved performance, increased modeling scope, and more ways to connect to an existing toolchain. Simulation is faster for all customers in MapleSim 2019 due to more efficient handling of constraints when preparing the model, resulting in more compact, faster simulation code without any loss of fidelity. These results mean that MapleSim's industry-leading speeds have gotten even better, saving time and enabling more real-time applications. In addition, models developed in MapleSim and then exported for use in other tools also run faster in the target applications.
Learn more.
---
Convert spreadsheets into secure web portals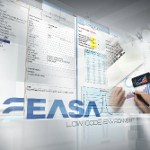 EASA can transform your spreadsheet into a secure and professional web portal -- with no programming. This means that you can drive your existing Excel file, including any macros or VBA, reliably and securely behind a custom web app you create without relying on IT or software developers to build it. Genius! This solution can be configured to automate links to other software such as databases, CRM and ERP systems, etc. Your app is accessible and usable from any connected device, including smartphones, and you do not need to have Excel installed on the accessing device.
Learn more.
---
ICOMold: New CAD model design service partner

ICOMold has partnered with a professional design service with a large group of designers who specialize in designing for injection molding. If you need to get a quote but don't have a 3D CAD model (or need your file modified, repaired, or converted), ICOMold is now offering these services through its design partner ZVerse.
Learn more.
---
Software: New Maple 2019 offers greater math power to all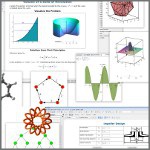 Maplesoft has just announced a major new release of its flagship product, Maple, the mathematical software that makes it extremely easy to analyze, explore, visualize, and solve math problems. Maple 2019 includes substantial improvements to its mathematical engine, for both core routines and specialized tools. The release also provides advances to the Maple programming language, more education tools, new visualizations, and other improvements for the mathematicians, educators, students, engineers, and scientists who use Maple.
Learn more.
---
3D inverse design helps military OEM develop unique cooling fans
A U.S.-based defense contractor, an original equipment manufacturer (OEM) of life support systems (LSS) for military applications, had a need for a custom fan to be integrated in its product line. With TURBOdesign1 from Advanced Design Technology (ADT), the company was able to bring the fan design process in-house and cut design time as well as production cost.
In developing the fan, engineers were challenged to develop a large air-flow-volume, low-pressure fan characteristic with high air velocities over the stator blades. In order to achieve the best aerodynamic efficiency, it was required to avoid separation at the stator while recovering the static pressure. No existing standard design was known that could satisfy the requirements to efficiency, size, and operating speed.
Reducing the fan noise was an additional design objective. Certain rotor design features were desirable to minimize fan noise: forward sweep of the rotor blades, plus reduced chord length at the shroud were to eliminate the possibility of vortices shedding off from the suction side of the rotor blades and hitting the next blade pressure side close to the trailing edge. Another desirable feature was positive blade stacking at the rotor blade tip to minimize losses and noise associated with the tip clearance.
Originally, the company evaluated several conventional fan design approaches, including all the available commercial codes for design of turbomachinery based on a direct design approach. The evaluation criteria included computer system requirements and associated hardware costs, the number of engineers needed to be involved in the design process, and the learning curve to produce new designs with a high level of confidence. ADT's TURBOdesign1 software came out the winner, in part because it did not require special hardware and, after just three weeks of initial training, engineers were able to tackle their first fan design case.
The design team used ADT's TURBOdesign1 3D inverse design code to introduce these new features and achieve rotor blade loading that produces the required flow and pressure rise at the lowest shaft power with a sufficient stall margin.
After completing and testing two different axial fan designs, the company engineers became more confident that their next designs would be successful. Examples of the resulting geometries of the stage are shown in Figures 1 and 2.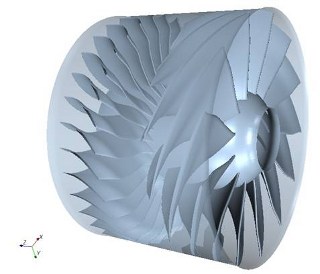 Figure 1. The resulting geometry of one of the axial flow stages designed by TURBOdesign1.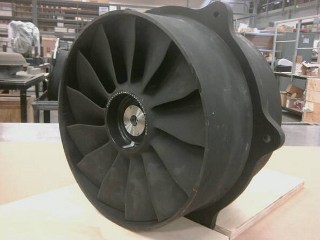 Figure 2. The final hardware model.
ADT's TURBOdesign1 inverse design code, used together with CD Adapco Star CCM+ computational fluid dynamics (CFD) software, has proven to satisfy all of the new design objectives.
"We found ourselves using all the features implemented in the TURBOdesign1 code," said the company's aerodynamics engineer. "In addition to specifying meridional geometry and blade loading, having the ability to specify custom blade thickness, stacking location, and stacking profiles was very useful in achieving good aerodynamic designs."
TURBOdesign1 output data was exported to a spreadsheet, and additional design parameters, like diffusion factor for axial fans, were evaluated during the design procedure. This gave the designers an even higher level of confidence early in the design process, before taking it to CFD for evaluation and prototype construction and testing.
The use of ADT's TURBOdesign1 software made it possible to design an entirely new cooling fan from scratch, starting only from design requirements. In the process, the company was able to eliminate the costs of using outside consultants, reduce the lead time for new turbo-machinery designs of this type, and produce its own designs in-house that are best suited to its application needs.
"We cannot put a dollar figure on our new ability to design our own fans," said one design engineer. "But, in our opinion, it's invaluable."
Want more information? Click below.
Source: Advanced Design Technology (ADT)
Published June 2013
Rate this article