Way stronger than titanium, Liquidmetal Alloy provides complex, injection-molded metal parts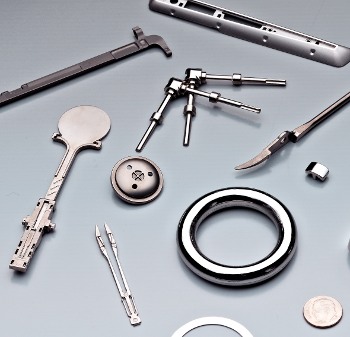 We haven't heard from Liquidmetal Technologies in quite a while, but the Rancho Santa Margarita, Calif.-based company seems to be making a real push in 2013 to do some outreach and share information by creating a new blog and some resource materials.
If you haven't heard of Liquidmetal Alloy yet (technically, a bulk metallic glass, which is not a liquid at room temperature), well, you'll be thankful that you finally did. This amorphous metal alloy can be used in the production of highly complex parts using injection molding.
"So what?" you say. "There are powder metals that can do that, too."
But not so fast. This is not like metal injection-molded (MIM) parts.
When it comes to precision, strength, and finish, this material far exceeds the world's best MIM parts. And the MIM process is known for part shrinkage of several percent and does not usually produce smooth parts on its own.
Made of a mix of titanium, nickel, copper, and zirconium, the Liquidmetal Alloy undergoes virtually no shrinkage as it cools, resulting in the production of a super-smooth finished part that requires little, if any, machining. No additional machining usually means the parts can be priced less than machined parts. But let's face it, this extra-ordinary material is not for ordinary parts, so it is still expensive.
But even better -- way better -- a Liquidmetal Alloy part can exceed the strength of titanium by as much as 250 percent, deliver repeatable molded features within +0.002 in., and offer an ultra-low shrinkage rate of approximately 0.2 percent. The finished Liquidmetal part is highly elastic, corrosion resistant, and offers an "as-molded" textured or mirrored finish that's harder than steel. Plus, it looks good. Really really good. And it has excellent high tensile strength, corrosion resistance, and anti-wear properties.
Who figured all this out? This unique material is based on material developments made at Caltech, the Department of Defense (DoD), and NASA, and it was first introduced in 2003. Notably, it's been used by high-end, demanding companies like Apple, Samsung, Nokia, and Motorola (mainly for cell phone cases); oil and gas companies, sporting goods and medical device makers, and aerospace and defense manufacturers. The company and its material did go through its share of growing pains, when certain casting methods could introduce minute flaws in the original material, causing it to shatter when struck. But all that seems to be in the past now.
So give the updated Liquidmetal Technologies site a look. Their blog page has some really interesting case studies, FAQs, tips, a design guide, and a white paper about comparing the technology to MIM and 3D printing. Let us know if the company is truly more responsive, and we would love to hear if you have ever been lucky enough to design with this material in mind.
Published June 2013
Rate this article