Sheet metal finishing options from Xometry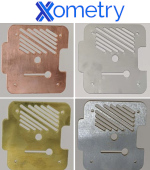 Xometry now offers expanded options for sheet cut and sheet metal parts. Parts fresh off the waterjet or laser often have a burr on their bottom face, marks from handling, frosting near the cut line from overspray, and/or vestigial tabs from being held in place during cutting. Applying a finishing process post-cutting will help you get parts that need minimal cleanup before installation.
Learn more.
---
3M debuts virtually dust-free sanding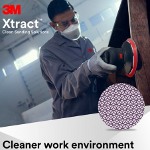 Great for home and shop alike, 3M's innovative Xtract Cubitron II 710W Net Abrasive Disc uses a specially designed mesh that extracts dust at every location on the disc while enhancing the cutting power of the tool. 3M says it "provides twice the life and cut rate, while removing up to 97% of dust particles as it sands metal, wood, and composite surfaces." Available in a range of grades.
Learn more.
---
New nickel-based superalloy for 3D printing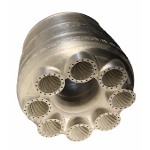 Velo3D has qualified the nickel-based superalloy powder Amperprint 0233 Haynes 282 for use in its Sapphire family of printers. The material is designed for high creep strength, thermal stability, weldability, and fabricability not commonly found in other alloys. This superalloy is ideal for high-temperature structural applications like energy generation, gas turbines, and space launch vehicles to build parts like heat exchangers, combustors, nozzles, combustion liners, rocket engines, and shrouded impellers. Shown left is a combustor liner made with the new superalloy. It features 23,000 unique holes for optimized air-to-fuel ratios and internal channels for regenerative cooling. The part is shown as printed, with no supports.
Learn more.
---
Desktop Metal qualifies 420 stainless steel for high-volume additive manufacturing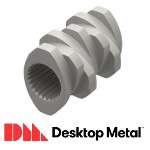 Desktop Metal recently announced the qualification of Grade 420 stainless steel (420 SS) for use on its Production System platform, which leverages patent-pending Single Pass Jetting (SPJ) technology designed to achieve the fastest build speeds in the metal additive manufacturing industry. Manufacturers can now leverage SPJ technology for the mass production of high-strength, end-use parts in 420 SS for demanding applications in industries such as medical, aerospace, defense, and consumer products.
Learn more.
---
New PETs for automotive exterior components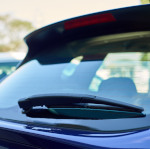 Polyplastics Group has introduced two new RENATUS polyethylene terephthalate (PET) grades that deliver superior mechanical properties, appearance, and weather resistance for automotive exterior components. RH030 (30% glass filled) and RH045 (45% glass filled) maintain their jet blackness and reduce whitening on the surface of molded articles in outdoor environments, making them ideally suited for applications such as automotive side mirrors and rear wiper arms/blades. Since PET parts are not painted, weathering degradation can occur over time when the glass filler starts to float and the jet blackness decreases. Accelerated weather resistance testing demonstrates that Polyplastics' new PET materials maintain lower index values than competing products, indicating that whitening is being reduced.
Learn more.
---
Optimal damping: Continental develops special bearings and other elements for EVs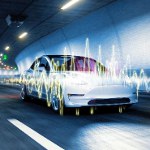 Continental has developed special elastomer compounds for electric vehicles. They absorb the vibrations in the high-frequency range and are also lightweight. The company is also adapting other bearing elements such as battery mounts for buses or air press bearings in truck driver cabs to the requirements of e-mobility.
Read the full article.
---
Advanced graphenes for composites and thermoplastic applications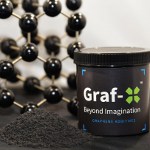 NeoGraf Solutions has extended its range of next-gen graphite materials with the launch of Graf-X graphene nanoplatelets (GNP) and graphene precursors (GP). Both high-performance additive materials deliver enhanced strength, performance, and reliability in a broad range of thermoset and thermoplastic applications. The new graphene materials can increase the toughness of plastics by up to 2.5 times without a significant weight increase. They can also double thermal conductivity and push the electrical conductivity of plastics into the anti-static and static-dissipative ranges.
Learn more.
---
Desktop Metal launches 316L stainless steel for manufacturing using its Shop System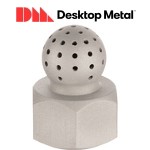 Desktop Metal has qualified the use of 316L stainless steel for its Shop System, the world's first metal binder jetting system designed specifically for machine shops and manufacturing environments. With an expanded materials portfolio, users can now leverage affordable, high-quality binder jetting technology to print end-use parts in 316L stainless steel with throughput, print quality, and productivity unattainable via legacy additive manufacturing processes. Real-world application use cases and performance figures are provided.
Learn more.
---
Wilson's new 3D-printed pickleball paddles give players lots of options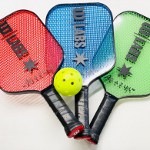 Wilson Sporting Goods has partnered with 3D-printing company Azul 3D to create two new 3D-printed pickleball paddle designs that aim to change the way the popular sport is played: a quiet paddle and a fully customizable one. They represent a shift in paddle design and in how products can be completely re-thought through additive manufacturing.
Read the full article.
---
Did you know you can tint chrome?
Push the boundaries of design. SRG Global, a leading manufacturer of chrome-plated and painted plastic parts for the automotive, commercial truck, and household appliance industries, has introduced its G-Coat tint-over-chrome process solution. G-Coat delivers distinct metallic surface finishes for both exterior and interior applications and regularly improves paint adhesion to any chrome-plated plastic part. It offers nearly unlimited custom color options, including a high-optical-density deep black finish not achievable by other technologies. The process also provides enhanced corrosion protection and fingerprint resistance and meets multiple automotive OEM performance standards for basecoat and clear-coat paint systems.
Learn more.
---
Micro molding material selection and design concerns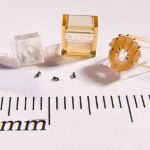 Design engineers can create the most incredible parts using the micro molding process, but any design at the micro scale (ranging in size from just microns to a half inch) requires careful attention to things that might not be a big deal for larger parts. This article by Aaron Johnson from Accumold focuses on important issues concerning material choice.
Read the full article.
---
Xometry launches instant quoting for binder jet 3D printing of metals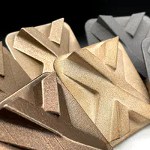 Xometry, a leading AI-enabled marketplace for on-demand manufacturing, has just announced the availability of instant quoting on metal binder jetting in its Instant Quoting Engine. The parts will be made through Xometry's partner ExOne, an industry-leading metal 3D-printing company. Metal binder jetting is a 3D-printing technology used to make complex metal parts with excellent mechanical properties. Machines bond layers of metal powder together with a binding agent before final sintering in a furnace. It can produce metal parts at a fraction of the cost of other methods with virtually no design limitations.
Learn all about this exciting 3D-printing tech.
---
Bring production-ready nylon 3D printing to your benchtop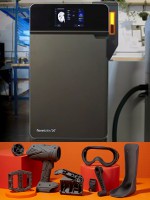 Formlabs has released the world's first benchtop industrial selective laser sintering (SLS) 3D printer, the Fuse 1, along with Fuse Sift (a post-processing system for the Fuse 1) and Nylon 12 and Nylon 11 powders. SLS technology has long been trusted by engineers and large manufacturers for its ability to print strong, functional prototypes and end-use parts, but its high cost and complex workflow have historically confined access to big companies. The Fuse 1 and Fuse Sift improve on the unique advantages offered by SLS while bringing it within reach for companies of all sizes and types through affordability and ease of use.
Learn more.
---
New cast urethane materials and finishes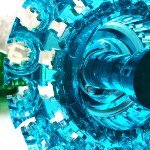 Xometry has added new urethane resins and finishes as options for quick and affordable low- to mid-volume production. Urethane casting is used to make end-use, highly durable parts with robust mechanical properties. It is considered a "soft-tooled" process, where a silicone mold is formed around a master pattern -- usually 3D printed. Xometry has materials in two main durometer classes, rigid (Shore D) and rubber-like (Shore A). Finishes include matte/frosted, semi-gloss, high-gloss, and custom.
Read this informative Xometry blog.
Get the Xometry Urethane Casting Design Guide.
---
3D Printing: Desktop Metal qualifies 316L stainless steel for high-volume manufacturing -- thousands of parts per week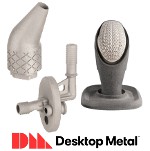 3D-printer machine maker Desktop Metal has qualified the use of 316L stainless steel for its additive manufacturing platform called the Production System, which provides some of the fastest build speeds in the market for mass production and can make thousands of parts per week. This article includes very useful cost-per-part and time-to-manufacture information using five different application examples.
Read the full article.
---
Chinese scientists produce world's lightest material
Scientists at Zhejiang University in China have developed a new kind of ultra-light material called carbon aerogel. This solid material has a density of only 0.16 mg/cm3, one-sixth that of the air. It is now recognized as the new world's lightest material.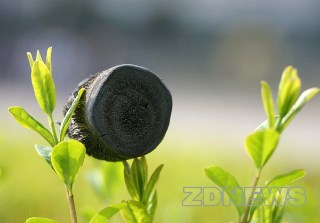 [Image: Zhejiang University]
The basic principle of developing aerogel is to remove solvent in the gel and retain the integrity. In the past, scientists usually used a sol-gel method and a template-oriented method. The former can synthesize aerogel on a large scale, but with poor controllability. The latter can generate ordered structures, but due to its reliance on the fine structure and dimensions of templates, mass production is not feasible.
Prof. Gao Chao's team explored a new method: freeze-drying. They freeze-dried solutions of carbon nanotubes and graphene to get a carbon sponge that can be arbitrarily adjusted in any shape. "With no need for templates, its size only depends on that of the container," he said. A bigger container can help produce the aerogel in a bigger size, even to thousands of cubic centimeters or larger."
The previous world record holder was graphite aerogel produced by German scientists in 2012 with a density of 0.18 mg/cm3.
Despite its fragile appearance, carbon aerogel is excellent in elasticity and can bounce back when compressed. Interestingly, it is also one of the materials with the largest oil absorption capacity. Current oil-absorbing products can usually absorb organic solvent of about 10 times their own weight. The newly developed carbon aerogel can absorb up to 900 times its own weight.
A related paper was published online in Advanced Materials on February 18, and was published in the "Research Highlights" column in Nature.
"Carbon aerogel is expected to play an important role in pollution control, such as oil-spill control, water purification, and even air purification," said Prof. Chao, who also added that the traditional production method of aerogels could not meet the needs of mass production. However, his freeze-drying approach makes the aerogel production process more convenient and makes it possible for mass production and application.
Chao's team is conducting further research on the absorption performance and application of the aerogel. In addition to pollution control, carbon aerogel is expected to become an ideal material for energy storage insulation, sound absorption, and as a catalytic carrier.
Source: Zhejiang University
Published July 2013
Rate this article