New high-performance metals for 3D printing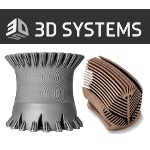 3D Systems has added two new materials to its materials portfolio. Certified HX is a high-performance nickel alloy that contains a higher percentage of molybdenum (up to 9.5%) vs. other nickel alloys, which enhances strength and resistance to corrosion, creep deformation, cracking, and oxidation in hot-zone environments. Certified CuCr2.4 is a high-strength, corrosion-resistant copper alloy that is significantly stronger than pure copper and easier to process. Both materials are certified for use with the company's DMP Flex 350 and DMP Factory 350 3D printers. Applications include industrial gas turbines, consumer goods, aerospace and defense, and automotive.
Learn more.
---
New flame-retardant resin for 3D printing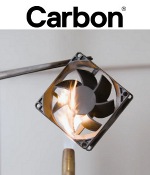 3D-printing tech company Carbon has introduced an all-new photopolymer resin called EPX 86FR that the company says offers an unmatched combination of flame retardance, functional toughness, high strength, and long-term stability for end-use parts, functional prototypes, and tools in the automotive and industrial sectors.
Learn more.
---
Cool Tools: Easy-setup orbital sander/polisher for cobots by OnRobot
The Sander package from OnRobot includes everything customers need to get their robotic sanding application started quickly, including plug-and-play sanding tool, pads, easy-to-use programming software, an optional force/torque sensor, and a Grit Changer. All of the advanced features are supported on Universal Robots cobots, but the tool is easily integrated with any major robot brand. Polishing and deburring can be accomplished too.
Read the full article.
---
Pro Tips: Post processing in PBF 3D printing -- the key to viable production outcomes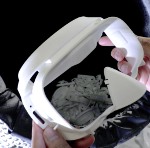 Focusing purely on the 3D-printing build process means that a crucial part of the production process chain is overlooked: the post-processing steps once the parts are removed from the 3D-printing machine. Nick Allen from 3DPRINTUK gives an insightful overview of post-processing options available for polymer powder bed fusion (PBF) parts and the design considerations that must be taken into account from the start.
Read the full article.
---
New polymers engineered for e-motor applications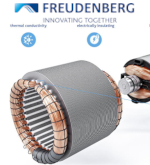 Freudenberg Sealing Technologies has expanded the use of its Thermally Conductive, Electrically Insulating (TCEI) materials to produce walled slot liners for electric motor applications. The company's TCEI material grades demonstrate superior thermal conductivity and better electrical insulation when tested against other thermoplastic materials currently available.
Read the full article.
---
New 3D-printing resin creates static-dissipative parts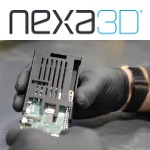 The new xESD resin from Nexa3D, a leading maker of ultrafast professional and industrial polymer 3D printers, is a rigid photoplastic material with a stable carbon nanotube dispersion that delivers optimal static-dissipative performance and isotropic mechanical properties, which are required by the electronics manufacturing industry. The xESD resin allows users to create custom jigs, fixtures, grippers, assembly aides, and enclosures in hours without the risk of ESD damage to high-value electronic components. Available for NXE Pro series printers and the XiP desktop 3D printer.
View the video and learn what else is new from Nexa3D.
---
Desktop Metal qualifies nickel alloy Inconel 625 for 3D printing on Studio System 2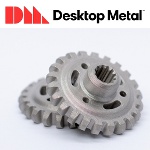 3D-printer maker Desktop Metal has qualified the use of the nickel alloy Inconel 625 (IN625) for its Studio System, an office-friendly metal additive manufacturing system that prints high-performance metal parts in low volumes for pre-production and end-use applications. IN625 is a high-performance alloy known for high levels of strength, temperature resistance, and corrosion resistance.
Read the full article.
---
6 advanced FDM 3D-printing tips when adding metal parts to your build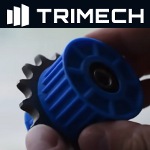 Fused Deposition Modeling (FDM) 3D-printing machines use thermoplastic resins and strong, tough materials for real applications. Learn from the experts at TriMech how to prepare for incorporating metal parts such as bushings, hex nuts, roller chain, and rods into FDM builds to create complicated parts that need to stand up to repeated use.
View the TriMech video.
---
Machine-ready blanks from TCI Precision Metals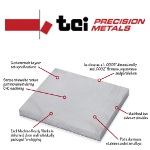 TCI Precision Metals will be showing its precision Machine-Ready Blanks capabilities to customers at IMTS 2022 this September. Machine-Ready Blanks of aluminum, stainless steel, and other alloys help shops shorten setup time, reduce scrap, and increase overall throughput up to 25% by eliminating material prep. These blanks are guaranteed to arrive machine-ready for production, with standard-size blanks in low quantities ready for immediate shipping, Custom blanks in production quantities can be ordered for quick turnaround.
Learn more.
---
Sheet metal finishing options from Xometry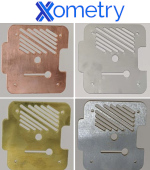 Xometry now offers expanded options for sheet cut and sheet metal parts. Parts fresh off the waterjet or laser often have a burr on their bottom face, marks from handling, frosting near the cut line from overspray, and/or vestigial tabs from being held in place during cutting. Applying a finishing process post-cutting will help you get parts that need minimal cleanup before installation.
Learn more.
---
3M debuts virtually dust-free sanding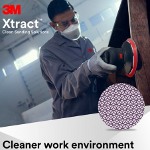 Great for home and shop alike, 3M's innovative Xtract Cubitron II 710W Net Abrasive Disc uses a specially designed mesh that extracts dust at every location on the disc while enhancing the cutting power of the tool. 3M says it "provides twice the life and cut rate, while removing up to 97% of dust particles as it sands metal, wood, and composite surfaces." Available in a range of grades.
Learn more.
---
New nickel-based superalloy for 3D printing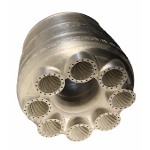 Velo3D has qualified the nickel-based superalloy powder Amperprint 0233 Haynes 282 for use in its Sapphire family of printers. The material is designed for high creep strength, thermal stability, weldability, and fabricability not commonly found in other alloys. This superalloy is ideal for high-temperature structural applications like energy generation, gas turbines, and space launch vehicles to build parts like heat exchangers, combustors, nozzles, combustion liners, rocket engines, and shrouded impellers. Shown left is a combustor liner made with the new superalloy. It features 23,000 unique holes for optimized air-to-fuel ratios and internal channels for regenerative cooling. The part is shown as printed, with no supports.
Learn more.
---
Desktop Metal qualifies 420 stainless steel for high-volume additive manufacturing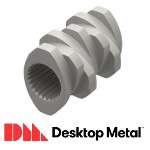 Desktop Metal recently announced the qualification of Grade 420 stainless steel (420 SS) for use on its Production System platform, which leverages patent-pending Single Pass Jetting (SPJ) technology designed to achieve the fastest build speeds in the metal additive manufacturing industry. Manufacturers can now leverage SPJ technology for the mass production of high-strength, end-use parts in 420 SS for demanding applications in industries such as medical, aerospace, defense, and consumer products.
Learn more.
---
New PETs for automotive exterior components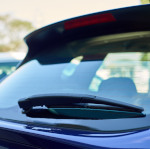 Polyplastics Group has introduced two new RENATUS polyethylene terephthalate (PET) grades that deliver superior mechanical properties, appearance, and weather resistance for automotive exterior components. RH030 (30% glass filled) and RH045 (45% glass filled) maintain their jet blackness and reduce whitening on the surface of molded articles in outdoor environments, making them ideally suited for applications such as automotive side mirrors and rear wiper arms/blades. Since PET parts are not painted, weathering degradation can occur over time when the glass filler starts to float and the jet blackness decreases. Accelerated weather resistance testing demonstrates that Polyplastics' new PET materials maintain lower index values than competing products, indicating that whitening is being reduced.
Learn more.
---
Optimal damping: Continental develops special bearings and other elements for EVs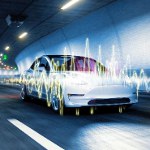 Continental has developed special elastomer compounds for electric vehicles. They absorb the vibrations in the high-frequency range and are also lightweight. The company is also adapting other bearing elements such as battery mounts for buses or air press bearings in truck driver cabs to the requirements of e-mobility.
Read the full article.
---
Chinese scientists produce world's lightest material
Scientists at Zhejiang University in China have developed a new kind of ultra-light material called carbon aerogel. This solid material has a density of only 0.16 mg/cm3, one-sixth that of the air. It is now recognized as the new world's lightest material.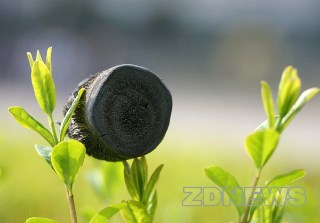 [Image: Zhejiang University]
The basic principle of developing aerogel is to remove solvent in the gel and retain the integrity. In the past, scientists usually used a sol-gel method and a template-oriented method. The former can synthesize aerogel on a large scale, but with poor controllability. The latter can generate ordered structures, but due to its reliance on the fine structure and dimensions of templates, mass production is not feasible.
Prof. Gao Chao's team explored a new method: freeze-drying. They freeze-dried solutions of carbon nanotubes and graphene to get a carbon sponge that can be arbitrarily adjusted in any shape. "With no need for templates, its size only depends on that of the container," he said. A bigger container can help produce the aerogel in a bigger size, even to thousands of cubic centimeters or larger."
The previous world record holder was graphite aerogel produced by German scientists in 2012 with a density of 0.18 mg/cm3.
Despite its fragile appearance, carbon aerogel is excellent in elasticity and can bounce back when compressed. Interestingly, it is also one of the materials with the largest oil absorption capacity. Current oil-absorbing products can usually absorb organic solvent of about 10 times their own weight. The newly developed carbon aerogel can absorb up to 900 times its own weight.
A related paper was published online in Advanced Materials on February 18, and was published in the "Research Highlights" column in Nature.
"Carbon aerogel is expected to play an important role in pollution control, such as oil-spill control, water purification, and even air purification," said Prof. Chao, who also added that the traditional production method of aerogels could not meet the needs of mass production. However, his freeze-drying approach makes the aerogel production process more convenient and makes it possible for mass production and application.
Chao's team is conducting further research on the absorption performance and application of the aerogel. In addition to pollution control, carbon aerogel is expected to become an ideal material for energy storage insulation, sound absorption, and as a catalytic carrier.
Source: Zhejiang University
Published July 2013
Rate this article