Wheels:
Ford develops totally new sheet metal 3D forming process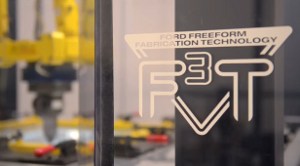 By Mike Foley, Designfax
How do you stamp out prototype sheet metal parts without "stamping" them in a single blow -- and without a die to boot? No, it's not a Zen riddle. It's a question that Ford engineers have been working on for a while, and now they think they have the answer.
Ford Freeform Fabrication Technology (F3T) is the company's new, highly flexible, first-of-its-kind, patented technology to rapidly form sheet metal parts for low-volume (think prototyping) production applications.
Developed at the Ford Research and Innovation Center, the process starts with the F3T machine, which features an upper and a lower "stylus," each mounted on its own hexapod. CAD data of the desired part is sent to the machine, just like you would send to a digital printer. A piece of sheet metal is clamped around its edges to the machine's frame. The part is then formed into a 3D shape by the two stylus-type tools working in unison on opposite sides of the sheet metal blank -- they literally push the part into being by making "written" pressured paths from opposite sides. The final shape includes the required dimensional tolerances and surface finish.
Let's take a look at the process in six steps.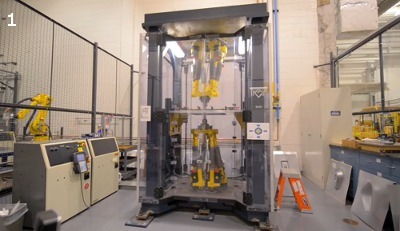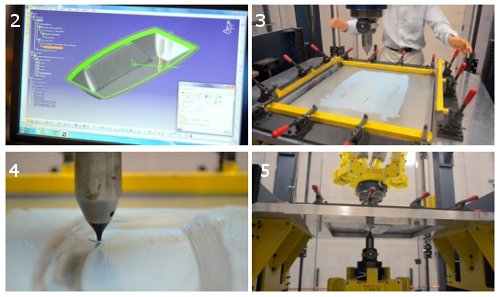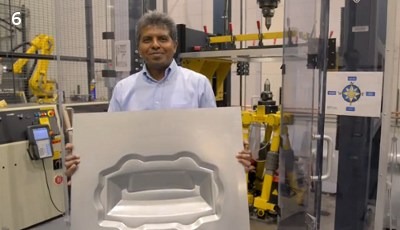 Neat, huh?
It's kind of an inside-out, weird take on spinning (spin forming) metal, where a round piece of flat metal, attached to a forming block mounted in the drive section of a lathe, is rotated at a high speed. A tool is then used to push the spinning metal into place over the form, making a bowl or a bell shape. But in F3T, the metal is stationary and the dual stylus tools move around on the top and bottom, pushing (or "writing" with great force) the metal into a 3D shape.
But there's nothing like seeing it in action, so let's take a look at the video.
While traditional stamping processes remain the most efficient method for high-volume stamping, efficiencies for low-volume production can be achieved with the F3T because it is so flexible. Once fully developed, the technology should allow for lower costs and ultrafast delivery times for prototypes -- within three business days versus conventional methods that take anywhere from weeks to months.
One great thing about the process is that geometric-specific forming dies are completely eliminated, along with the high cost and long lead times associated with die engineering, construction, and machining. And the time, cost, and energy savings are a no-brainer, given that F3T could produce sheet metal parts for prototypes in just days for essentially no cost.
Besides basic prototyping, Ford says that the F3T technology could also be useful for producing concept vehicles and vehicle personalization enhancements. Other applications include aerospace, defense, transportation, and appliance industries.
Source: Ford Motor Co.
Published July 2013
Rate this article