SUV back-up light assembly design eliminates fasteners, welding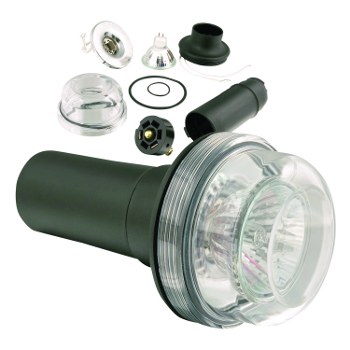 A dual-function, back-up light assembly from Minnesota Rubber and Plastics magnifies and disperses a 50-W halogen light with 1 million candlepower. The aftermarket product's unique design enhances performance and ease of use while eliminating the need for fasteners and welding in the manufacturing process. This project is a good example of Minnesota Rubber and Plastics' co-managed design and manufacturing supply programs working closely with its customer.
Minnesota Rubber and Plastics provided product design and materials engineering in the development and manufacture of this vehicle light assembly. It incorporates a wear-resistant base, injection molded of nylon, that can be rotated manually into two operating modes: back-up-light mode when the vehicle is shifted into reverse, and utility-light mode when parked. The dual-function design is regulated by a special micro switch mounted inside the back-up light base.
The lens is designed of a polycarbonate material for light magnification. It has a threaded circumference to screw tightly into the threaded base. This allows for easy bulb replacement when needed. To ensure moisture and contaminant protection, a flat EPDM rubber gasket seals the screwed-together lens and base. Inside, a hard chrome-plated reflector holds a standard halogen bulb socket. This socket connects to two glass-insulated, high temperature-resistant wires that lead to the vehicle's connecting receptacle.
A micro switch is heat-staked permanently into position, so no fasteners are required. The base has an external keyway feature that helps users align it quickly for easy installation, even in low-light conditions. The snap-together design of all components employs a locking cleat, providing positive retention. The light assembly design eliminated the need for fasteners and welding. Measuring 6 in. with a 1-5/8-in. base receptacle and 3-in.-diameter lens, the vehicle light has no external connecting cords or wires, weighs only 8 oz, and stores anywhere in a vehicle, including a small glove box.
Minnesota Rubber and Plastics operates a corporate-wide quality system, including ISO/TS 16949 and ISO 9000, with over 65 years experience in custom materials engineering and multiple component assembly applications. For more information on improving product design and manufacturing efficiency, call 952-927-1400.
Source: Minnesota Rubber and Plastics
Published December 2013
Rate this article