Universal Robots takes cobot welding to the next level at FABTECH 2021
Universal Robots pioneered collaborative arc welding and continues to make cobot-powered fabricating solutions mainstream. FABTECH 2021 (Sept. 13-16) is the launchpad for innovative new cobot applications including heavy-duty water-cooled welding, hardfacing, plasma cutting, and flexible machine loading.
Read the full article.
---
Spindle drive motor with integrated multi-turn encoder
JVL has a new addition to its ServoStep motor lineup: a directly mountable motor for driving spindles. It's perfect for replacing hand wheels in format-change applications. ServoStep has everything built in, including motor, encoder, drive electronics, control electronics with ePLC, and optional Ethernet or CAN bus integrated into one compact unit. All major industrial Ethernet protocols are available. Features include: double ball bearings enabling up to 7,100 N axial load, closed-loop control, and energy efficiency due to automatic current control. Available through Electromate.
Learn more.
---
Micro Brakes for precision equipment applications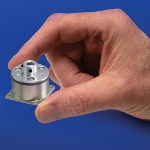 Fast braking response in small, precision torque applications -- that's the primary benefit of Miki Pulley Micro Brakes. The ultra-compact brake design features a stator with integrated mounting flange, proprietary composite friction liner, and armature complete with ring plate spring and hub. It halts rotation mechanically by using an electromagnetic field to connect friction surfaces. Features include quiet operation, high holding torque for its size, a space-saving design configuration, long service life, and stable and reliable braking power. Applications include ATMs, office copiers, weighing and packaging equipment, optical mechanisms, paper binding mechanisms, and more.
Learn more.
---
Gantry and multi-axis systems: How to build one your way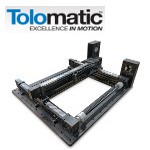 Gantries can be complicated and specialized. There are infinite variations for moving an object on multiple axes, but designing these motion control systems doesn't have to be intimidating. If you have weight, force, or size challenges that don't fit within off-the-shelf parameters, just follow these four steps to create a successful, customized system.
Read this informative Tolomatic blog.
---
Severe-duty AC motors for the toughest applications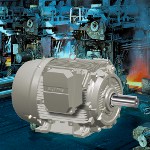 The SIMOTICS SD200 severe-duty motor in frame size 440 is Siemens' latest offering in the low-voltage SIMOTICS motor family. Providing high productivity and energy-efficient operation in all torque ranges, these new cast-iron NEMA motors are built to power pumps, fans, compressors, hoists, winders, and similar equipment in harsh environments. With a three-year warranty, the SD200 motors offer 125- to 800-hp output and feature 444-5013 cast-iron frames for operation in 460- and 575-V ranges. Options include IP56 ingress protection, encoders, brakes, and blowers, plus many others to suit the application required.
Learn more.
---
Reliable automated testing of cultured cells in the lab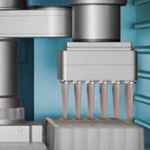 What dosage achieves the desired result without side effects? Above what limit does the beneficial medication turn toxic? Today, such questions are answered in test series performed with cell cultures. With the CYRIS®FLOX automated test system, work in the laboratories is made much easier. Here, motors from FAULHABER ensure that the cultures are supplied with nutrients and medications for the duration of the trial and the development of the cells is closely monitored -- without human intervention.
Read the full article.
---
Electromechanical linear actuators: High power in small packages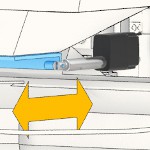 Packing higher motion control capability into a more compact envelope has given rise to a new generation of high power-density actuators. Machine designers for mobile-off-highway, material handling, factory automation, and other power-hungry applications can now get electrical actuators from Thomson that provide up to 2 kN/450 lbf with advanced onboard electronics ̶-- all in a component that requires less space and is more cost efficient than hydraulic or heavier-duty electromechanical actuators that might previously have been deployed for such applications.
Read the full Thomson article.
---
New backlash-free threaded nut for external linear actuators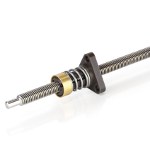 Nanotec now offers radially pre-loaded threaded nuts for its external linear actuators with flange size 42 mm (NEMA 17). These backlash-free nuts automatically readjust themselves during operation and achieve high positioning accuracy and repeatability. Compared to simple, axially pre-loaded nuts, they are characterized by a lower frictional torque and higher efficiency. The nuts are currently offered in combination with the linear actuators of the LSA42 series from Nanotec. These actuators are available in many lengths and thread leads. They come with ACME or trapezoidal thread and facilitate the construction of space-saving linear axes.
Learn more.
---
A servo motor first: Certified PROFINET with PROFIdrive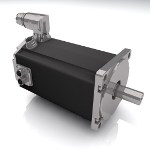 Dunker-motoren, a world leader in brushless DC motors with integrated electronics from 1 to 4,000 W, is the first drive technology manufacturer to fully integrate its certified PROFINET solution with PROFIdrive into a motor -- a milestone in terms of cabling, commissioning, and IIoT capability. The certification ensures users that high standards of stability, even under extreme bus conditions, are always maintained. Currently, the products BG 95 dPro, BG 75 dPro, BG 66 dPro, and BGE 5510 dPro are available with the PROFINET interface.
Learn more.
---
What are piezoelectric active shims?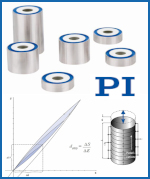 Active shims, such as PIRest from Physik Instrumente, can readjust the gap between two components in a machine at any time with nanometer precision. Due to the piezo element's high resolution down to the nanometer range, active shims cover applications in classical mechanical precision engineering, as well as the alignment of optical components in astronomy, semiconductor manufacturing, and in materials research employing beam-line instrumentation.
Read the full article.
---
Integrated motor/actuator replaces hydraulics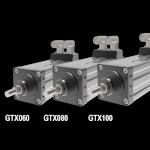 Curtiss-Wright's Actuation Division has just released its newest integrated motor/actuator, the Exlar GTX060. This is the third frame size in the GTX series of industrial electromechanical actuators. The GTX Series offers force, precision, and repeatability while eliminating or minimizing the maintenance and inefficiencies typical of fluid power alternatives. With continuous force ratings up to 2,668 N (600 lbf) and speeds to 1,016 mm/sec (40 in./sec) in both VAC and VDC power options, the GTX060's compact form can be applied across a wide range of automation applications.
Learn more.
---
Critical medical applications demand top-quality motion
Surgical robotics systems offer an overwhelming advantage over traditional methods: improved precision and speed, faster patient healing, and a reduced margin of error. For minimally invasive procedures requiring this level of precision, performance, and reliability, the engineers of surgical robotics systems depend on FAULHABER motion systems.
Read the full article.
---
Pick, measure, and sort small parts with one robotic workstation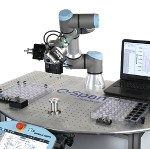 New Scale Robotics has introduced its Q-Span Automated Small-Part Measurement Systems for quality control (QC) teams in high-mix, small-batch manufacturing environments. Q-Span Systems combine robotic pick-and-place with automated measurement of small parts. They easily integrate into existing workflows in the QC lab or on the production floor, and automate the tedious manual process of measuring parts with digital calipers.
Learn more.
---
Universal Robots develops interface for Siemens engineering portal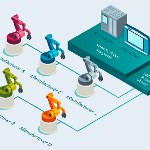 Integrating Universal Robots' collaborative robots into complex machines and manufacturing environments will soon be a process machine builders and systems integrators can handle seamlessly through one of the world's leading automation platforms: Siemens' TIA (Totally Integrated Automation) portal.
Read the full article.
---
Voice coil stages and actuators for precise motion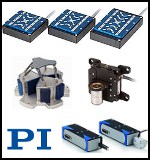 Because of their small dimensions, voice coil motors are often integrated in compact stages, actuators, and fast tip/tilt mirror platforms. These devices are driven by an electromagnetic motor consisting of a moving coil winding and a fixed magnet (the opposite is also possible). By precisely controlling the electric current in the coil, the magnetic force (Lorenz force) -- and thus, acceleration, velocity, and position -- can be varied very accurately.
Learn all about voice coil stages and actuators from PI.
---
Cincinnati Inc., ORNL working on machine that 3D prints HUGE parts; Local Motors plans to use the tech to 3D print electric car
By Mike Foley, Designfax
Cincinnati Inc., a metal fabrication juggernaut for more than 100 years, has teamed up with the Department of Energy's Oak Ridge National Laboratory (ORNL) to develop and commercialize a new large-scale additive manufacturing system capable of printing huge polymer components -- much, much faster than many current systems can build small parts.

Hmmm ... how can that be?
Well, according to Lonnie Love, Ph.D., group leader of ORNL's Manufacturing Systems Research Group, the secret is in the materials and the delivery.
Love says that the new machine has an 8 ft x 8 ft x 8 ft build envelope and is scalable, with the biggest near-term future platform envisioned to be 20 ft x 10 ft x 8 ft. That is huge, when you consider that a 3 ft3 build envelope is considered large these days.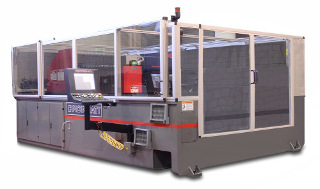 The proposed large-part additive manufacturing machine from Cincinnati Inc.
But how can the material print and cure faster? Now that is interesting. Love says that the answer is two-fold.
First, the machine prints with a big nozzle, so more material is heated and extruded (but not anywhere near as precisely). Love says that a typical fused-deposition modeling (FDM) machine has a 0.020-in. nozzle. The ORNL machine uses a 0.3-inch one. The material comes out looking like, and this is a really accurate description, something you'd see when looking at your piped-icing-decorated birthday cake (see Local Motors video below). No one said this machine is fast and accurate, at least when it comes to the printing part.
The other difference is the material. Instead of using a line of (plastic or ABS) filament like most 3D printers use, the ORNL machine uses a mixed plastic-and-carbon-fiber material that comes in pellets. The carbon fiber greatly reinforces the material, so it can be formed lighter and stronger. But unlike traditional FDM, Love says that this material enables part stability at room temperature. "There is no oven," he says, so parts cure extremely fast, even if they are large.
A prototype of the large-scale additive machine is in development using the chassis and drives of Cincinnati's gantry-style laser cutting system as the base, with plans to incorporate a high-speed cutting tool, pellet feed mechanism, and control software for additional capability.
Cincinnati's experience in designing, making, and controlling large-scale manufacturing systems, as well as its long working relationship with ORNL, led to the partnership.
"As one of the oldest U.S. machine tool makers, with continuous operation since 1898, we view this as an opportunity to start a new chapter in our history," says Andrew Jamison, CEO of Cincinnati Inc. "Over the years, we've supplied more than 40 metal working machine tools to Oak Ridge and its subcontractors. Now, working together, we intend to lead the world in big-area additive manufacturing for prototyping and production."
According to Love, the capability of this machine to produce tooling -- and not particularly standardized "parts" -- is its big breakthrough. "We have already made and tested large metal forming tools for the aerospace industry," says Love. "It will revolutionize U.S. tooling. We've made custom furniture and are working with Local Motors on customized printed electric vehicles." Love says the project was initially an internal Lockheed Martin program. They partnered with ORNL last year, and ORNL has funded it internally for a year. This year the goal is transitioning to a commercial product with Cincinnati Inc.
So rather than printing "parts" (be they big or small) like most of think of when we think of 3D printing, this printer can also print the base materials to create things like big molds or dies.
"But I thought you said this process isn't particularly accurate," you are probably thinking, "so how can you use it for tooling?" Well, that is where another process comes in: subtractive manufacturing (or milling). Remember that Cincinnati said that the machine can incorporate a high-speed cutting tool?
A look into the Local Motors project can shed a little more light on this. Alex Fiechter, head of R&D and community management at Local Motors, explains (in the video below) that the large ORNL 3D-printing machine also contains a machining head for material removal, so that once the 3D part is printed in the rough it can be machined to needed tolerance/specifications.
Local Motors, a pioneer in the online design and hardware co-creation market and known for creating a really cool customizable car called the Rally Fighter, has agreed to build a 3D-printed electric car for the Association For Manufacturing Technology to be featured at the upcoming International Manufacturing Technology Show (IMTS) 2014 in Chicago, IL, September 8-13, 2014.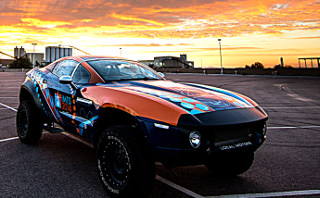 Local Motors Direct Digital Manufacturing (DDM) electric car concept to be demonstrated at IMTS 2014.
"We're printing the body and frame of the vehicle, along with seats and anything else that we can," says James Earle, advanced manufacturing engineer at Local Motors. "... The printed parts will all be one piece."
"We won't be printing the drive train components or any other electrical systems," says Earle.
A look at a video update that Local Motors posted recently gives some insight into what is going on with their IMTS car and the ORNL printer. In it, Fiechter explains how the printer first lays down the basic form of the polymer/carbon fiber part quickly and then the part is machined out (that's the subtractive part) to produce a finished result. Local Motors also says that it is investigating using ULTEM with carbon as one possible material and ABS with carbon as another.
Using this method, both standard "parts" and tooling can be created.
"We're using chopped fiber that is integrated into the plastic pellets we buy (we don't add it ourselves)," says Earle. "For FDM parts (fused deposition modeling, how we're printing the car), it's relatively new. We're one of only a few using carbon fiber to reinforce printed plastic at this scale, but there are a lot of people interested in the idea and studying it."
Earle says that they probably won't be 3D printing metal parts for the IMTS car, but the project engineers "have looked into printing custom fasteners that we could incorporate into the car as we print."
"For our purposes, we want to print a functional car," says Earle. "That means printing 'usable' parts. There is a lot of interest in the machine from other companies for use in creating dies for tooling purposes, e.g. to form sheet metal, but Local Motors wants the car to be printed in one piece. It's possible we may, in the future, use the printer to create molds for door panels or something, but initially no."
Published March 2014
Rate this article