Linear robots are now even more versatile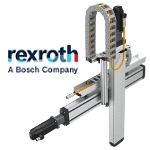 Bosch Rexroth has expanded its portfolio of linear robots (eight different axis combinations with 68 sizes!) for various applications in factory automation. The much wider range of working areas and loads makes the Cartesian subsystems also suitable for applications like battery handling or intralogistics. Predefined axis combinations make for quick and easy sizing and selection. Configure and finalize online and order as preassembled subsystems -- optionally with controllers. Each multi-axis system is also available as a Smart Function Kit for handling or dispensing. Preinstalled software allows for fast commissioning and intuitive programming.
Learn more about Bosch Rexroth smart mechatronic systems.
---
Selecting linear actuators for robotics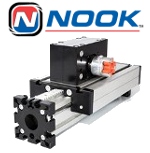 Nick Novotny over at Nook Industries has put together a handy and very useful short guide on selecting linear actuators for robotic applications. Besides addressing the primary considerations, he also explains motor types, linear actuator types, modularity, and advantages and disadvantages.
Read this informative Nook Industries blog.
---
5 key considerations for selecting a propulsion motor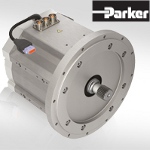 Josh Jennings, mobile servo motor and drive applications engineer for Parker Hannifin's Hydraulic Pump and Power Systems Division, runs through the key factors to consider for a vehicle electrification project, including how the motor is cooled, its speed range, flexibility, efficiency, and reliability. Solid basic information.
Read the full Parker blog.
---
New mini planetary gearmotors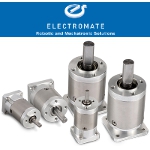 New PH Series Mini Planetary Gearmotors from Applied Motion Products are used with small step motors in NEMA 8, 11, and 14 frame sizes. These gearmotors are used in applications where space is critical. Small motors usually don't produce enough torque for demanding applications. Mini Planetary Gearmotors are an ideal solution. They offer an increase in torque and better inertia matching without breaking the budget.
Learn more and see all the options offered by Electromate.
---
New cobot welders with extended range unveiled at FABTECH 2022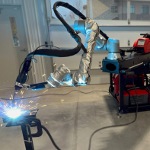 Universal Robots has grown its welding application segment more than 80% this year as partners develop new capabilities for the pioneering cobot welders. At FABTECH last week, Universal Robots' booth showcased new solutions from Vectis Automation and Hirebotics, enabling the weldment of larger and more complex parts. Attendees also experienced Precision Cobotics' automated MECCO laser-marking solution with Apera AI bin picking, laser welding with Cobot Systems, metal deburring with Kane Robotics, along with the new UR20 cobot in a machine-tending application.
Learn about the new welding options and other UR FABTECH releases.
---
New! Multi-axis gantry attachment kits extend your working envelope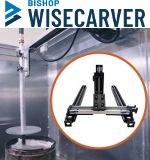 Multi-axis linear actuator assemblies from Bishop-Wisecarver extend the working envelope of automated motion systems and provide for more complex motion. ECO60 Gantry Kits create reliable and easy-to-assemble connections between ECO60 Linear Actuators. Benefits include: saving design time without sacrificing design freedom, easy ordering with single-part-number kits, and fast and simple assembly and installation. All multi-axis kits are made from aluminum with black anodize and stainless-steel hardware.
Learn more.
---
Robots handle post processing for metal AM parts and components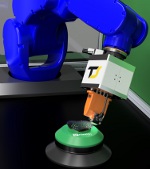 The NetShape Robot from Rivelin Robotics provides an automated solution for metal support removal and targeted finishing to meet the standards of mission-critical industries. Driven by the powerful NetShape control software, both machine learning and traditional deterministic control theory are used to optimize the quality and repeatability of the work. The result is an automated support-removal solution that reduces defects by 90%, exhibits a 10-fold reduction in operational costs, and eliminates human risk and variability.
Learn more.
---
Flat external rotor with encoder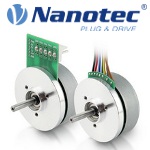 The DF45 brushless DC motors from Nanotec are now available with an integrated encoder. The new flat motors with a diameter of only 45 mm are ideal for applications that require precise positioning in confined spaces such as AGV wheel drives, access control systems, and door drives. The two-channel encoder has a resolution of 1,024 CPR and provides additional Hall signals for commutation. The difference in length between the standard motor and the encoder version is only 2 mm, as the encoder has been completely integrated. The DF45-E has a rated power of 65 W at a rated speed of 4,840 rpm. Custom windings or shafts are also available.
Learn more.
---
The influence of operating speed on step motor selection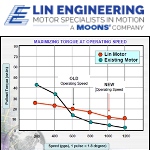 According to the engineers at Lin Engineering, "Frequently, when it comes to step motor selection, users will select a motor with the highest holding torque rating, assuming that it will give them optimal performance. However, it is an improper practice to select a motor based on holding torque alone. In fact, the step motor with the highest holding torque in many situations can prove to be a poor choice -- especially when trying to maximize torque at a desired operating speed."
Read this informative Lin Engineering article.
---
Extra-Duty Overhung Load Adaptors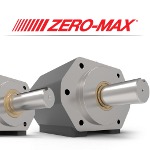 Zero-Max has announced three entirely new Extra-Duty Overhung Load Adaptor (OHLA) models (350, 650, 950). The new designs feature a number of carefully chosen upgrades including spherical bearings, enhanced sealing technology, stronger shafts, and a longer profile delivering increased operating life, heavy load capacities, and higher speed ratings. They provide a solid, permanent mounting surface, eliminating premature motor or pump failure due to axial and radial overhung loads on a motor or pump shaft.
Learn more.
---
Heavy duty: Electric actuators open 3-ton bunker doors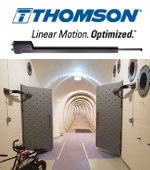 Converting a 1960s nuclear-proof bunker into a museum is full of challenges, one of which was to repurpose 3-ton, all-metal nuclear-safe doors as fire doors. But how do you open and close such massive doors safely? Luckily, Thomson Industries' Electrak HD electric linear actuators were up for the challenge.
Read the full article.
---
Complete factory automation solutions from Bosch Rexroth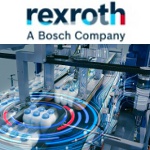 Bosch Rexroth is showcasing complete factory automation solutions that boost consumer packaged goods (CPG) productivity at PACK EXPO INTERNATIONAL 2022 this week (Oct. 23-26). Demonstrations include open control systems, plug-and-play smart mechatronics, autonomous mobile robots, cobots, flexible conveyors, and more. The main focal point is a live multi-tech demo that integrates several automation technologies: a lightweight, maneuverable Kassow Robot picks up product from a moving VarioFlow plus conveyor to place it on a pallet, and when the pallet is full Rexroth's MP1000R AMR moves the product to a storage location using Rexroth's ROKIT Locator software.
Learn about all the technologies featured.
---
Why are there different servo drive form factors?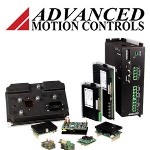 Servo drives come in all shapes and sizes -- just ask the engineers over at Advanced Motion Controls. Oftentimes, a key part of deciding which servo drive to use for your application is deciding which form factor to use, which raises the question: What exactly is a form factor, and why are there so many of them? Learn about types, benefits, and applications.
Read this informative Advanced Motion Controls article.
---
Top Tech Tips: How to specify electric rod-style actuators for optimal performance, reliability, and efficiency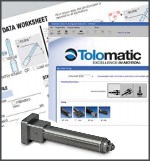 Andy Zaske, Vice President, Tolomatic, provides his Top 10 Tips for specifying electric rod-style actuators, which have a higher initial cost, more advanced design, and more predictable performance compared to fluid power cylinders. This is a really thorough presentation filled with useful information.
Read the full article.
---
Pro Tip: What is the clearance/thrust relationship in induction motors?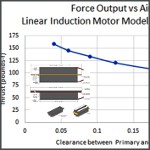 A linear induction motor has a primary or coil assembly and a secondary or reaction plate. In this pro tip, engineers from H2W Technologies explain why machine and systems designers should pay particular attention to the clearance gap between these two components -- especially since an epoxy, varnish, or case enclosure may be involved.
Read the full article.
---
Cincinnati Inc., ORNL working on machine that 3D prints HUGE parts; Local Motors plans to use the tech to 3D print electric car
By Mike Foley, Designfax
Cincinnati Inc., a metal fabrication juggernaut for more than 100 years, has teamed up with the Department of Energy's Oak Ridge National Laboratory (ORNL) to develop and commercialize a new large-scale additive manufacturing system capable of printing huge polymer components -- much, much faster than many current systems can build small parts.

Hmmm ... how can that be?
Well, according to Lonnie Love, Ph.D., group leader of ORNL's Manufacturing Systems Research Group, the secret is in the materials and the delivery.
Love says that the new machine has an 8 ft x 8 ft x 8 ft build envelope and is scalable, with the biggest near-term future platform envisioned to be 20 ft x 10 ft x 8 ft. That is huge, when you consider that a 3 ft3 build envelope is considered large these days.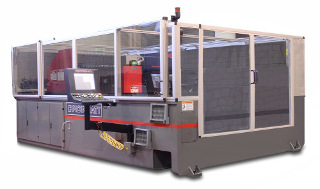 The proposed large-part additive manufacturing machine from Cincinnati Inc.
But how can the material print and cure faster? Now that is interesting. Love says that the answer is two-fold.
First, the machine prints with a big nozzle, so more material is heated and extruded (but not anywhere near as precisely). Love says that a typical fused-deposition modeling (FDM) machine has a 0.020-in. nozzle. The ORNL machine uses a 0.3-inch one. The material comes out looking like, and this is a really accurate description, something you'd see when looking at your piped-icing-decorated birthday cake (see Local Motors video below). No one said this machine is fast and accurate, at least when it comes to the printing part.
The other difference is the material. Instead of using a line of (plastic or ABS) filament like most 3D printers use, the ORNL machine uses a mixed plastic-and-carbon-fiber material that comes in pellets. The carbon fiber greatly reinforces the material, so it can be formed lighter and stronger. But unlike traditional FDM, Love says that this material enables part stability at room temperature. "There is no oven," he says, so parts cure extremely fast, even if they are large.
A prototype of the large-scale additive machine is in development using the chassis and drives of Cincinnati's gantry-style laser cutting system as the base, with plans to incorporate a high-speed cutting tool, pellet feed mechanism, and control software for additional capability.
Cincinnati's experience in designing, making, and controlling large-scale manufacturing systems, as well as its long working relationship with ORNL, led to the partnership.
"As one of the oldest U.S. machine tool makers, with continuous operation since 1898, we view this as an opportunity to start a new chapter in our history," says Andrew Jamison, CEO of Cincinnati Inc. "Over the years, we've supplied more than 40 metal working machine tools to Oak Ridge and its subcontractors. Now, working together, we intend to lead the world in big-area additive manufacturing for prototyping and production."
According to Love, the capability of this machine to produce tooling -- and not particularly standardized "parts" -- is its big breakthrough. "We have already made and tested large metal forming tools for the aerospace industry," says Love. "It will revolutionize U.S. tooling. We've made custom furniture and are working with Local Motors on customized printed electric vehicles." Love says the project was initially an internal Lockheed Martin program. They partnered with ORNL last year, and ORNL has funded it internally for a year. This year the goal is transitioning to a commercial product with Cincinnati Inc.
So rather than printing "parts" (be they big or small) like most of think of when we think of 3D printing, this printer can also print the base materials to create things like big molds or dies.
"But I thought you said this process isn't particularly accurate," you are probably thinking, "so how can you use it for tooling?" Well, that is where another process comes in: subtractive manufacturing (or milling). Remember that Cincinnati said that the machine can incorporate a high-speed cutting tool?
A look into the Local Motors project can shed a little more light on this. Alex Fiechter, head of R&D and community management at Local Motors, explains (in the video below) that the large ORNL 3D-printing machine also contains a machining head for material removal, so that once the 3D part is printed in the rough it can be machined to needed tolerance/specifications.
Local Motors, a pioneer in the online design and hardware co-creation market and known for creating a really cool customizable car called the Rally Fighter, has agreed to build a 3D-printed electric car for the Association For Manufacturing Technology to be featured at the upcoming International Manufacturing Technology Show (IMTS) 2014 in Chicago, IL, September 8-13, 2014.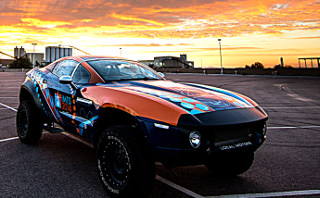 Local Motors Direct Digital Manufacturing (DDM) electric car concept to be demonstrated at IMTS 2014.
"We're printing the body and frame of the vehicle, along with seats and anything else that we can," says James Earle, advanced manufacturing engineer at Local Motors. "... The printed parts will all be one piece."
"We won't be printing the drive train components or any other electrical systems," says Earle.
A look at a video update that Local Motors posted recently gives some insight into what is going on with their IMTS car and the ORNL printer. In it, Fiechter explains how the printer first lays down the basic form of the polymer/carbon fiber part quickly and then the part is machined out (that's the subtractive part) to produce a finished result. Local Motors also says that it is investigating using ULTEM with carbon as one possible material and ABS with carbon as another.
Using this method, both standard "parts" and tooling can be created.
"We're using chopped fiber that is integrated into the plastic pellets we buy (we don't add it ourselves)," says Earle. "For FDM parts (fused deposition modeling, how we're printing the car), it's relatively new. We're one of only a few using carbon fiber to reinforce printed plastic at this scale, but there are a lot of people interested in the idea and studying it."
Earle says that they probably won't be 3D printing metal parts for the IMTS car, but the project engineers "have looked into printing custom fasteners that we could incorporate into the car as we print."
"For our purposes, we want to print a functional car," says Earle. "That means printing 'usable' parts. There is a lot of interest in the machine from other companies for use in creating dies for tooling purposes, e.g. to form sheet metal, but Local Motors wants the car to be printed in one piece. It's possible we may, in the future, use the printer to create molds for door panels or something, but initially no."
Published March 2014
Rate this article