OnRobot launches advanced magnetic gripper for safe and precise cobot applications
OnRobot has launched the MG10, a versatile, high-performance, easy-to-use magnetic gripper for material handling, assembly, and machine tending applications in manufacturing, automotive, and aerospace environments. The gripper is fully compatible with all major robot brands.
Read the full article.
---
What motor torque constant to use for drive type: Theory and application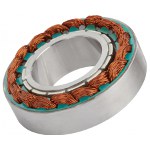 Calculating motor torque from available drive current can be confusing due to many different drive types and the multiple ways current is specified. This informative online paper from Celera Motion provides the key formulas for torque constant and motor current from the fundamental principles of three-phase motor theory. It also walks through the many ways torque can be calculated. This information applies to a brushless motor (BLAC or permanent magnet synchronous machines) configuration.
Read the full article.
---
Easy-integration compact Z-Theta motion platform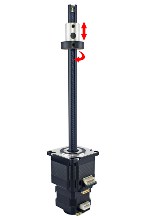 The easily integrated Z-Theta motion platform from Haydon Kerk Pittman offers linear and rotary point-to-point motion in a compact footprint. This modular, "bolt-in" package features the patented ScrewRail linear actuator, which combines guidance and linear transmission in a slender co-axial profile. The unique dual-motion integration with a pair of stepper motors adds rotary (theta) motion that reduces motion system size by 50% to 80% and provides as much as a 60% overall cost reduction when compared to traditional design approaches. This setup can be customized with a variety of lead screw resolutions, free-wheeling and anti-backlash nuts, stepper motor options, and optical encoder line counts.
Learn more.
---
Good beer. Zero packaging accidents.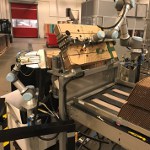 The Danish division of Carlsberg, one of the leading brewery groups in the world, has significantly improved staff safety and taken steps toward achieving zero accidents since integrating Universal Robots cobots into its Fredericia-based factory. The company invested in two cobots, the space-friendly UR3 and the powerful UR10, to tackle carrying packaging cartons from the pallet to the magazine -- a monotonous and strenuous task that often left staff with repetitive strain or severe cuts. Working in tandem, the cobots can handle up to 500 packaging cartons per hour. Now the company has purchased four additional cobots to further automate its production lines.
Read the full article.
---
Precise motion for optics and thermal imaging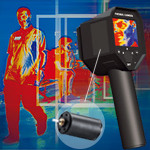 From scanning buildings for heating and cooling "leaks," to scanning people at the airport for possible fever, thermal imaging systems play a critical role in many industries. Thermal cameras rely on many of the same motorized components as standard cameras: they require focusing, zooming, aperture adjustments, and quick-moving shutters. Inside these advanced optics systems, micro brush DC motors from FAULHABER help cameras capture precise images and temperature readings in a fraction of a second.
Read the full article.
---
SureStep stepper motor linear actuators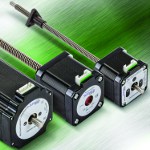 Automation-Direct has added stepper motor linear actuators to its SureStep line of stepper motion control products. These linear actuators are NEMA 17 or 23 frame stepper motors with a stainless steel lead-screw extension of the rotor. In conjunction with the provided screw nut, these units translate motor torque into linear thrust. They can provide up to 193 lb of thrust, or speeds up to 18 in./sec. Eight standard leads (travel per rev) are offered, with screw lengths of 6, 9, or 12 in. They start at under 100 bucks.
Learn more.
---
Mini actuator with built-in servo drive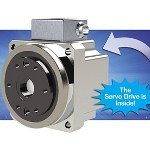 The FHA-C Mini Series of extremely compact actuators from Harmonic Drive delivers high torque with exceptional accuracy and repeatability. An integrated servo drive version utilizing CANopen communication is now available. This product eliminates the need for an external drive and greatly improves wiring while retaining high-positional accuracy and torsional stiffness in a compact housing. Dual absolute encoders included. This new mini actuator is ideal for use in robotics.
Learn more.
---
Mechatronic solution packages from Bosch Rexroth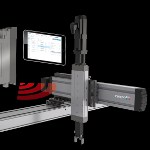 The Smart Function Kit is a new Smart MechatroniX solution platform from Bosch Rexroth that offers quick and intuitive commissioning and configuration for a range of processes such as joining, pressing, and handling. This modular toolbox consists of an electromechanical cylinder, a force sensor, a motor, a servo drive, and a motion controller, plus a software package that enables easy commissioning and operation as well as comprehensive process analysis. Available soon is a Smart Function Kit for handling tasks and a Smart Flex Effector, which is a compensation module with an active measuring function in six degrees of freedom.
Learn more.
---
Precision micro stage for high-volume applications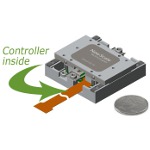 The M3-LS-U2-10 Linear Smart Stage from New Scale Technologies is a direct-drive precision piezoelectric micro stage with embedded controller designed for integration into compact devices. Applications include instruments for DNA sequencing, wearable medical devices, instruments for point-of-care diagnostics, devices for telemedicine, handheld imaging systems, and laser beam steering. The stage has high stiffness with no gears or backlash, low acoustic noise, and no high voltage. It can be powered by batteries or any low-cost DC supply and is suitable for use in near-patient instruments and wearable devices.
Learn more.
---
Ball rail systems and ball screw assemblies: 20,000 km without relubrication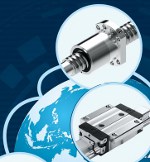 Good news for mechanical engineers and users: the ball rail systems BSHP and ball screw assemblies BASA from Bosch Rexroth now achieve lubrication intervals that are up to four times longer. In more and more applications, they can even be used maintenance-free over the entire service life of a component. Low-maintenance or maintenance-free linear motion tech minimizes operating costs and protects the environment. Recent tests show the lubrication intervals for BSHP ball rail systems are 2x improved and can cover up to 20,000 km before the first relubrication. BASA ball screw assemblies achieve up to 200 million revolutions with the basic factory lubrication, a 4x improvement.
Learn more.
---
Depend on FAULHABER drives for critical medical applications
Surgical robotics systems offer an overwhelming advantage over traditional methods: improved precision and speed, faster patient healing, and a reduced margin of error. For minimally invasive procedures requiring this level of precision, performance and quality, the OEM engineers of surgical robotics systems rely on FAULHABER brushless dc motors.
Learn more.
---
Virtual Expo: Automating machine tending tasks with cobots Feb. 23-24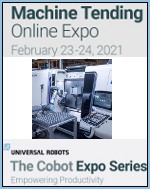 Universal Robots -- the originator of the collaborative robot -- is hosting the first-ever virtual expo focused on automating machine tending tasks with cobots. The two-day Machine Tending Expo event Feb. 23-24 aims to help manufacturers looking to deploy cobots to tend machines such as CNC, press brakes, injection molding, or 3D printers. In live demos, keynotes, and interactive booth sessions with exhibiting partners, Universal Robots offers solutions on how to implement cobots seamlessly, tackle the labor shortage, and improve crucial machine uptime.
Read the full article.
---
Flat motors with integrated encoder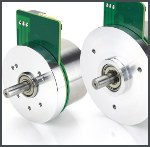 The extremely compact DFA68 and DFA90 series brushless DC motors from Nanotec are now available with integrated encoder. They are particularly suitable for applications that require precise positioning in confined spaces. External rotor BLDC motors are shorter than internal rotor motors and have a lower torque ripple. The DFA90-E with a diameter of 90 mm has a rated power of 168 W at 2,000 rpm. The smaller DFA68-E with a diameter of 68 mm achieves 106 W at 3,500 rpm.
Learn more.
---
Mechatronics made easier: Mechanical + drive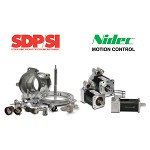 Nidec Motion Control (motors) and SDP/SI (mechanical components) have partnered to create a one-stop shop for low-voltage standard DC motors and controllers plus mechanical components for industrial automation, robotics, medical technology, safety and security, agriculture, food and beverage, vending, and more. Offerings will include pre-assemblies and kitting, from digital controllers to custom mechanical transmission solutions.
Learn more.
---
Micro-sized high-power servo drives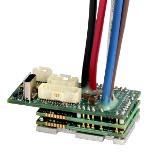 The FM060-25-CM is part of a new breed of micro-sized high-power servo drives available from ADVANCED Motion Controls (50.8 mm x 25.4 mm with a height of 22.1 mm -- three units can fit within the footprint of a standard business card). Rated to output 25A continuous and 50A peak, this fully featured digital servo drive is small enough to fit in the tightest locations. It is ideally suited for mobile and portable applications such as mobile robotics, automated mobile robots (AMRs), AGVs, material handling, warehouse automation, lab automation, and more. Two lower current options (5A and 10A) are also available.
Learn more.
---
Cincinnati Inc., ORNL working on machine that 3D prints HUGE parts; Local Motors plans to use the tech to 3D print electric car
By Mike Foley, Designfax
Cincinnati Inc., a metal fabrication juggernaut for more than 100 years, has teamed up with the Department of Energy's Oak Ridge National Laboratory (ORNL) to develop and commercialize a new large-scale additive manufacturing system capable of printing huge polymer components -- much, much faster than many current systems can build small parts.

Hmmm ... how can that be?
Well, according to Lonnie Love, Ph.D., group leader of ORNL's Manufacturing Systems Research Group, the secret is in the materials and the delivery.
Love says that the new machine has an 8 ft x 8 ft x 8 ft build envelope and is scalable, with the biggest near-term future platform envisioned to be 20 ft x 10 ft x 8 ft. That is huge, when you consider that a 3 ft3 build envelope is considered large these days.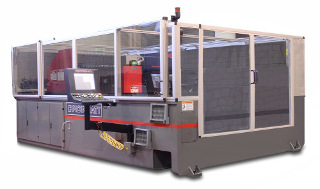 The proposed large-part additive manufacturing machine from Cincinnati Inc.
But how can the material print and cure faster? Now that is interesting. Love says that the answer is two-fold.
First, the machine prints with a big nozzle, so more material is heated and extruded (but not anywhere near as precisely). Love says that a typical fused-deposition modeling (FDM) machine has a 0.020-in. nozzle. The ORNL machine uses a 0.3-inch one. The material comes out looking like, and this is a really accurate description, something you'd see when looking at your piped-icing-decorated birthday cake (see Local Motors video below). No one said this machine is fast and accurate, at least when it comes to the printing part.
The other difference is the material. Instead of using a line of (plastic or ABS) filament like most 3D printers use, the ORNL machine uses a mixed plastic-and-carbon-fiber material that comes in pellets. The carbon fiber greatly reinforces the material, so it can be formed lighter and stronger. But unlike traditional FDM, Love says that this material enables part stability at room temperature. "There is no oven," he says, so parts cure extremely fast, even if they are large.
A prototype of the large-scale additive machine is in development using the chassis and drives of Cincinnati's gantry-style laser cutting system as the base, with plans to incorporate a high-speed cutting tool, pellet feed mechanism, and control software for additional capability.
Cincinnati's experience in designing, making, and controlling large-scale manufacturing systems, as well as its long working relationship with ORNL, led to the partnership.
"As one of the oldest U.S. machine tool makers, with continuous operation since 1898, we view this as an opportunity to start a new chapter in our history," says Andrew Jamison, CEO of Cincinnati Inc. "Over the years, we've supplied more than 40 metal working machine tools to Oak Ridge and its subcontractors. Now, working together, we intend to lead the world in big-area additive manufacturing for prototyping and production."
According to Love, the capability of this machine to produce tooling -- and not particularly standardized "parts" -- is its big breakthrough. "We have already made and tested large metal forming tools for the aerospace industry," says Love. "It will revolutionize U.S. tooling. We've made custom furniture and are working with Local Motors on customized printed electric vehicles." Love says the project was initially an internal Lockheed Martin program. They partnered with ORNL last year, and ORNL has funded it internally for a year. This year the goal is transitioning to a commercial product with Cincinnati Inc.
So rather than printing "parts" (be they big or small) like most of think of when we think of 3D printing, this printer can also print the base materials to create things like big molds or dies.
"But I thought you said this process isn't particularly accurate," you are probably thinking, "so how can you use it for tooling?" Well, that is where another process comes in: subtractive manufacturing (or milling). Remember that Cincinnati said that the machine can incorporate a high-speed cutting tool?
A look into the Local Motors project can shed a little more light on this. Alex Fiechter, head of R&D and community management at Local Motors, explains (in the video below) that the large ORNL 3D-printing machine also contains a machining head for material removal, so that once the 3D part is printed in the rough it can be machined to needed tolerance/specifications.
Local Motors, a pioneer in the online design and hardware co-creation market and known for creating a really cool customizable car called the Rally Fighter, has agreed to build a 3D-printed electric car for the Association For Manufacturing Technology to be featured at the upcoming International Manufacturing Technology Show (IMTS) 2014 in Chicago, IL, September 8-13, 2014.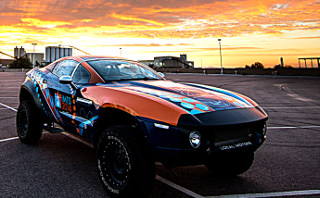 Local Motors Direct Digital Manufacturing (DDM) electric car concept to be demonstrated at IMTS 2014.
"We're printing the body and frame of the vehicle, along with seats and anything else that we can," says James Earle, advanced manufacturing engineer at Local Motors. "... The printed parts will all be one piece."
"We won't be printing the drive train components or any other electrical systems," says Earle.
A look at a video update that Local Motors posted recently gives some insight into what is going on with their IMTS car and the ORNL printer. In it, Fiechter explains how the printer first lays down the basic form of the polymer/carbon fiber part quickly and then the part is machined out (that's the subtractive part) to produce a finished result. Local Motors also says that it is investigating using ULTEM with carbon as one possible material and ABS with carbon as another.
Using this method, both standard "parts" and tooling can be created.
"We're using chopped fiber that is integrated into the plastic pellets we buy (we don't add it ourselves)," says Earle. "For FDM parts (fused deposition modeling, how we're printing the car), it's relatively new. We're one of only a few using carbon fiber to reinforce printed plastic at this scale, but there are a lot of people interested in the idea and studying it."
Earle says that they probably won't be 3D printing metal parts for the IMTS car, but the project engineers "have looked into printing custom fasteners that we could incorporate into the car as we print."
"For our purposes, we want to print a functional car," says Earle. "That means printing 'usable' parts. There is a lot of interest in the machine from other companies for use in creating dies for tooling purposes, e.g. to form sheet metal, but Local Motors wants the car to be printed in one piece. It's possible we may, in the future, use the printer to create molds for door panels or something, but initially no."
Published March 2014
Rate this article