Sony releasing 0.5-type OLED microdisplay with top-of-class UXGA resolution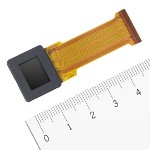 Sony Corporation recently announced the upcoming release of the ECX339A OLED Microdisplay featuring UXGA (1,600 x 1,200 resolution), the highest in class for a 0.5-type. This product achieves the world's smallest pixel pitch of 6.3μm by leveraging Sony's OLED display technology and miniaturization technology, enabling a resolution 1.6x higher than the previous model. By employing a new drive circuit design that operates on half the voltage of the previous model, the new product achieves the same level of low-power operation as its predecessor but with much higher resolution.
Learn more.
---
Want to make your factory wireless? NIST how-to guide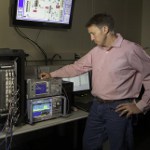 The National Institute of Standards and Technology (NIST) has published the first-ever set of science-based guidelines to help users select the best wireless system for any specific industrial environment, custom-design the setup to make it work, successfully deploy it, and then ensure that the network performs as needed. The publication is called, "Guide to Industrial Wireless Systems Deployments." By eliminating physical connections such as wires and cables from a facility's communication network, wireless technology offers many manufacturing, chemical processing, and utility organizations a means to run their entire operation more efficiently, more productively, and at less cost.
Get the guide. No registration required.
---
Mike Likes: Fixed-mount infrared cameras help you analyze the heat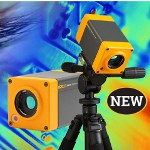 For precise research, science, and engineering applications, just seeing heat is not enough -- it needs to be measured and analyzed as well. The new Fluke RSE300 and RSE600 Infrared Cameras are the first fully radiometric, fixed-mount cameras from Fluke with advanced features including MATLAB and LabVIEW software plug-ins to easily analyze thermal data. These cameras continuously stream up to 60 frames of data per sec, allowing for detailed monitoring of temperature patterns and variances. With the included SmartView desktop software, users can remotely focus the camera, auto-capture images, adjust level and span, and analyze infrared videos frame by frame. The software also makes it easy to edit images, generate customized reports, and export images to multiple formats to share thermal data quickly.
Learn more.
---
LED controller for automotive lighting designs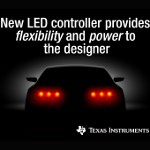 Texas Instruments (TI) has introduced the first 3-channel high-side linear automotive light-emitting diode (LED) controller without internal MOSFETs, which gives designers greater flexibility for their lighting designs. The TPS92830-Q1's novel architecture enables higher power and better thermal dissipation than conventional LED controllers, and is particularly beneficial for automotive LED lighting applications that require high performance and reliability. The LED controller's flexible on-board features give designers the freedom to select the best MOSFET for their system requirements. With this new approach, designers can optimize their lighting power designs more quickly and efficiently for automotive system requirements and desired dimming features.
Click here to learn more.
---
New ultra high-brightness LCDs for outdoor viewing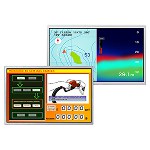 The Tianma Group has introduced two new LCDs: a 10.1-in. WXGA and 15.6-in. WXGA, both with ultra-high luminance. These modules are ideal for industrial applications needing superior viewing in outdoor or other high ambient light environments such as ATMs and payment terminals. The 10.1-in.-wide model has a luminance of 1000 cd/m2, and the 15.6-in.-wide model has a luminance of 1250 cd/m2. The ultra-high luminance of these models results in displays with vivid colors and excellent visibility, even in direct sunlight, and further expand Tianma's extensive offering of industrial products.
Click here to learn more.
---
Mouser Electronics New Product Insider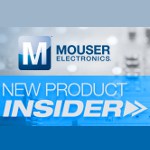 Mouser Electronics specializes in the rapid introduction of new products and technologies. As the industry leader in New Product Introductions (NPIs), Mouser makes it a priority to stock the newest products and technologies from their 700+ manufacturer partners, giving customers an edge and helping speed time to market. In 2017, Mouser launched a total of 2,326 new products. Last month, Mouser launched more than 270 new products ready for same-day shipment. Latest products include: Linear Technology/Analog Devices DC1962C-KIT Starter Kit step-down DC/DC controller; TE Connectivity AmbiMate Sensor Module MS4 Series that provides motion, light, temperature, and humidity sensors plus optional sound; andON Semiconductor RSL10 Multi-Protocol Bluetooth 5 System-on-Chip.
See the latest from Mouser Electronics.
---
LED panel-mount indicators are all about flexibility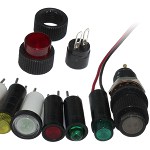 Visual Communica-tions Company's (VCC) 90 Series panel-mount indicators are designed for an extended life and quick installation, and they are unique because they deliver enhanced design flexibility through three termination styles: cartridge, bi-pin, and wire leads. They save time during installation and maintenance and require less-frequent replacement. The P80 Series LED panel mount indicator is designed to streamline installation with a snap-in mounting design that requires no additional hardware. It is offered in six single LED colors (red, orange, amber, green, blue, and clear). Five lens colors are also available: red, amber, green, blue, and clear.
Click here to learn more.
---
Flexible Printed Circuits Design Guide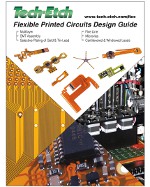 Tech-Etch manufactures high-reliability flexible printed circuits on polyimide substrates using advanced manufacturing processes to create circuits for today's sophisticated electronic applications. Special processes include the ability to selectively plate a single circuit with two different finishes, contoured circuits with variable metal thickness, semi-additive and subtractive techniques to manufacture trace patterns, BGA pad arrays, and open window or cantilevered contact leads. Surface mount technology (SMT) for component assembly is employed for both prototypes and full production runs. Tech-Etch specializes in flexible circuits for medical device, medical implant, diagnostic ultrasound, telecommunications and patient monitoring applications, in addition to telecommunications, aerospace, semiconductor, industrial, and other high-reliability electronic applications.
Learn more and download the guide (no registration required).
---
Compact angle sensor for robotics and other applications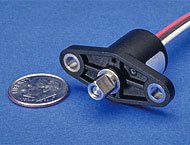 See the robotics video demonstrating ease of programming and robotics application of certain angle sensors from Novotechnik. Novotechnik's Vert-X 1600 Series of angle sensors (shown here) features easy mounting in tight spaces with a 16 mm diameter body. The sensors measure 0 to 360° with linearity ≤ ±0.3%, 14-bit resolution and repeatability to 0.1°. A variety of analog and digital output options are available.
View the video.
---
M8 12-pin connectors with gold-plated contacts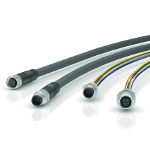 Binder USA has added the M8 12-pin to their Series 718 & 768 lines of M8 Connectors. The 12 gold-plated contacts allow for more data connections in a small-form connector, making it easy to combine multiple connections into one connector to save panel space. The IP67-rated connectors are typically used with automation-related products including photoelectric, proximity, and temperature sensors. Available in male or female molded cable and panel-mount connectors with cable lengths of 2 m and 5 m and standard single-wire length of 200 mm.
Click here to learn more.
---
Full line of industrial laser modules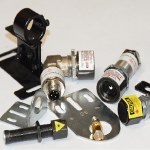 BEA Lasers' full line of ruggedized Industrial Laser modules are now available for use in factories, machine shops, and other harsh environments for alignment and positioning of products, components, and machine parts. The laser diode modules (Series MIL, GPL, SEN, MIC, IND) each include a housing and cable apparatus to alleviate hard wiring for replacements. All are offered with a choice of green or red laser light and include laser dot and line patterns; many available with a crosshair pattern. Most Industrial Laser families are available with 1-, 3-, or 5-mW output power. In addition, BEA's "Yellow Sub" and "Yellow Torpedo" lasers can be used for leveling. Other laser applications include drilling, event detection, edge detection, security, cutting, vision systems, metrology, bar code readers, education, robotic control, and laboratory or test operations.
Click here to learn more.
---
Microcontroller for automotive and industrial radar systems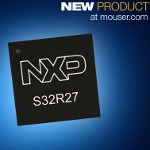 Mouser Electronics is now stocking the S32R274 radar microcontroller from NXP Semicon-ductors. Engineered to meet the high-performance computation demands required by modern beam-forming and fast chirp-modulation radar systems, the S32R274 combines signal-processing acceleration with a multicore architecture to provide up to four times the power performance in industrial and automotive applications, compared to previous generations of products. This device offers a multifaceted solution for general software tasks and car bus interfacing. Combined with radio frequency (RF) front-end technologies (RFCMOS or BiCMOS), the S32R274 provides designers a scalable solution that addresses ultra-short-range, short-range, mid-range, and long-range radar systems.
Click here to learn more.
---
New option for flexible heater applications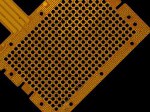 Rogers Corp. has introduced ARLON raPId polyimide substrates, a new, innovative solution for streamlining manufacturing and improving performance of flexible heater applications. These substrates incorporate the benefits of polyimide heater dielectrics with the flexibility and usability of a silicone adhesive system. This makes a big difference during manufacturing, because the innovative thermosetting silicone adhesive system locks the foil-etched circuit in place, minimizing circuit "swimming" during capping, while minimizing delamination and voids. This solution is ideal for high-reliability applications as a replacement for acrylic or FEP adhesives in polyimide flexible heaters.
Learn more.
---
Cool Tools: Rugged smartphone with built-in thermal imaging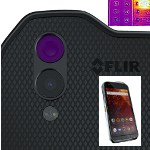 The ruggedized Cat S61 is equipped with FLIR Lepton, the industry's smallest, lightest, and lowest cost thermal imaging camera core. This smartphone enables users to see in total darkness and visualize heat that is invisible to the naked eye. The new model includes a variety of technical improvements, including an increased temperature range of -20 to 400 C (great for things like vehicle diagnostics and asphalt monitoring), upgraded visible HD camera and thermal image processing, and live thermal imagery streaming for sharing results in real time. Available 3Q 2018. Under $1,000.
Click here to learn more.
---
Faster, cooler-running new Raspberry Pi unit -- still $35!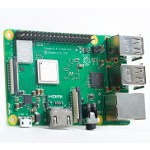 After a two-year wait since its last upgrade, Raspberry Pi released a new and improved version of its wildly popular single-board computer on March 14 -- Pi Day, of course. The Raspberry Pi 3 Model B+ boasts a 200-MHz increase in peak CPU clock frequency, roughly three times the wired and wireless network throughput, and the ability to sustain high performance for much longer periods. Features include: a 1.4-GHz 64-bit quad-core ARM Cortex-A53 CPU, dual-band 802.11ac wireless LAN and Bluetooth 4.2, faster Ethernet (Gigabit Ethernet over USB 2.0), Power-over-Ethernet support (with separate PoE HAT), improved PXE network and USB mass-storage booting, and improved thermal management.
Learn all about the new Raspberry Pi 3 Model B+.
---
Batteries expert: Supercapacitors have potential to destroy lithium-ion battery market
As tracked by market research company IDTechEx and further explained in the recently updated report, "Electrochemical Double Layer Capacitors: Supercapacitors 2014-2024," supercapacitors are improving faster than lithium-ion batteries in most respects.
A gradual increase in the supercapacitor component market and decrease of the battery component market is in line with IDTechEx forecasting that the global market value for supercapacitors will be $6.5 billion by 2024.
Elon Musk of Tesla once said that he thought supercapacitors are the future. Now he is planning the mother of all lithium-ion battery factories. Nevertheless, it is still probable that supercapacitors will hammer lithium-ion battery sales. Nanotune Technologies' CEO Kuang Tsei Huang demonstrated supercapacitors recently with 35 Wh/kg, saying that 500 Wh/kg may be achievable - two to four times the energy density of the best Li-ion batteries. Yunasko and many others have demonstrated 35 Wh/kg, with the intermediate supercabatteries, matching lead-acid and NiCd batteries. Maxwell Technologies expects tripling current energy density with pure supercapacitors. Graphene supercapacitor developers target 200 Wh/kg.
"Supercapacitors need not match lithium-ion battery energy density to replace much of that battery market," says Dr. Peter Harrop, Chairman of IDTechEx. "They have replaced maybe one percent of that market already with only one hundredth of the energy density, because they last longer than the [transit] bus, for example, that they are in. They are safer and have 10 times the power density. Even across batteries, they mean less battery is needed.
"They have replaced Li-ion batteries in most Chinese buses, despite greater up-front price. Supercapacitor sales are under 3 percent of lithium-ion battery sales today, partly replacing them and partly doing things batteries can never do.
"Supercapacitor sales will be over 10 percent of Li-ion sales in 10 years as they grab more Li-ion business, despite such batteries improving by a factor of two in energy density. For that, production supercapacitors or supercabatteries (notably lithium-ion capacitors) must reach around 40 Wh/kg with all other parameters acceptable, possibly even conceding some power density and life but being greener. If that happens, few will dispute that in the next decade at around 100 Wh/kg, with acceptable other parameters, supercapacitors or supercabatteries could grab 50 percent of the lithium-ion market -- reaching tens of billions of dollars in yearly sales."
Source: IDTechEx, Cambridge, UK
Published July 2014
Rate this article