Configure your perfect micro motor solution with MICROMO's new Motion System Selector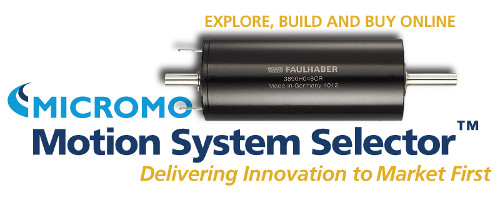 In a day and age when you can shop for everything from fasteners to centrifuges over the Internet, shouldn't you be able to buy a fully optimized micro motor system online?
MICROMO thinks so.
That's why the Clearwater, FL-based motion specialist has launched its Motion System SelectorTM (www.micromo.com/productselector). This new offering is an extremely powerful, interactive parametric search tool that helps OEMs and design engineers quickly and easily specify and analyze hundreds of thousands of different micro motor systems.
Purchasing is simple with the click of a mouse.
With 24/7 access, users can instantly find their ideal solution from MICROMO's extensive on-site inventory of over 104,000 product configurations and, in many cases, expect delivery within three days or less. Featuring real-time simulations of performance and temperature rise for FAULHABER coreless brush and brushless DC motors, the Motion System SelectorTM gives users the ability to compare the performance of different motion component technologies and complete solutions based on specified constraints and operating points while exploring the widest range of micro motion options on the market today.
Developed by engineers for engineers, MICROMO's Motion System SelectorTM delivers a comprehensive, system-focused experience.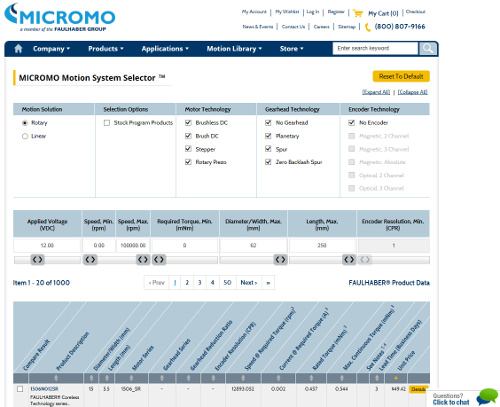 "It's a simple, intuitive interface," says sales team leader Bob Kish. "It allows users and our application engineers to simultaneously search hundreds of thousands of different systems consisting of thousands of different motors, gearheads, and encoders and identify multiple optimized solutions -- all in a matter of seconds."
This impressive search tool allows users to choose from a wide array of rotary and linear motion options, including coreless brush DC motors, brushless DC motors, stepper motors, and piezo motors. They can augment the system with a variety of gearheads and encoders. Another critical aspect is the ability to view the results in a sophisticated product comparison chart that displays systems-level performance characteristics.
The comparative performance and technology scope points displayed in the results tables include:
Diameter;
Length;
Gearhead ratio;
Encoder resolution;
Speed at required torque;
Current at required torque;
Maximum continuous torque;
Delivery lead time;
Price.
Decades ago, the FAULHABER coil paved the way for a new industry. Today, the MICROMO Motion System SelectorTM has changed the game with an unparalleled approach to online micro motion technology selection, comparison, and purchase.
Check out the Motion System SelectorTM today!
Published July 2014
Rate this article