Mini-FAKRA cable assemblies for automotive and industrial applications requiring high data transfer rates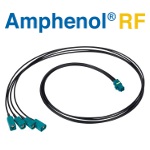 Amphenol RF has expanded its AUTOMATE Type A Mini-FAKRA product series with pre-configured cable assemblies. These assemblies feature a straight quad port mini-FAKRA jack on both ends and are designed on low-loss TFC-302LL. AUTOMATE assemblies support data transmission rates up to 20 Gbps, which makes them ideal for automotive and industrial applications that require high data transfer rates to communicate information for safety, performance, and entertainment without lag.
Learn more.
---
New compact touchless linear position sensors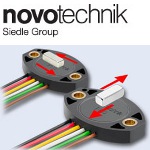 The TFD Series of touchless linear position sensors from Novotechnik provides wear-free operation in tight spaces. The TFD-4000 Series uses a magnetic position marker to provide a touchless measurement range of 0 to 14, 24, or 50 mm -- depending on model. These sensors make measurements through air and non-magnetic materials. Sensing direction can be either parallel or perpendicular to mounting holes. Applications include textile, packaging, and sheet metal machinery; medical applications; marine; mobile engine management; and construction, agricultural, and forestry machinery.
Learn more.
---
Top Tech Tip:
2D, 3D, or 2.5D? Choosing a vision system for your automation project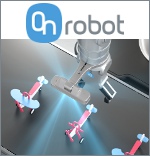 If you're looking at machine vision systems for automation, you will need to decide whether to invest in a 2D, 3D, or 2.5D camera system. That choice will have a major impact on the deployment's cost, complexity, capabilities, and functionality. OnRobot's Kristian Hulgard, General Manager - Americas, explains the differences, benefits, and shortcomings of each system type.
Read this informative OnRobot article.
---
Next-generation electronic digital comparators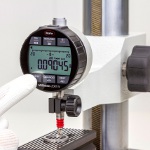 The Millimess 2000 W(i) and 2001 W(i) Digital Comparators from Mahr set new standards in metrology with unique and innovative features such as touch display, inductive measurement system, and integrated wireless connectivity. The systems combine practical and reliable operation with maximum precision using a unique inductive measuring system.
Learn more.
---
All about slip rings: How they work and their uses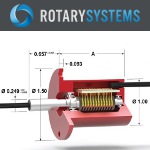 Rotary Systems has put together a really nice basic primer on slip rings -- electrical collectors that carry a current from a stationary wire into a rotating device. Common uses are for power, proximity switches, strain gauges, video, and Ethernet signal transmission. This introduction also covers how to specify, assembly types, and interface requirements. Rotary Systems also manufactures rotary unions for fluid applications.
Read the overview.
---
Customizable encoders for white goods, automation, controls, more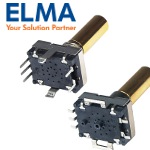 Elma Electronic now offers the E18 family of price-competitive, robust mechanical incremental encoders that offer a high-quality alternative to system designers struggling to find a drop-in, rugged encoder for harsh environments with a footprint that matches their current PCB design. E18 encoders are available in a variety of configurations, including with or without push buttons and threaded bushings. Their "Swiss Click Indexing System" epitomizes quality turning feel.
Learn more.
---
Protect battery packs against overcurrent and overcharging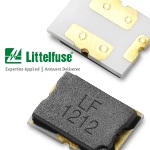 Littelfuse has announced the new ITV4030, a series of 22-A, three-terminal, surface-mountable Li-ion battery protectors ideal for use in a wide range of data communications interfaces for consumer electronics including tablets, robotic appliances, and power tools. These 4- x 3-mm devices protect battery packs against overcurrent and overcharging (overvoltage) conditions. The innovative design uses embedded fuse and heater elements that provide fast response and reliable performance to interrupt the charging or discharging circuit before the battery pack becomes overcharged or overheated.
Learn more.
---
Raspberry Pi Pico W adds Wi-Fi to popular microcontroller board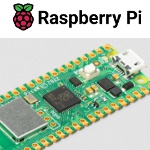 Raspberry Pi launched the $4 Pico microcontroller board in January of last year. It has sold almost 2 million units and proven to be a great tool for commercial, industrial, and maker applications, but it still lacks one important element: wireless connectivity. That is about to change.
Read the full article.
---
Cool Tools: The oscilloscope that feels like a tablet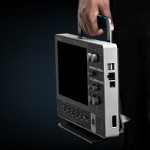 Tektronix says, "Get ready to change the way you work forever!" Introducing the Tektronix 2 Series Mixed Signal Oscilloscope (MSO) -- the only full-featured bench oscilloscope that works where you work. It weighs less than 4 lb, is just 1.5-in. thick, and can accommodate an optional battery pack for up to 8 hours of unplugged power.
View the video.
---
Smart contactors with CAN bus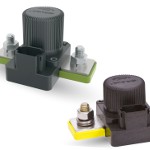 Sensata Technologies has announced the availability of the new GXC and MXC series of Smart-Tactor contactors with CAN bus communication, which provide valuable data for improved system performance, reliability, and diagnostics in military, battery system, energy storage, commercial vehicle, and industrial applications. This new series of CAN bus-enabled contactors are easily integrated and simplify data acquisition, making them ideal for data logging, telematics, and predictive maintenance.
Learn more.
---
What can you do with touchless magnetic angle sensors?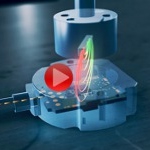 Novotechnik has put together a really informative video highlighting real-world applications for their RFC, RFE, and RSA Series touchless magnetic angle sensors. You may be surprised at the variety of off-highway, marine, material handling, and industrial uses. You'll learn how they work (using a Hall effect microprocessor to detect position) and their key advantages, including eliminated wear and tear on these non-mechanical components. We love when manufacturers provide such useful examples.
View the video.
---
Slimmest enclosure air conditioner on the market!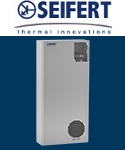 Seifert's SlimLine Series of enclosure air conditioners integrate unique technologies -- maximum power-to-size ratio, mounting of merely 4.5 inches inside-cabinet-depth -- making the SlimLine Series the slimmest air conditioner in the market. Cooling capacity: 1,090 to 5,120 Btu/hr.
Learn more.
---
Radiation-hardened GaN transistor for space applications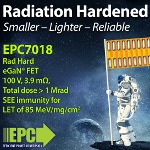 EPC has just introduced the EPC7018 radiation-hardened GaN FET. With higher breakdown strength, lower gate charge, lower switching losses, better thermal conductivity, and very low on-resistance, power devices based on GaN significantly outperform silicon-based devices. They enable higher switching frequencies resulting in higher power densities, higher efficiencies, and more compact and lighter-weight circuitry for critical spaceborne missions, including DC-DC power, motor drives, lidar, deep probes, and ion thrusters.
Learn more.
---
Low-cost motion control: CLICK PLUS PLCs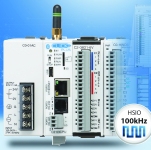 Automation-Direct has released the new CLICK PLC programming software version 3.30, which allows any CLICK PLUS CPU to be configured as a 3-axis PTO/PWM motion controller. 100-kHz high-speed inputs and outputs are offered with any DC option slot I/O module placed in slot 0 of the CPU. With this module, CLICK PLUS PLCs can easily perform velocity moves, homing commands, or interpolated positioning. Six CPUs available starting at less than 100 bucks.
Learn more.
---
EdgeCool cools computer servers in the rack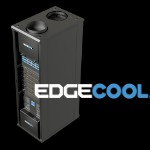 The new EdgeCool system for rack-mounted computer servers revolutionizes IT cooling by transforming server racks into their own portable, energy-saving server rooms. The patented split system from DENSO Products and Services Americas is made up of a condenser and an evaporator that fit easily into almost any open or sealed server rack. The self-contained equipment eliminates the need for more floor space, a dedicated server room, or disruptive and costly building modifications.
Learn more.
---
Edwards, NASA say goodbye to historic space shuttle carrier landmark
A structure synonymous with NASA's Armstrong Flight Research Center for the past 38 years, the grey-colored space shuttle Mate-Demate Device (MDD) at Edwards Air Force Base in California, is being dismantled and demolished as a part of the final chapter in the U.S. space shuttle program.
The 110-ft tall, gantry-like MDD structure was used for de-servicing the space shuttles after they landed at Edwards Air Force Base and for lifting and placing them on NASA's modified Boeing 747 Shuttle Carrier Aircraft for their ferry flights back to NASA's Kennedy Space Center in Florida.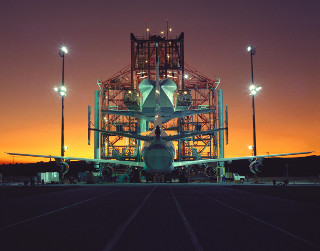 In this photo, technicians begin the task of mounting the Space Shuttle Atlantis atop NASA's 747 Shuttle Carrier Aircraft using the space shuttle Mate-Demate Device (MDD) for the ferry flight back to the Kennedy Space Center, FL, following its STS-44 flight in 1991. [NASA courtesy photo]
The decision comes three years after the shuttle program ended and six years since it last supported turnaround operations after the last shuttle landing at Edwards.
"People at this base know that the MDD has definitely become a part of the landscape. When you drive onto base, it's one of the landmarks you see, and it will leave a hole in your heart when it's gone, but this process is part of the nature of the programs we work out here. When the equipment is no longer needed, it's in the best interest of the taxpayer to not continue to maintain and upkeep unused structures," said David McBride, NASA Armstrong Center director.
Being one of only two such structures built, the MDD at NASA Armstrong is being dismantled by Pantano Demolition of Manteca, CA, under a $178,700 contract. The firm plans to recycle as much of the steel used in the structure as possible for future reutilization.
"Even though it's a steel structure, you just can't ignore it, because even in the desert things corrode and rust. While there is funding and interest, it's better to demolish it and get it safely out of here," McBride said. "Since there's a market for reusing the scrap steel, somehow that steel will come back to life somewhere."
According to NASA's AFRC Public Affairs Office, the shuttle-specific MDD was reviewed for possible reuse for other potential project work, but no projects requiring its specialized capabilities were found. It is being dismantled and then demolished in accordance with federal regulations regarding retention or demolition of unused federal facilities.
"This really did take a team effort. Edwards AFB has always been a key partner with everything we've done here to include all the support with the entire shuttle program during its tenure," added McBride.
Constructed in 1976 at a cost of $1.7 million, the MDD was first used in 1977 for the prototype shuttle orbiter Enterprise's approach and landing tests. It was last used for turnaround operations of the shuttle Discovery following its STS-128 mission that landed at Edwards in 2009. In total, it supported 59 shuttle landings over 32 years, five in the Approach and Landings Tests with the prototype shuttle Enterprise in 1977 and 54 orbital missions after their return from space.
Source: NASA Armstrong Flight Research Center
Published September 2014
Rate this article