Engineering better Army technology (Part 2):
Improving lethality and fires
By David McNally, RDECOM, Aberdeen Proving Ground, MD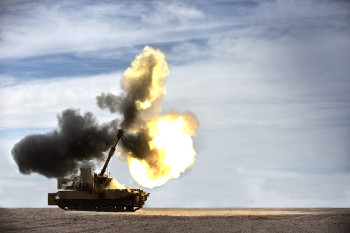 An M109A7 Paladin Integrated Management Howitzer fires rounds during a test at Yuma Proving Ground, AZ. [Photo Credit: David Schacher]
U.S. Army leaders are looking to the future force and seeking to be revolutionary in their thinking about integrating technology, according to current guidance from the Army Chief of Staff Gen. Raymond Odierno.
Department of Defense doctrine describes fires as the use of weapons systems "to create a specific lethal or nonlethal effect on a target. All fires are normally synchronized and integrated to achieve synergistic results," per Joint Publication 3-09.
Army researchers are exploring technology solutions to enable improved lethality and fires. Fire support includes mortars, field artillery, air defense artillery, naval and air-delivered weapons. Successful fire support destroys, neutralizes, and suppresses enemy weapons, enemy formations or facilities, and fires.
Missile research
At the Aviation and Missile Research, Development and Engineering Center (AMRDEC) at Redstone Arsenal, AL, engineers work on programs to help improve fire support and build the Army of 2025 and beyond.
"The Single Warhead for Area and Point, or SWAP, is focused on developing a single warhead that can address both area and point targets," AMRDEC engineer Mike Turner said. "This is a critical technology needed to address the capability gap created by the cluster munition policy and is expected to transition to the Precision Fires Rockets and Missiles Project Office, in fiscal year 2016."
Cluster munitions open in the air and scatter large numbers of explosive sub-munitions, or bomblets, over a wide area. The Department of Defense Cluster Munitions Policy, signed by then-Defense Secretary Robert Gates in 2008, requires that after 2018, the United States will no longer use cluster munitions that result in more than 1 percent unexploded ordnance.
"We are focusing our research on providing the Army with enhanced capabilities that will enable the fires formation to engage targets at extended ranges, under all conditions, while conducting unified land operations in order to destroy tactical to strategic targets and provide fires support for decentralized operations over wide areas," Turner said. "Our investment is critically important if the Army is to remain a viable entity in an anti-access/area denial environment with an organic capability, particularly in light of the cluster munitions policy."
AMRDEC engineers are also researching the Low Cost Tactical Extended Range Missile, which has a longer term focus to develop technologies that enable dramatic range extension and operation in degraded environments such as a GPS-denied environment.
"We will be developing advanced propulsion technologies that will extend the range well beyond 300 kilometers, and novel and unique navigation technologies that will reduce dependence on GPS for precision effects," Turner said.
AMRDEC engineers have historically provided unique solutions to artillery missile requirements, he said.
"The need for increased accuracy led to development of the Guided Multiple Launch Rocket System, or GMLRS," Turner said. "The ability of GMLRS to deliver effects within meters is a huge advantage that has gained notoriety among maneuver commanders."
U.S. Army, U.S. Marine Corps, and United Kingdom forces have fired more than 3,000 GMLRS unitary rounds in combat.
"It is the commander's weapon of choice, engaging time-sensitive targets while minimizing collateral damage and protecting innocent civilians," Turner said.
Advances in technologies are significant, Turner said, and will allow U.S. artillery to "dominate the future battlefield."
"With new efficiencies, we will double the operational effectiveness of existing fire units through increased lethality and range," Turner said. "Enhanced lethality and accuracy creates operational overmatch. The same technology advances required to realize this capability have wide-sweeping implications to the rest of the fires portfolio."
Providing low-cost precision effects without GPS is a significant challenge, Turner said. AMRDEC is focused on lower cost options consistent with current operational tactics, techniques, and procedures.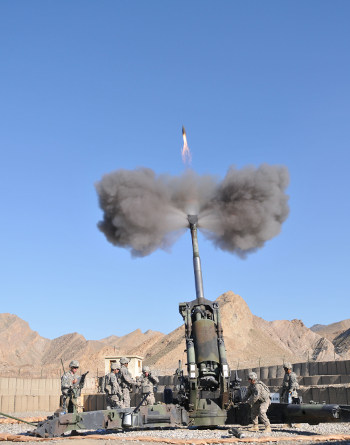 Soldiers from Battery A, 2nd Battalion, 230th Field Artillery Regiment, fire a 155-mm round from an eastern Afghanistan outpost in October 2010. Each member of the team has a specialized role on the M777, which can reach targets up to 13 miles away. [Photo Credit: Sgt. Albert L. Kelley]
Artillery enhancements
At the Armament Research, Development and Engineering Center at Picatinny Arsenal, NJ, engineers are working on the Extended Range Cannon Artillery (ERCA) science and technology program, which aims to regain lethality overmatch to the Army's 155-mm cannon artillery brigades.
"The intent is to provide the maneuvering forces an enhanced capability on the battlefield that will increase lethality at greater stand-off range and thus improve survivability and effectiveness on the battlefield," ARDEC engineer Upendra Patel said. "The final solution will provide full-spectrum coverage of long-range precision fires to the warfighter. Cannon artillery has always played a significant role in all of the nation's conflicts, and the U.S. Army has continued to use 155-mm cannon artillery since World War I."
Operation Enduring Freedom and Operation Iraqi Freedom relied heavily on cannon artillery to provide timely indirect fire support, while minimizing collateral damage. More than 550,000 cannon artillery rounds were called in to directly support units in contact while battling adversaries in harsh desert and mountainous terrains.
"Field artillery will play a larger role in future conflicts due to the new technologies currently being developed which will enable effective engagements of a variety of targets over a wide operational area," Patel said. "Our effort is focused on a holistic system approach of cannon artillery technologies to improve range and rate of fire while maintaining precision."
The program will also develop advancements in novel propulsion and rocket-assisted projectile technologies, while maintaining the current Modular Artillery Charge System and legacy ammunition compatibility for a full extended-range system solution, he said.
ARDEC engineers also face significant challenges because investments in individual technologies will not meet the current capability gaps alone, requiring concurrent investment in multiple technology areas to meet objective capabilities.
"The ERCA Program employs a systems-trades approach to develop complementary technologies for an optimal upgrade solution to existing and objective 155-mm artillery platforms," Patel said. "This approach ultimately offers more functionality and performance than an individual technology area.
"Balancing the relationships between lightweight armament, fire-control, munitions, propulsion, and precision technologies will provide lethality overmatch in GPS-denied environments while reducing cost and risk of investment in individual technologies," he said.
The existing and future fleets of artillery platforms are targeted for technology transition. Transition planning is under way with both the M109A7 self-propelled and M777A2 towed howitzer program offices.
"Affordability must always be a consideration," Patel said. "To that end, the ERCA program will develop technologies with full government intellectual property data rights for transition to artillery acquisition program managers, enabling better buying power. We are also employing advanced modeling and simulation tools and techniques to accelerate technology development cycles and reduce the number of design iterations," Patel said.
Designing user interfaces
While the research centers are working to extend fire-support range and lethality, the U.S. Army Research Laboratory is exploring what it takes for Soldiers to operate systems, both cognitively and physically.
"Today's young Soldiers are largely computer savvy, but they are not without limitations," said Army researcher Charles L. Hernandez, with the Fires Center of Excellence Field Element, Fort Sill, OK. "New systems should not be designed to be so complex as to result in suboptimal employment by the user."
Motor, recognition, and cognition skills are taken into consideration when designing user interfaces, referred to as UIs.
"The focal point for employing most fire-support system-of-systems is the user interface," Hernandez said. "From a handheld or laptop device employed by Soldiers performing sensing and targeting functions on the battlefield, the UI chain moves to a computer with the software and networked communications necessary to perform tactical or technical fire-direction computations to be transmitted to the firing platforms. [Here] the human-in-the-loop chain ends via a digital display on the delivery platform that provides the firing data necessary to employ the fires that have been requested."
Hernandez said the interface at all levels must be designed to provide critical target and targeting information that is accurate and in clear and understandable formats.
"The complexity of the UI component is then therefore addressed by the Human Factors Engineering domain," he said.
Human Factors Engineering explores the integration of human characteristics into system definition, design, development, and evaluation to get the best human-machine performance under operational conditions.
"The emphasis is on full consideration being given to both human capabilities and limitations in the designs of computer-based visual and audio displays that are manifested in graphical user interfaces (GUIs)," Hernandez said.
The end result of this research is GUI information displays that are less cluttered with information and perform more reliably, he said.
Collaboration
Across the Army, Research, Development and Engineering Command scientists and engineers collaborate on common goals.
"We are working with the Fires Center of Excellence Fires - Battle Labs and participating in their war games to provide input to the technology development process and inform them of the ERCA [science and technology] program's battlefield effectiveness, and we also work collaboratively with domestic industry partners to develop high-strength steels, metal matrix composites, novel propulsion, and advanced manufacturing processes," Patel said.
"We have very strong relationships with not only industry and the program executive office, but also the Training and Doctrine Command," Turner said. "All of the concepts and technologies being developed have been vetted through both the Program Executive Office and U.S. Army Training and Doctrine Command communities. This is critical if we are to develop relevant and transitionable technologies to the warfighter."
Published October 2014
Rate this article