Hybrid molding delivers next-gen aerospace parts
Victrex (West Conshohocken, PA) has developed a new PAEK-based polymer and an innovative hybrid molding technology that allows engineers to overmold a PAEK-based composite with fiber-reinforced VICTREX PEEK injection-molding materials.
The polymeric advancement allows engineers to design stronger, lower cost components that are up to 60 percent lighter than typical metal and thermoset systems.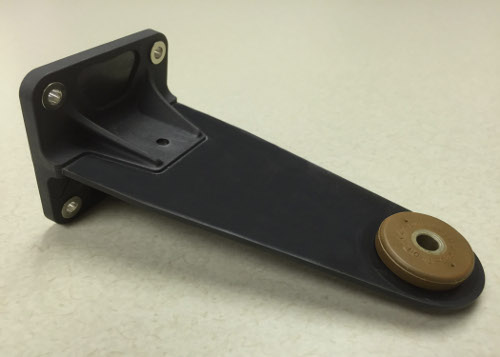 Victrex and Tri-Mack Plastics Manufacturing Corp. have engineered a lighter, stronger aerospace bracket using a hybrid molding technique. The bracket replaces traditional metal-only solutions.
The development of technologies for the aerospace industry is making significant progress not only from a material perspective, but from a processing standpoint as well. Engineers are requiring lightweight, complex parts at lower costs, higher processing efficiencies, and improved mechanical properties. One way that this can be delivered is by using the hybrid molding process.
By working together, Victrex and Tri-Mack Plastics Manufacturing Corp. (Bristol, RI) have engineered an aerospace bracket using this new polymer and technique with the demanding performance requirements of loaded applications in mind. Tri-Mack Plastics is a distinguished molder of high-temperature thermoplastic resins and composites for the aerospace sector that deliver unique structural aircraft solutions.
Commercial aircraft use thousands of brackets from the cockpit to the tail of the plane. The total amount of brackets on an aircraft can add a significant amount of weight -- especially if they are made from metal. The hybrid-molded VICTREX PAEK-based composite bracket is able to deliver up to 60 percent weight savings compared to stainless steel and titanium while offering equivalent or better mechanical properties such as strength, stiffness, and fatigue.
"These technologies are enabling engineers to design lighter, stronger, and more cost-effective solutions like the new bracket," says Tim Herr, Aerospace Strategic Business Unit Director for Victrex. "This game-changing advantage over metals and thermoset composites is a result of our dedication to the future of flight."
Tri-Mack has a long-standing relationship with Victrex in the development of high-performance aerospace components using PAEK polymers. "Given our expertise in the industry, we were excited to use a new polymer and process to develop an innovative product," says Tom Kneath, Director of Sales and Marketing for Tri-Mack. "The design flexibility of the materials, along with the technical support from Victrex, enabled us to engineer and manufacture a PAEK bracket that can be produced in minutes compared to the hours it would take for a metal or thermoset equivalent."
This improvement in manufacturing efficiency translates into less processing time, lower energy requirements, and reduced waste for Tri-Mack. Those benefits, paired with eliminating steps such as edge sealing and X-ray inspections, help to reduce overall part costs. The benefits are not only limited to aerospace designs. The overall mechanical properties, weight savings, and processing efficiencies can offer a step-change for the automotive, energy, and consumer electronics industries as well.
VICTREX PAEK solutions and information on the hybrid molding process for the aerospace market can be found at www.victrex.com. To learn more about Tri-Mack's engineering and manufacturing expertise, please visit www.trimack.com.
Source: Victrex
Published November 2014
Rate this article