Inflatable antennas increase U.S. military agility
By Amy Walker, PEO C3T
Inflatable ground satellite antennas are aiding the expeditionary nature of U.S. and coalition forces, enabling them to achieve high-bandwidth network connectivity anywhere in the world from small deployable packages.
Ground to Air Transmit and Receive (GATR) inflatable satellite antennas are increasing agility and expeditionary nature of U.S. forces. [Photo Credit: U.S. Army photo]
"Many of the conventional satellite terminals previously fielded aren't suitable for some of the more agile transportation requirements of today's deployed Joint Forces," said Lt. Col. Leonard Newman, Army product manager for Satellite Communications, which is assigned to project manager Warfighter Information Network-Tactical, known as WIN-T. "The inflatable satellite antenna is transforming how Special Operations forces and now airborne and other conventional forces deploy high-bandwidth SATCOM around the world."
Future Joint contingencies and support operations are expected to require rapid deployment of smaller-size elements to a wide variety of austere environments, with Soldiers needing to fight on arrival. The lightweight, easily transportable Ground Antenna Transmit & Receive, or GATR, inflatable antenna reduces size, weight, and power requirements over current capability, enabling smaller units to quickly deploy anywhere in the world and achieve high-bandwidth connectivity. The system is made by GATR Technologies (Huntsville, AL).
The antenna can connect Soldiers in remote locations to the Army's tactical communication WIN-T network backbone, as well as support other services and first responders.
For WIN-T users needing at-the-halt access to the tactical communications network backbone, the GATR provides Secure Internet Protocol Router and Non-secure Internet Protocol Router access at the company echelon and small combat outposts.
It also uses the same modems, baseband, encryption, and networks as traditional terminals so they can leverage the existing network and services.
The Marine Corps established contracts to procure and certify the GATR terminal for military Ka- and X-band use. As the Army evaluates its SATCOM terminal portfolio to prepare for future contingencies, it is leveraging the Marine's previous efforts to add these versatile terminals to its own portfolio.
"Gaining access to the full complement of net-centric warfare applications earlier in operations is critical to establishing and maintaining effective command and control," said Jim Sawall, assistant product manager for the Commercial Satellite Terminal Program. "The inflatable antenna technology provides commanders with battalion-strength communications and data links earlier and with significantly reduced logistics burden -- and in situations where previously only company-level communications would have been possible."
Fitting in just two transit cases, the GATR antenna provides the same robust data links as conventional, rigid satellite dishes, but weighs up to 80 percent less.
Its unique, ultra-portable design can provide high-bandwidth communications for transmission of classified and unclassified data, voice, and video, all in a compact, highly survivable package. The flexible ball and dish weigh only 25 lb, making the entire system small and light enough to be transported as checked baggage on commercial aircraft, and once on-site, it can be set up in less than 30 minutes.
The system features a dynamic inflation mechanism that is easy to turn on and off and provides immediate, automatic adjustment to pressure changes caused by environmental factors.
The GATR antenna system also contains a battery back-up system to ensure continuity of operations for at least six hours in the event of power loss. Although satellite acquisition is manual, a brief introductory course makes it easy to point the unit and prepares the operators to successfully deploy it anywhere.
The spherical shape greatly reduces the effect of wind, and a unique cable anchoring system assures stability in winds exceeding 40 mph, and survivability up to 60 mph -- wind speeds that can interrupt connectivity in all other terminals. Moreover, it is suited to perform in the field, with all elements passing environmental testing requirements, Newman said.
The GATR antenna is designed to support the same networks as traditional 2.4-m dishes that require a trailer, vehicle, and four people to lift the transit cases. The Army is also looking to introduce a larger 4-m version of the inflatable antenna for data transport both within and beyond theater.
By deploying a 4-m antenna in as few as three cases, Soldiers can augment, or in some cases replace, existing vehicle-size infrastructure to enable more nimble operations from the hub level down to the tactical user.
Instead of requiring a cargo pallet or vehicle-size transport container, Soldiers can move critical, large aperture communications gear to or around the battlefield in a High Mobility Multipurpose Wheeled Vehicle, light tactical vehicle, small helicopter, etc. -- greatly increasing the expeditionary nature of today's forces, Newman said.
"The GATR allows you to deploy high-bandwidth communications anywhere in the smallest possible package," he said.
Designfax sidebar: How it works
GATR's technology is elegantly simple. The ball-shaped antenna is a two-chambered inflatable sphere (or radome) made of sail material and nylon mesh. Inside the sphere, a satellite dish made of a flexible, reflective, composite material is aligned at the center. The dish effectively divides the orb's interior into two chambers. When the antenna is being inflated, the dish takes on a parabolic shape through the application of additional pressure to the front chamber. This additional pressure pushes the dish back into a familiar dish antenna shape.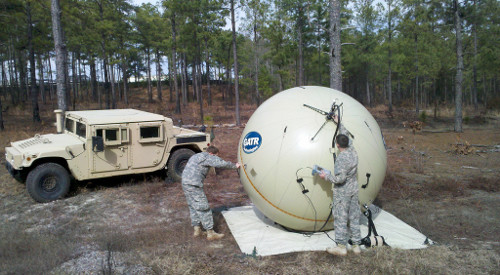 [Image courtesy: GATR Technologies]
To set up a GATR antenna, the ball is inflated using a device that comes standard with a purchased system. Once inflation is completed, and the dish shape is achieved, a radio-frequency (RF) transceiver mechanism that includes a transmitter, receiver, amplifier, and modulator is mounted by the user to the ball. The transceiver is made from off-the-shelf components that have been customized to GATR's requirements. Powered by a generator, batteries, solar, or available electricity, the dish and transceiver work in tandem (like conventional satellite dish-transceiver configurations) to transmit and receive data through satellite relays.
It is important to position the technology properly so the satellite can relay transmitted and received signals. Not only can the GATR antenna be transported just about anywhere, it can be pointed with ease, since the ball can be rotated easily until a signal is acquired. A patented cabling system and hold-down plates enable the antenna to be adjusted in any direction when pointing, and once locked into position the unit can withstand near-hurricane-force winds (up to 60 mph) when properly secured. The cables are attached to the hold-down plates before inflation to ensure that the antenna doesn't fly away or become unruly during setup in windy conditions.
GATR Technologies employees pride themselves on the antenna's portability and ease of use, which are designed to help the warfighter and emergency relief crews, according to GATR president Paul Gierow. GATR sells its systems with the expectation that a working unit can be fully assembled in less than an hour. In field tests, the company has achieved assembly in as few as 24 minutes.
GATR's products also offer attractive cost benefits. A typical single-band terminal sells for about $120,000 to 130,000. Competing rigid dish satellite communication terminals can cost about two to three times as much ($250,000 to $300,000 each) and are eight to 10 times the package volume (eight to 12 large cases weighing up to 2,000 lb).
This main article (no Designfax sidebar) appears in the January/February 2015 issue of Army Technology Magazine, which focuses on sensors research.
Published January 2015
Rate this article