Wheels:
3D-printed Shelby Cobra born from giant additive manufacturing machine, raised in six weeks
By Mike Foley, Designfax
Editor's note: Please watch the first video. Very informative.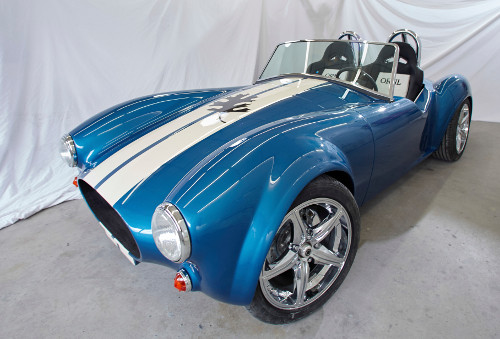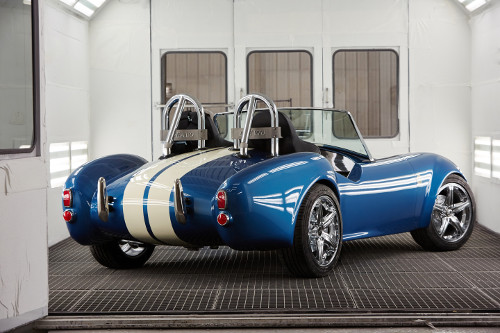 All images courtesy ORNL.
It took six weeks for designers, engineers, and finish techs at Oak Ridge National Laboratory (ORNL) to put together a working 3D-printed Shelby Cobra replica. If you think that's a little nuts, well, it is -- just about the gestation period of a gray squirrel.
The bright blue sports car, a celebration of the racing car's 50th anniversary, was hurriedly prepared in the short term for a debut at the 2015 North American International Auto Show in Detroit this past January.
In the long term, the feverish efforts produced a working lab on wheels that aims to become a plug-and-play testbed for new engine, fuel cell, and battery technologies; hybrid system designs; and power electronics and wireless charging systems. Multimaterial joining, additive manufacturing development, and final-finish of 3D-printed materials are also development focal points. For now, the car features TM4's MOTIVE electric powertrain system, consisting of the HSM120 motor and CO150 inverter.

Video: ORNL Shelby Cobra replica 3D-printed car. If you are having trouble viewing the video, please click here.
Researchers printed the car at the Department of Energy's Manufacturing Demonstration Facility at ORNL in Tennessee using the Big Area Additive Manufacturing (BAAM) machine, which can manufacture strong, lightweight composite parts in sizes greater than 6 ft x 12 ft x 2 ft. The approximately 1,400-lb vehicle contains 500 lb of printed parts made of 20 percent carbon fiber. ORNL says the 500 lb of carbon fiber/ABS material cost $2,500. The shell, chassis, the passenger monocoque, the grill, and the headrest brackets were 3D printed. The headrest brackets were printed using a titanium composite, and the grill was printed with polymer materials.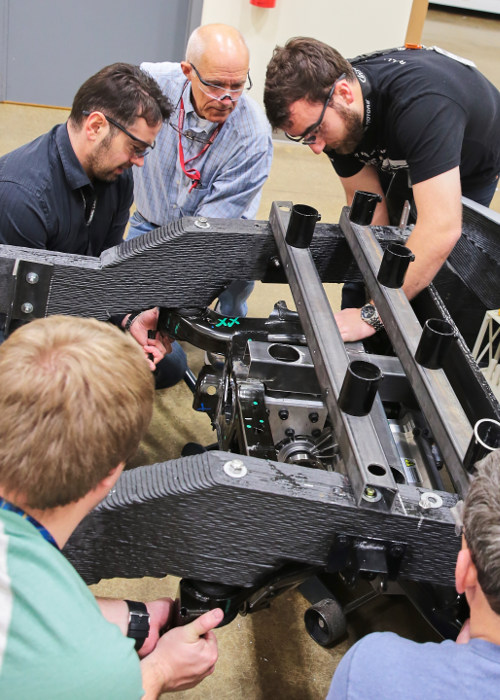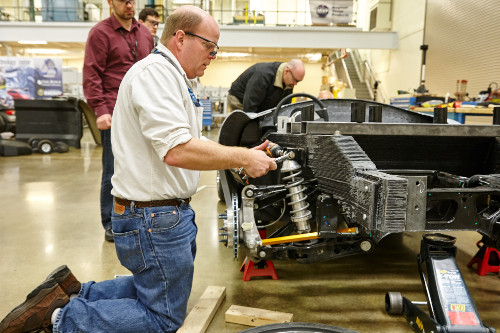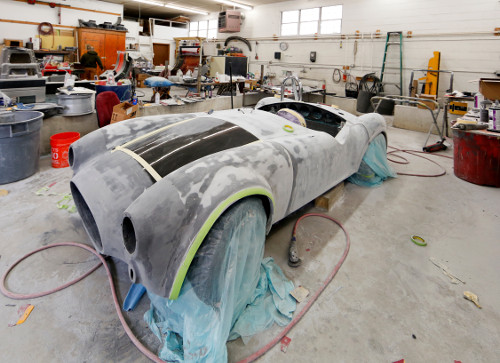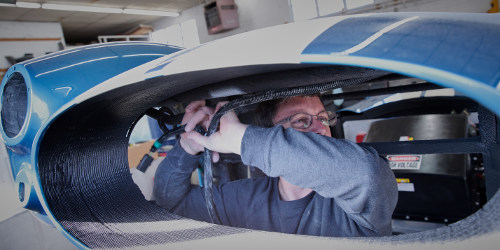 Cincinnati Inc., a metal fabrication juggernaut for more than 100 years, teamed up with ORNL to develop and commercialize the BAAM system that can print components 500 to 1,000 times faster than many of today's industrial additive manufacturing machines can print small parts. ORNL researchers say the speed of next-generation additive manufacturing offers new opportunities for the automotive industry, especially in prototyping vehicles. The BAAM machine has a 6.6 ft x 13.1 ft x 2.9 ft build envelope and is scalable, with the biggest near-term future platform envisioned to be 20 ft x 10 ft x 8 ft. That is huge, when you consider that a 3-ft3 build envelope is thought to be large these days.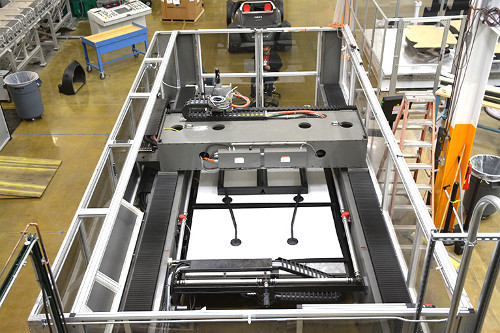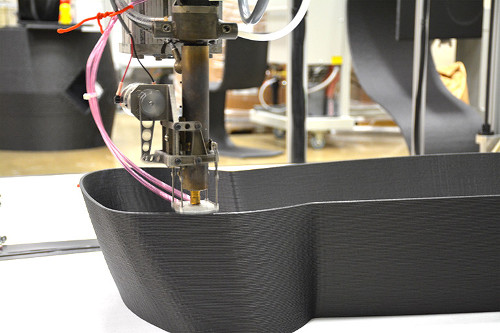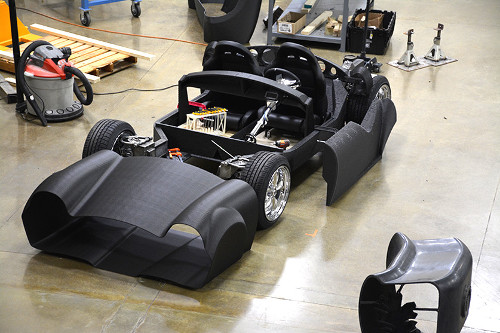 But how can the big machine print and cure material faster than a smaller traditional one? Now that is interesting. The answer is two-fold.
First, the machine prints with a big nozzle, so more material is heated and extruded (but not anywhere near as precisely). A typical fused-deposition modeling (FDM) machine has a 0.020-in. nozzle. The ORNL machine uses a 0.2-in. one. Because of the nozzle size, the parts come out with a distinct, slightly ribbed finish. That is one of the tradeoffs for the incredible 35-lb/hr print speed -- finish accuracy.
The other difference is the material. Instead of using a line of plastic or ABS filament like most 3D printers use, the ORNL machine uses a mixed plastic-and-carbon-fiber material that comes in pellets. Carbon fiber is 20 percent of the mix and greatly reinforces the material, so it can be formed lighter and stronger. The print head of the BAAM system combines melting, compounding, and extruding. Parts are ready extremely fast, even if they are large. There is no heated build envelope like in FDM.
ORNL says that its Shelby Cobra main parts (carbon fiber/ABS) took a total of 24 hours to print using the BAAM system.
But the Shelby Cobra project took the whole finish-work process to a new level, because these types of parts made of these materials had never been finished to this degree before -- that is, showroom ready. All of the parts on the Cobra were finished by Knoxville-based TruDesign using sand, filler, primer, and standard automotive paint (BASF base/clear). TruDesign did the Class A Shelby finishing in stages over the course of two weeks.
ORNL has fine-tuned the nozzle on its print head from 0.3 in. to 0.2 in., so material is coming out finer and -- in the case of the Shelby Cobra -- the main body did not need rough machining from the milling component of the BAAM machine itself (more on that later).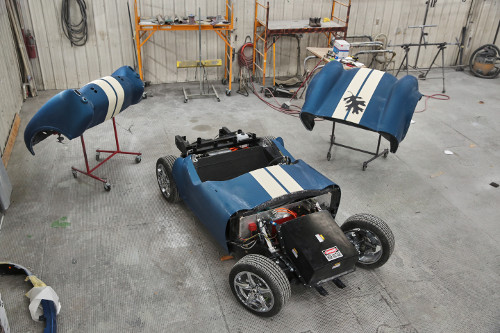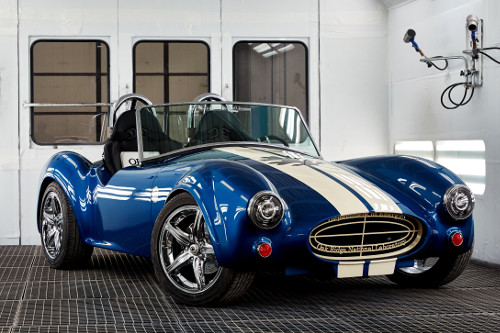 "Our goal is to demonstrate the potential of large-scale additive manufacturing as an innovative and viable manufacturing technology," said Lonnie Love, leader of ORNL's Manufacturing Systems Research group. "We want to improve digital manufacturing solutions for the automotive industry."
"You can print out a working vehicle in a matter of days or weeks," Love said. "You can test it for form, fit, and function. Your ability to innovate quickly has radically changed. There's a whole industry that could be built up around rapid innovation in transportation."
The Shelby project builds on the successful completion of the Strati, a 3D-printed vehicle created through a collaboration between Local Motors and ORNL that was a big hit at last year's IMTS show in September. The Local Motors Strati car was a totally different project. That boxy car was printed on the show floor and had nowhere near the final finish of the Shelby Cobra project, which just goes to show you how far the whole technology has come in an incredibly short amount of time.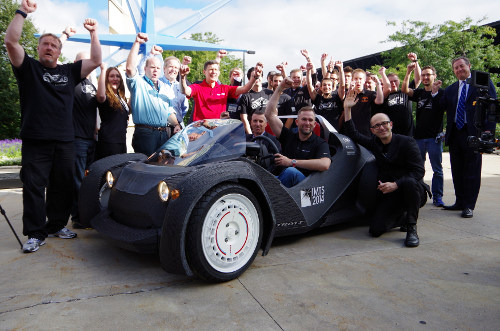 The Strati, billed as the world's first 3D-printed car, debuted at IMTS 2014. Note the rough surface finish left by the 0.3-in. large BAAM system print nozzle. [Photo: Business Wire]
A look at a video update that Local Motors posted in January 2014 (directly below) when the project was just in the early test phase gives some insight into the process for printing their IMTS Strati car using the ORNL printer and its original bigger nozzle. (See how much less control of final part dimensions that bigger nozzle provides?) In it, Alex Fiechter, head of R&D and community management at Local Motors, explains how the printer first lays down the basic form of the polymer/carbon fiber part quickly and then the part can be machined out using a secondary function in the BAAM system to produce an even-more-finished result if needed.
Local Motors also says that it is investigating using ULTEM with carbon as one possible material and ABS with carbon as another.
A quick note about the BAAM system's machining capabilities. What is neat about the BAAM machine is that it also has a rough machining head for material removal if needed, which it was for the Local Motors example that used the bigger 0.3-in. nozzle in the video above. On one hand, the system can plop out rough parts quickly in all kinds of interesting lines, forms, and part thicknesses, but then it can mill them in a secondary process. Once the 3D part is printed in the rough, it can be machined to needed tolerance/specifications.
ORNL says the other big area it is exploring by using the BAAM system is in creating tooling. This is where the BAAM system's quick printing and extra milling/machining functions really shine.
According to Love, the capability of this machine to produce tooling -- and not particularly standardized "parts" -- is its big breakthrough. "We have already made and tested large metal-forming tools for the aerospace industry," said Love.
Using the BAAM system, you can quickly print out a basic mold and then mill it to final shape/tolerance fast. The final product is extremely durable, too. It is estimated that a mold created from aluminum or steel using traditional methods can cost $100,000 or more and take months to make. Using the BAAM system, the mold can end up costing a few thousand dollars and could be completed in a couple of days.
The Shelby Cobra project was funded by the Advanced Manufacturing Office in DOE's Office of Energy Efficiency and Renewable Energy and ORNL's Laboratory Directed Research and Development program.
UT-Battelle manages ORNL for the Department of Energy's Office of Science.
Sources: ORNL, Local Motors, Cincinnati Inc.
Published February 2015
Rate this article