Wheels:
Drawing the line on forklift tire life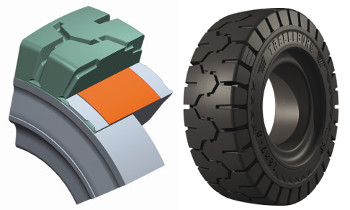 At first glance, the Pit Stop Line from Trelleborg Wheel Systems is just a thin orange band hiding inside a solid rubber tire. But for the forklift industry, the Pit Stop Line represents a new era in tire management -- maximizing tire life, raising productivity, improving safety, and reducing environmental impact. Trelleborg is the world's largest producer of solid tires typically used on forklift and other materials-handling applications.
Trelleborg's Pit Stop Line is developed to end the uncertainty about when to replace a solid tire, and it does this in the simplest way possible: visually. The orange line appears on a tire when it wears down; telling the operator there is an estimated tire life of 80 to 100 working hours remaining. This gives ample time for tire replacement to be scheduled when it is most convenient for the user.
To replace a solid tire on a forklift in a busy factory, warehouse, or worksite means taking a valuable machine out of service for a period of time. If tire replacement can be incorporated with planned maintenance routines, it delivers users two huge benefits: It minimizes the length of time forklifts are out of service, and it avoids taking machines out of service prematurely for tire replacement. Both scenarios cost time and money. With millions of forklifts in service globally, this new tire feature has the potential to offer considerable savings and efficiencies for owners and operators of forklift fleets.
Interestingly, Trelleborg's main focus is getting the most out of every tire by maximizing its work life. The Trelleborg design team analyzed thousands of used solid tires and discovered that they had on average been replaced with around 25 percent of residual use still in them. That's a huge waste of materials.
Gianluca Abbati, Research and Development Director at Trelleborg Wheel Systems, says, "Many people judge when to replace their solid tires based on their experience of, and the rules applied to, car tires. Lots of users think the rules are the same and that tread-pattern wear for replacement of solid tires is the same as on pneumatic tires. In fact, the two products are very different and cannot be compared."
When the tread pattern on a solid tire disappears, it may be only 50 percent worn and can continue to perform well beyond the point where a treaded road tire would need to be changed. The Pit Stop Line completely removes that misconception and ensures that tires are used for their whole life, giving customers maximum value and machine uptime.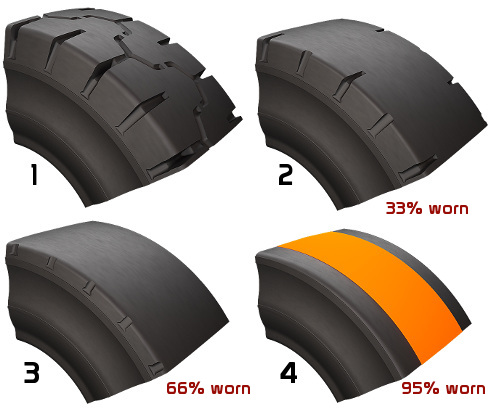 The design team took 18 months to develop the Pit Stop Line feature from concept to production, utilizing rigorous testing. At a manufacturing level, the challenge was to create the orange pigment band of the correct thickness in a specific position within the tire -- a challenge made more difficult by the size variations of the Trelleborg range of tires.
"As well as being consistent in position, we had to be certain that the band would not adversely affect tire performance," says Abbati, outlining the underlying challenge of ensuring performance. "As a key supplier to leading global OEM forklift producers, we have to be 100 percent certain that our products will continue to deliver industry-leading performance to their customers."
For users, there are many obvious benefits. Abbati says that being able to use a tire for its whole life has a direct effect on costs in reduced downtime and longer maintenance intervals as well as savings on tire replacement and service costs. The Pit Stop Line can reduce running costs in excess of 20 percent.
There are other benefits to be gained, including safety. The incorporation of the orange line helps to simplify tire inspection routines by giving a clear indication of tire condition. It supports the ETRTO (European Tire and Rim Technical Organization) Manual recommendation on tire safety and will make it possible, for the first time, to have 100 percent-accurate tire safety checks. The Pit Stop Line helps prevent tires being replaced too late as well as too early. This is particularly relevant for the 3 to 5 percent of people who use tires well beyond the safe wear limit. Such users "risk accidents and damage to the forklift," Abbati says, as the truck clearance with the ground becomes too small.
Another clear advance is the reduced impact on the environment by maximizing the life of the tires. This means fewer raw materials are used and less waste is created. It also means reducing the impact of transportation, packaging, and more. Trelleborg estimates that globally as many as 400,000 fewer tires could be required, adding up to an industry-wide reduction of 1,900,000 kg of CO2 annually from transportation.
This deceptively simple concept contributes to safety, is cost effective, and ends the uncertainty about when a tire really has reached the end of the road. Deceptively simple, maybe, but as another Italian innovator, Leonardo da Vinci, once said, "Simplicity is the ultimate sophistication."
Source: Trelleborg Wheel Systems
Published February 2015
Rate this article