Little oil-free linear compressor aims to take refrigerator tech to next level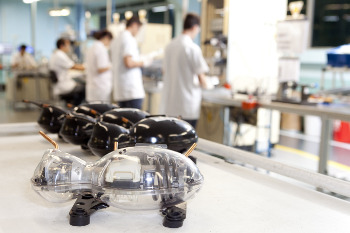 The WISEMOTION linear compressor from Embraco is designed using smart electronics and mechanical parts coated with a technology capable of eliminating the use of lubricating oils in the equipment.
The Department of Energy's Oak Ridge National Laboratory and Whirlpool Corp. are collaborating to design a refrigerator that could cut energy use by up to 40 percent compared with current models.
The goal of the cooperative research and development agreement, or CRADA, is to make a next-generation household refrigerator more energy efficient by using WISEMOTION, an innovative linear compressor manufactured by Embraco, and other novel technologies and materials.
In the 1970s, the average refrigerator used approximately 4 to 5 kilowatt hours (kWh) per day; today's models average about 1.5 kWh/day. The result is massive utility savings for consumers, and ORNL and Whirlpool will further that innovation with the goal of building a refrigerator that consumes less than 1 kWh per day.
"If every refrigerator in the U.S. were replaced with the advanced refrigerator design, the projected primary energy savings would be 0.56 quads per year -- the equivalent of 100 million barrels of oil," says Ed Vineyard, director of ORNL's Building Technologies Research & Integration Center.
The team will redesign a refrigerator to incorporate a linear compressor, which reduces energy losses by continuously matching the compressor pumping rate to the refrigerator's cooling requirements. Associated components will provide additional efficiency gains.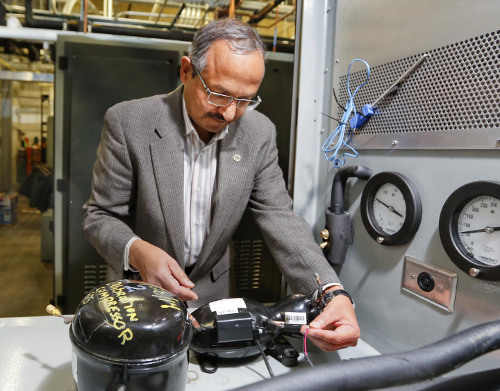 ORNL's Pradeep Bansal examines an Embraco linear compressor, which will be used in a Whirlpool-ORNL project aimed at building a more energy-efficient refrigerator. [Credit: ORNL]
Together, these features could cut refrigerator energy use by approximately 40 percent, which would translate into an estimated $26 savings per year on the average consumer's electricity bill.
WISEMOTION technology
Embraco touts WISEMOTION's technology as "the first oil-free compressor for residential applications." The WISEMOTION linear compressor is designed using smart electronics and mechanical parts coated with a technology capable of eliminating the use of lubricating oils in the equipment. The only moving part, one single bearing, uses the refrigerant gas itself for lubrication. The refrigerant gas both cools and lubricates.
Key benefits include:

Cold that preserves. With WISEMOTION, it is possible to obtain minimal temperature differences inside the refrigerator. For the consumer, this benefit contributes to reducing food waste, because it maintains the precise temperature for maximum preservation of products.
Silent. The usual "on and off" noise of traditional refrigerators is imperceptible.
Energy savings. WISEMOTION can produce energy savings of over 20 percent in refrigeration systems when compared to most commercialized compressors in the global market.
Compact and eco-friendly. WISEMOTION is about 3.94 in. lower and uses approximately 50 percent less raw material than conventional compressors. That means it can free up to 20 liters of cabinet space. It's also more economical with respect to the refrigerant charge by approximately 20 percent when compared to traditional equipment.
Versatile. Compressors using oil-free technology can be installed in different locations within the refrigeration system. This allows the creation of refrigerator cabinet designs beyond traditional shapes.
Project backgrounder
The ORNL building technologies staff draws on nearly four decades of experience working with appliance manufacturers, as well as advanced expertise in heat transfer, alternative refrigerants, and insulation materials. The project will make use of the Building Technologies Research & Integration Center (BTRIC) user facility at ORNL, including resources at the Maximum Building Energy Efficiency Research Laboratory (MAXLAB).
The three-year project is supported by the Buildings Technologies Office in DOE's Office of Energy Efficiency and Renewable Energy.
Sources: Embraco, ORNL
Published March 2015
Rate this article