Wings:
Army engineers define future vertical lift aviation fleet
By Dan Lafontaine, RDECOM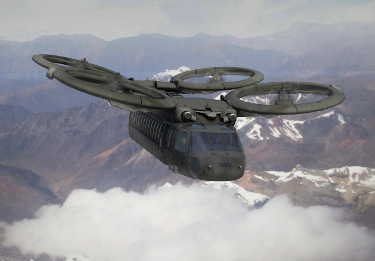 Artist conception of future Army rotorcraft. [Photo Credit: U.S. Army graphic by AMRDEC VizLab]
The U.S. Army science and technology community is charting the future of military vertical lift aviation that will enable warfighters to accomplish missions not possible today.
The Army, supported by NASA and the Navy, is combining its areas of technical expertise to accomplish the aggressive scientific and engineering goals necessary to develop a new fleet of joint aircraft, said Ned Chase, deputy program director of science and technology, or S&T, for the Joint Multi-Role Technology Demonstrator/Future Vertical Lift, also known as JMR TD.
JMR TD has been established to address several of the capability gaps that cannot be satisfied by updating the current fleet.
"Let's figure out what we want this new aircraft to do, and let's go out and prove that we have the technologies available to meet those requirements. That's what we're doing with JMR TD," said Chase, with the Army Aviation and Missile Research, Development and Engineering Center, or ARMDEC, on Fort Eustis, VA.
The Department of Defense is using JMR TD to design and integrate the technologies that will eventually feed into the Future Vertical Lift, or FVL, and replace the military's vertical lift fleet with a new family of aircraft.
Leveraging expertise from across Army S&T
The Aviation and Missile Research, Development and Engineering Center, or AMRDEC, one of seven centers and laboratories that make up the U.S. Army Research, Development and Engineering Command, also known as RDECOM, is leading the S&T effort.
Chase and his team are working closely with fellow scientists and engineers within RDECOM to conceptualize research and design the many technologies that will be necessary for this future vertical lift capability.
AMRDEC will leverage its expertise in aviation; however, the team will rely upon its peer organizations for the complementary pieces. For example, RDECOM's Communications-Electronics Research, Development and Engineering Center at Aberdeen Proving Ground, or APG, is the expert in areas such as communications systems, sensors, and cameras, he said.
"The one thing that we've not done in quite a long time was demonstrate that we can build an aircraft from scratch that incorporates the individual technologies that we've been working on the past 25 years," Chase said. "We have the capacity across AMRDEC to populate the aircraft with the right components -- engines, rotors, structures, flight controls.
"We want to put together a roadmap to develop the radios, weapons, sensors, and survivability equipment by drawing from RDECOM in preparation for FVL. We take their products and integrate them onto the platform itself. FVL is going to reflect the aggregate of RDECOM investment."
Charles Catterall, AMRDEC lead systems engineer, has worked to develop an S&T integrated product team to build an investment strategy across RDECOM.
"We are engaging our sister organizations within RDECOM. What can the command do to support this program? What resources can be brought to bear to facilitate and support this Future Vertical Lift initiative with technologies? Given a clean sheet, could you bring additional capabilities to bear? We're looking across the command," Catterall said.
Catterall said JMR TD has two components: the air vehicle demonstration, or AVD, and mission systems architecture demonstration, or MSAD. Two contract teams -- Sikorsky-Boeing and Bell Helicopter -- are responsible for the design, analysis, fabrication, ground testing, and, ultimately, flight testing of the demonstrator aircraft.
The industry proposals for FVL include the capability to carry a payload of 12 troops and four crew, hover out of ground effect at an ambient condition of 6,000 ft and 95 deg F, and self-deploy 2,100 nautical miles at a speed of at least 230 knots.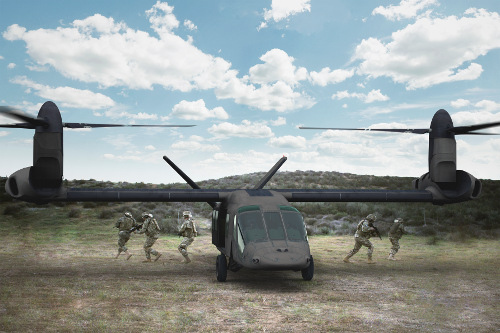 The tiltrotor V-280 Valor aircraft is Bell Helicopter's vision of the future as it prepares for flight demonstrations for the U.S. Army in 2017. [Photo Credit: Artist's rendering courtesy Bell Helicopter]
The MSAD portion will integrate technology concepts from across RDECOM, as well as the Department of Defense, into an open, efficient, effective, and enduring architecture.
The MSAD initiative will develop a standard reference architecture that can be used as the basis for design and implementation of an avionics architecture. This will enable hardware and software reuse across multiple mission design series aircraft and multiple vendor implementations, Chase said.
The knowledge, standards, processes, and tools necessary to design and implement such a mission systems architecture that is affordable will be used to inform the government's generation of requirements for the anticipated FVL program.
Chase said that a major challenge for DoD scientists and engineers is to develop their specific pieces of technologies, whether that be sensors, weapons, cameras, or crew systems, and ensure they function correctly within a much more demanding future aviation environment than exists today.
"This future fleet will be faster and go farther. We're trying to ensure that the other [research centers] understand how the aviation environment and constraints change when we go from flying aircraft at 130 knots to 250 knots," Chase said. "The environment we're creating for weapons, sensors, and radios is much different with FVL than the current fleet. FVL will operate in a different performance regime."
Army leads joint aviation program
Developing a joint aircraft instead of a separate version for each service is expected to save time and money in technology development, training, maintenance, and logistics, Chase said.
There are four classes of aircraft that have been identified for the fleet: light, medium, heavy, and ultra.
"We want to develop technology applicable to each of the four basic aircraft of the FVL family, and then populate them with the mission equipment that is required to satisfy each of the service's missions," Chase said. "You're working from the same framework of requirements and technologies.
"You don't have to do individual technology developments for every single class of aircraft in the fleet. It's about efficiency of investments, costs, and logistics."
Working with NASA and Navy scientists and engineers brings complementary expertise to the project, he said. Significantly different missions among the services require different skill sets among the aviation subject-matter experts.
"Because it is a joint requirement, it drives you to having a joint team. We have a mixed team to address a comprehensive requirement that neither the Army nor Navy S&T enterprise might be capable of solving entirely by itself," Chase said.
"The Army operates across land, and we have specific missions: air assaults, attack, and reconnaissance. The Navy has a different challenge with operating on the ship, which drives the space that an aircraft can fit on and be maintained in. The Marines Corps has an expeditionary mindset where extended range is extremely important."
First flight testing is expected in summer 2017. The technologies to be integrated onto the platform should be at technology readiness level 6, or a prototype level, between 2022 and 2024.
While government agencies such as the Defense Advanced Research Projects Agency (DARPA) build single-purpose aircraft, Chase emphasized that the goal of JMR TD is to develop a fleet that will achieve several stringent goals.
"We're in pursuit of several aggressive individual requirements that in the aggregate is something way beyond what we can do today," Chase said. "We have to be able to operate all over the world, in any kind of environment, across a speed spectrum that allows us to do our mission anywhere, anytime."
Tilt-rotor technology
Also under examination is the potential use of tilt-rotor aircraft technology such as that currently used for the V-22 Osprey; with this design, the aircraft can reach high speeds in airplane mode and then maintain its ability to hover successfully in helicopter mode.
One of the options being taken up through this effort is the exploration of multi-speed transmission capability, a unique configuration designed to increase speed while avoiding the aerodynamic phenomenon of transonic shock.
New materials
In addition, the new air vehicle may contain composite materials and or items now in development.
Increasing air-vehicle speed can shorten the response time for these extended missions or combat radius, a critical necessity for saving lives through MEDEVAC operations, and getting supplies such as food, water, and ammo to forward-positioned forces.
"Current helicopter systems are designed to operate for about two hours without refueling. Typical cruise speeds of 140 knots limit the range that these aircraft can operate in," said Mac Dinning, AMRDEC aviation liaison for the Office of the Assistant Secretary of the Army for Acquisition, Logistics, and Technology.
Short of off-loading payload (troops, weapons, cargo) to add extra fuel bladders, extended-range operations must rely on forward-arming and refueling points, or FARPs, where fuel and armaments are prepositioned.
"The Army recognizes the need to reduce the manned footprint of these forward operation positions," Dinning said.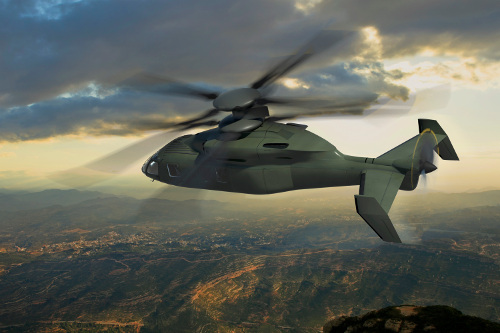 Sikorsky and Boeing have worked together on their offering for the U.S. Army's joint multi-role technology demonstrator called the SB-1 Defiant. [Photo Credit: Artist's rendering courtesy SikorskyBoeing]
SIDEBAR: Sikorsky, Boeing propose X2 rotorcraft design for U.S. Army's future vertical lift requirements
Sikorsky Aircraft Corp. and Boeing have submitted a joint proposal to build a demonstrator aircraft, based on Sikorsky's X2 Technology rotorcraft design, for the U.S. Army's Joint Multi-Role (JMR) Technology Demonstrator (TD) Phase 1 program.
The JMR TD program supports the Army's Future Vertical Lift initiative to deliver the next generation of vertical lift utility and attack aircraft. The X2 Technology program began in 2005 when Sikorsky first committed resources and full funding for the program's development. The X2 Technology demonstrator combines an integrated suite of technologies intended to advance the state-of-the-art, counter-rotating coaxial rotor helicopter. It is designed to demonstrate a helicopter that can cruise comfortably at up to 250 knots while retaining such desirable attributes as excellent low-speed handling, efficient hovering, and a seamless and simple transition to high speed.
"The Sikorsky and Boeing proposal will demonstrate how X2 Technology, with its counter-rotating coaxial main rotors, pusher propeller, and advanced fly-by-wire system, will deliver efficient 230-knot cruise airspeed, improved hover efficiency, and weight-optimized design in an affordable package," said Samir Mehta, president of Sikorsky Military Systems. "By leveraging our proven design, we can offer the Army reduced risk, a 100-knot improvement in speed, a 60 percent improvement in combat radius, and 50 percent better high-hot hover performance."
Leanne Caret, vice president and general manager of Boeing's Vertical Lift division, said that Sikorsky has taken the lead role in the JMR TD Phase 1 proposal and Boeing will take a lead role for Phase 2, the mission systems demonstrator program.
Demonstrator aircraft are expected to fly in 2017.
Source: Sidebar source is Sikorsky Aircraft Corporation/Boeing.
Published April 2015
Rate this article