Efficient, powerful, compact: Hypoid PMDC gearmotors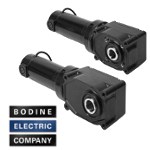 More efficient than comparable worm-gear models, Bodine's new hypoid gearmotors can deliver up to 1,535 lb-in. (173 Nm) torque while using 40% to 60% less energy than a same-size worm gearmotor. Side-by-side tests have shown that hypoid gearmotors can run as much as 15% cooler than worm-gear gearboxes, resulting in lower power consumption and longer lubricant life. The hollow-shaft design eliminates expensive shaft couplings and mounting hardware. Hardened steel gears ensure long life and maximum performance. The initial product launch includes 60 standard models with gear ratios from 5:1 to 240:1.
Learn more.
---
New flexible, food-grade soft gripper handles tricky pick-and-place jobs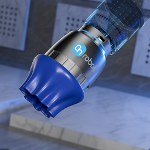 Automation just got easier for food and beverage and other "clean" applications. The flexible, electric OnRobot Soft Gripper uses three interchangeable silicon-molded cups in star and four-finger configurations to pick up almost any small object under 2.2 kg with a delicate, precise touch. One great feature is that no external air supply is needed.
Read the full article and see how it works.
---
Ideal for boost mode: Disc Magnet stepper motor + encoder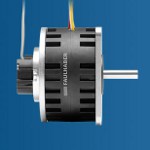 High resolution meets impressive speed when a FAULHABER Disc Magnet stepper motor is combined with a high-quality IE3 magnetic encoder. With an extended length of about 13 mm, this new combination offers high positioning resolution up to 1,024 lines per revolution together with extremely fast acceleration capabilities in a short and light package. It is ideal for boost-mode operation. Typical applications are found in the textile, semiconductor, and medical industries.
Learn more.
---
Smarter retail logistics with self-driving robot retrieval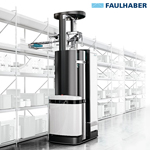 Small motors and motion controllers from FAULHABER are what make the TORU picker robot so versatile. With an eye on the relentlessly growing sector of online retail, logistics and material-handling companies are eager for ways to increase efficiency, particularly through automation and digitalization. For the handling operations inside the self-driving logistics robot, TORU relies on FAULHABER motion systems with integrated motion control.
Read the full article.
---
Explosion-proof DC brush motors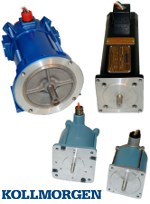 The Kollmorgen EP series of explosion-proof, SCR-rated, permanent magnet direct current (PMDC) brush motors meets the requirements of Division 1 and 2, Class I (Group C, D), Class II (Groups E, F), and Class III environments. The EP motors are equipped with standard NEMA 56C face mounting with removable base and Class H insulation. They are UL recognized and meet CSA standards. Available in several voltages (12, 24, 90, 180 VDC) and power ranges (1/4 to 3/4 HP) operating at 1,750 rpm.
Learn more.
---
Budget-friendly SmartMotor servos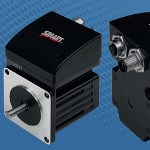 Moog Animatics recently introduced the Class 5 S-Style SmartMotor servos in frame sizes NEMA 23 and 34 (the SM23165S and SM34165S, respectively). This fully featured and integrated motor line is built around an IP65-sealed, value-added, budget-friendly design that combines some of the best features from the Class 5 D-style and M-style motors, including: field-proven, D-style components; robust, industry-standard M connectors; a compact D-style footprint; and DE power as standard. This line is easily programmed and available with optional brake (ideal for vertical applications) and high-torque versions. These motors have full Class 5 controls, which means they can handle the full complement of complex Class 5 operations such as gearing and camming, stand-alone, multi-axis coordinated motion, and more.
Learn more.
---
Introducing the long-reach C12XL 6-axis robot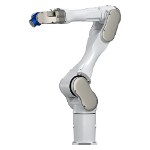 Packed with next-gen technology, the C12XL 6-Axis robot with SlimLine design is the newest addition to Epson's popular C-Series. Featuring a 1,400-mm reach and up to 12-kg payload, the C12XL is ideal for a variety of applications including packaging, load/unload, material handling, and more. Powered by proprietary Epson gyro sensors, the powerful servo system allows for low residual vibration and minimizes overshoot with smooth end-of-arm motion.
Learn more.
---
Direct drive linear motor with integrated encoder and temperature sensor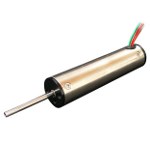 The new, patented SDLM-019-070-01-01 direct drive linear motor with integrated position and temperature sensors is the latest addition to the series of zero-backlash, zero-cogging, high-acceleration, high-speed, high-resolution, long-life motors from Moticont. Also known as an electric cylinder, this compact direct drive linear motor is just 0.75 in. (19.1 mm) in diameter and 2.75 in. (69.9 mm) long. Protected inside the motor housing, the linear optical quadrature encoder is directly connected to the shaft for the greatest possible accuracy. Highest throughputs are achieved by this motor when operating at peak efficiency, monitoring the data from the internal temperature sensor.
Learn more.
---
50,000 lb of force: Tolomatic expands hydraulic-class electric actuator range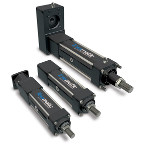 Tolomatic's expanded extreme-force electric actuator family now includes the RSX128 actuator, rated up to 50,000 lb of force (222.4 kN). Ideal for replacing hydraulic cylinders and designed for 100 percent duty cycle, the RSX actuator features Tolomatic's precision-ground planetary roller screws for long, consistent operating life in challenging environments. Applications include assembly, metal fabrication (pressing, punching, clamping), automotive manufacturing, timber processing, motion simulators, and more.
Learn more.
---
Depend on FAULHABER drives for critical medical applications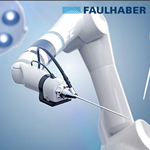 Surgical robotics systems offer an overwhelming advantage over traditional methods: improved precision and speed, faster patient healing, and a reduced margin of error. For minimally invasive procedures requiring this level of precision, performance and quality, the engineers of surgical robotics systems rely on FAULHABER brushless dc motors.
Learn more.
---
Brakes for automated guided vehicles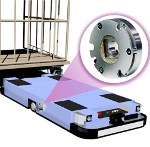 Today's latest automated guided vehicles (AGVs) require highly responsive braking and holding power while minimizing battery usage. The Miki Pulley BXR-LE brake is a power-off engaged brake that will hold the AGV in place when not in use. When the AGV must navigate the production floor, the brake is energized, which disengages the rotor disc and allows free rotation of the AGV drive wheels. The BXR-LE brake uses 24 VDC for a split second to overcome compression spring inertia to open the brake, then consumes only 7 VDC by utilizing the BEM power control module. This saves battery power and minimizes the number of battery recharging operations needed to keep the AGV in continuous operation.
Learn more.
---
Tolomatic develops open-source, low-cost ventilator actuation prototypes for COVID-19 patients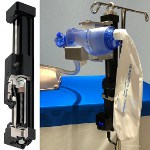 Tolomatic has applied its linear motion expertise to develop prototypes of a new type of ventilator that uses an electric linear actuator to automate a non-invasive, positive-pressure resuscitator known as an Ambu bag. The company is looking for partners to develop this equipment to help fight COVID-19.
Learn more and see how the Tolomatic designs work.
---
New motion platform offers four degrees of freedom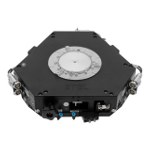 The new Z3TM from ETEL is a compact motion platform that provides a surface with four degrees of freedom into a stacked architecture and is an alternative to piezoelectric solutions. It was designed in response to the needs of advanced wafer positioning in the semiconductor industry, but can also be used in a variety of industries such as medical, pharmaceutical, and general inspection. The Z3TM platform uses a combination of three flexures and a rotary module to provide rotary, Z-axis, and two oblique axis motions to a plate that can be anchored to a supporting table for multiaxial motion solutions.
Learn more.
---
High-force linear actuator makes muscle car simulation possible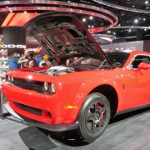 Tolomatic linear actuators are used worldwide in a myriad of industries for automation tasks like conveying, sorting, and filling, but they are also used in demanding, non-industrial applications such as simulators for flight, driving, testing, and entertainment. Learn how electric high-force linear actuators helped simulate the experience of popping a wheelie in a true muscle car.
Read this informative Tolomatic blog post.
---
New low-cost high-speed robot from DENSO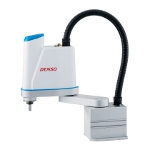 DENSO Robotics developed the entry-level LPH to meet the demand for precision robots needed for light-duty manufacturing applications. Equipment manufacturers who are new to automation, companies reinventing their product lines, and entrepreneurs launching new devices are among those who make up the growing market for high-quality robots that don't break the bank. Compact and lightweight, the LPH is a 4-axis selective compliance assembly robot arm (SCARA) built to handle a maximum payload of no more than 6.6 lb (3 kg) with a maximum arm reach of 1.3 ft (400 mm). When operated routinely at the highest rated payload, the LPH has a life cycle of up to five years. For lighter loads, the LPH has a longer life cycle.
Learn more.
---
Car and truck shock absorbers aim to harvest energy from bumps in the road
By Eleanor Nelson, Virginia Tech
The 255 million cars on the road in the United States account for 40% of the country's fuel consumption. Most of that fuel is wasted.
Lei Zuo, an associate professor of mechanical engineering in Virginia Tech's College of Engineering, may have a partial solution: harvesting energy from the car's suspension.
Zuo explained that only 10% to 16% of the fuel a car consumes is actually used to drive -- that is, to overcome road resistance and air drag. Most of the rest is lost to heat and other inefficiencies.
With clever engineering, however, that deficit can be reduced.
Three major opportunities exist for recovering or generating energy while driving: the waste heat given off by the engine, the kinetic energy absorbed during braking, and the vibrational energy dampened by the shock absorbers, he said.
Zuo estimates that a car's shock absorbers should be able to provide between 100 and 400 watts of energy on normal roads and even more on rougher roads. By comparison, the average cell phone call uses about 1 watt. That corresponds to an increase in fuel efficiency between 1% and 5%, which would add up to an annual fuel savings of $13 billion to $19 billion.
His energy-harvesting shock absorber works by translating the vertical vibrations of the suspension into rotational motion that turns a generator. The generator delivers electricity directly to the car's battery or electrical devices, reducing the demand on the alternator.
This system has solved a major challenge in harvesting vibrational energy: converting bidirectional, up-and-down motion into the unidirectional motion needed to drive a generator. A unique combination of gears allows motion in both directions to be converted into electricity, essentially doubling the amount of energy that can be recovered.
Zuo, who is affiliated with the Institute for Critical Technology and Applied Science, explains that this innovation allows the generator to work at a steady speed and reduces the load on the gear teeth, making the system more efficient and reliable. Moreover, the generator keeps rotating even after the vibration has stopped, maximizing the amount of energy recovered.
He and his students have tested the shock absorber on campus roads. Their current model, which the students have built using off-the-shelf components, can harvest about 60% of the available energy -- a substantial improvement over other designs.
Zuo said he is confident that with precision components and manufacturing the system could reach 85% efficiency.
Moreover, he said, the device is entirely retrofittable in terms of space and function, and "can be integrated in the car directly without changing anything in the car." Zuo and his team have created other types of energy-harvesting shock absorbers, including linear electromagnetic and hydroelectric absorbers.
Zuo, who recently received an award for this work from the Governor's Commonwealth of Virginia Research Commercialization Fund, said he plans to focus next on the commercial viability of the energy-harvesting system.
He said he hopes to address the concerns of both drivers and automakers -- who have different priorities.
"When we present this to drivers, they ask, how much can you improve the fuel efficiency? How soon can I get my money back?" Zuo said.
"From the car manufacturer's side, they ask another question: Can you replace my commercial shock absorbers? Can you give me better suspension performance?"
Zuo said he plans to tackle both cost and performance in the next round of development. Currently, the system wouldn't be cost effective for car owners who drive less than an hour or so a day, so Zuo will focus on applications for large commercial vehicles while working to reduce the cost.
To improve performance, Zuo said he wants to adapt his design using a strategy called self-powered semi-active control: A microprocessor senses vehicle conditions and adjusts the suspension settings accordingly, delivering the smoothest ride while harvesting the greatest amount of energy.
Zuo also is working on two other areas for energy recovery in cars: waste heat and regenerative braking. Regenerative braking is already in use for hybrid vehicles, but those make up only about 3% of the cars on the road; Zuo wants to develop a system that will work for conventional vehicles.
Energy-harvesting research often focuses on milliwatts and microwatts; Zuo focuses on systems that can yield hundreds or even thousands of watts. "I'm particularly excited about the opportunities in large-scale energy harvesting, which may help solve the global energy crisis," he said.
Zuo is the associate director of the Virginia Tech Center for Energy-Harvesting Materials and Systems.
Published August 2015
Rate this article