Why should you use a wave spring?

Reducing the size and weight of an application is a challenge often faced by today's design engineers. Smalley has a solution that can solve both problems, with one simple spring. Wave Springs operate in the same spring cavity as a traditional coil spring, yet are only half the height. That's right, they reduce spring heights by up to 50%, resulting in a smaller spring cavity. A smaller spring cavity provides the added benefit of weight savings and ultimately can lead to cost savings as well. While there's thousands of standards available, Smalley specializes in producing custom springs, designed to your application requirements and operating conditions.
Check out Smalley's Blog on "Why you should use a Wave Spring."
---
SABIC adds unique PP Ultra Melt Strength resin to its global foam portfolio for lightweighting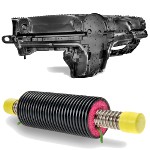 SABIC PP-UMS (Ultra Melt Strength) resin is a completely new generation of melt strength polypropylene. This new resin is unique in the market, with a melt strength of more than 65 cN and outstanding foam-ability. It can be used by all industry segments as a building block to develop new foaming solutions that enable an unprecedented level of lightweighting, from automotive to packaging to the building and construction markets.
Click here to learn more.
---
Multi-axis position-holding hinge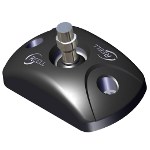 The Reell SJ300 Spherical Joint delivers a premium feel and performance in a multi-axis position control device. Featuring Reell's patented SphericalTorq technology, the SJ300 has the ability to adjust up/down, left/right, and a full 360 degrees of rotation. This versatility allows the SJ300 to replace multiple positioning components with a single device, conserving space and lowering cost. Its black glass-filled nylon housing is durable and stylish, making it suitable for applications where it will be visible in the final product. The SJ300 is ideal for applications such as tablet stand positioning, medical lighting, camera stands, automotive mirrors, and office furniture where precision position control is critical.
Click here to learn more.
---
Understanding how metal 3D parts are made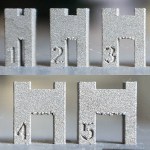 Greg Paulsen, Xometry's director of applications engineering, explores key design considerations for Metal 3D Printing. Learn how support structures and build orientations impact the finished part's features and surface finish, so you can know what to expect from your next Direct Metal Laser Sintering (DMLS) project.
Read this insightful blog full of useful examples.
---
Fast-curing thermally conductive epoxy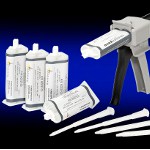 A new Aluminum Filled Epoxy Adhesive (70-3814) developed by Epoxies, Etc. has 1,000 psi of strength in just four hours! After 24 hours, the Lap Shear Strength is 2,900 psi. The use of aluminum filler provides lower shrinkage than is commonly found in fast-curing epoxy adhesives. The product bonds well to metals, especially aluminum and steel, as well as ceramics and many plastics. It is used in many industrial, OEM, aerospace, and chemical-processing applications, including aluminum heat sink bonding, filling metal joints, repairing metal surfaces, patching aluminum castings, and assorted metal bonding applications.
Click here to learn more.
---
Benefits of hybrid bearings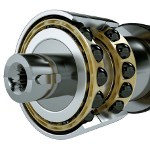 Hybrid bearings have shown good performance in poor lubrication and contaminated conditions, but the understanding of the contributing mechanisms and their effect on performance is still lacking. SKF has developed more insight into the tribology of hybrid bearings through both dedicated experiments and modeling.
Read about it here.
---
Pick-and-place universal joints upgraded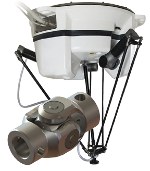 Belden Universal has recently implemented critical design upgrades to its universal joints for pick-and-place (Delta) robots. The redesign project was necessitated by industry demand (from both OEMs and end users) for space-saving components supporting heavier payloads. The stainless-steel component is based on Belden's unique hybrid design, combining the higher torque capacity of a pin + block joint with the needle bearing's ability to continuously operate at high speeds with low friction. It mitigates corrosion issues, contamination, burnout, and joint seizure.
Learn more.
---
Dow structural adhesive joining solutions enhance lightweight module construction in automotive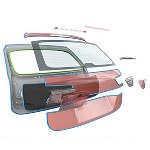 Dow Automotive Systems is leveraging its existing structural adhesives portfolio as well as its development expertise to offer BETAFORCE, BETAMATE, and BETASEAL solutions that enhance lightweight module construction. Liftgate/hatchback, decklids, and front-end carrier modules are increasingly designed using a multi-material mix to decrease weight while maintaining design flexibility, styling, and safety performance.
Read the full article.
---
Epoxy adhesives approved for military use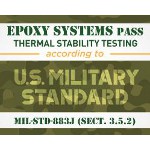 Master Bond has six epoxy compounds -- EP17HTDA-1, EP21TDCHT, EP33, EP46HT-1AO, Supreme 11AOHT, and Supreme 12AOHT-LO -- that have passed MIL-STD-883J section 3.5.2., the subsection of the U.S. Military Standards set by the U.S. DoD that refers to the thermal stability of a material. This test indicates a consistent product performance for temperatures up to 200 C. MIL-STD-883 section 3.8.5 defines that thermal stability testing should be done by performing a thermogravitmetric analysis (TGA) according to ASTM D3850. TGA is the study of a material's weight change as a function of temperature and time under a controlled atmosphere. It can be used to determine the thermal stability of a material.
Learn more about military-grade epoxies.
---
Self-clinching captive panel screws -- easy access to stainless steel enclosures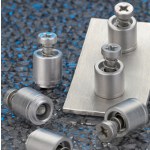 PEM PFC4 self-clinching captive panel screws from Penn-Engineering install permanently into stainless steel enclosures to enable easy access whenever necessary and eliminate risks associated with loose screws. The captivated screw remains reliably in place where designed in a door or panel and will not loosen, fall out, or damage internal components. Expanding their application potential, these spring-loaded fastener assemblies comply with UL 60950 equipment access standards. PFC4 captive panel screws will install successfully in stainless sheets as thin as .060 in./1.53 mm with hardness up to HRB 88. A shoulder provides a positive stop during installation, and the fastener ultimately will be flush on the opposite side of the sheet for a clean and unmarred appearance. A fully recessed head in the fastened position allows for tool-only access.
Click here to learn more.
---
Bosch chooses Ultimaker 3 Extended printers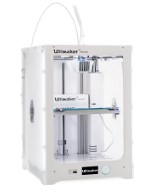 Robert Bosch GmbH is investing on a global scale in Ultimaker 3 Extended printers. After comparing several desktop 3D printers, the Additive Manufacturing department of Bosch selected Ultimaker as the most reliable, easy-to-use, and professional machine. The printers will now be used in different locations across Germany, Hungary, China, India, the United States, and Mexico for printing prototypes, tooling, jigs, and fixtures -- all in a bid to boost innovation while cutting manufacturing and design costs. Materials include nylon, ABS, CPE, PC, and TPU, along with both a PVA water-soluble support material and a dry breakaway support material.
See what makes Ultimaker dual-extrusion printers a standout.
---
Designing with wave springs

Smalley can manufacture custom Wave Springs quickly and economically to meet your specific application requirements. Smalley Wave Springs reduce spring heights by 50%. Because force and deflection requirements are application-specific, custom springs are often needed. With Smalley's No-Tooling-Cost™ manufacturing process, customs can be produced from .157" to 120", 4 mm to 3000 mm diameters in carbon steel, stainless steel, or other readily available exotic alloys. Prototypes can be available with fast turnaround time for testing.
Click here to learn more.
---
High-performance mini ball screws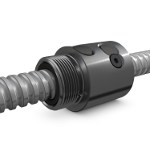 New SKF SP Series high-performance miniature ball screws have been optimized to deliver precise positioning, excellent repeatability, and smooth-running and quiet linear actuation. Their advanced internal ball recirculation system and thread design enable higher speed capabilities (up to 15,000 RPM) and longer operating life compared with conventional rolled ball screws. These robust solutions in small packages can help extend mini machine reliability, increase speed and output, and reduce noise for a wide range of medical, laboratory, automation, and other small-equipment applications. Diameter ranges from 8 mm to 16 mm.
Click here to learn more.
---
Eaton's hydraulic tech powers Valor first flight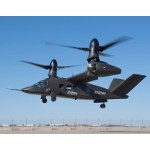 As members of Team Valor, power management company Eaton and Bell Helicopter closed 2017 on an uplifting note with the successful first flight of the Bell V-280 Valor. Created and led by Bell Helicopter, Team Valor is a group of leading aerospace companies working together to develop the next generation of vertical lift aircraft for the U.S. Army. Eaton provided components for the V-280's hydraulic power generation system along with system design and analysis support, component modification and qualification, and flight-test support.
Click here to learn more.
---
Sealing tapes and die-cut gaskets approved for F-16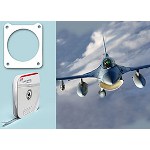 GORE SKYFLEX Aerospace Materials products have been approved for use on F-16 wing access panels. These materials effectively seal panels and protect against mechanical forces and harsh environments that can damage aircraft structures, such as vibration, corrosion, high temperatures, aggressive fluids, UV radiation, and other environmental hazards that tend to break down and weaken traditional materials. Unlike traditional two-component sealants, the materials are lightweight and non-curing, and they simplify the process by reducing installation steps. They are available in a variety of form-in-place (FIP) tapes and die-cut gaskets in various sizes.
Click here to learn more.
---
Microsoft sets Guinness World Record for Quietest Place on Earth with Eckel anechoic chamber
Microsoft now holds the Guinness World Record for Quietest Place on Earth, and Eckel Noise Control Technologies (Cambridge, MA) helped the tech giant get there.
Microsoft is known as a leader in computer and electronics R&D, and continually invests in upholding that reputation. So, when the company needed a new anechoic chamber for audio and device testing at its Redmond, WA, Audio Lab, the engineers aimed to create a truly state-of-the art acoustic environment. What they didn't realize was this: They were designing something truly unique -- the absolute quietest room on the planet.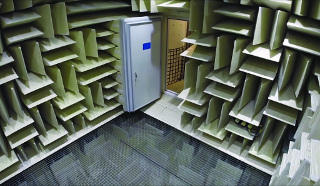 Microsoft's new anechoic chamber has been dubbed "The Quietest Place on Earth."
In March 2014, Microsoft contracted with Eckel to design and build the chamber. Installation began at Building 87 in May 2014, under the direction of Eckel's installer, Viking Enterprises (Waterford, CT). Eckel completed the entire project in July 2014 (which also included constructing two smaller anechoic chambers). "We designed this and other super-quiet, acoustically controlled chambers to engineer and build best-in-class audio products at Microsoft. We use these facilities for designing products like the Surface, HoloLens, and Cortana, that we take great pride in it," says Hundraj Gopal, Ph.D., Microsoft Principal Human Factors Engineer.
Independent tests of the main chamber by professional sound specialists from Bruel & Kjaer confirmed that -- at -20.6 dB -- Microsoft and Eckel had shattered the previous world record for Quietest Place on Earth and far surpassed engineers' prediction of -16 dB. The previous record was -13 dB (held by an Eckel anechoic chamber at Orfield Laboratories in Minneapolis).
To provide some sound context, the theoretical noise produced by Brownian motion -- the random movement of particles in air -- is the quietest known sound outside the vacuum of space, and is measured at -23 dB. Calm breathing comes in at +10 dB; rustling leaves at +20; normal conversation at +60, and a jet plane takeoff at +150 (at 25 meters).
"This chamber gives us the opportunity to look for those really small signals that can have an impact to the end user," says LeSalle Munroe, Microsoft Senior Engineer, Surface Devices. "We always want to have the best tools available for the job. And that's what this is. It's a great accomplishment."
Anechoic chambers are echo-free environments with a sound absorption level of 99% to 100%. They are used for acoustic measurements in a wide variety of R&D applications. The record-setting chamber's walls, ceilings, and door are fitted with Eckel's sound-absorbing anechoic wedges. Anti-vibration mounts isolate the chamber from the rest of the building's foundation.
"We are absolutely thrilled with the results of our chamber for Microsoft," says Eckel Vice President Jeff Morse. "Not only did we fulfill the requirements they needed for their testing, but we were able to deliver a facility that set a new world record. We couldn't be more honored to have been part of this exciting project."
Source: Eckel Noise Control Technologies
Published October 2015
Rate this article