Wheels:
Ford GT supercar sports Gorilla Glass hybrid technology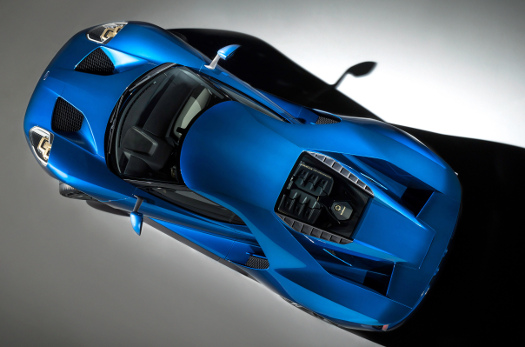 Developed by Ford and Corning, the industry-first Corning Gorilla Glass hybrid technology will be used on both the windshield and rear engine cover of the 2017 Ford GT, contributing to enhanced vehicle handling, improved fuel efficiency, and reduced risk of glass damage.
When tasked with developing lightweight and advanced material vehicle applications, a team at Ford approached Corning, a recognized leader in material science that introduced light and durable Gorilla Glass to the consumer electronic market in 2007. Interested in further exploring potential automotive applications, Ford engaged Corning to help research and develop a unique formulation for exterior vehicle glass.
Once the technology was studied for Ford's 2017 GT supercar, the team realized there were real-world applications for the new hybrid glass. A small, dedicated group comprised of purchasing and engineering employees from Ford and Corning fast-tracked the technology toward rapid introduction. Within four months, they were seeking program approval.
Corning introduced Gorilla Glass into the consumer technology market as a thin, damage-resistant cover material for smartphones and tablets. Today, Gorilla Glass is featured on 4.5 billion mobile devices and 40 major brands worldwide. Since the product's introduction, Corning has continued to significantly improve Gorilla Glass for use in consumer electronics and other applications.
The Ford GT supercar is the first production vehicle to use Corning Gorilla Glass for Automotive in a windshield. Ford is also using the lightweight, tough, and optically advantaged glass for two other applications within the car, saving more than 12 lb of vehicle weight.
Pound for pound, Gorilla Glass for Automotive can achieve more than five times the strength of standard window glass. This strength helps protect the windshield and make it thinner and lighter, while also providing outstanding optical advantages.
The innovative Ford GT windshield comprises three layers: Gorilla Glass for Automotive as the inner layer, a plastic adhesive interlayer, and annealed soda lime glass as the outside layer.
"This successful collaboration is one of the reasons we spend R&D resources to develop new innovations and solve tough problems," said Wendell Weeks, chief executive officer, Corning. "Ford recognized the significant value of these innovative lightweighting technology and committed significant resources to quickly get it qualified for production applications. We worked with Ford to develop a glass that successfully withstood thousands of hours of durability testing and is now being used in a Ford production vehicle."
More on the Gorilla Glass hybrid
A traditional automotive laminated windshield consists of two layers of annealed glass sandwiched around a clear, thermoplastic interlayer binding agent. Originally introduced in America by Henry Ford, the technology has been used in the auto industry for nearly a century.
The new hybrid glass uses a multilayer approach: a pane of toughened automotive-grade formed hybrid acts as the strengthened inner layer, an advanced noise-absorbing thermoplastic interlayer is in the center, and an annealed glass serves as the outer layer.
The result on the Ford 2017 GT is a windshield and rear engine cover approximately 32 percent lighter than competitive vehicles.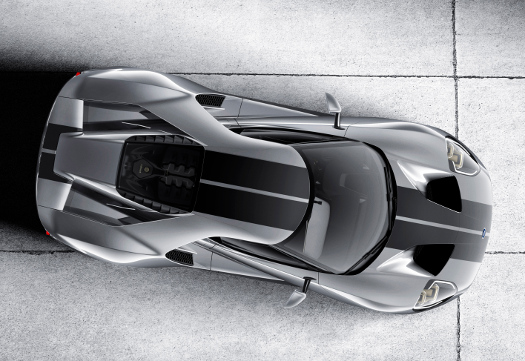 The Ford GT as a concept shown in liquid silver.
"During development, we tried different glass variations before we found a combination that provided both weight savings and the durability needed for exterior automotive glass," said Paul Linden, Ford body exteriors engineer. "We learned, somewhat counterintuitively, that the strengthened interior layer of the windshield is key to the success of the hybrid window."
The new Gorilla Glass hybrid window laminate is approximately 25 to 50 percent thinner, and has equal to, or greater strength than traditional laminate. Traditional laminate glass ranges from 4 mm to 6 mm in thickness, where Gorilla Glass hybrid window ranges from 3 mm to 4 mm. This marked reduction in thickness greatly reduces the weight of each panel. Plus, the glass is more robust due to advanced processes for contaminant reduction, chemical strengthening, unique edge treatment, and laminate construction.
And unlike conventional float glass, Gorilla Glass for Automotive has no optical draw lines, making it ideal for steep windshield applications like the GT. Ford is also using Gorilla Glass as an acoustic separation wall in the bulkhead.
The new technology was tested over stone and in rough road conditions, and had to endure specific projectile, rollover, and wind tunnel testing.
"In addition to the new hybrid technology for the exterior glass of Ford GT, we're using a unique glass combination for the bulkhead panel between passenger cell and engine bay," said Linden. "We're excited that we can use tailored glass applications to meet specific needs and provide maximum weight savings."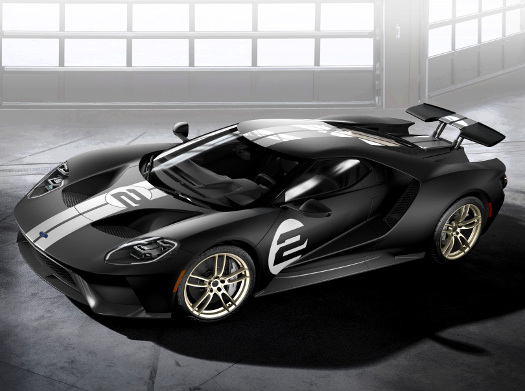 The all-new Ford GT '66 Heritage Edition 2017 with unique black and silver-stripe livery celebrates the 1966 Le Mans-winning GT40 Mark II race car driven by Bruce McLaren and Chris Amon. It features Gorilla Glass technology.
The reduced weight of the windshield, engine cover, and bulkhead glass on Ford GT positively impacts acceleration, fuel economy, and braking performance. Perhaps most important is the benefit on handling -- removing the weight of glass high in the construction of the vehicle lowers the center of gravity and contributes to the car's outstanding agility.
Ford's use of the new hybrid glass underscores the company's aggressive goals for innovative engineering and lightweighting technologies that may one day benefit all Ford customers.
"Panoramic sunroofs, which place significant glass mass far above a vehicle's center of gravity, 'are a huge potential application for this technology,' said Hau Thai-Tang, Ford's Group Vice President, Global Purchasing, in a Jan. 5, 2015, Society of Automotive Engineers (SAE) article.
That article (which also includes some extra images of the glass being tested) noted that the thinner glass will most likely help drive new door and body-structure designs, and that the new exterior-glazing system "requires no change to the vehicle assembly process; the Gorilla Glass components are installed using conventional robotics and urethane-bonding system. Corning produces the glass at its Harrodsburg, KY, plant."
Source: Ford, Corning, SAE
Published January 2016
Rate this article