Soldiers bid farewell to Army's oldest unmanned aircraft
By Dave Conrad, West Fort Hood, TX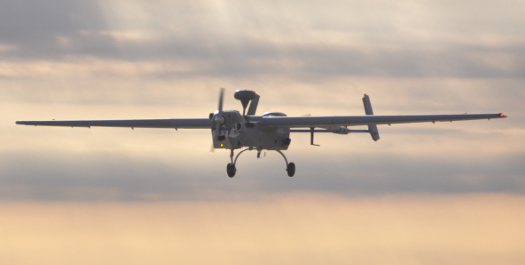 A Hunter unmanned aircraft system flies past Robert Gray Army Airfield during a ceremony marking its final flight on West Fort Hood, TX, Dec. 16, 2015. [Photo Credit: Dave Conrad, Fort Hood]
The Army's oldest unmanned aircraft system had its final flight here as part of a ceremony that marked transitions for both the aircraft and its operators on Dec. 16, 2015.
Fort Hood Soldiers and guests said goodbye to the Hunter Unmanned Aircraft System, or UAS, the Army's first UAS, during the ceremony at Robert Gray Army Airfield.
"Thundercats, congratulations on your part of history that you're making today," Lt. Col Gregory Hardy, commander of the 15th Military Intelligence Battalion, said during the ceremony commemorating the flight. "I am absolutely confident that you're going to excel, as you have in the past, as we transform into a Grey Eagle company."
The Hunter provided a valuable surveillance and reconnaissance role for troops and commanders.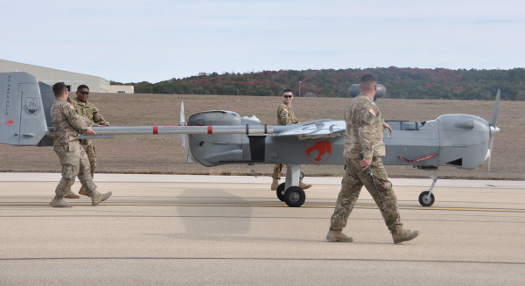 Soldiers from the 15th Military Intelligence Battalion recover a Hunter unmanned aircraft system, or UAS, after it lands at Robert Gray Army Airfield following a test flight, Dec. 9, 2015. On Dec. 16, the Hunter UAS, the Army's oldest unmanned aircraft, flew its final mission on Fort Hood. [Photo Credit: Dave Conrad]
"We're like the 'Eyes in the Sky' for the ground troops," said Staff Sgt. Zachary Norris, a Hunter operator. "We'll lead them into contact, or a raid, and make sure they're safe."
The Hunter's imagery system allowed data to be processed in a matter of seconds, providing virtual, real-time information about battlefield conditions and targets, according to an Army fact sheet. Hunter's enhanced imaging system enabled commanders to detect, identify, and track hostile activity and targets, allowing commanders to target them with other units or weapon systems. The Hunter also enhanced the commander's ability to locate and identify friendly forces to avoid unnecessary loss of life and to locate enemy targets.
The Hunter was the first UAS to be actively employed by the U.S. Army. The Hunter was fielded in 1995 to both the Joint UAS training base on Fort Huachuca, AZ, and to Fort Hood with Company A, 15th Military Intelligence Battalion, III Corps' Aerial Exploitation unit. Subsequently, the Hunter was fielded to the Joint Readiness Training Center on Fort Polk, LA, in 1999 and to the Initial Brigade Combat Team on Fort Lewis, WA, in 2000, and to V Corps at Hohenfels, Germany, in 2003.
Initially, the Hunter was used to support operations at the Joint Readiness Training Center and the National Training Center, according to an Army press release. Eventually, the Hunter has successfully deployed to the Balkans four times between 1999 and 2002 to support NATO warfighting and peacekeeping missions in Kosovo. In addition, the Hunter deployed in 2003 supporting Operation Iraqi Freedom at the start of the war.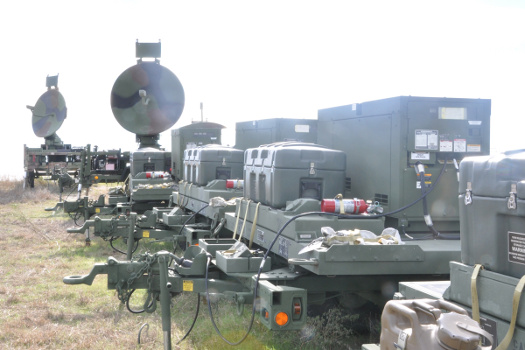 Ground support equipment provides power to Hunter operating shelters and provides communication and tracking capabilities to Hunter operators making the aircraft's final flight on West Fort Hood, TX, Dec. 16, 2015. [Photo Credit: Dave Conrad]
According to a press statement from the Army Center for Lessons Learned, "Although the Hunter UAS had performed extremely well during rotation exercises, it proved itself for the first time in contingency operations as an invaluable and reliable intelligence asset to commanders at all levels. The Hunter flew more flight hours than any other NATO reconnaissance platform."
With rotations and reorganizations, by 2003, there were three aerial exploitation battalions equipped with the Hunter. It was the first Army UAS to cross the border into Iraq 2003, in support of Operation Iraqi Freedom. The Hunter UASs conducted multiple simultaneous rotational deployments to Iraq to provide continuous support to the Multi-National Corps peacekeeping mission for the duration of Operation Iraqi Freedom and Operation New Dawn. Throughout both campaigns, Hunter systems were rotated out of service and upgraded with improved sensors and systems to provide state-of-the-art support to the U.S. allied forces.
The upgraded Hunter MQ-5B featured a robust, fixed-wing, twin tail-boom design with redundant control systems powered by two heavy fuel engines, one to "push," one to "pull" the air vehicle. Length came in at 23 ft, with a wingspan of 34 ft. The Hunter provided more than 20 hours of total flight time with an electro-optical and infra-red sensor payload and operated from a range of more than 200 km at altitudes of more than 18,000 ft. A unique Hunter capability was its relay mode that allows one Hunter to control another Hunter at extended ranges or over terrain obstacles typical of those found in the Balkans and Afghanistan.
By the end of Operation New Dawn in 2011, Hunter had racked up more than 110,000 flight hours, in addition to the more than 6,400 flight hours flown by Hunter UASs in support of Balkan operations. As a direct result, Hunter's battlefield-proven success had clearly shown the value of UASs in combat operations, according to an Army press release.
After two decades on Fort Hood, the Hunter is being transferred to government-owned, contractor-operated units supporting operations overseas.
The final flight on Fort Hood marked the end of the program here, but also signals new beginnings.
In 2016, the 15th Military Intelligence Battalion will receive the Grey Eagle UAS, according to flight operators in the unit. Gray Eagle can fly for 25 hours, achieve speeds up to 167 knots, and reach altitudes up to 29,000 ft, according to a fact sheet from General Atomics, manufacturer of the aircraft. It is powered by a heavy fuel engine (HFE) for higher performance, better fuel efficiency, common fuel on the battlefield, and a longer lifetime. It is 28 ft long with a wingspan of 56 ft. It can carry up to four HELLFIRE missiles.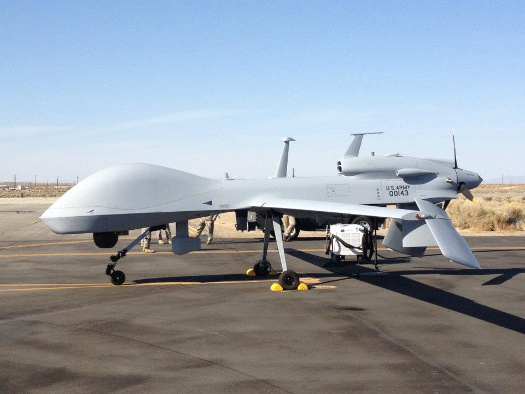 A Gray Eagle Unmanned Aerial System sits on the runway at Edwards Air Force Base, CA. [Photo Credit: Spc. Thomas Davis, CAB, 1st Inf. Div. Public Affairs]
Additionally, the Gray Eagle has improved EO/IR systems and Synthetic Aperture Radar. The system can be employed to conduct "wide-area intelligence surveillance and reconnaissance, convoy protection, improvised explosive device detection and defeat, close air support, communications relay, and weapons delivery missions."
The MQ-1C Gray Eagle Unmanned Aircraft System (UAS) addresses the need for a long-endurance, armed UAS that offers greater range, altitude, and payload flexibility.
But part of the Hunter's longevity can be attributed to its durability.
"The system is really built on redundancy. There's always another system that can take over if one part fails," Norris said. "The program was never supposed to last this long, but the Hunter just kept doing everything the Army wanted it to do."
Published January 2016
Rate this article