ARDEC 5-axis 3D printer wins conference award
By Audra Calloway, Picatinny Arsenal
The Armament Research, Development and Engineering Center at Picatinny Arsenal in New Jersey was honored Nov. 18 for Best Development in 3D-Printing Equipment at an IDTechEx conference.
The award recognizes innovative achievement in 3D-printing equipment.
ARDEC, the Army Research Laboratory, and industry partner nScrypt received the award for their collaboration to design and develop the SuperScrypt - nScrypt 3Dx Series, a 5-axis multifunction heterogeneous printer.
The new SuperScrypt 3D printer expands upon the standard 3D Series gantry system by adding two more axes and additional manufacturing capabilities.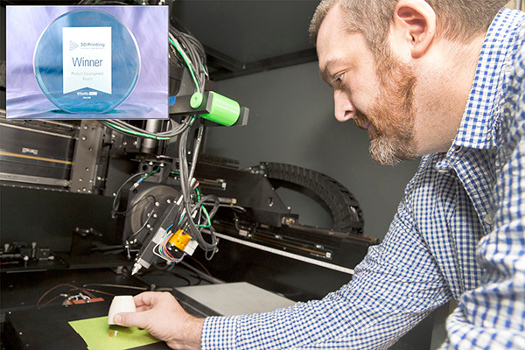 Materials engineer Jim Zunino demonstrates 3D manufacturing at Picatinny Arsenal. The inset image, upper left, shows the award that development partners won for their printer that adds manufacturing capabilities. [Photo by Erin Usawicz]
The new printer is capable of mixing structures and electronics, which makes it a manufacturing platform in addition to a 3D printer.
"This system is based off an nScrypt 3D platform, which is usually a three-axis system," explained Jim Zunino, materials engineer at ARDEC.
"So, for this one we added additional axes, plus additional tool heads and a change-out tool-head capability. So it can do additive, subtractive, scanning, and feature monitoring all in one system."
Most printers, like desktop printers, print back and forth on an X to Y axis, like a grid. 3D printers also have an A-to-Z axis to add height.
Zunino said the new five-axis printer is the first system he knows of that has axes for linear and curved linear printing, as well as the tool switch-outs.
"We built this system so that we could print on linear and curve linear surfaces," Zunino said. "The idea is that we could 3D print a nose cone and be able to print the electronics right on it."
The system also allows users to "pick and place" project elements, which means that as an object is being 3D printed, the operator can pick up a different object (an electronic component, for instance) and integrate it into/onto the object being printed. This gives the printer the manufacturing capability.


[NOTE: The videos above demonstrate the pick-and-place capability using other models of nScrypt printers.]
"Often, you can print a lot of electronic components, but they must be placed on the system and integrated in," Zunino said.
Utilizing a patented 'SmartPump' technology (a positive pressure pump that utilizes special valving that allows for near-perfect starts and stops), this system can print very low-viscosity inks to extremely high viscosity pastes to allow the widest range of electronic materials to be printed. The 3D-printing portion of this tool features the finest print of any commercially available printer. nScrypt pen tips with orifice openings ranging from 12.5 microns to hundreds of microns are available, which makes printing very precise.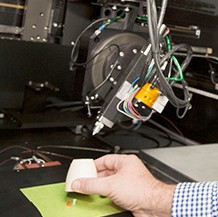 The print head can also heat to over 400 deg C in order to have more capability than most traditional 3D printers. The high temperature lets engineers work with higher-grade plastics that are commonly used in Department of Defense applications.
Zunino primarily uses the system to fabricate printed electronics, energetics (items such as explosives, propellants, and pyrotechnics), munitions, and power solutions.
Published January 2016
Rate this article