Software User Spotlight:
Designing with vision using VISI CAD/CAM
With help from the VISI CAD/CAM solution, Vector Mold Design creates molds and components for the automotive industry.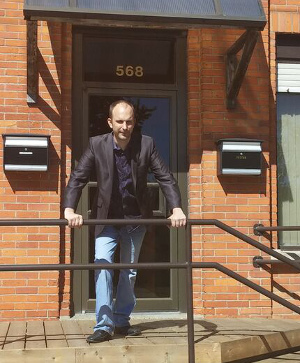 Rob Rammeloo, owner, Vector Mold Design.
Rob Rammeloo has come a long way since founding his mold-design business as a lone entrepreneur from a back room in his home.
As he embarked upon the unpredictable adventure of business ownership, the founder of Windsor, Ontario-based Vector Mold Design had just one overriding mission: "My business plan when I started was, 'Don't ask for your old job back,'" Rammeloo says wryly from the stylish conference room of his spacious offices.
Growing up on a farm, Rammeloo took quickly to practical fix-it tasks that would serve him well as a design engineer. "I learned to weld and fix machinery, and it came easily to me," he says.
He eventually parlayed a mind for mechanics into a knack manufacturing, and, beginning at the age of 16, Rammeloo landed various positions with automotive mold manufacturing and design houses. Over time, he became more and more involved with the design end of the mold industry.
"I worked at a bunch of different places and knew a bunch of different people," says Rammeloo, who worked his way through the ranks, earning a reputation for top-notch work.
With a growing family to support, he ventured into freelance territory simply to pick up some extra money. "A little bit of work turned into a little more, and then the phone was continuously ringing."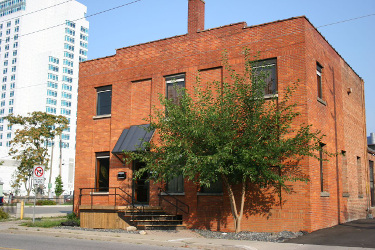 When one of the biggest automotive tool shops in the city was in search of a company to perform its outsourcing work, Vector fit the bill. Landing the major contract got the company off the ground, and the rest, as they say, is history.
"I literally bought 10 desks and 10 computers," Rammeloo says. "We staffed up quickly, and we had all these deadlines that we had to hit."
Today, Rammeloo employs a growing staff of 14, and Vector Mold Design is just what Rammeloo was aiming for -- a design house. No manufacturing takes place between its fashionable walls, where the polished ambience is all part of letting clientele know they're in good hands. "We have over 100 customers, and they range from OEMs to mom-and-pop shops."
To design its molds, Vector Mold Design uses the VISI CAD/CAM solution by Vero Software. VISI is acknowledged as one of the world's leading CAD/CAM solutions for the mold and die industries, offering fully integrated surface and solid modeling, 3D tool design, plastic flow analysis, and comprehensive multi-axis milling strategies.
"Our software has to work for our customers and our staff," Rammeloo says. "Everyone has their standards. It has to be easy to learn and easy to use."
Rammeloo notes that it typically takes his staff a few days to a week to learn how to be productive with VISI. "The whole software is geared toward mold and die making," he says.
VISI Mould offers tools for complete mold-tool design based on industry-specific automated functions that guide the designer through the process of mold development. The solution offers dynamic operation previews that provide designers with real-time views of how changes to components will affect the design of the tool.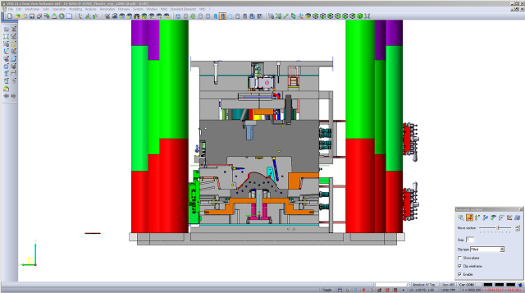 Among the automated features available in VISI Mould is the incorporation of intelligent standard components from a wide range of suppliers. With details such as screw length available within the software, the lengths of various components will automatically adjust according to differing plate thicknesses and additional rule-based parameters.
When it comes to ease of use, Rammeloo notes that VISI is easier to work with than many other types of design software because of the speed of importing and loading files.
"VISI's file sizes are way smaller than anyone else's," Rammeloo says. "We don't have to work on something else while we're waiting for files to load."
It isn't uncommon for Rammeloo and his team to use scanned data from a previously molded part to recreate or improve upon the design of a mold or component. Scanned data in STL file format can be easily imported into the software.
VISI's ability to work with a wide range of CAD interfaces also makes it easy to maintain the integrity of imported data for almost any supplier. As VISI rejects the use of corrupt data during the import process, designers can be certain that they are beginning a project with the best possible information.
With the analysis tools available in VISI, designers are able to conduct model comparisons by loading two models and checking for design changes between the two. The software highlights deviations between the models, providing a quick visual markup of the differences. Additional analysis tools deliver a range of inspection and comparison options that best fit the designer's needs and preferred working style.
VISI also helps Vector with the simulation of its injection molds, which assists the designers in ensuring cost-effective and reliable mold designs.
For Rammeloo and his design team, the efficient and easy-to-use tools within VISI make all the difference.
"Being able to just draw a cube, we can do it in three mouse clicks in VISI. It's surprising how few solutions allow you to do that," he says.
The ongoing support that Vector has received from VISI has also helped the company grow from a one-man operation to a rapidly growing team of mold-design experts.
"Obviously, VISI's a big part of what we do. I think it's one of the reasons we're as successful as we are," says Rammeloo, adding that Michigan-based Tooling Software Technology (TST), VISI's master distributor in the United States and Canada, has also been a factor in Vector's success.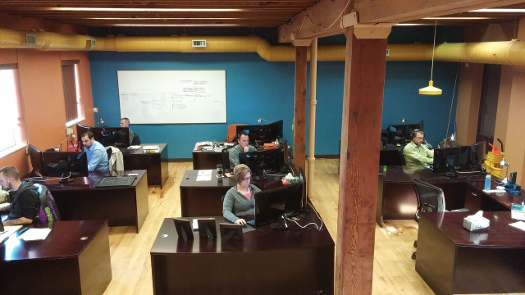 "TST is great," Rammeloo says, noting that James Kesteloot, owner of TST, has been especially helpful. "Jim's great. I've just bounced ideas off of him; it's good to have people you can bounce ideas off of."
Rammeloo also credits the team at Vector for bringing his vision to life.
"They're all smart," he says of his staff. "I own the place -- it's my dream, my vision -- but they're making it happen, not me. As long as you do a good job, you'll always have work."
Source: Vero Software
Published January 2016
Rate this article