Wheels:
Taking carbon-fiber bonding to the next level
Audi, Lamborghini, and BMW leverage Dow Automotive Systems' structural adhesives capabilities.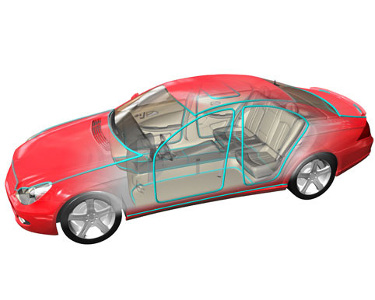 BETAFORCE applications include claddings, doors, front-end carriers, liftgates, spoilers, structural roof modules, sunroofs, trunks, and more,
Dow Automotive Systems is on a roll introducing customized structural bonding solutions for weight reduction in high-end vehicles. Among those manufacturers using specially formulated adhesive solutions based on BETAFORCE composite bonding adhesives are Audi for the new R8, Lamborghini on its Huracan, and BMW in its 7 series.
BETAFORCE composite bonding adhesives are designed to support hybrid constructions chiefly for lightweighting solutions. Multimaterial constructions are one of the most promising approaches to reach weight reduction without compromising on other priorities such as safety or comfort. Composites from carbon fibers are now seeing a growing share in the material mix, and Audi and sister brand Lamborghini are utilizing carbon fiber and bonding of structural parts, including pillars or tunnels with coated aluminum.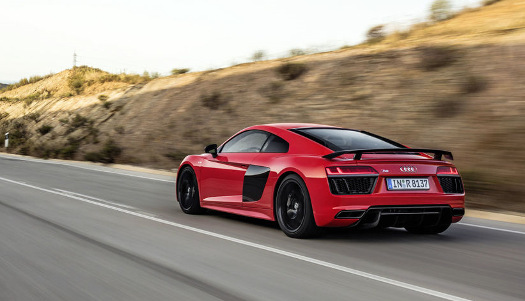 The Audi R8 V10 Plus takes advantage of BETAFORCE carbon-fiber bonding structural adhesive solutions from Dow Automotive Systems. [Photo: AUDI AG]
BETAFORCE joins carbon-fiber and glass-fiber composites and other dissimilar materials in a variety of lightweighting designs, including modular assemblies. It can be used to bond coated metals like steel to aluminum, carbon fiber panels to steel or aluminum, sheet molding compound (SMC) to aluminum, and more. Additional applications include claddings, doors, front-end carriers, liftgates, spoilers, structural roof modules, sunroofs, trunks, complete carbon-fiber compartments, or hang-on parts such as doors. Recent formulations of BETAFORCE offer a cycle time of around 1 minute.
Based on a two-component polyurethane structural adhesive technology, BETAFORCE is characterized by a high elongation factor and outstanding modulus. While the high modulus provides the needed stiffness, the elongation factor enables a high level of energy absorption and flexibility to manage the differential coefficient of linear thermal expansion (CLTE). Specific materials joined by BETAFORCE include carbon fiber with coated steel and carbon fiber with coated aluminum. The adhesive is injected by a robot and surrounds the carbon fiber for a durable bond of different substrate components, enabling advanced lightweight solutions for a number of top-tier automotive manufacturers.
2016 Lamborghini Huracan LP 610-4 Avio is a limited edition of 250 cars worldwide. [Photo: Automobili Lamborghini]
Besides weight reduction, structural adhesives also provide processing benefits, making them beneficial from a production point of view. Among the production advantages are the pre-treatment-free joining of carbon fiber, optimized open times, and very balanced mechanical properties regarding optimal stiffness and driving properties.
Additional processing and performance benefits include:
Enables reduction in wall thicknesses due to structural mechanical properties of adhesive.
Allows for optimization of substrates and adhesive joint structure.
Excellent temperature resistance and retention of modulus across the working temperature range.
Enables process time reduction and significant investment savings due to very fast acceleration capabilities.
Reduces process complexity due to primerless adhesion performance.
Provides a corrosion barrier between dissimilar materials.
Reduces noise, vibration, and harshness and improves crash performance.
Demonstrates variable cure rates.
Exhibits a broad range of mechanical and product properties.
Has very good bead stability during application.
Allows bonding in general assembly, after e-coat and/or painting.
Demonstrates handling strength in a few minutes with accelerated heat curing enabled by tailored chemistry.
Combines high modulus, high strength, and high elongation in one system for effective management of differential CLTE (for example, carbon-fiber composite to aluminum) even on long bond lines.
Provides effective sealing from water intrusion.
Improves durability due to optimized load distribution.
The decision to apply adhesive solutions from Dow Automotive Systems was made after comprehensive trials that demonstrated that these materials are well designed to meet Audi and Lamborghini's requirements. The ability to tailor the adhesive's properties exactly to the needs of both manufacturers was also an important consideration. Audi and Lamborghini are reviewing more Dow Automotive Systems adhesive solutions applications for other models.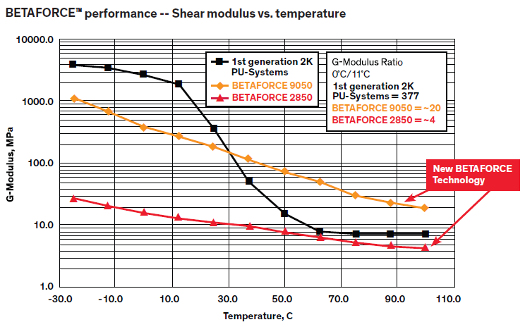 Two-component, room-temperature curing BETAFORCE composite bonding adhesives are optimized to retain strength and rigidity at elevated temperatures, providing industry-leading temperature stability.
Taking carbon-fiber bonding to the next level
The latest innovation introduced by Dow Automotive Systems for its carbon-fiber bonding solutions involves adding an injection bonding technique for its BETAFORCE composite bonding adhesives. Injection bonding is a further example of the customizable capabilities of BETAFORCE to address specific customer requirements for production, such as open times and cycle times, without affecting mechanical properties.
By adjusting these parameters individually, Dow Automotive Systems helps customers improve their assembly process efficiencies. This also enables the wider application of carbon-fiber parts in mixed-material assembly in a bid to support manufacturers' lightweighting strategies, such as those at BMW Group with its recent BMW 7 series.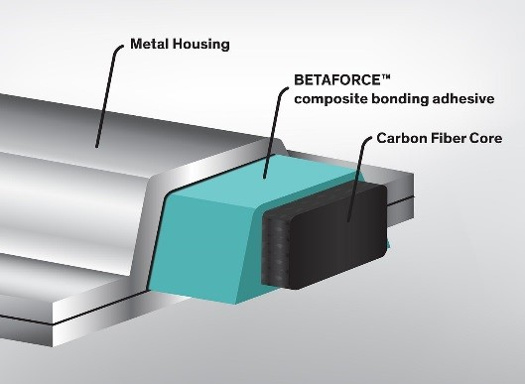 Injection bonding technique for BETAFORCE composite adhesives.
Injection bonding can be used as a special process to bond carbon-fiber parts to metal in side-frame applications along the roof. Here, the carbon-fiber part is used as an inlay in a metal housing running along the A-pillar into the roof and down the D-pillar. This ensures stability of the passenger compartment in case of a side-pole impact or rollover, as well as increasing vehicle torsional stiffness while improving subsequent ride-handling and NVH at the lowest mass.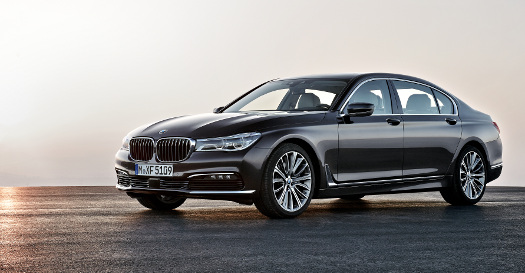 Construction of the BMW 7 series includes a special injection bonding process to attach carbon-fiber parts to metal in side-frame applications. [Photo: BMW].
The challenge of integrating such long carbon-fiber composite parts is the management of the differential CLTE along the assembly, as well as during the operative life of the vehicle. BETAFORCE technology helps address that challenge.
Source: Dow Automotive Systems
Published June 2016
Rate this article