Can foam stop a bullet?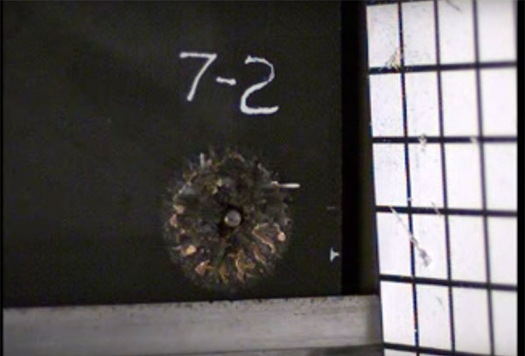 A bullet is shattered into pieces when it hits composite metal foam developed by researchers at NC State. [Screen capture of NC State video]
By David McNally, Army Research Laboratory (ARL), Aberdeen Proving Ground, MD
In a recent video making the rounds on the internet, a piece of armor is seen obliterating a speeding bullet.
The segment shows a bullet literally shattering when it impacts what is described as "composite metal foam."
For a more in-depth look, we ask the experts in the U.S. Army Research Laboratory's Weapons and Materials Research Directorate.
"Composite Metal Foam technologies have been researched actively at the Army Research Laboratory since the early 2000s, primarily for blast and shock mitigation," said Matthew Burkins with the Armor Mechanisms Branch.
The posted video lacks detail with regard to target construction, target weight, projectile type, and projectile velocity, Burkins said, but he noted that the researchers involved in the testing have published their findings.
In a paper, "Ballistic performance of composite metal foams,"* published in the journal Composite Structures, authors Drs. Matias Garcia-Avila, Marc Portanova, and Afsaneh Rabiei detail how composite metal foams absorbed approximately 60 to 70 percent of the total kinetic energy of the projectile.
"Composite metal foam is low-weight, high-strength metal foam manufactured using hollow metallic spheres embedded in a solid metal matrix," the paper states.
One of the authors, Portanova, is the Engineering Test Team leader from the U.S. Army Aviation and Missile Research, Development and Engineering Center's Aviation Applied Technology Directorate at Fort Eustis, VA.
The video report describes the armor system as containing a "boron carbide ceramic layer, a CMF layer, and possible backing materials such as aluminum and Kevlar."
"The densities are significantly higher than current state-of-the-art body armor systems," Burkins said. "Work continues with CMFs, as well as other technologies that can decrease weight and increase stiffness of backings in ceramic armor systems."
Another one of the paper's authors, Rabiei, also teamed with ARL researcher Vincent Hammond in December 2012. This resulted in a separate study on the dynamic properties of CMFs.
As part of the ARL Sciences for Lethality-and-Protection Campaign, Army researchers are committed to the discovery, innovation, and transition of protection systems that are "light weight, low burden, affordable, and resilient toward a broad array of threats."
"The laboratory will continue to conduct research and monitor development of CMFs with an eye toward employing them wherever their unique properties will provide the warfighter with reduced weight and/or increased protection," he said.
The U.S. Army Research Laboratory is part of the U.S. Army Research, Development and Engineering Command, which has the mission to ensure decisive overmatch for unified land operations to empower the Army, the joint warfighter and our nation. RDECOM is a major subordinate command of the U.S. Army Materiel Command.
SIDEBAR: More about the metal foam in this project demonstration
By Matt Shipman, NC State
Afsaneh Rabiei, a professor of mechanical and aerospace engineering at NC State, has spent years developing composite metal foams (CMFs) and investigating their unusual properties.
The video posted above shows a composite armor made out of her composite metal foams. The bullet in the video is a 7.62 x 63 mm M2 armor-piercing projectile, which was fired according to the standard testing procedures established by the National Institute of Justice (NIJ). The results, as you can see for yourself, were dramatic.
"We could stop the bullet at a total thickness of less than an inch, while the indentation on the back was less than 8 millimeters," Rabiei says. "To put that in context, the NIJ standard allows up to 44 millimeters indentation in the back of an armor." The results of that study were published in 2015. [Editor's note: This link contains the information for the actual construction of the composite metal foam panels used in the bullet testing.]
But there are many applications that require a material to be more than just incredibly light and strong. For example, applications from space exploration to shipping nuclear waste require a material to be not only light and strong, but also capable of withstanding extremely high temperatures and blocking radiation.
Last year, with support from the Department of Energy's Office of Nuclear Energy, Rabiei showed that CMFs are very effective at shielding X-rays, gamma rays, and neutron radiation. And earlier this year, Rabiei published work demonstrating that these metal foams handle fire and heat twice as well as the plain metals they are made of (see "Study finds metal foam can handle heat better than steel" in Designfax May 10, 2016).
Now that these CMFs are becoming well understood, there could be a wide array of technologies that make use of this light, tough material. Armor, if you'll forgive the pun, barely scratches the surface.
*Paper Abstract
The application of advance materials to manufacture hard armor systems has led to high performance ballistic protection. Due to its light-weight and high impact energy absorption capabilities, composite metal foams have shown good potential for applications as ballistic armor. A high-performance light-weight composite armor system has been manufactured using boron carbide ceramics as the strike face, composite metal foam processed by powder metallurgy technique as a bullet kinetic energy absorber interlayer, and aluminum 7075 or Kevlar panels as backplates with a total armor thickness less than 25 mm. The ballistic tolerance of this novel composite armor system has been evaluated against the 7.62 x 51 mm M80 and 7.62 x 63 mm M2 armor piercing projectiles according to U.S. National Institute of Justice (NIJ) standard 0101.06. The results showed that composite metal foams absorbed approximately 60-70% of the total kinetic energy of the projectile effectively and stopped both types of projectiles with less depth of penetration and backplate deformation than that specified in the NIJ 0101.06 standard guidelines. Finite element analysis was performed using Abaqus/Explicit to study the failure mechanisms and energy absorption of the armor system. The results showed close agreement between experimental and analytical results.
Source: ARL
Published June 2016
Rate this article