Mini LVDTs offer position feedback for UAVs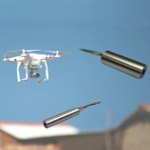 Unmanned drones require a variety of sensors to monitor different critical measurements to control flight and maintain aircraft stability. Miniature Linear Position Sensors from NewTek Sensor Solutions provide reliable position feedback for monitoring the fin/rudder position and rotor angle of unmanned aerial vehicles (UAVs) with quick response times, so drones can make adjustments to accurately control flight.
Learn more.
---
Cobham introduces spacecraft, satellite electronics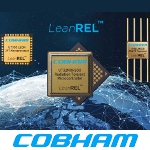 Cobham Advanced Electronic Solutions, a leading provider of electronics technology and services for space and other high-reliability applications, recently released the new LeanREL product family designed to meet the needs of small satellite and non-traditional spacecraft manufacturers. The LeanREL product family, comprised of microprocessors, microcontrollers, as well as memory and interface integrated circuits (ICs), leverages Cobham's 30+ years of radiation-hardened, QML-level reliability, and innovative space systems design expertise and offers an unmatched combination of user benefits.
Find out more.
---
Touch panels require 50 percent less input force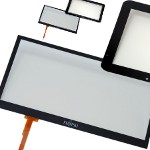 Fujitsu Components America has just released a series of customizable, flush-surface, resistive touch panels with less than half the input force of conventional resistive panels, nearly identical to that of projected capacitive panels. The new series (FID-1300 4-wire and FID-1520 5-wire) offers OEMs a cost-efficient alternative to projected capacitive touch panels with a comparable user experience, while maintaining resistive technology's reliable input capability and unlimited choice of input sources. Target applications include industrial automation and HMI machine control, medical equipment, and vehicle navigation systems.
Learn more.
---
Automatic vision system with max throughput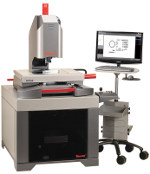 The new AV450 Automatic Vision System from L.S. Starrett Company is a versatile, accurate, fast, and American-made 3-axis vision system that allows users to achieve high throughput in their inspection process cost effectively. This heavy-duty CNC video-based measurement system is ideal for both repetitive, larger part-run applications and routine quality assurance in inspection labs, manufacturing, assembly, and research facilities.
Learn more.
---
Application Note:
Quadcopter propeller torque/thrust testing

The quadcopter's four propellers are designed to work in conjunction with each other to ensure that there are no torque imbalances that could send the vehicle spinning out of control. But just how would a professional developer or hobbyist perform accurate propeller torque and thrust testing? Advanced sensor specialist FUTEK has the answer.
Read the full article.
---
Engineer's Toolbox: How to choose the right relay

Relays come in a variety of form factors, styles, and technologies. Depending on your application, only one relay type may be suitable. In other cases, multiple relay types may be appropriate. By understanding the strengths and weaknesses of the different relays, you should be able to pick the one that is best suited for the job at hand. National Instruments lays out the options.
Read the full article.
---
Cool Tools: New Raspberry Pi 3 Model A+

Fans of the extremely popular credit card-sized computer called Raspberry Pi have something new to celebrate. The line of highly customizable base units has expanded with the third-gen A+ board, which brings the latest features and capabilities to a more compact form factor and lower price point -- only 25 bucks (and we have seen this on sale for under 20)!
Read the full article.
---
Vandal-resistant sealed switches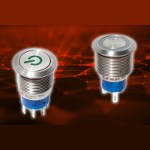 C&K has just launched its ATP19 and ATP22 series anti-vandal sealed pushbutton switches. The new high-strength, lightweight switches are IP67/IK10 rated, ensuring their suitability for operation in harsh conditions and ability to withstand potential malicious damage. The switches are also corrosion resistant and offer the industry-standard ring-illuminated version in 19-mm and 22-mm diameters.
Learn more.
---
New inductive-technology position sensors
Novotechnik's TF1 Series touchless linear position sensors overcome issues with legacy magnetostrictive technology. They are unaffected by strong magnetic fields and metal flakes or filings present in a user's environment. The TF1 Series consists of an inductively coupled position marker attached to a moving rod/piece of the user's application that requires a position measurement and the sensor with operational and programming status LEDs. While operating, LEDs indicate whether the sensor is operating and the marker within measuring range or out of range, as well as indicating results of internal diagnostics for valid output from the sensor. Can also measure speed and temperature.
Learn more.
---
Sensor development kit for power-optimized IoT applications
The RSL10 Sensor Development Kit from ON Semiconductor is designed to provide engineering teams with a comprehensive platform for developing IoT applications with cutting-edge smart sensor technology, enabled by the industry's lowest power Bluetooth Low Energy radio. The kit brings together the highly integrated RSL10 System-in-Package (RSL10 SIP) with a range of advanced low-power sensors from Bosch Sensortec. The development platform provides nine degrees of freedom (DoF) detection and environmental monitoring, including ambient light, volatile organic compounds (VOC), pressure, relative humidity, and temperature. An ultra-low noise digital microphone is also included, along with a user-programmable RGB LED, three programmable push-button switches, and 64 kb of EEPROM. Using the RSL10 Sense and Control mobile application, developers can connect to the RSL10 Sensor Development Kit to monitor sensors and to evaluate the kit's features. The app also supports multiple commercial cloud platforms for uploading sensor data.
Learn more.
---
EC fans offer spark-proof IP68-ATEX protection for harsh AC applications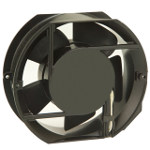 Orion Fans has expanded its family of Electronically Commutated (EC) fans to include spark-proof IP68-ATEX-rated versions for applications involving explosive atmospheres or flammable gases. Implementing IP68-ATEX fans into a design decreases the possibility of an explosion or fire. Available in a range of sizes including 60 mm, 120 mm, and 172 mm, the EC IP68-ATEX fans are ideal for a broad range of applications including appliances, commercial and process control, refrigeration, HVAC, electronic enclosures, and cabinets. By maintaining the same interface between the fan and equipment, EC fans can be used as drop-in replacements for equivalent-sized AC fans. The AC input fans utilize a brushless DC motor and incorporate voltage transformation within the motor for significantly lower power consumption. This equates to power savings of up to 50 percent.
Learn more.
---
Cable assemblies for demanding microwave and RF applications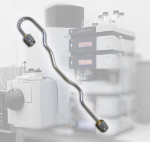 Intelliconnect has expanded its cable assembly offering for high-frequency and mission-critical applications. Comprised of high-quality cables, connectors, and terminations, the highly reliable RF cable assembly product offering now includes Low Loss, Semi-Rigid, Semi-Flex, and Conformable versions. The microwave and RF cable assembly line is designed for a wide range of applications including marine, medical, mil/aero, microwave communications, oil and gas, rail traction, test and measurement, and more. Available in a variety of sizes and performance specs, these assemblies operate up to 70 GHz and beyond and can be armored internally or externally. Phase matching is also available. Assemblies can be specified as matched sets or built to a specified phase length.
Learn more.
---
How electronic flow sensors help spread road salt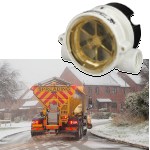 Salt spreading trucks use a pre-wetting system when ice needs to be removed from roads and the temperatures are too low for direct salt spreading to work. The system sprays salt water onto the road salt as it is being spread to "jump start" the melting process. But how do you monitor the amount of pre-wet salt used?
Read this short, informative blog from Gems Sensors & Controls.
---
Bend the rules of lighting design: Cut and form LED sheets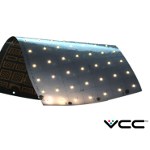 VCC is bending the rules of lighting design with its new VentoFlex tiles. The VentoFlex modular lighting system opens up countless ways for architects and lighting designers to make an impact. Available in 12-in. x 12-in. sheets, these innovative LED tiles can be cut and formed around any design element, including rounded corners and tight spaces, without taking up much room at all -- just 0.15 in. (3.81 mm). A pair of scissors is the only tool required to cut VentoFlex tiles to the size and shape you desire. Ten or 15 tiles can be linked together to one driver and dimmer to create thousands of square inches of versatile lighting power!
Learn more about this new and exciting lighting technology.
---
Slip rings improve Ethernet transmission
The Kuebler Group offers contact and contactless slip rings for reliable Ethernet transmission, achieving higher data rates and greater cycle synchronicity in demanding industrial environments. Application examples include industrial automation, bottling plants, labeling machines, rotary tables, and other processes requiring high transmission rates. The standard Slip Ring SR120 features an innovative three-chamber system and shield to enable parallel, interference-free Ethernet transmission up to 100 Mbps. It boasts a long service life up to 500 million revolutions and a rugged, modular structure that can be expanded up to 20 channels. Another model, the Slip Ring SR160 with integrated Sendix Encoder, provides position information in addition to contactless Ethernet transmission -- either two channels at 100 Mbps multiplexed or one channel at 1 Gbps.
Learn more.
---
Move over Wi-Fi: LED bulbs can both light a room and provide data communications link
Smart light bulbs could connect Internet of Things.
Researchers at Disney Research and ETH Zurich have demonstrated that consumer-grade light-emitting diode (LED) bulbs can, with some modifications, do double duty: illuminate a room and provide a communications link for devices in that room -- simultaneously.
This visible light communication (VLC) system (also known as Li-Fi) would be suitable for connecting the many devices, such as appliances, wearable devices, sensors, toys, and utilities, that could comprise the Internet of Things (IoT), said Stefan Schmid, a Ph.D. student at Disney Research and ETH Zurich.
LEDs can both produce light and serve as light sensors. By having individual LEDs alternate between sending modulated light signals and serving as receivers of signals, it is possible to create a network of bulbs that can send messages to each other and connect to devices, while having no discernible effect on room lighting.
Schmid and his colleagues designed and implemented such a VLC system, demonstrating that it is a viable way to interconnect devices within a room. They shared details of the system, called EnLighting, on June 26, 2016, at the IEEE International Conference on Sensing, Communication and Networking (SECON) 2016 in London.
"Interconnecting appliances, sensors, and a wide variety of devices into the Internet of Things has many potential benefits, but using radio links to do so threatens to make the radio spectrum an even scarcer resource," said Markus Gross, vice president at Disney Research. "Visible light communication networks conserve the radio spectrum, while also making it difficult to eavesdrop for anyone out of line of sight of the network."
LEDs are an attractive option for interconnecting devices because they are low cost, non-intrusive, and ubiquitous. No special wiring is needed, and the bulbs can be positioned anywhere.
"LED light bulbs mounted on the ceiling or in free-standing floor lamps easily cover a room, serving as illumination while at the same time creating a room-area network that allows data exchange between light-emitting devices," said Gross. Even if the bulb is not needed for lighting and is switched off, it can still serve as a receiver of signals from those devices, he added.
"We used commercially available, off-the-shelf LED light bulbs as our starting point," Schmid said. "They are readily available at low cost and can be used in any lamp with standard sockets. This leads to an easy-to-setup and flexible testbed that can be readily duplicated."
The bulbs were modified, however. A system-on-a-chip, or SoC, running an embedded version of Linux was added to each bulb, as well as photodiodes to enhance sensing of incoming signals and an additional power supply for the added electronics.
The researchers deployed four such bulbs for their proof-of-concept system. They showed that their system architecture and protocols enabled the bulbs to create stable networks that could support the low-bandwidth applications typical of most IoT devices. They also showed it was possible to use the system to estimate the position of devices in the room, an example of the additional applications that the system could support.
[Editor's Note: Although it was not mentioned in this article, tests of other light fidelity (Li-Fi) prototype systems have shown that the technology can handle data transfer speeds up to 1 Gbps, far eclipsing standard Wi-Fi capabilities and using less power. The technology, however -- which can make use of 10,000 times the frequency spectrum of Wi-Fi -- is not intended to be a replacement for Wi-Fi, because it has its own limitations. Rather, it is seen as a companion (or tandem) technology.]
Source: Disney Research
Published August 2016
Rate this article