Good Vibrations: No heat needed for new ultrasonic dryers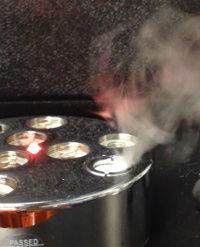 Cold mist is coming out of the saturated fabric sitting on this piezoelectric transducer. The fabric dried in less than 14 sec using direct-contact ultrasonic technology instead of heat.
Scientists at Oak Ridge National Laboratory (ORNL) in Tennessee are working to change the way Americans do laundry -- using vibrations instead of heat to dry their clothes.
This new technology, called the ultrasonic clothes dryer, is expected to dry clothes in half the time and use 70 percent less energy than today's products, saving American consumers money on their energy bills. With support from the Energy Department's Building Technologies Office, ORNL and GE Appliances are in the process of scaling up this technology to a press dryer and clothes dryer drum by the end of this year.
"This is going to be a game-changing technology," says Ayyoub Momen, the ORNL scientist who developed the prototype. "Clothes dryers consume a lot of energy."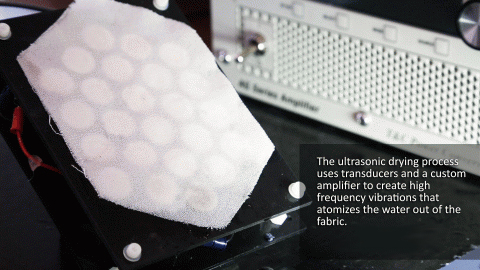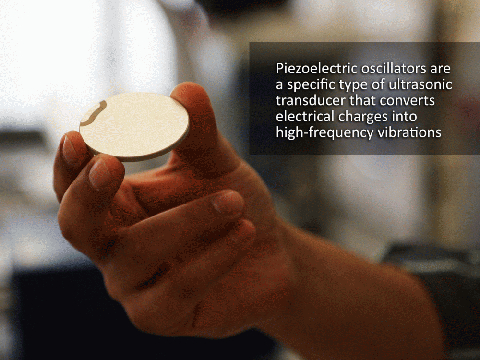 Nearly 80 percent of U.S. households have clothes dryers. Combined, they consume 4 percent of all residential electricity use and cost Americans nearly $9 billion per year on their utility bills. This is because they rely on an inefficient process that hasn't seen significant innovation in decades: using electricity to heat the air and evaporate the water out of clothes.

VIDEO: With support from the Energy Department's Building Technologies Office, Oak Ridge National Laboratory and GE Appliances are changing the way Americans do laundry with their ultrasonic drying technology that uses vibrations, not heat, to dry fabric.

"Evaporating water takes a lot of energy," says Momen. "That's mainly because of the latent heating process in conventional dryers."

Preliminary measured drying time of fabric sample using ultrasonic cold drying compared to heat drying at 20 C, 50 C, 60 C, and 80 C. A non-optimized, off-the-shelf low-energy-consumption ultrasonic transducer can dry fabric two orders of magnitude faster than thermal drying.
ORNL and GE are taking an entirely new approach to this traditional process by using high-frequency vibrations, instead of heat, to remove the water from the fabric with minimal lint generation. The technology uses piezoelectric transducers that contract and expand when voltage is added. By using a custom amplifier, the transducers (devices that convert electricity to vibration) vibrate at a high frequency, turning the water into a cool mist as it's removed from the fabric.
"The first results were mind blowing," says Momen. "We could dry a piece of fabric in just 14 seconds. If you wanted to do that in an oven at different temperatures, it would take several minutes."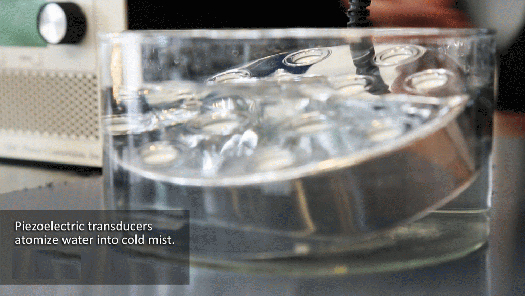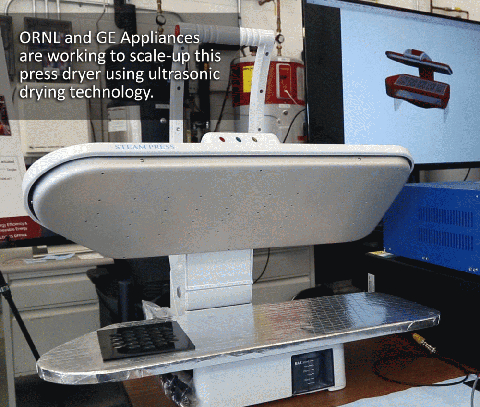 ORNL and GE are working to develop a commercialized product and plan to have a full-scale prototype by this fall. The ultrasonic dryer is expected to cut drying time to about 20 minutes per load, down significantly from the average 50 minutes it currently takes Americans to dry their laundry. The success of this project may well position the United States as the leader in the clothes-drying industry, generating new jobs and innovative applications of the technology.
For more information, visit the Building Technologies Office's project page for the ultrasonic dryer.
* Editor's Note: We did have a Designfax reader who asked about what the cost would be given the current cost of piezo technologies, how many transducers would be necessary for a single dryer unit, and if the ultrasonic technology produced any negative effects on humans or animals. Ayyoub Momen, the ORNL scientist who is developing the technology, had the following answers:
The capital cost will be comparable with the premium dryers in the market.
Currently we are using 120 [transducers], in large-scale system; 300 might be more than enough. It does not need to cover the whole area of the fabric. Actually, it will be best if the fabric is randomly touching the transducers at different times.
Not human [no effects]. We do not know about pets (have not looked into it yet).
Source: U.S. Dept. of Energy
Published September 2016
Rate this article