Toolbox: Why metal injection molding (MIM) is a crucial element in the booming firearms industry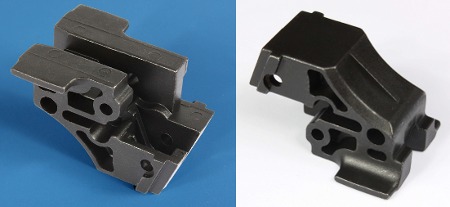 Two views of a metal injection-molded component produced for a semi-automatic pistol. [Image: Parmatech]
Firearm sales have increased exponentially over the past 10 years, and forecasts don't show that trend slowing abruptly. As manufacturers seek to meet demand while decreasing costs, reducing weight, and increasing durability, the spotlight is turning to engineering and design capabilities in the industry. Engineered metal solutions, including expertise in such technologies as precision CNC machining, metal injection molding (MIM, also known as powder injection molding, or PIM), laser welding, and stamping, are key to meeting the challenges of this growing industry.
Engineering firms are rapidly expanding to provide the engineering and design capabilities necessary to accommodate the boom in the firearms market. In guns and other projectiles, most branches of mechanical engineering are applied, including wear properties (tribology) of the moving parts, manufacturing of highly precise machining processes, and system design. A high degree of design collaboration with top gun manufacturers is imperative to meet the needs of today's firearms purchasers, whether they are for personal protection, law enforcement, hunting, or for the military.
For example, Tracy MacNeal, ATW Companies' director of business development, notes the importance of engineering expertise for helping firearms manufacturers hit tight tolerances and resolve complex issues. "Identifying prototyping needs, turning around a prototype quickly, developing the best materials for the application, and providing advice on appropriate designs and tolerances are services that are essential to supporting today's firearms industry," says MacNeal. Warwick, R.I.-based ATW Companies is a provider of highly engineered metal solutions to the metal component marketplace.
According to Chris Schirmer, quality control manager at STI International, a Texas-based company that manufactures complete M1911 pistols and parts for competition, duty, and self-defense, designers must pay careful attention to the application of the firearm. "What is the intent of the firearm?" Schirmer asks. "Is it concealed carry, competition, or law enforcement? Each area of firearm use will have specific requirements that need to be met, which requires decisions on size, material, weight, length, and caliber."
Since most people have very limited budgets, consumers like to buy inexpensive firearms, and most manufacturers are responding by looking for ways to reduce costs. This is why many firearm manufacturers are using molded plastics, aluminum extrusions, and die-cast zinc parts in their new designs. All of these processes can be used to make inexpensive, strong, and durable components.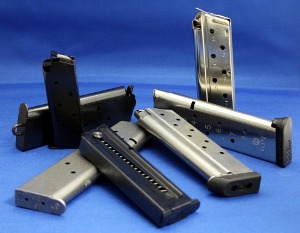 Magazines made by Metalform Magazines.
High tolerances and precision function are keys to every component in gun manufacturing. For example, Metalform Magazines (one of the ATW Companies), produces firearms magazines. A magazine is a relatively simple device that feeds rounds into the pistol's chamber via a spring-loaded follower mechanism. Although standard magazines tend to cost only $15 to $75, depending on design/size, this small component can determine how well a $2,000 pistol works.
Kevin Collins, a senior design engineer at Savage Arms, a Westfield, Mass.-based manufacturer of rifles and shotguns, explains that designing weapons for today's firearms purchasers depends not only on precision, but also weight. "Lighter and stronger has been a goal for a long time, and the design mantra has been to look to polymers, aluminum, titanium, and carbon fiber to get just the right combination of durability and weight," Collins says.
Today's hunters are looking for lightweight rifles, and designers are responding to the demand by looking at aluminum frames and receivers, says Collins. This can save as much as 30 to 50 percent of the weight of the firearm and shipping of the raw material, and it also saves on machining costs.
The application of the firearms determines much of the desired weight requirements. Collins notes that in hunting applications, in which the hunter might be making only a few shots in a given day, a lighter gun is easier to carry, and the extra recoil is not much of a problem. By contrast, in a shooting-range application in which the shooter might be firing many rounds, the recoil associated with a very lightweight rifle will cause fatigue fairly quickly. Engineering design seeks to resolve these opposing requirements.
Reinforced plastic with steel ribbing is another design innovation being pursued, though Collins acknowledges the downside of polymers, especially where the weapon may be used in areas with a large temperature fluctuation, as steel components may expand when plastic does not. The variation in these temperature coefficients will eventually cause loosening of the gun's components, which is not desirable.
Metal injection molding for firearms manufacturing
Metal injection molding (MIM) is a popular choice for relatively high precision at a low cost. MIM combines powder metal with a low-melt polymer to create a feedstock that is molded using conventional injection-molding equipment and molds. After molding, the plastic, which is known as the binder, must be removed in a step called debinding. After debinding, the parts are placed into high-temperature sintering furnaces and sintered. The result is a solid metal part created from powder metal to near net shape at 96 percent density of wrought metal.
There is little waste in the MIM process compared to other competing technologies, making MIM a green technology. MIM is a low-cost, high-volume manufacturing process that produces geometrically complex metal parts that are difficult or near impossible to produce using other conventional metal fabrication technologies. This means MIM can be used to produce complex shapes that can cost 20 to 50 percent of a machined part, producing far less material waste, with high production rates.
Key major firearms manufacturers have adopted MIM widely, and new projects are likely to include MIM parts, due to the cost and consistency of the process. Depending on volume requirements and part complexity, MIM can significantly reduce the component cost and, in some instances, yield parts that could not be made using any other method. Manufacturing of metal components using MIM technology has enabled U.S. companies to stay within the United States for sourcing components, due to MIM's high manufacturing capability and competitive pricing.
John Lewinski, director of supplier management at Springfield, Mass.-based Smith & Wesson, notes that any of the company's new projects are likely to include MIM parts, due to the cost and consistency of the process. "MIM has allowed us to take cost out of the product while maintaining quality, and therefore pass the savings on to the consumer," says Lewinski.
Collins agrees, calling MIM the modern replacement to investment casting, especially for small parts. He says that MIM is a fairly new technology that is being used more and more for making firearm components. The parts are dimensionally consistent, fairly inexpensive, and the surface finish is smoother than machined or investment cast (IC) components. To save on costs, especially for entry-level guns, designers are achieving savings by designing guns with a less-than-smooth mirror finish on mating parts or where the parts are not super close fitting. The result is a utilitarian, perfectly functional firearm that is a little rough around the edges (pun intended).
In his view, Collins says the main drawback of current MIM technology is the material designation and selection. Most engineers are not familiar with the materials used for MIM parts. "Most MIM parts are not made from common AISI materials such as 4340 and 8620 alloy steels, and this is certainly a drawback for anyone wanting to make parts for existing military rifles such as the M14 and M16," says Collins. The rifles purchased by the U.S. military use lots of parts made from AISI 8620 alloy steel, and they don't have options for similar or equivalent materials. "Getting new materials approved for military use can be a hassle," Collins says.
Collins also notes that, at this point, IC still has a distinct advantage over MIM in that the cast parts can be bigger or heavier than the MIM parts. Next to stocks and barrels, receivers are the largest and most complex components for firearms. "Making a receiver with the MIM process would be a good test to validate the strength and durability of MIM components and materials," says Collins.
According to Collins, creative designs and manufacturing methods will be key, similar to the way firearm manufacturers during WWII found the most economical and least time-consuming ways of manufacturing firearms. In his view, there is no reason to make a firearm component any stronger or more complicated than it needs to be. This would only drive up its manufacturing cost, and it wouldn't necessarily improve its quality.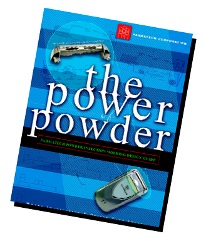 Parmatech, one of the ATW Companies, has a really helpful metal powder injection-molding design guide. Click here or the image above to go to the design guide download page.
Chris Schirmer of pistol-maker STI International also believes that that the introduction of MIM components to the firearms industry has had a significant impact. "MIM allowed the manufacturers to create a ready-to-use, high-detail metal part in high volume at low cost," says Schirmer. "Unfortunately, the early MIM process left a lot to be desired, and the manufacturers using these parts experienced failures."
Schirmer says that, over time, the MIM process has improved to the point that it is a perfectly acceptable method of manufacture for most firearms makers, including STI. He does acknowledge that there is still concern in the public about the early failures, and its use may never be accepted by some consumers or by 100 percent of manufacturers.
According to ATW's MacNeal, designers must also pay careful attention to the identification and management of complex secondary operations that are performed on the MIM part, which may include laser marking, sub-assemblies, post-machining operations, and coating and plating requirements. Tooling design expertise and use of the latest analytical tools -- for example, SolidWorks and MoldFlow software -- are the final piece of the design puzzle. Companies with consolidated and broad capabilities are often a good solution for firearms manufacturers seeking to meet demand in today's boom, while ensuring the best balance of design and production are satisfying the market.
Source: ATW Companies, Parmatech
Published November 2016
Rate this article