Engineer's Toolbox:
Medical mask poses special overmolding challenges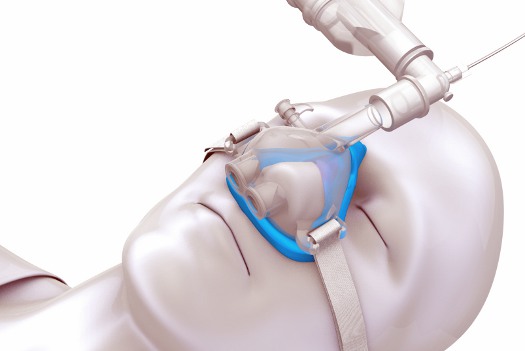 Relying on the sealing and cushioning capabilities of a super-soft thermoplastic elastomer (TPE), a small innovative company has addressed a long-standing problem in procedures involving sedation by creating the first nasal-only alternative to the standard full-face oxygenation and ventilation masks that medical practitioners have used for decades.
Unlike full-face masks, the patent-pending SuperNO2VA mask developed by Revolutionary Medical Devices, Inc. (RMD) provides easy access to the oral cavity and is designed to deliver a greater flow of oxygen under positive pressure to the patient's airways. The single-use mask consists of a transparent rigid polypropylene (PP) component with access ports for an anesthesia circuit or hyperinflation bag, plus a TPE cushion that is over-molded onto the PP structure. The TPE cushion, molded of Medalist MD-10105 medical elastomer from Teknor Apex, plays a critical role by providing a strong-yet-comfortable seal to the patient's face.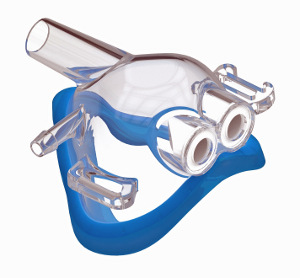 The Medalist TPE is a gel-like 5 Shore A compound with sufficient "tack" and is designed to form a tight seal on the patient's face.
"At the prototype stage, we turned to Teknor Apex for the TPE because they can provide very soft medical compounds that comply with all biocompatibility requirements right out of the gate," says Tom Reilly, RMD's chief operating officer. "While it was a challenge to find a grade that combined super softness with excellent bonding to a PP part, Teknor Apex went out of their way to help us, developing a formulation that performs exceedingly well in both molding and end use."
Use of sedation in medical procedures is increasing as a result of more sophisticated surgical techniques, an aging population, and a greater incidence of obesity, according to Michael Pedro, MD, chief medical officer and co-founder of RMD. "The SuperNO2VA mask is an efficient and versatile alternative to full-face masks and nasal cannulae, and it is particularly advantageous for intra-oral procedures such as upper endoscopies and bronchoscopies," says Dr. Pedro. "To optimize access to the oral cavity, we wanted a cushion that would present a lower profile than the traditional inflatable 'balloon' and provide a stronger seal. Teknor Apex's ability to provide a very low-durometer compound was a huge advantage."
Over-molding TPE onto a complex part
RMD uses the China-based contract molding subsidiary of a U.S. company to injection mold the components for the SuperNO2VA mask. The cushion part is produced in blue, green, pink, or yellow for purposes of color coding. Teknor Apex supplies the Medalist MD-10105XRD1 in pre-colored compounds from a U.S. plant and will supply identical grades from a plant in Singapore once it receives ISO-13485 certification, which is expected by December of this year.
"Over-molding the Medalist TPE onto a PP substrate was challenging for two reasons," says Chris Morehouse, market manager of regulated products for the TPE Division of Teknor Apex. "First, the lower the durometer of the TPE, the more difficult it is to make it adhere to PP. Second, the TPE part is complex, with thick- and thin-wall sections and recessed areas, or undercuts, that must retain their shape during ejection of the part from the mold."
Morehouse brought together the RMD and Teknor Apex teams to meet these challenges, says RMD's Reilly. "We made trips to the Teknor Apex application development lab in Leominster, MA, and their facility in Kentucky. Teknor Apex reformulated the TPE to attain exactly the durometer we wanted while still achieving a strong bond to the PP part, and in an over-molding process at Leominster they demonstrated that the TPE would bond successfully."
The massive undercut at the nose section of the TPE cushion calls for a compound with a high degree of strength and elongation, says Ryan Redford, RMD's director of product development. "Typically, an undercut with a material that soft would tear apart," he says, "but the cushion came out of the mold with absolutely no problem. To this day, our contract molder is impressed with the Medalist compound."
Revolutionary Medical Devices (RMD) is headquartered in Tucson, AZ.
Visit www.RMDevices.com.

Source: Teknor Apex
Published February 2017
Rate this article