Wings:
Bell Helicopter unveils ultra-cool hybrid rotorcraft concept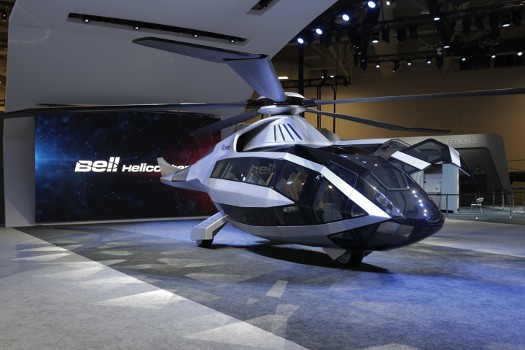 The FCX-001 concept on the HAI Heli-Expo show floor. [All images courtesy: Bell Helicopter]
When it comes to concepts, you really do go big or go home.
Bell Helicopter took that to heart with the introduction of the new FCX-001, its vision for the future of rotorcraft design and technology, at the opening ceremony of the HAI Heli-Expo in Las Vegas at the end of February.
"Six months ago, we created a dedicated team to focus on emerging technologies and how we could incorporate them into our products," said Bell Helicopter's President and CEO Mitch Snyder. "Among that team's first tasks was to display, visually, the technologies and innovations that present a roadmap that we envision bringing to market."
The assigned engineers and graphic designers proved to be a highly collaborative team of problem-solvers, and the FCX-001 was born in all its glory.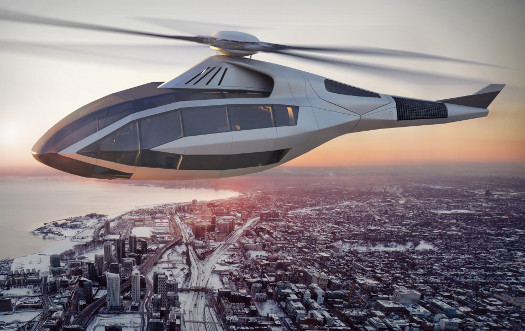 The concept aircraft was built to address the evolving demands of Bell Helicopter's customers and to demonstrate key technologies that aim to revolutionize the pilot and passenger experience, including:
A new anti-torque system in the tail boom designed to change the safety, noise, and performance parameters of vertical-lift aircraft forever.



Hybridized propulsion that combines advanced thermal engine cores for the main propulsion with, for example, electric distribution and motors to drive the anti-torque system for more control and simpler vehicle operations and maintenance.
An airframe that is made from advanced sustainable materials to provide structural performance and offer configurations that Bell Helicopter customers are requesting. In order to provide enhanced situational awareness, visibility, and room, the right combination of material and geometry is a core area of exploration. The airframe is also the front line for energy management. From there, the design aims to harvest, store, attenuate, and distribute external energy or system energy not already employed for useful work on the air vehicle.



A landing gear design with non-traditional geometries that facilitates function when combined with advanced materials and actuation.
Morphing rotor blades that allow aircraft to optimize performance in different flight regimes.



A single pilot seat and an entirely new flight deck experience -- with the pilot controlling the aircraft through augmented reality and an artificial intelligence computer assistance system.



A highly modular passenger cabin enhanced with the same augmented reality technology for individualized infotainment to catch up on world news, hold a video conference call, share documents with other passengers, or simply watch a movie or play music to relax.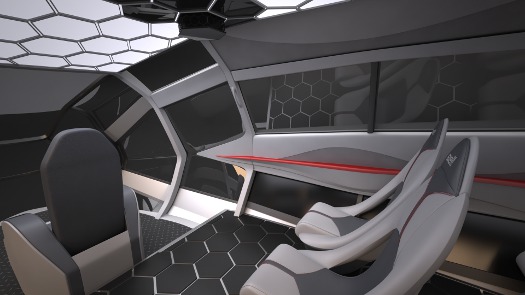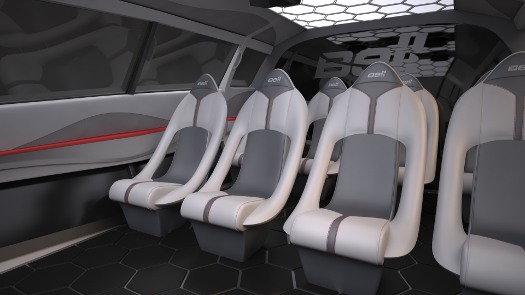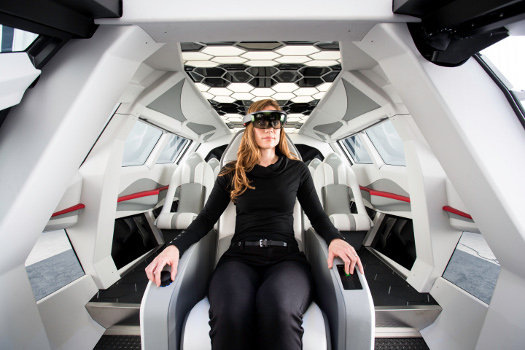 The FCX-001 physical concept interior as shown on the HAI Heli-Expo show floor.
"Being a pioneer in the aircraft industry is in our DNA, and we want to share this renewed passion with the world," said Snyder. "The FCX-001 points the way for our future -- a renewed focus on innovative solutions and technologies. When the time is right, we look forward to sharing more of what we're doing behind closed doors."
Source: Bell Helicopter
Published March 2017
Rate this article