Cool Tools: Fluke revamps industrial thermal camera line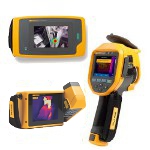 Fluke has retooled its entire line of industrial thermal cameras with more premium features packed into every model, providing higher value for the customer and allowing the company to reduce the number of cameras it offers to simplify the buying process. From an industrial pocket thermal imager to a line-up of 640 x 480 resolution infrared cameras, these tools take professional inspections to the next level.
Read the full article.
---
Cool Tools: World's first 1-ms IPS gaming monitor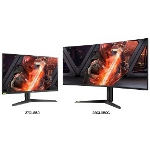 LG recently unveiled its UltraGear Nano IPS NVIDIA G-SYNC gaming monitor, the world's first 1-millisecond IPS display. Could you manage to get a little work done on it too? The Nano IPS tech aims to achieve phenomenal color reproduction, ultra-fast response time, and a refresh rate of 144 Hz, overclockable to 175 Hz. Who doesn't want blazing speed and stunning picture quality? Just made available to buy in the 27-in. (model 27GL850) for under 500 smackers. The 38-in. unit (model 38GL950G) will be available soon.
Learn more.
---
Customized anti‐vandal switches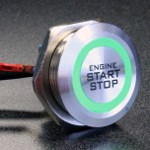 CIT Relay & Switch offers a broad line of sealed, illuminated Anti‐Vandal switches. Ranging from 10 mm up to 40 mm, the styles offer dot and ring illumination with CUSTOM laser printing available. With body and actuator finish options including stainless steel, nickel, and anodized aluminum in black, red, yellow, green, or blue (and bi‐color illumination available), these splash‐proof and vandal-resistant switches offer endless combinations for any design need. Contact CIT today to CUSTOMIZE your anti‐vandal switch.
Learn more.
---
Quick-ship program for standard and custom-designed process heaters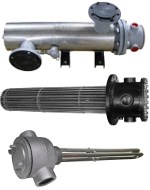 Durex Industries, a leading manufacturer of electric industrial heaters, sensors, and systems, now offers screw plug, flange immersion, and circulation heaters with fast-turn shipping capabilities. Durex uses product platforms to provide standard "catalog-type" designs as well as customized designs in the same fast-turnaround window. Plug heaters ship in 3 to 5 days, flange heaters ship in 5 to 7, and circulation heaters in 9 to 12 days -- regardless if standard or custom configured. In addition, there is no upcharge for customized units or "non-standard" configurations.
Learn more.
---
How many mils is your coating?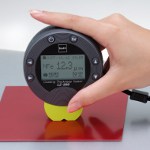 Although portable coating thickness gauges are not new, most fail to provide the accuracy, speed, or simplicity required for anyone to conduct quick checks as needed on the production line or in the field. Well all that has changed. A new solution from Kett enables simple, one-hand non-destructive testing -- even on curved and complex surfaces -- on painting, plating, anodizing, and organic coatings.
Read the full article.
---
Flexible circuit design guide

Tech-Etch uses advanced techniques to manufacture flex and rigid-flex circuits to exacting customer specifications. Special processes include selective plating a single circuit with two different finishes, contoured circuits with variable metal thickness, semi-additive and subtractive techniques, open window or cantilevered contact leads, plus SMT for component assembly. Tech-Etch specializes in flexible circuits for medical device, medical implant, diagnostic ultrasound, and patient monitoring applications, in addition to telecommunications, aerospace, semiconductor, and other high-reliability electronic applications.
Learn about flex circuits and download the guide (no registration required).
---
Cybersecurity for embedded military applications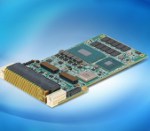 Designed to secure critical data within embedded military and defense applications, Aitech Group's C875 uses the new 8th generation Intel Xeon E processor to provide advanced cybersecurity as well as exceptional processing performance. As the risk of tamper attacks and theft of data continues to increase at all levels of embedded computing, the new 3U VPX SBC incorporates Aitech's proprietary AiSecure architecture to help protect against data breaches that may occur at the system site itself. The board features an Intel Xeon E-2176 M 6-core (12-thread) architecture with 12 MB of integrated Smartcache, delivering an impressive 2.7 GHz of performance that increases up to 4.4 GHz when Turbo Mode is enabled.
Learn more.
---
Get an IOT security development kit -- on the house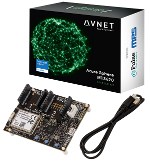 Security has become the biggest challenge for IoT (Internet of Things) development, with eight out of 10 developers identifying it as their biggest hurdle. To help developers create highly secure, end-to-end IoT solutions, leading global technology solutions provider Avnet is providing 20,000 Azure Sphere starter kits -- gratis. Additionally, developers will have access to a series of resources including webinars, lectures, road tests, and design contests hosted by Avnet as part of Avnet's ongoing relationship with Microsoft's Azure Sphere Ecosystem. The Avnet Azure Sphere MT3620 Starter Kit is a fast and easy way to equip IoT endpoint devices to be highly secure. By uniting hardware, software, and cloud in one secure solution, Azure Sphere secures the seven critical properties of an IoT device: hardware root of trust, defense in depth, small trusted computing base, dynamic compartments, certificate-based authentication, failure reporting, and renewable security.
Learn more.
---
Replacing hydraulics with electric actuators -- avoid pitfalls, gain the benefits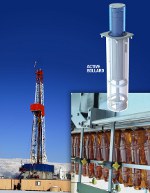 Electric actuators continue to find new and exciting places within automation processes from the mundane to some of the most extreme operating environments on the planet. Every day, machine designers seek alternative electric solutions to hydraulic cylinders for the very first time. However, there are many common pitfalls to properly sizing an electric equivalent. When sized correctly, replacement with high-force electric linear actuators can provide tremendous benefit in processes, quality, and reducing your total cost of ownership.
Read this informative Tolomatic blog.
---
New Hot Tap Digital Flowmeters simplify installation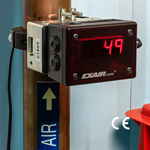 EXAIR's new Hot Tap Digital Flowmeters allow installation when compressed air piping is under pressure. By eliminating the need to isolate and remove pressure from the pipe, these compressed air flowmeters reduce installation time while maintaining safety. Hot Tap Digital Flowmeters incorporate two valves that the measuring probes pass through. A sound muffler that also collects chips from the drilling process eliminates installation debris from entering the airstream and minimizes noise exposure. Measuring compressed air is the first step toward identifying high compressed air use areas, compressed air leaks and optimizing air use.
Learn more.
---
Just out! Most powerful Raspberry Pi ever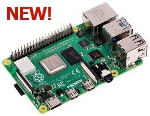 The new Raspberry Pi 4 Model B Computer is the most powerful Raspberry Pi model ever. It offers significant enhancements in processor speed, multimedia performance, memory, and connectivity that will make it attractive to general desktop computer users, hobbyist and makers, and professional developers working with compute-intensive embedded applications such as computer vision and Artificial Intelligence (AI). Available in 1-GB, 2-GB, and 4-GB models.
Read the full article.
---
Angle sensors retain position -- even without power!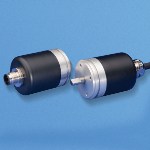 The RSB 3600 Series of absolute single-turn angle sensors from Novotechnik U.S. are EGMR (enhanced giant magnetic resistance) devices that retain their angular position even when power is removed. The sensors retain that angle information for years without power, so there is no need for batteries. Operating speed is up to 12,000 RPM. These non-contact sensors feature a galvanized steel housing and stainless steel shaft with up to 100 N working shaft load for the HD version. They are sealed up to IP 69K, depending on version. They count to 16 turns, angular position 0 to 360 deg. MTTF of more than 105 years.
Learn more.
---
Overvoltage protection for motors, white goods, more
The RV from Stackpole is a radial leaded metal oxide varistor available in a wide range of disk sizes (5 mm to 20 mm) and working voltages (from 14 VDC to 1,465 VDC) designed for general-purpose overvoltage protection. Peak current ratings up to 18,000 amps. Applications include low-voltage board-level circuitry, data and voice communications, network equipment, distribution panels, AC line protection for white goods, entertainment electronics, lighting ballasts, power supplies, electric motors and motor controls, and surge protection devices.
Learn more.
---
Extreme-force electric actuator for press and punch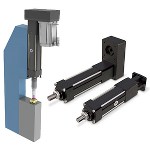 Tolomatic's RSX extreme force electric actuator family has been expanded -- this time with more options capable of replacing hydraulic cylinders. The new RSX096P Press Model is designed for pressing, punching, clinching, joining, and other applications requiring extreme force. This hydraulic-class actuator is capable of forces up to 40,000 lbf (178 kN). It features Tolomatic planetary roller screw technology for long life and consistent performance.
Learn more.
---
New optical joysticks for medical and military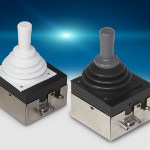 CTI Electronics (an affiliate of Electro Switch Corp.) has launched a new line of optical joystick motion controllers and mouse pointing devices. Made in the USA, LightStick Series controllers exceed medical and military performance standards for electromagnetic and RF disturbance in applications to 200 V/m -- without additional shielding. The LightStick's patented noncontact optical sensor technology ensures highly repeatable operator feedback for the life of the controller -- up to 10 million cycles and a MTBF greater than 10 years of operation.
Learn more.
---
Wave of the future: Terahertz chips provide new way of seeing through matter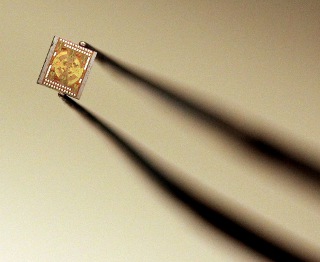 Princeton University researchers have drastically shrunk the equipment for producing terahertz -- electromagnetic pulses lasting one-millionth of a millionth of a second -- from a tabletop setup with lasers and mirrors to a pair of microchips small enough to fit on a fingertip. [Photo: Frank Wojciechowski for Princeton Univ.]
Electromagnetic pulses lasting one-millionth of a millionth of a second may hold the key to advances in medical imaging, communications, and drug development. But the pulses, called terahertz waves, have long required elaborate and expensive equipment to use.
Now, researchers at Princeton University have drastically shrunk much of that equipment: moving from a tabletop setup with lasers and mirrors to a pair of microchips small enough to fit on a fingertip.
In two articles recently published in the IEEE Journal of Solid State Circuits, the researchers describe one microchip that can generate terahertz waves, and a second chip that can capture and read intricate details of these waves.
"The system is realized in the same silicon chip technology that powers all modern electronic devices from smartphones to tablets, and therefore costs only a few dollars to make on a large scale," said lead researcher Kaushik Sengupta, a Princeton assistant professor of electrical engineering.
Terahertz waves are part of the electromagnetic spectrum -- the broad class of waves that includes radio, X-rays, and visible light -- and sit between the microwave and infrared light wavebands. The waves have some unique characteristics that make them interesting to science. For one, they pass through most non-conducting material, so they could be used to peer through clothing or boxes for security purposes, and because they have less energy than X-rays, they don't damage human tissue or DNA.
Terahertz waves also interact in distinct ways with different chemicals, so they can be used to characterize specific substances. Known as spectroscopy, the ability to use light waves to analyze material is one of the most promising -- and the most challenging -- applications of terahertz technology, Sengupta said.
To do it, scientists shine a broad range of terahertz waves on a target and then observe how the waves change after interacting with it. The human eye performs a similar type of spectroscopy with visible light -- we see a leaf as green because light in the green light frequency bounces off the chlorophyll-laden leaf.
The challenge has been that generating a broad range of terahertz waves and interpreting their interaction with a target requires a complex array of equipment such as bulky terahertz generators or ultrafast lasers. The equipment's size and expense make the technology impractical for most applications.
Researchers have been working for years to simplify these systems. In September, Sengupta's team reported a way to reduce the size of the terahertz generator and the apparatus that interprets the returning waves to a millimeter-sized chip. The solution lies in re-imaging how an antenna functions. When terahertz waves interact with a metal structure inside the chip, they create a complex distribution of electromagnetic fields that are unique to the incident signal. Typically, these subtle fields are ignored, but the researchers realized that they could read the patterns as a sort of signature to identify the waves. The entire process can be accomplished with tiny devices inside the microchip that read terahertz waves.
"Instead of directly reading the waves, we are interpreting the patterns created by the waves," Sengupta said. "It is somewhat like looking for a pattern of raindrops by the ripples they make in a pond."
Daniel Mittleman, a professor of engineering at Brown University, said the development was "a very innovative piece of work, and it potentially has a lot of impact." Mittleman, who is the vice chair of the International Society for Infrared Millimeter and Terahertz Waves, said scientists still have work to do before the terahertz band can begin to be used in everyday devices, but the developments are promising.
"It is a very big puzzle with many pieces, and this is just one, but it is a very important one," said Mittleman, who is familiar with the work but had no role in it.
On the terahertz-generation end, much of the challenge is creating a wide range of wavelengths within the terahertz band, particularly in a microchip. The researchers realized they could overcome the problem by generating multiple wavelengths on the chip. They then used precise timing to combine these wavelengths and create very sharp terahertz pulses.
In an article published Dec. 14 in the IEEE Journal of Solid State Circuits, the researchers explained how they created a chip to generate the terahertz waves. The next step, the researchers said, is to extend the work farther along the terahertz band. "Right now we are working with the lower part of the terahertz band," said Xue Wu, a Princeton doctoral student in electrical engineering and an author on both papers.
"What can you do with a billion transistors operating at terahertz frequencies?" Sengupta asked. "Only by re-imagining these complex electromagnetic interactions from fundamental principles can we invent game-changing new technology."
The paper "On-chip THz spectroscope exploiting electromagnetic scattering with multi-port antenna" was published Sept. 2, and the paper "Dynamic waveform shaping with picosecond time widths" was published Dec. 14, both by IEEE Journal of Solid State Circuits. The research was supported in part by the National Science Foundation's Division of Electrical, Communications and Cyber Systems (grant nos. ECCS-1408490 and ECCS-1509560).
Source: Princeton University
Published March 2017
Rate this article