Electroluminescent paint lights up the design world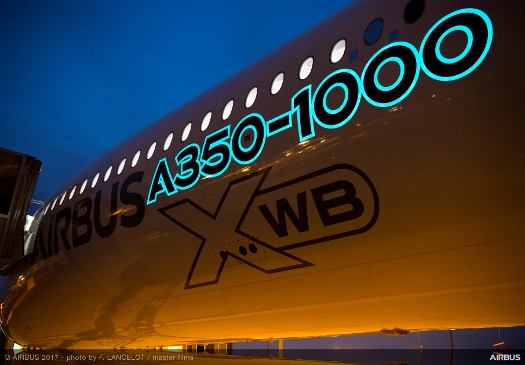 Darkside Scientific, creators of the LumiLor light-emitting coating system, recently scored Airbus as a customer.
By Mike Foley, Editor, Designfax
It's great to have a really bright idea, but if you have one that can be spread around and lit up it's even better. Case in point is LumiLor, a light-emitting coating (LEC) system from Darkside Scientific that allows anything coated with it and wired up properly to be illuminated. Besides providing the technology to create amazing "Tron" cars, the product's creators recently scored Airbus as a customer.
LumiLor basics
Darren Mieskoski, VP sales and marketing at Darkside Scientific, says LumiLor is a four-layer system that, when applied, acts as a capacitor. The four layers together are referred to as the "LumiLor Stack." Wiring is fairly straightforward. A good marketing line for the product is, "Anything you paint with LumiLor can be turned on and off as easily as a light bulb."
Layer 1 is the backplane, which is a conductive material.
Layer 2 is a dielectric, which serves as an insulating layer.
Layer 3 is the color layer, which is the light-emitting layer. Currently, LumiLor is available natively in green, blue, aqua, orange, and white.
Layer 4 is another conductive layer.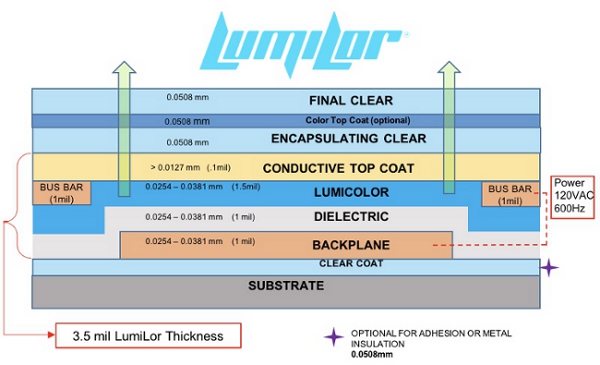 LumiLor Stack.
LumiLor is applied using a professional high-volume/low-pressure (HVLP) paint system. A protective clear coat is applied on top of the four layers of the LumiLor Stack. The product appears with a gray hue, similar to an automotive primer, when unlit. It can be applied to any non-porous substrate including metal, wood, fiberglass, carbon fiber, plastic, vinyl, glass, rubber, and more.

VIDEO: Motorcycle-USA.com (MotoUSA) checks out Darkside Scientific's LumiLor electroluminescent coating system on a Cleveland Cycle Werks motorcycle at Daytona Bike Week. Prepare to be impressed.

Topcoats (airbrushing, tinted clear coats, colored top coats, hydrographics, etc.) can be used to alter the appearance of LumiLor to create additional effects. LumiLor will shine through translucent materials such as paints (candies and pearls are amazing over LumiLor, Mieskoski says), airbrush artwork, or hydrographics. Any opaque material can be applied to areas to mask out unwanted light.
Wires are connected to the top and bottom conductive layers, and an alternating current (AC) charges the system. As the electrons bounce between the two conductive layers, they excite the color layer, which produces light. The product will not emit light with direct current. Direct current (DC) can be converted to AC with the use of an inverter (sold on LumiLor's online store). LumiLor typically runs on voltage between 100V AC and 200V AC, but it has the capacity to run on voltage between 80V AC and 400V AC. Variances in frequency and voltage can affect the brightness and longevity of LumiLor. The system consumes approximately 1 milli-amp per square inch.

VIDEO: Overview of LumiLor electroluminescent coating system layers.
According to the company website, LumiLor has been subjected to the harshest standards an automotive basecoat is asked to endure. The product has demonstrated the ability to pass ASTM G154, where UV light and water vapor rapidly weathers a panel. This test was run for over 400 hours without incurring a loss in brightness, adhesion, or film quality.
Darkside Scientific provides an excellent FAQ on LumiLor that should answer most basic questions. It is highly recommended that interested parties take a look.
LumiLor's development
LumiLor has been in the works for about seven years. "In 2010, Andy Zsinko, the inventor of LumiLor, was looking to create a unique paint job on a friend's motorcycle," Mieskoski says. Zsinko experimented with a number of things including glow-in-the-dark paint but wasn't satisfied.
"He wanted something controllable -- something that could be turned on and off, something that could be sequenced, something that did not yet exist," says Mieskoski.
"Shawn Mastrian, a friend of Andy's, helped Andy procure some of the components that were not available at the corner store," Mieskoski continues. "Shawn was able to help to acquire the weird materials needed for electroluminescent paint from every corner of the world to help Andy with his quest to make paint light up.
"Andy called Shawn one day and simply said, 'We got it,' and Shawn knew exactly what he was talking about. It was a pretty small area and it was not nearly as bright as the coating is today, but Andy had created the first version of what would become LumiLor electroluminescent paint."
Since then, Darkside Scientific has invested millions of dollars in improving LumiLor, Mieskoski says, taking it from a garage-entrepreneur project to a product that can be used across industries and applications.

VIDEO:#ProjectTron350Z from H2O Graphics By Design.
Improvements have followed an iterative process where the product is continually being bettered in terms of brightness, durability, electronics, and ease-of-application process. Mieskoski says the company is particularly excited about soon-to-be-released new electronics that are quieter, smaller, more powerful, and more efficient.
"Andy and Shawn realized the potential of Andy's invention and formed Darkside Scientific, LLC and filed for a patent which was awarded in 2013 (subsequent patent awarded in 2017)," Mieskoski says. "Shawn Mastrian is currently the CEO. Sadly, Andy Zsinko passed away in 2015."
Applications multiply with growing customer base
Mieskoski says Darkside Scientific has worked with dozens of OEM customers on prototypes, engineering, and mass-application processes. "These manufacturers span across industries such as automotive interiors, automotive exteriors, aerospace, trade promotion, helmets, fire and rescue, architecture, and safety," he says. "We have given designers a new medium to innovate with, and they continue to blow us away with their ideas."
Interestingly, Mieskoski says the system can be configured for voice or sound activation and can be sequenced or strobed in addition to being instantly turned on and off.
The Airbus project highlights many of the technology's key benefits. Unlike LEDs, the brightness of LumiLor is distributed across the coating and appears the same from all angles of view. It produces a single-color light that is visible at long distances and shines through many types of atmospheric conditions such as fog, snow, and smoke.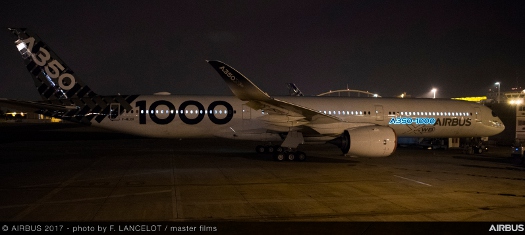 Airbus jet sports LumiLor on tarmac.
Mieskoski says each LumiLor field on the Airbus is 24 ft long by 4 ft high with a total illuminated area of nearly 100 sq ft -- which really put the product and the project engineering to the test. This special application required non-standard electronics configured by Darkside Scientific engineers. The project is notable in that the LumiLor FAQ suggests that in a standard application a field should not exceed 3 sq ft.
Other recent applications and demos include: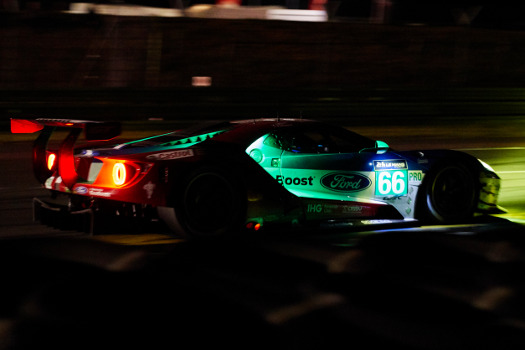 Ford Racing: LumiLor-painted wing mirrors for the 24 Hours of LeMans.

LumiLor helmet: Company internal project.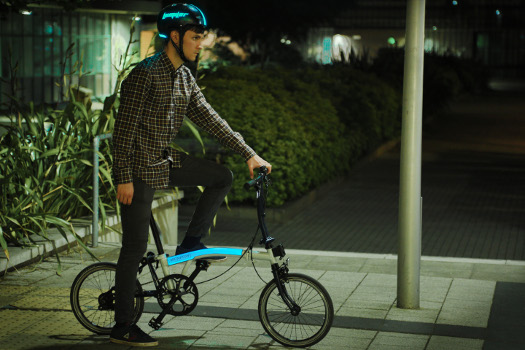 Brompton Bicycles: Currently working on production of bicycles with LumiLor.
Print My Leg: Prosthetic leg painted in conjunction with Airbus (www.facebook.com/PrintMyLeg/).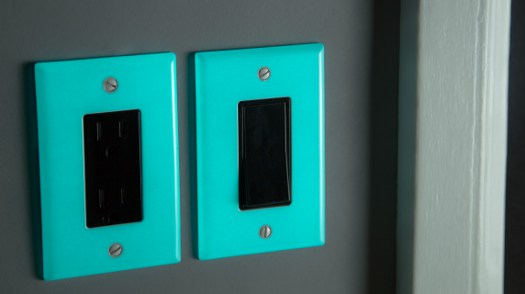 Electrical switch covers: Company internal project.

LumiLor tea kettle: Company internal project
Note that not all projects can be detailed, because a good chunk of them are protected by non-disclosure agreements.
"It turns out that light, applied as paint, which can be controlled by a switch ... provides designers with something they have never had before," says Mieskoski. "OEMs particularly like that you can have an object illuminate without needing to reengineer the product, simply by painting it, saving time in design and manufacturing processes."
What can you do with LumiLor? We'd love to hear your ideas. The possibilities really are almost endless.
"OEM industrial designers are taking Andy Zsinko's creation of controllable electroluminescent paint to places Andy would have never imagined," Mieskoski says.
After reading the above-mentioned product FAQ, the LumiLor Starter Kit is the easiest way to begin. Learn more at www.lumilor.com.
If video is your thing, check out the LumiLor Youtube page.
Published July 2017
Rate this article