U.S. Navy electrifies aircraft carrier catapult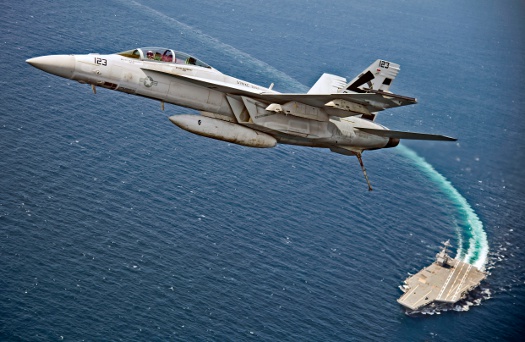 An F/A-18F Super Hornet flies over USS Gerald R. Ford. The aircraft carrier is underway conducting test and evaluation operations. [U.S. Navy photo by Erik Hildebrandt/Released]
It may be "full steam ahead" for the U.S. Navy's newest aircraft carrier, the USS Gerald R. Ford (CVN 78), but it won't be the catapult that will be steam powered.
Less than one week after it was commissioned, the Ford officially launched and recovered its first fixed-wing aircraft on July 28, 2017, using the Navy's new electromagnetic launch system (EMALS) and advanced arresting gear (AAG). The exercises took place off the coast of Virginia.

VIDEO: USS Gerald R. Ford's First Fixed-Wing Aircraft Launch
Ford is the first carrier to use EMALS, which is kind of like an electro-magnetic railgun for aircraft launching.
According to the U.S. Navy, the traditional steam catapults are large, heavy, energy inefficient, manpower intensive, and dependent on steam provided by the ship's engineering plant. EMALS is intended to be inherently more survivable, provide better performance, be less manpower intensive, and have a lower life cycle cost than steam catapults. In addition, steam catapults have a finite recharging period, whereas the electric system is virtually instantaneous.
EMALS will be capable of launching all conventional- and short-takeoff fixed-wing carrier aircraft currently projected for the Navy inventory through 2030, including the Joint Strike Fighter. The goal is to be capable of launching all future aircraft projected in the inventory through 2050. One of the other primary benefits of the system is closed-loop control. The system also features a reduced topside weight and reduced installed volume.
Lt. Cmdr. Jamie Struck of Tallmedge, OH, piloted the F/A-18F Superhornet from Air Test and Evaluation Squadron (VX) 23 based at Patuxent River, MD.
The Superhornet caught the No. 2 arresting wire of Ford's advanced arresting gear (AAG) system and was launched from catapult No. 1 using the EMALS.
"AAG and EMALS have been successfully tested ashore at Lakehurst, NJ, but this is the first shipboard recovery and launch of a fleet fixed-wing aircraft," said Capt. Rick McCormack, Ford's commanding officer.

VIDEO: Electromagnetic Aircraft Launch System (EMALS)
The new ship has four EMALS catapults engineered to draw power from any of three energy storage groups, according to a 2015 Defense Tech article.
Driven by the world's most powerful linear induction motor, the EMALS is revolutionizing the way the Navy launches aircraft from the next generation of aircraft carriers. The mission and function of EMALS remains the same as the traditional steam catapult that has been used since the 1950s; however, it employs entirely different technologies. It delivers necessary higher-launch energy capacity, improvements in system maintenance, increased reliability and efficiency, and more accurate end-speed control and smooth acceleration. EMALS is designed to expand the operational capability of the Navy's future carriers to include all current and future planned carrier aircraft -- from lightweight unmanned aircraft to heavy strike fighters.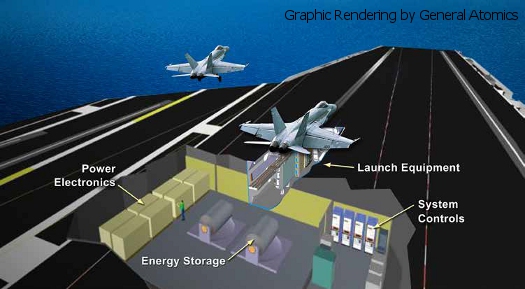 EMALS launch system. [Image courtesy: General Atomics]
The catapult's primary contractor, General Atomics, says that due to its flexible architecture, the electromagnetic aircraft launch system can launch a wide variety of aircraft weights (F/A-18E, F-35C, T-45C, C-2A, EA-18G, and E-2D tested) and can be used on a variety of platforms with differing catapult configurations.
According to an EDN article on the preliminary design, "The complete EMALS system will use a 300-ft long LIM to accelerate a 100,000-lb (45,000-kg) aircraft to more than 130 knots (67m/sec) and lighter aircraft to 200 knots (100m/sec) ... The system consists of four elements: an energy-storage subsystem, which takes its power from available ship power sources and accumulates it; a power-conversion subsystem, which takes the stored energy and converts it into high-impulse, controlled energy output to drive the LIM; the LIM itself, which is the launch motor; and control consoles, which allow operators to set launch parameters and monitor the entire system."

VIDEO: First Fixed Wing Aircraft Recovered Aboard USS Gerald R. Ford
A Defense Industry Daily article from July 28, 2017, includes more specs: The "EMALS motor generator weighs over 80,000 pounds, and is 13.5 feet long, almost 11 feet wide and almost 7 feet tall. It's designed to deliver up to 60 megajoules of electricity, and 60 megawatts at its peak. In the 3 seconds it takes to launch a Navy aircraft, that amount of power could handle 12,000 homes. This motor generator is part of a suite of equipment called the Energy Storage Subsystem, which includes the motor generator, the generator control tower, and the stored energy exciter power supply."
The EMALS system has seen its share of development challenges. Most recently, the Navy Times reported that a fix was in place to solve a long-standing issue: Engineers discovered as far back as 2014 "that the system was putting an inordinate amount of stress on the planes." The system was corrected using software. "It turns out all the EMALS team needed to do was fine-tune the launch system's algorithm. The Navy identified the fix in 2015, but wasn't finished testing it until this summer," the article says.
The software-controlled AAG capture system is a replacement for the hydraulic systems used on current aircraft carriers. It uses simple, proven energy-absorbing water turbines coupled to a large induction motor for fine control of the arresting forces. This modular, mechanical electrical system consists of energy absorbers, power conditioning equipment, and digital controls, with architecture that provides built-in test and diagnostics, resulting in lower maintenance and manpower requirements.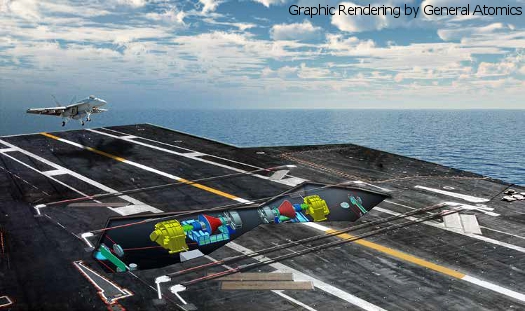 AAG capture system. [Image courtesy: General Atomics]
According to General Atomics, who is also the lead contractor on the electric motor-based AAG, the system allows for arrestment of a broad range of aircraft and provides higher reliability and safety margins.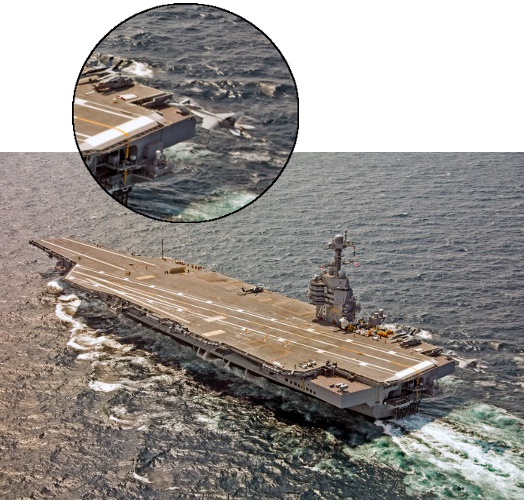 An F/A-18F Super Hornet assigned to Air Test and Evaluation Squadron (VX) 23 approaches USS Gerald R. Ford (CVN 78) for an arrested landing. The aircraft carrier is underway conducting test and evaluation operations. [U.S. Navy photo by Erik Hildebrandt/Released]
"My team has worked very hard, together with experts from NAVAIR, Huntington Ingalls Industries, and General Atomics, to test this first-in-class technology," said Cmdr. Thomas Plott, head of Ford's air department, on the day of the onboard test flights. "Today is a validation of their dedication and hard work."
Published August 2017
Rate this article