Wheels:
GM shows off advanced fuel cell electric platform concept for military and commercial uses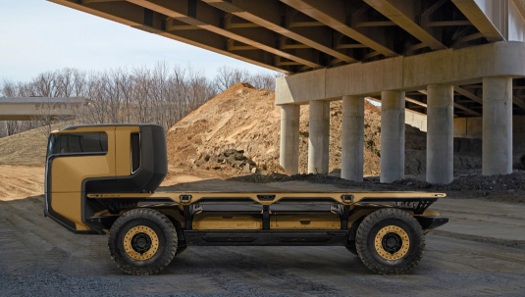 A rendering of GM's Silent Utility Rover Universal Superstructure (SURUS) platform with a truck chassis aims to show the potential of flexible fuel cell solutions. [All images courtesy GM, except where noted]
General Motors displayed its Silent Utility Rover Universal Superstructure (SURUS) this week at the fall meeting of the Association of the United States Army (AUSA) in Washington, DC, explaining how the commercially designed autonomous fuel cell electric platform -- which boasts more than 400 miles of range from its hydrogen storage system -- could be adapted easily for military use.
Fuel cell technology represents a key piece of GM's zero-emissions strategy. A fuel cell uses the chemical energy of hydrogen or another fuel to cleanly and efficiently produce electricity. If hydrogen is the fuel, then electricity, water, and heat are the only byproducts.
GM's SURUS concept was designed to form a foundation for a family of commercial vehicle solutions that leverages a single propulsion system integrated into a common chassis. The technology offers a solution that can scale to larger vehicles with bigger payload requirements that operate over longer distances. The SURUS platform is well-suited for adaptation to military environments, where users can take advantage of flexible energy resources, field configurability, and improved logistical characteristics.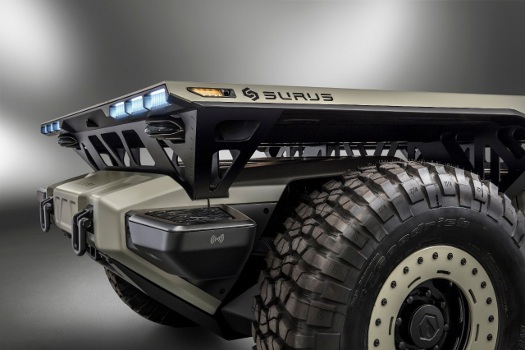 SURUS was designed to form a foundation for a family of commercial vehicle solutions that leverages a single propulsion system integrated into a common chassis.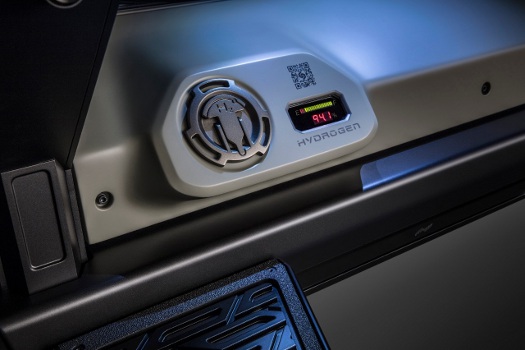 The hydrogen refueling port demonstrates the potential for rapid refueling with long-range capability.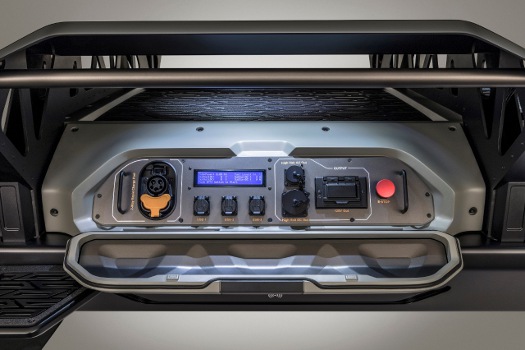 The Exportable Power Takeoff (EPTO) feature demonstrates how high-voltage DC from the fuel cell stack could be converted to both high- and low-voltage AC to power tools or equipment.
SURUS leverages GM's newest Hydrotec fuel cell system, autonomous capability, and truck chassis components to deliver high-performance, zero-emission propulsion to minimize logistical burdens and reduce human exposure to harm. Benefits include quiet and odor-free operation, off-road mobility, field configuration, instantaneous high torque, exportable power generation, water generation, and quick refueling times.
GM is evaluating multiple applications for SURUS. A main focus is on light- and medium-duty trucks, improving upon the Chevrolet Colorado ZH2 that has been evaluated by the U.S. military under the guidance of the U.S. Army Tank Automotive Research, Development and Engineering Center (TARDEC) and is undergoing real-world testing on Army bases right now. Other applications for SURUS include utility trucks, mobile and emergency back-up power generation, flexible cargo delivery systems, commercial freight, and future military-specific configurations.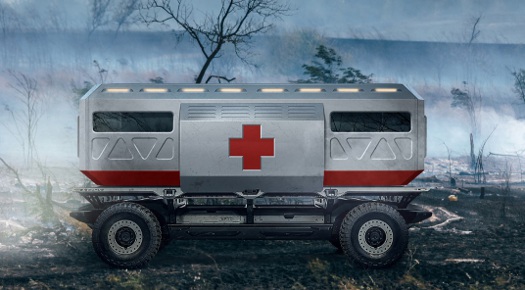 A rendering of the SURUS platform with an ambulance to show the potential of flexible fuel cell solutions.
The SURUS platform pulls from GM's deep experience in fuel cell technology, high-voltage batteries and electric drive systems, autonomous driving, and vehicle manufacturing. The platform features:
Two advanced electric drive units;
Four-wheel steering;
Lithium-ion battery system;
Gen 2 fuel cell system;
Hydrogen storage system capable of more than 400 miles of range;
Advanced propulsion power electronics;
GM truck chassis components; and
An advanced, industry-leading suspension.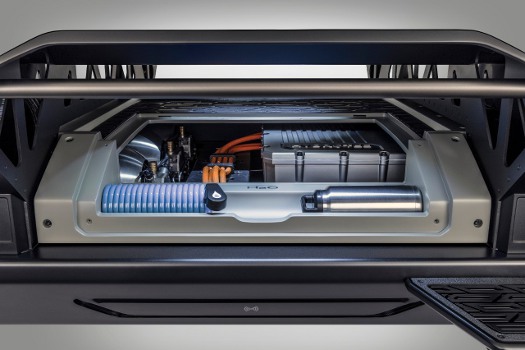 The water hose and bottle demonstrate potential water creation capability from water vapor exhaust.
Hydrotec technology
GM has been working on research and development of fuel cell technology for more than 50 years. The latest efforts provide a scalable and adaptable technology that enables land, sea, and air applications across commercial and military environments.
Since April 2017, the Army has been testing the commercial Chevrolet Colorado ZH2 on its U.S. bases to determine the viability of hydrogen-powered vehicles in military mission tactical environments.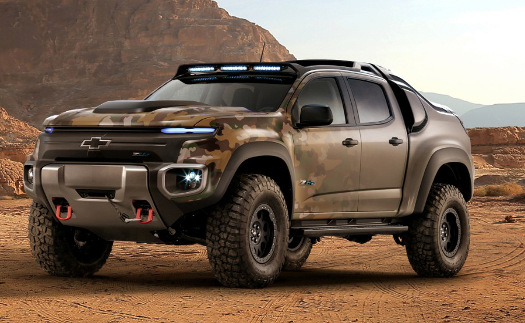 The ZH2 hydrogen fuel-cell electric vehicle is currently undergoing real-world testing at Army bases.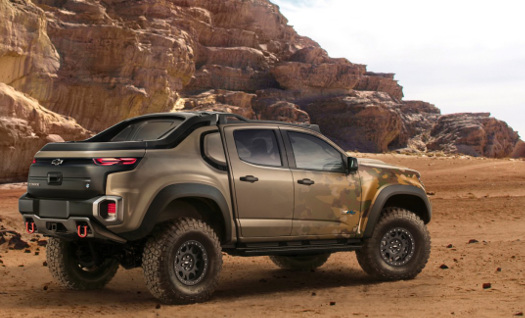 Standing more than 6.5 ft tall and more than 7 ft wide, and built on a stretched midsize pickup chassis, the hydrogen-powered Colorado really has a commando look. Reinforced inside and out, the ZH2 rides on 37-in. tires and a specially modified suspension that helps the vehicle climb over and descend all manner of terrain.
The fuel cell system under the power dome hood of the Chevy Colorado ZH2 has accumulated 3.1 million miles of real-world driving by civilian and military operators and is now performing a year of extreme off-road testing as a U.S. Army demonstrator. Testing will continue through spring 2018.
Alan Adler, Global Advanced Technology Communications, General Motors, told Designfax last year after the ZH2's unveiling at the 2016 AUSA event, "The ZH2 holds 4.2 kg of gaseous hydrogen in three onboard tanks. The hydrogen is converted to electricity onboard. Because of the low-end torque capability across the range, the ZH2 will travel about 140 miles on a hydrogen fill-up (10,000 psi/700 bar)."
So GM's SURUS concept advancement is a real leap forward in terms of range.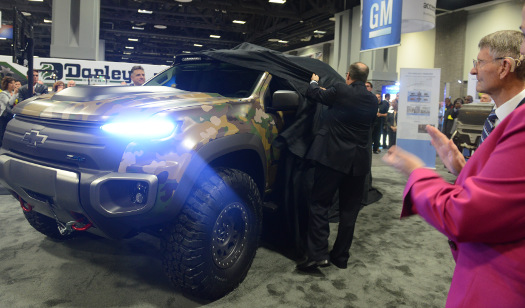 The ZH2 hydrogen fuel-cell electric vehicle is unveiled at AUSA 2016. [Photo Credit: David Vergun, U.S. Army]
The Army demonstrator Colorado ZH2 features an Exportable Power Take-Off unit (EPTO) that allows the fuel cell to power activity away from the vehicle, such as remote locations where electric power may otherwise be unavailable.
The ZH2 (and its SURUS siblings in development) boasts a number of benefits for military use. First, because it operates on hydrogen fuel instead of traditional diesel, it uses a lot less fuel than traditional tactical vehicles. At idle, the fuel cell tech is extremely efficient, which should reduce the logistics train.
Second, since the vehicle uses hydrogen with electric power, it has an extremely low acoustic signature -- it's very very quiet. Military testing has shown the ZH2 reduced acoustic non-detection distance by 90 percent compared to current military vehicles in operation. This means the ZH2 can get 10 times closer before being detected. Field testers also observed the potential advantages for stationary power generation over diesel generators, including a significant reduction in idle noise and fuel use.
Third, the ZH2 has a radically reduced thermal signature, because it doesn't operate as hot as a diesel engine. This gives additional stealth for Soldiers, since the heat signature is harder to pick up by enemy thermal sensors.
A fourth advantage is that the Army wants to demonstrate that vehicles of this type can be built rapidly using mostly off-the-shelf parts. The ZH2 took just one year from concept to delivery. The vehicle itself is basically a Chevy Colorado platform.

VIDEO: Time-lapse sequence of Chevrolet Colorado ZH2 assembly.

Other branches of the military are also getting in on the act. Last year, the U.S. Navy unveiled a GM fuel cell-powered Unmanned Undersea Vehicle (UUV) for testing purposes that leverages GM fuel cell technology that has a lot in common with the Colorado ZH2.
Source: GM
Published October 2017
Rate this article