Wheels:
Toshiba ups the game with 6-min. rechargeable electric vehicle battery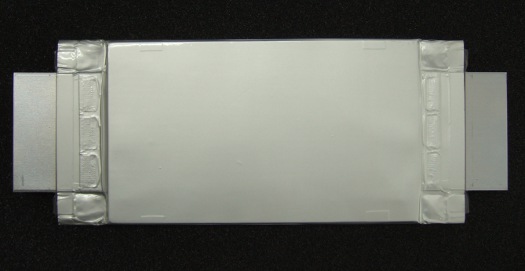 This prototype of a 50-Ah next-generation Toshiba battery cell is part of the company's next-gen quick-charge SCiB™ system that can provide almost 200 miles of EV travel for a compact car after only 6 minutes of charging.
A new lithium-ion battery cell design from Toshiba for compact electric vehicles (EVs) can provide triple the range possible on an ultra-rapid recharge than current lithium-ion battery technology. A battery unit, when configured with the cells, provides a driving range of 199 miles (320 km) on a 6-min. charge. A slightly longer driving range can be achieved with an even longer charge.
Seiji Ishibashi, a spokesman for Toshiba, told Designfax the primary challenges facing the battery's designers included developing a new oxide anode material with high capacity for the 50-Ah battery cell, achieving the fast charge while still providing a long battery life, and improving the safety of the unit. The battery requires a 350-kW DC power supply.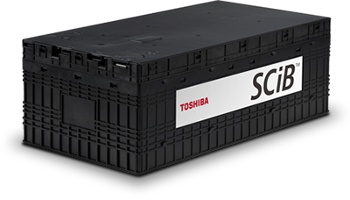 The Toshiba lithium-ion battery cells are packed into a module to obtain the necessary capacity and voltage to make an SCiB unit.
Toshiba has been ramping up the capabilities of its EV battery line since 2008, when it first launched its SCiBTM module series of safe, long-life, fast-charging lithium-ion batteries. Along the way, the company has constantly refined the technology and improved real-world performance. Two module types are currently used for compact EV automotive applications, depending on the size and strength required. One module consists of 12 series connections of two cells connected in parallel (24 cells total), and the other consists of nine series connections of two cells connected in parallel (18 cells total). (See spec page here.)
In the modules, multiple cells are housed in a fire-resistant plastic case and include a cell monitoring unit (CMU) for keeping and eye on voltage and temperature, which can be transmitted through a Controller Area Network (CAN). By combining multiple modules, a variety of automotive battery packs can be realized based on the application requirements.
Toshiba's current SCiB employs a lithium titanium oxide anode and is known for excellent operating characteristics in respect to safety, long life, and rapid charging. It has found wide use in vehicles and industrial and infrastructure applications, including automobiles, buses, railroad cars, elevators, and power plants. The high energy density of the battery, and its rapid recharging, have made important contributions to enhancing the convenience and promoting the adoption of electric vehicles.
For the newest 50-Ah cell version (dimensions 111 mm x 194 mm x 14.5 mm), Toshiba has developed a proprietary method for synthesizing and disarranging crystals of titanium niobium oxide and storing lithium ions more efficiently in the crystal structure. The anode of this next-gen cell has double the lithium storage capacity by volume of the graphite-based anodes generally used in lithium-ion batteries.
Ishibashi says this battery is very safe compared to conventional Li-ion batteries for EVs. The "titanium niobium oxide anode is much less likely to experience lithium metal deposition during ultra-rapid recharging or recharging in cold conditions -- a cause of battery degradation and internal short-circuiting," he says. "This battery is also designed to prevent thermal runaway resulting from short-circuiting caused by physical stress."
Rigorous testing of the 50-Ah prototype for the new battery has confirmed that it retains the long life cycle, low-temperature operation, excellent safety, and rapid recharging characteristics of the current SCiB. The next-generation SCiB maintains over 90% of its initial capacity after being put through 5,000 charge/discharge cycles, and ultra-rapid recharging can be done in cold conditions, with temperatures as low as -10 deg C, in only 10 minutes.
Source: Toshiba
Published October 2017
Rate this article